2013 Fantasy Baseball Rookie Report, Week 17: Cosart shines; Marlins call up Yelich, Marisnick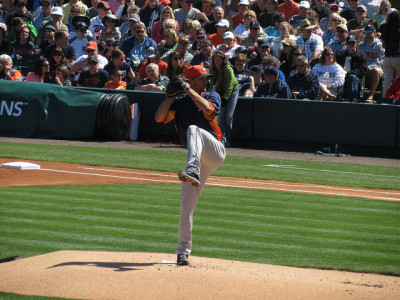 The Miami Marlins roster is basically made up of Giancarlo Stanton, rookies and no names. While Jose Fernandez has been the only fantasy-relevant Miami rookie, Marcell Ozuna is actually leading the Marlins hitters in WAR and Derek Dietrich had hit nine home runs in just 57 games. Both Ozuna and Dietrich were sent down Monday to make room for two rookies who should help the Marlins and your fantasy team – whether this year or in the future. Christian Yelich, 21, and Jake Marisnick, 22, ranked one-two, respectively, in the Marlins organization before the 2013 season by MLB.com, and both were in the top 60 prospects overall this preseason.
These promotions should give the Marlins one of the best defensive outfields in the game as soon as this year, and with Giancarlo Stanton just 23 this outfield group really has a chance to be special in the coming years. I'd recommend picking up both players in deeper dynasty and keeper leagues. My season is lost in my 16-team home league so I dropped Ike Davis for Marisnick hoping for a Puig-like debut. Yelich is already owned in that league, as well. In 1,292 minor league plate appearances Yelich has hit .313/.387/.499, stealing 58 bases in 74 attempts. In 1,674 minor league plate appearances Marisnick has hit .280/.351/.446 successfully stealing 95 bases on 121 attempts. Both players are natural athletes with a lot of tools, and each has stolen over 30 bases in a season. In anything bigger than a 12-team league I'd be comfortable dropping a bench player for one of the two. Yelich has the higher upside of the two, but both should be able to contribute in one way or another this season.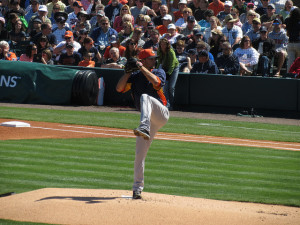 Jarred Cosart, Houston's No. 1 pitching prospect, made a stellar debut July 12, no-hitting the Rays through 6.1 innings and finishing with eight shutout innings. The righty only struck out two and walked three but was very efficient needing only 69 pitches to get through six innings, eventually ending at 96 pitches. Cosart's strike percentage wasn't too great, but when he missed it was almost always a fastball aimed high or a curveball in the dirt. He commanded the ball well low in the zone, painting the corners of the plate with his fastball, which sat at 94-95 mph all night. Despite a couple of hard-hit liners early in the game a lot of the balls put in play off Cosart were hit weakly. In Cosart's last three stops in the minors he induced ground balls over 50 percent of the time and he continued that trend in his first two starts.
It's undetermined how many starts Cosart will make in the last two months for Houston, but if he does stay in the rotation he's worth a look in deep leagues and as a streaming option. In his last two-plus years in the minors Cosart increased his strikeout percentage and his swinging strikeout percentage, but his walk percentage also went up in the same time span. It'll be hard to trust him while his strikeouts are still below average and his walks are still a problem, but he has done very well against the Rays and A's, two teams that hit righties well. So he's definitely worth a look to add to your roster if he stays up in the majors.
Henry Urrutia is a 26-year-old Cuban defector who signed with Baltimore last July. He made his pro debut this April and in 288 plate appearances is hitting .365/.427/.531 across two levels, most of which has come at Double-A. Urrutia, a lefty, put up a 10 percent walk rate and 14 percent strikeout rate in the minors, and his .417 BABIP has surely helped his average stay at such a high level. The lefty is platooning at the DH spot and is starting against righties so he should see a fair amount of playing time. Even though Manager Buck Showalter says Urrutia can hit lefties, he hasn't started against a lefty yet and his numbers against southpaws in the minors worsen across the board compared to righties. I wouldn't let the gaudy minor league numbers move you to pick him up.
On June 26 Yasiel Puig was hitting .435/.467/.729 and had seven homers in his first 22 games. On June 26 I said, "[I]n redraft leagues I'd be looking to deal him for a top-tier hitter." Since I wrote that Puig is hitting .288/.326/.400 with just one homer in 20 games, and in July it's even worse: .250/.290/.344. Hopefully you sold high on Puig, whose plate discipline still hasn't gotten any better (7 K, 0 BB post-All-Star break).