2015 Fantasy Baseball: Deep League Digging, Week 17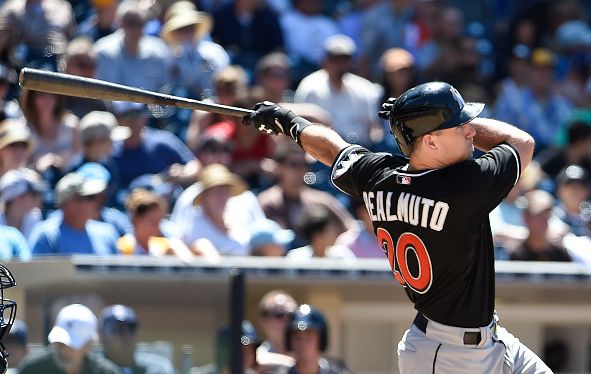 There's nothing more crucial to a team's success than having a solid catcher. They must call the right pitches and set the defense up correctly. They are the lifeline for pitchers, making sure they are always composed on the hill. These are just a few tasks a catcher is responsible for handling.
Of course, in fantasy baseball, what the catcher does while he's donning the tools of ignorance is less of a concern for us; it's what he does with a bat in his hands that gets us excited.
Catcher is often a "throwaway" position for some owners. Some will essentially punt it, the way you might with kickers or team defenses in fantasy football. But even if you're punting the position, you still have to have someone in that spot, and that's where this article could come in handy.
Today we'll look at a couple of catchers owned in under 10 percent of ESPN fantasy baseball leagues. If you're not too concerned about big name backstops, then these players will come in quite handy. They are also useful in two-catcher formats.
(All stats and ownership percentages are through Sunday's games)
There's really no reason Realmuto should be under 10 percent owned. He's started 71 of the last 91 games for the Marlins and has increased his numbers each month behind the plate. In May he hit .200/.240/.356, in June he hit .316/.342/.434 and in July he's hitting .290/.312/.548, which includes a .350/.366/.725 clip and three homers over his last 11 games.
Realmuto is just 24, which makes him the second youngest everyday catcher in baseball (Mike Zunino is one week his junior). The fact that he seems to be making adjustments at the plate each month is a great sign for his future and for fantasy owners.
He's never been a big power guy, with 12 HR being his minor-league high, but he can make up for that with some speed. I'm not joking, either. He's already got four stolen bases, and while that may look like a fluke, he has the history to back it up. Realmuto stole 13 bases in 2011, 14 in 2012 and 18 last year.
Realmuto is a the 14th catcher for the season on ESPN's player rater, and third over the past month, yet guys like A.J. Pierzynski and John Jaso are owned in more leagues. Time for fantasy owners to face "Real"-ity and add J.T. Realmuto.
Alex Avila has been garbage this season. There's no sugarcoating it. On top of missing 49 games with a knee injury earlier in the season, the 28-year-old has hit .191/.331/.282 with three home runs, and just .180/.317/.240 in 15 games since his activation on July 3.
In steps McCann, who's slashing a solid .288/.325/.433 with four homers and 24 RBI in 231 plate appearances. The 25-year-old is the Tigers catcher of the future, and with Avila a free-agent-to-be, it gives them incentive to play McCann more often. This could all be moot if Avila is traded, which is a distinct possibility due to his expiring contract and the Tigers' assumed player sale. McCann's hitting prowess certainly isn't holding him back either.
Once Avila is out of the picture (or at least put to the back burner), McCann will become a hot commodity. Grab him now before the cat's out of the bag.