In the Week 17 edition of fantasy baseball 3×3, we're hanging on to Hisashi Iwakuma, passing on Michael Conforto, and jumping on the Jung-Ho Kang hype train.
There are plenty of waiver wire columns out there that provide an exhaustive list of the most added players in fantasy leagues. This isn't one of them. Here, we'll run down a few of the most interesting players for fantasy owners, with perspective on who deserves your attention, who deserves your patience, and who deserves to go straight to bed without dessert.
Any questions, thoughts? Hit me in the comments or on Twitter.
3 TO CATCH
Players to be picked up; available in most standard leagues
Jung-Ho Kang | Pittsburgh Pirates | SS/3B
Since the start of July, Jung-Ho Kang has been on fire. According to FanGraphs, he hasn't just been hottest-hitting shortstop in the game by wRC+, Kang had been the 15th-best hitter in baseball this month (through Saturday's games), sandwiched between Bryce Harper and Nelson Cruz. He's mashed eight extra base hits in only 20 games, good for a ridiculous .362/.436/.536 slash line.
But alas, it's not quite a good as it sounds. Though Kang's power has certainly grown this month, he's only managed one home run. Though he's hitting the ball harder than he has in any other month of this season, his .429 July BABIP still seems untenable. He's been great, but he's not likely to repeat this level of production in August and September.
And he doesn't need to.
Shawn Brody published a great piece on shortstop offense over at Beyond the Box Score last week. The whole article is worth a read, but the chart below summarizes Brody's conceit: Offensively, shortstop has been a barren wasteland this season.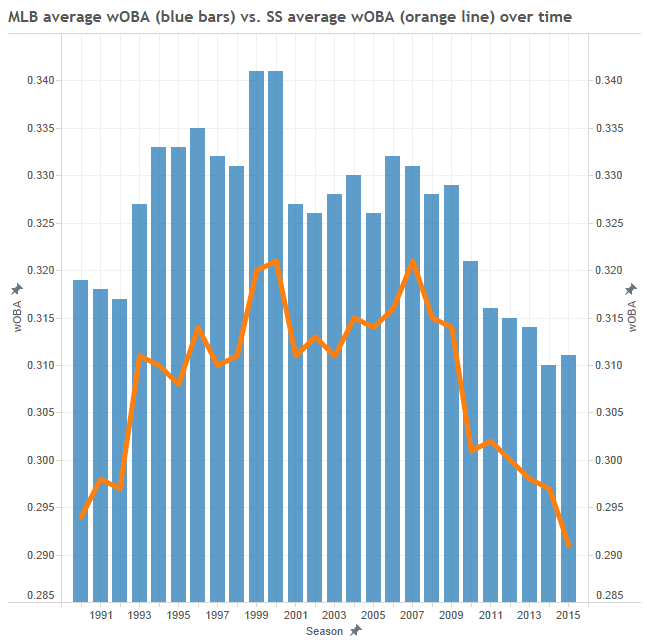 While the overall quality of shortstops is outstanding, teams' improved understanding of the value of defense has led to the rise of glove-first stars like Andrelton Simmons and Jose Iglesias. That awareness has also pushed some plus hitters who probably would have handled shortstop in the past off the position in favor of slicker glove men (Manny Machado's situation in Baltimore comes to mind). What we're left with is a small top tier of SS-qualified hitters and a whole bunch of fantasy lottery tickets.
Even knowing that he probably won't maintain the peak level he's reached this month, I'd rather have Kang than just about any of those other non-elite options. His overall numbers reflect the difficult adjustment to MLB pitching after his career in the Korean League, but his white-hot July shows that he's starting to settle in. Per Brooks Baseball, Kang is pulling line drives more often and hitting them harder than he has all season, which bodes well for growth in both average and power.
Over the rest of the season, FanGraphs Depth Charts likes him as about the fifth or sixth-best offensive shortstop in MLB. Among full-time shortstops projected to pop at least five homers of the rest of the way, only Troy Tulowitzki, Hanley Ramirez, Ian Desmond, Jhonny Peralta, and Xander Bogaerts are projected to post a better OPS than Kang and only Ramirez and Desmond are projected to steal more bases.
To pick him up, I'd drop: Marcus Semien, Starlin Castro, Alcides Escobar
Aaron Nola | Philadelphia Phillies | SP
Keith Law wrote a midseason update to his Top 50 prospects list just days before the Phillies called up top pitching prospect Aaron Nola. I imagine Law thought that particular move to be long overdue; I can almost hear his teeth gritting while I read his write-up:
Nola's uncanny fastball command has carried over into pro ball, making the Phillies' decision to keep him out of major league spring training this year even more bizarre in hindsight than it was at the time. He has walked just 26 batters in 161 2/3 pro innings, has averaged better than a strikeout per inning since getting the call to Triple-A, and would be the Phillies' No. 3 starter if they called him up today.
Nola is about as big league-ready as pitching prospects come and since his call-up, he's been quite good, allowing just nine hits through his first 13.2 big league innings with a 4:1 strikeout to walk rate. He was cruising against an excellent Cubs offense on Sunday until Addison Russell's eighth-inning bomb scuffed up his scoreline.
But look past the unimpressive ERA and you'll see that Nola has a full set of tools. He's flashed a live fastball: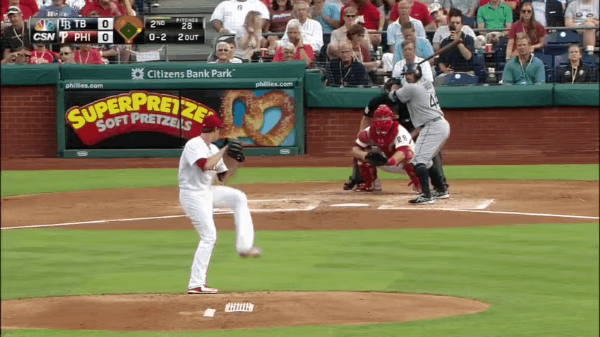 Alongside a sharp curveball (not pictured) and an excellent changeup: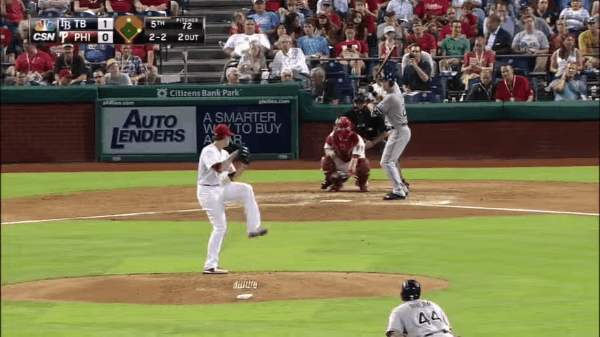 With such an advanced repertoire, Nola's worth a speculative add in just about every format.
To pick him up, I'd drop: Brett Anderson, Kyle Henricks, Mike Montgomery
It seems most fantasy owners wrote off Nick Castellanos after a shaky start to this season, and I can't really blame them. He showed even less power in the first half of this season than he did as a rookie, and he hadn't made a ton of progress in solving his strikeout issues. After about a season and a half as a full time big leaguer, we all reached a consensus on Castellanos, generally agreeing that he was a below-average fantasy third baseman.
Just when we thought we had him figured out, Castellanos has spent the last few weeks thoroughly debunking that conclusion. Since June 22, he's slashed .313/.362/.552 with five home runs in 105 plate appearances. There's some luck involved, but the root of this hot streak is an evolution in approach, paired with an improving skill set. Castellanos has been extremely aggressive, specifically on pitches middle-in, offerings he knows he can drive.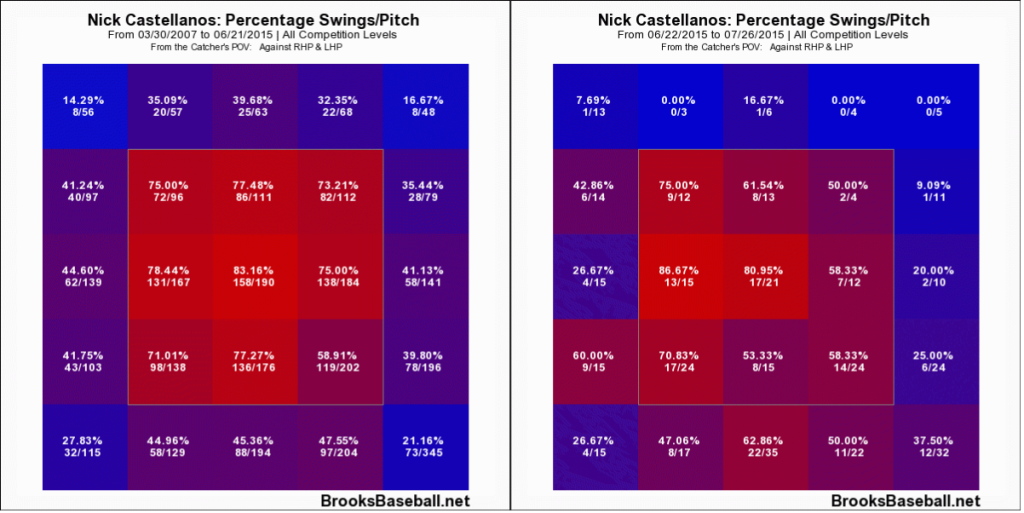 And when he swings at those pitches on the inside half, wonderful things are happening.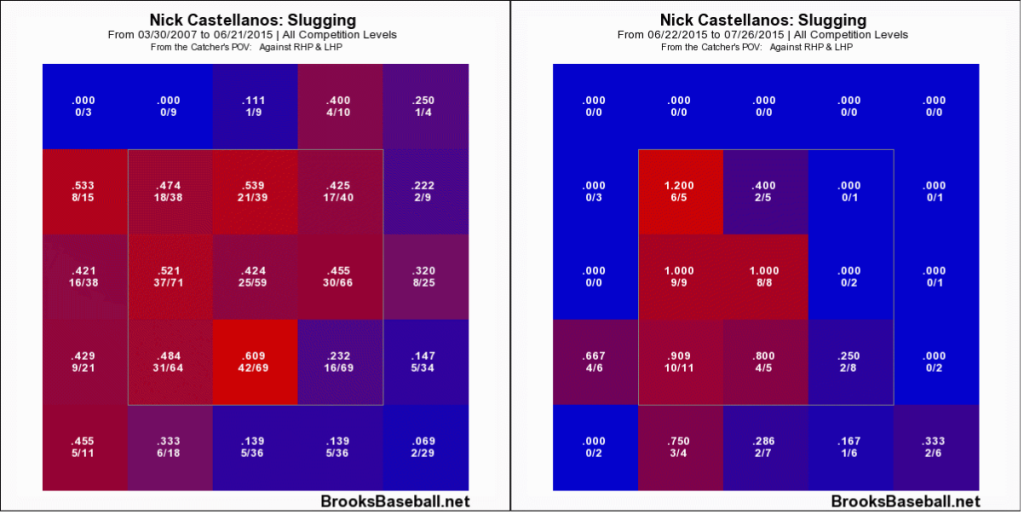 The small sample size makes the differences in charts look a bit starker than reality, but it's clear that Castellanos has been attacking and destroying just about everything on the inner half of the plate. Overall, his hard hit rate is up and his groundball rate is down, both excellent trends to see for an aspiring power hitter. And he's hit a couple of the most impressive homers in baseball over the last few days. He blew the game open back on July 22nd with a 446-foot grand slam that dented the usually unreachable brick wall beyond left-center at Comerica Park.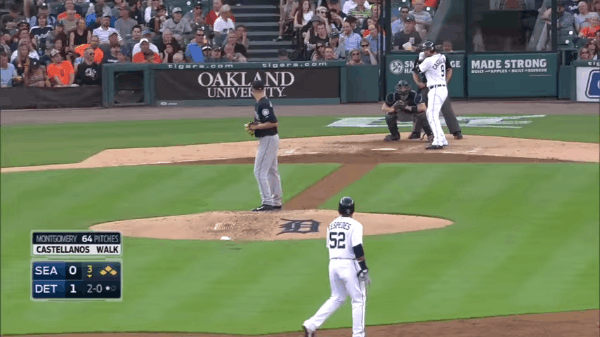 A couple days later, Castellanos followed up that effort with a windshield-seeking bomb that summitted the Green Monster in Boston.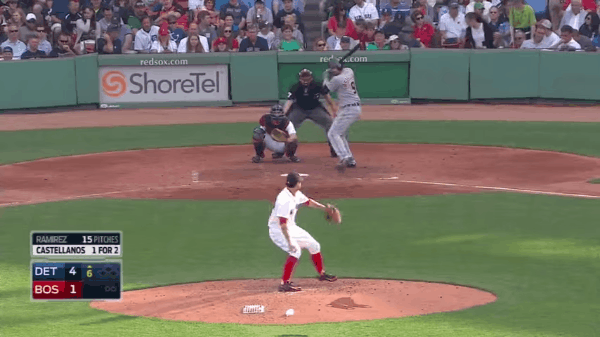 This brings me back to something I wrote earlier this season about Alex Rodriguez (actually, something that Rob Neyer wrote about Alex Rodriguez). Though they are singular events, those kinds of long-distance bombs don't happen by accident. It takes an incredible amount of baseball talent to hit either of those home runs, let alone to hit both in the same week.
The overall weight of evidence still leans toward Castellanos being just an average player, but given his age, it's just as possible that this breakout is a step forward in his development. Castellanos is almost two years into his big league career and he's still about four months younger than Kris Bryant. We've probably already seen enough of both players to know that Castellanos won't reach Byrant's level at any point in their careers, but this new version of him can help a whole lot of fantasy teams right now.
To pick him up, I'd drop: Matt Duffy, Mike Moustakas, Maikel Franco
3 TO CUT
Players to be traded or dropped, depending on the depth of your league
Michael Conforto | New York Mets | OF
This isn't technically a "cut" recommendation in most cases, since Michael Conforto is available in over 80% of Yahoo! leagues as of this writing. It's more of a "pass" recommendation, a reminder that though Conforto is among the most lauded prospects in baseball, he's not the type of player than can be a savior for roto owners in redraft leagues.
Conforto's best quality at the plate is his advanced approach; he's exceptionally patient for a hitter of his age and experience level. He was one of only seven players aged 22 or younger to log at least 190 Double-A plate appearances with a walk rate better than 11% and a strikeout rate below 20%, joining marquee names like the Phillies' J.P. Crawford and the Yankees' Greg Bird. It's the sort of grown-up skill that makes it easier to justify his lightning-quick rise through the Mets' system, but the fact that his patience and guile is what's gotten him to the big leagues should dampen the fantasy excitement around his debut.
Conforto isn't being called up to be a savior, he's coming up to be a finger in the dam. He's not coming up because he'll inject power into a Mets lineup that might as well have been swinging pool noodles over the last month (.105 team ISO in July), nor is he coming up to wreak havoc on the basepaths (he has four career steals in the minors). He's coming up because there's a decent chance that he'll be slightly better than Kelly Johnson and Kirk Nieuwenhuis.
If he could immediately translate his minor league OBP skills, Conforto could help a select group of fantasy squads, but that doesn't seem too likely. As Jeff Sullivan wrote last week, a slightly below average performance at the plate is the most likely outcome for Conforto's debut.
Calling up their top prospect is undoubtedly a worthwhile throw of the dice for the Mets, but I'm betting that slightly below average, or better yet, "slightly better than Kelly Johnson and Kirk Nieuwenhuis" isn't what most fantasy owners are looking for. Pass him up for a player with more fantasy-relevant skills.
I'd trade/drop him for: Delino DeShields, Jarrod Dyson, Anthony Gose
It's time to trade Matt Carpenter. He got off to a wonderful start this season, but over the last couple of months, he's been among the least productive hitters in the game.
In June, his .241 slugging percentage was the seventh-worst among major league regulars, trailing the likes of Billy Hamilton and Freddy Galvis. So far in July, he's managed to goose that number up to .267, which still ranks an embarrassing 16th-worst among qualified hitters. That Carpenter has continued to work walks during that time period is a testament to his overall value as a hitter, but in fantasy leagues that score on batting average and home runs, those walks aren't quite as useful.
Even in the face of these struggles, his full-season numbers really don't look that bad. Carpenter was shot out of a cannon to start the year; his .651 slugging percentage in March/April ranked fifth-best in baseball. As a result, he still holds a palatable .252/.356/.412 line for the season, with a .296 BABIP that is certainly casting come hither glances in the direction of positive regression. His ten home runs and 54 runs scored put Carpenter on a nice pace for the full season, it would seem.
And that's exactly why his fantasy owners should be banging down doors to trade him as soon as possible. When he rampaged through April and May, last season looked like a fluke, for a hitter growing into some power. But coming off a stretch in which he's popped only four extra base hits in 30 games, it's becoming clear that this season was the fluky one, and the pop-gun power he showed in 2014 is Carpenter's new reality. Since the beginning of that season, Carpenter has been completely helpless against pitches away.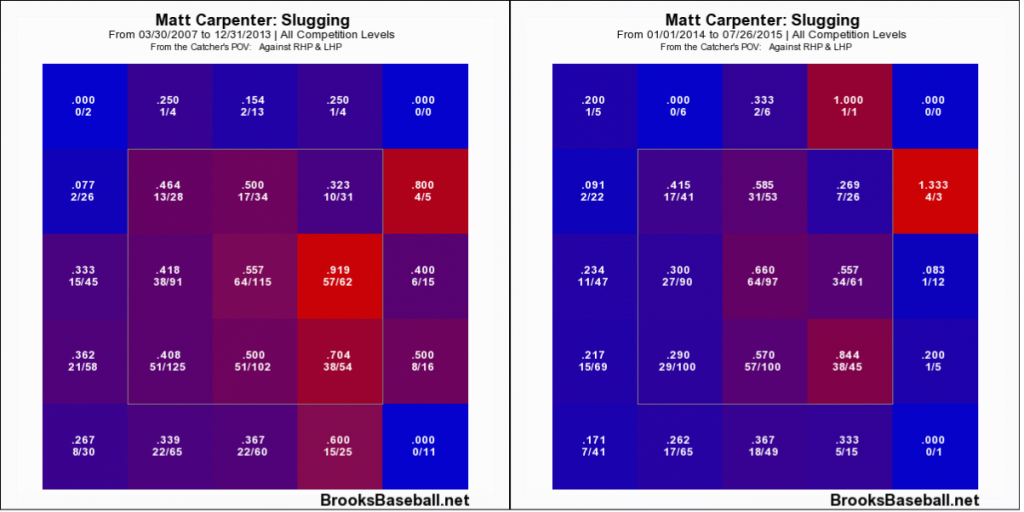 He can still do some damage when pitchers come inside, but when Carpenter can't beat them on the outer half of the plate, they don't have much reason to challenge him. He's a very disciplined hitter, so he'll continue to take his walks, but unless pitchers give Carpenter something to hit, his batting average and power aren't coming back.
So move him now, those full-season numbers are getting worse every day.
I'd trade/drop him for: Evan Longoria, Kyle Seager, Justin Turner
I can't recall any pitcher going from "franchise cornerstone" to "Triple-A refugee" as fast as Yordano Ventura. In just a few short months, we've gone from this:
If Royals win tomorrow, Yordano Ventura has a good chance to be named World Series MVP.

— Jon Morosi (@jonmorosi) October 29, 2014
To this:

Ventura pitched well on Sunday, and there's some bad luck evident in the gap between his 4.86 ERA and 3.56 FIP, but on the whole, he's been a mess this season. He's been prone to blow-ups both in his stat line and his emotions. Ventura's allowed four runs or more in seven of his 15 starts; he's also managed to start brawls with the Angels, Athletics, and White Sox.
You might expect a fiery personality from a flamethrower like Ventura, but he hasn't really justified the "flamethrower" part this season. His fastball velocity has been down overall and very inconsistent from start-to-start.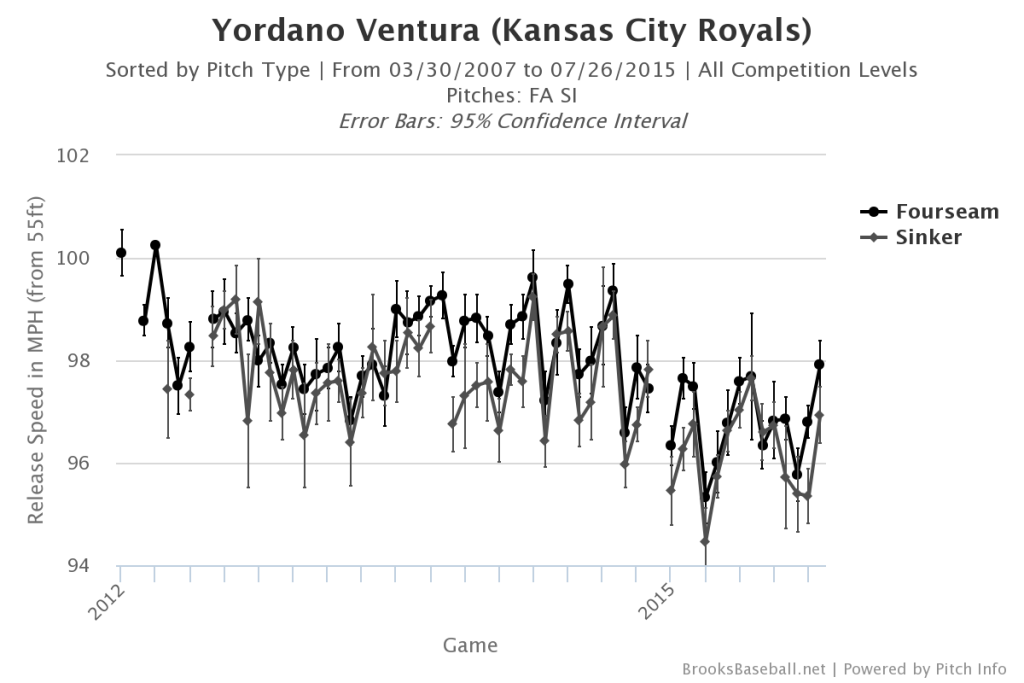 He's an exceptionally talented pitcher, but Ventura is a mess right now and with Johnny Cueto taking his place atop the Royals rotation, Kansas City has even fewer reasons to endure the headaches that come alongside his presence on the major league roster.
You likely won't be able to build a trade package around him, but Ventura might make a nice sweetener for a larger scale deal. Move him if you can and don't be afraid to drop him outright if there's a better option on the waiver wire.
I'd trade/drop him for: Ian Kennedy, Carlos Rodon, Trevor Bauer
3 TO KEEP
Players to hold or trade for; owned in most standard leagues
Hisashi Iwakuma | Seattle Mariners | SP
After a shaky return from the disabled list earlier this month, Hisashi Iwakuma has really rounded into form, pitching well against the Angels, Yankees, and Tigers in his last three starts. His solid performance is nothing new, but there has been an interesting development since his recent return: he's throwing more curveballs than ever.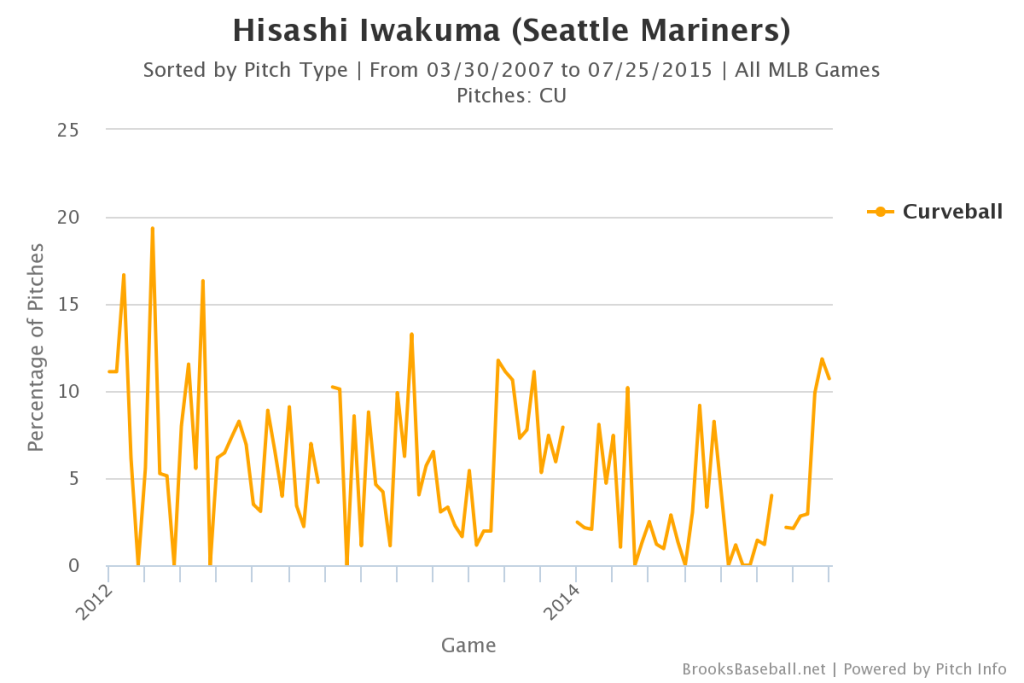 And it's not just more curveballs, but more effective curveballs. Iwakuma has thrown 39 curveballs this season and has yet to allow a hit.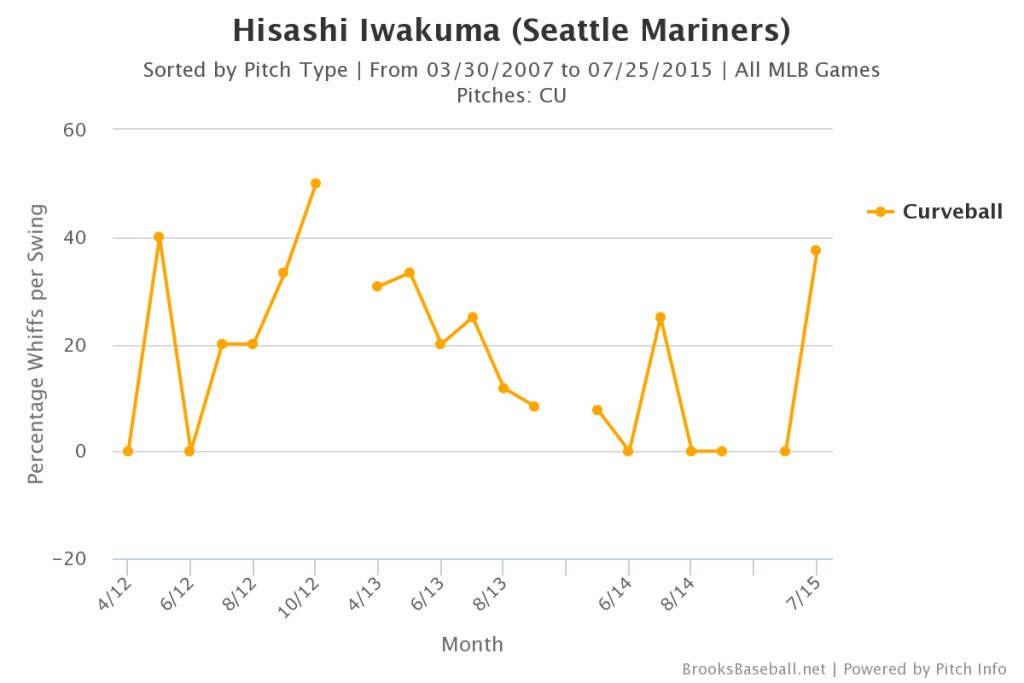 Looking back through Iwakuma's career, I could really only find one stretch when he used the bender this often with this level of effectiveness. From July 2012 through June 2013, Iwakuma threw his curve about 6% of the time with a whiff/swing rate that was generally much better than the rest of his career. During that 210-plus inning span, he posted a 2.52 ERA, 3.66 FIP, and 21.6% strikeout rate, all of which outpace his career numbers.
The curve is still not a huge part of his arsenal, but the addition of yet another weapon can really boost Iwakuma's production down the stretch. He's an excellent trade target in any format.
I wouldn't trade/drop him for: Anibal Sanchez, Michael Pineda, Alex Wood
Anthony Rendon | Washington Nationals | 2B/3B
I'm usually in favor of trading injured (or recently returned) stars at about 80 cents on the dollar, assuming that other owners will be so focused on their ability to get a big name at an apparent discount that they'll ignore the additional risk that comes alongside a player returning from injury. We all sort of assume that once his recovery timetable expires, the player will return good as new, but recoveries are never guaranteed. This season, Rendon himself has proven that's not always the case.
And that's exactly why I won't be trying to trade him now. The fact that he's already been injured twice reinforces the uncertainty surrounding his level of production down the stretch, making it much less likely for your leaguemates to ignore the risk. And while he was a early-round draft pick, Rendon is not a big enough name to command a big haul. Trading him right now just isn't a move that has a good chance to generate value, especially because he might be pretty good down the stretch. Certainly, Rendon won't be operating at full strength, but I don't think the injuries he's recovering from will really limit his ability to do generate fantasy value.
If Rendon had injured his hands or wrists, I'd be worried. Those kinds of injuries tend be slow-healing and/or recurring, and they can have a big impact on all aspects of a hitter's production. But all of Rendon's injuries were to his lower body. First, he strained his MCL and oblique, then after he returned from his first DL stint, he suffered a strain of his left quadriceps.
Rendon is a skilled contact hitter. He relies on his legs and core for power, as all hitters do, but given that his game isn't really dependent on speed at all, he's less likely than most to be debilitated by a lower-body injury. He's right handed hitter, so the left quadriceps injury could sap his power a bit if it inhibits his ability to drive on his front leg, but Rendon isn't expected to be a huge power producer anyway. Plus, this second outage gave him time to fully recover from the oblique and MCL injuries he suffered earlier in the season, both of which should be fully healed by now.
FanGraphs Depth Charts still projects Rendon to lead all second basemen in wOBA the rest of the way. I'll take my chances with him, rather than testing what's likely a lukewarm trade market.
I wouldn't trade/drop him for: Todd Frazier, Justin Upton, Nelson Cruz
Taijuan Walker has been a bit homer-happy over his last few starts, but with the way he works his fourseamer up in the strike zone, he's going to give up some homers. In order to succeed, he has to limit the power damage against his other pitches. He did that exceptionally well in late May and June, but since then, he's made a curious change in pitch mix, increasing his usage of his cutter (which Walker calls a slider), after all but scrapping earlier in the season.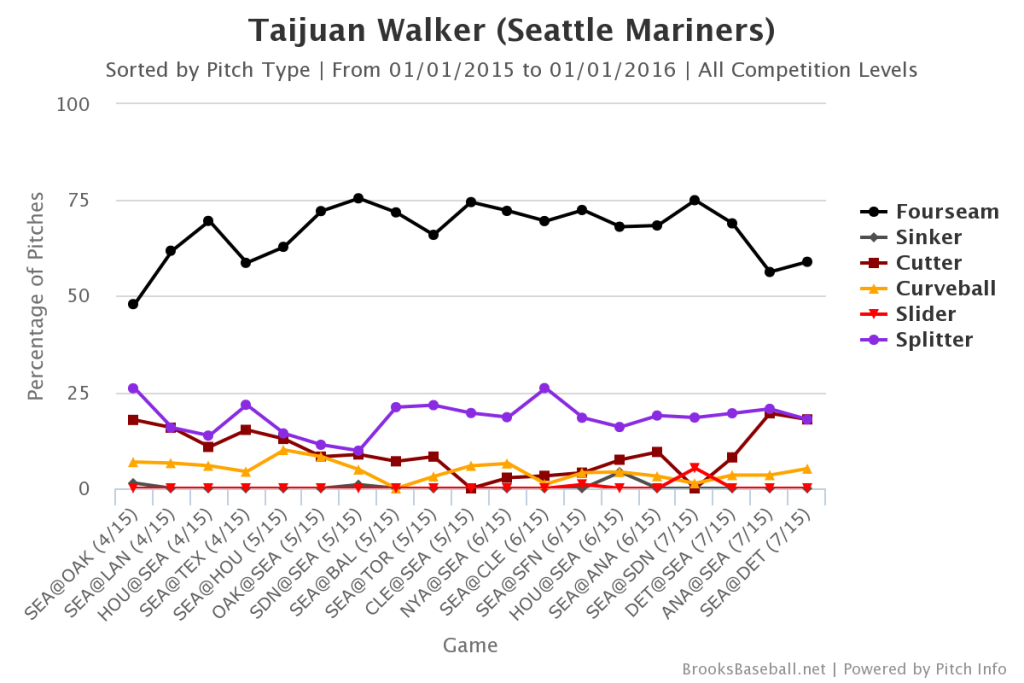 The results haven't been great. Since July 1, opposing hitters have tuned up the cutter/slider for a .273 ISO, per Brooks Baseball. It's odd to see Walker leaning more and more on a pitch that's not working, but it's nice to know that his struggles seem to be as much a failure of strategy as a failure of execution. Lookout Landing's Brendan Gawlowski correctly pointed out that Walker's evolution has been about more than pitch mix, however it seems like leaning a bit more heavily on his changeup (often classified as a splitter) could go a long way toward solving his most recent struggles. In the one recent start in which Walker didn't rely heavily on his cutter/slider, he whitewashed the Padres, allowing only one hit and no walks against seven strikeouts.
It's clear that Walker's still finding his sea legs a bit, but it's also clear that the improvements he made starting around the beginning of June are still there. Prior to issuing three free passes on Sunday, he hadn't walked more than two batters in ten straight starts. And that control has come without any decline in bat-missing ability; Walker's three best starts in terms of swinging strike rate have all come in his last seven outings.
That's all I want to see from Walker. If he can stay in the strike zone without unplugging his electric stuff, I'm in. And despite a few crooked numbers in recent starts, he's done that with consistency for going on two months. I'm betting that Walker will sort out his longball issues, if only because the root cause of those issues seems to be so simple.
I wouldn't trade/drop him for: Yovani Gallardo, Jose Quintana, Justin Verlander