Fantasy Baseball Final: July 26, 2015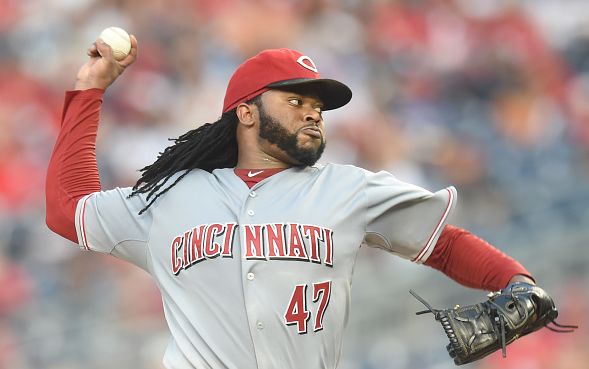 IF YOU READ ONLY ONE THING…
On Hall of Fame induction Sunday, it wasn't the play on the field but a move off the diamond that sent shockwaves through the American League. Johnny Cueto was traded to the Royals from the Reds on Sunday for minor league left-handed pitchers Brandon Finnegan, John Lamb and Cody Reed. Cueto joins a Royals squad who sits atop the American League Central and who many now consider favorites to be the American League representative in the World Series for the second year in a row. Cueto is a free agent at the end of the season and is clearly a starting pitcher rental for a team who many believe needed an ace to get them over the hump. Cueto, who is second in baseball with a BABIP of 2.34, will only be helped by the Royals' fantastic outfield and infield defense. Even with a move to the American League, Cueto owners should be very happy with this move today as his numbers should be helped because of the defense now playing behind him.
JUST AS WE EXPECTED…
Angels' fans should realize how lucky they are to be watching Mike Trout play on a daily basis. On Sunday, Trout hit his 30th and 31st home runs of the season to lead all of baseball. His second home run was a grand slam (which landed in a fan-made "Trout Net") to put the Angels up 8-2 en route to a 13-7 victory over the Rangers. It's scary to think of but Trout may be continuing to get better especially from a power standpoint. After setting a career high with 36 home runs last year, he's on pace for well over forty home runs this season. Trout's OPS currently sits above .1000 for the first time in his career and given his age, it is unlikely that his power numbers are only going to keep rising. Simply stated, there is nothing Mike Trout can't do.
Carlos Gonzalez led a 17-run Rockies attack against the Reds at Coors Field on Sunday. Gonzalez hit two home runs and had six RBIs to go along with three hits and four runs scored. Nolan Arenado also contributed a two-run home run. Gonzalez has been hot of late now hitting five home runs in his last four games. Owners of Gonzalez are certainly hoping this power surge can translate into more consistent time on base and return to his 2013 form.
BUT WE DIDN'T SEE THIS COMING…
A game that featured two of the best pitchers in baseball in Jacob deGrom and Zach Greinke led to neither getting the decision and the Mets newest acquisition being the hero at Citi Field. Greinke was not as sharp as he had been throughout July but still only surrendered two runs over seven innings. deGrom had fantastic stuff all day giving up no earned runs over seven and two thirds innings. deGrom racked up eight Ks and did not walk a batter throughout his highly anticipated matchup with Greinke. After Jeurys Familia gave up the Mets 2-0 lead in the ninth inning, it was Juan Uribe who stole the show in extra innings. Uribe, who was acquired from the Braves on Friday, roped a single in the tenth inning off of Kenley Jansen to give the Mets the 2-3 victory.
Carlos Rodon outdueled Danny Salazar in a 2-1 victory for the White Sox over the Indians. Rodon went six and 2/3 innings while striking out nine and not walking a single batter. Rodon has had a lot of trouble with walks in his early career but will continue to be a cheap daily option because of his high strikeout rate. Rodon's K/9 currently sits at 9.47 and you could reasonably expect that rate to rise as he gets more comfortable at the major league level. Rodon has been inconsistent since moving to the rotation in early May but Sunday's outing could give him some confidence to finish his rookie season on a high note.
THE REST OF THE DETAILS
SAVE CHANCES
–Zach Britton, BAL (25)
–David Robertson, CWS (21)
–Mark Melancon, PIT (32)
–Jim Johnson, ATL (9)
–Santiago Casilla, SF (26)
–Craig Kimbrel, SD (29)
–Brad Ziegler, ARI (17)
–Jeurys Familia, NYM (blown save, 4)
INJURIES
-Angels' outfielder Matt Joyce left Sunday's game early after a collision in the outfield. He is considered day to day.
–Adam Lind remained out of the lineup Sunday after leaving Saturday's game early with lower back tightness.
–Randal Grichuk left Sunday's game early with a groin injury.
–Matt Wieters was not in Sunday's starting lineup due to back tightness.
–Dustin Pedroia was placed back on the 15-day disabled list after aggravating his strained hamstring.
RUMORS & TRANSACTIONS
-Rumors continue to swirl about David Price possibly landing with the Dodgers. Buster Olney reports that it's not certain that Price will get moved but after the Cueto move a full week before the deadline, it's probably more likely that the next shoe to drop may be Price.
-Jayson Stark reported today that the Rangers and Dodgers are the favorites to land Cole Hamels.
-After getting Johnny Cueto on Sunday, the Royals have also expressed interest in Marlins' utility man Martin Prado.
-The Pirates have shown interest in acquiring Mike Napoli and/or Shane Victorino from the Red Sox.