2016 Fantasy Baseball: Left Field Projections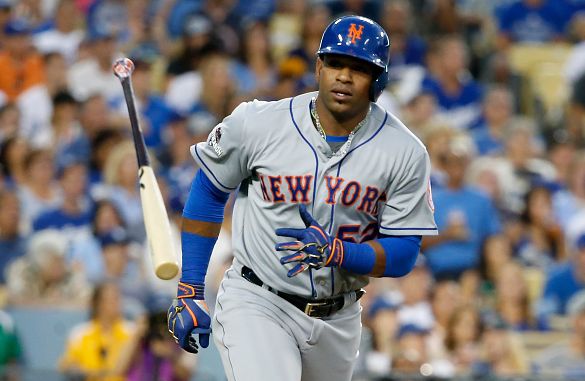 There are many ways to rank players. I don't claim to have a monopoly on the truth, but I hope my methods balance analytics with common sense. The analytics part is probably the most involved. We take runs above replacement from the past three seasons according to three different sources (Baseball Prospectus, Baseball Reference, and Fangraphs). We apply a multiplier to make sure the most recent performance is given the most weight. That creates an index score for each platform. We then take the average of those three to provide a single score for each player.
Outfielders tend to be interchangeable. Some fantasy platforms treat them generically, but others are position specific. For the purposes of keeping our sanity, we will use rosterresource.com's listing to sort them out by position. That might mean that some players are moving around from where they have played in the past.
Michael Brantley— Cleveland Indians (39.8)
| | | | | |
| --- | --- | --- | --- | --- |
| | 2013 | 2014 | 2015 | ADJ |
| BP | 21.0 | 57.7 | 28.9 | 37.2 |
| BR | 21.0 | 66.0 | 35.0 | 43.0 |
| FG | 14.2 | 56.0 | 36.2 | 39.1 |
Sometimes injuries are just injuries and sometimes they bleed into the next season. Brantley had surgery after the season and likely will not be ready by the start of the season. That could turn into a good thing if his injuries even partially explain the lukewarm season he had a year ago. However, he won't be playing in 150 games either. Verdict: Out
Yoenis Cespedes— New York Mets (39.4)
| | | | | |
| --- | --- | --- | --- | --- |
| | 2013 | 2014 | 2015 | ADJ |
| BP | 20.9 | 27.4 | 48.2 | 36.7 |
| BR | 14.0 | 26.0 | 50.0 | 36.0 |
| FG | 22.4 | 29.8 | 63.5 | 45.4 |
Will the real Yoenis Cespedes please stand up? Is he the guy that frustrated so many Athletics, Red Sox, and Tigers fans with occasional brilliance interspersed with periods of mediocrity? Is the guy that played like a megastar in New York last year? That is the ultimate question for every fantasy baseball player coming into next season. Verdict: Under
Justin Upton— Free Agent (36.0)
| | | | | |
| --- | --- | --- | --- | --- |
| | 2013 | 2014 | 2015 | ADJ |
| BP | 35.2 | 45.3 | 37.3 | 39.6 |
| BR | 35.0 | 33.0 | 36.0 | 34.8 |
| FG | 27.7 | 36.4 | 33.6 | 33.6 |
There are no superstars in left field. At least there aren't when you compare them with the rest of the positions. Upton was a number one overall pick and everyone has expected superstardom. It hasn't happened and at this point it likely won't happen. We have to learn to accept Upton for what he is. Verdict: Under
Starling Marte— Pittsburgh Pirates (33.7)
| | | | | |
| --- | --- | --- | --- | --- |
| | 2013 | 2014 | 2015 | ADJ |
| BP | 28.9 | 39.5 | 25.4 | 30.7 |
| BR | 30.0 | 41.0 | 28.0 | 32.7 |
| FG | 44.5 | 39.7 | 33.8 | 37.6 |
Fangraphs tends to include fielding in their value over replacement player. So, he is slightly inflated when you throw that into the equation. He is probably closer to 30 runs above replacement and he wasn't there a year ago. In fact, he has gone downhill in each of the past three seasons. Verdict: Under
Alex Gordon— Kansas City Royals (30.4)
| | | | | |
| --- | --- | --- | --- | --- |
| | 2013 | 2014 | 2015 | ADJ |
| BP | 29.7 | 32.9 | 23.2 | 27.5 |
| BR | 23.0 | 33.0 | 20.0 | 24.8 |
| FG | 34.5 | 59.8 | 26.3 | 38.8 |
Alex Gordon is a legitimate Gold Glove left fielder. Often times, fantasy players allow that to bleed into their personal rankings. He is likely a 30 run player when you take just the offense. So, the numbers above is probably appropriate. Verdict: Under
Brett Gardner— New York Yankees (28.5)
| | | | | |
| --- | --- | --- | --- | --- |
| | 2013 | 2014 | 2015 | ADJ |
| BP | 31.9 | 28.8 | 22.6 | 26.2 |
| BR | 35.0 | 31.0 | 31.0 | 31.7 |
| FG | 31.6 | 31.1 | 24.0 | 27.6 |
Fantasy baseball and real baseball sometimes don't intersect. As time has gone on, Brett Gardner's power has increased. That's a good thing. However, his speed has diminished in that same time. Speed is more rare than power, so he has effectively limited his fantasy effectiveness even if his real value has held. Verdict: Under
David Peralta— Arizona Diamondbacks (27.4)
| | | | | |
| --- | --- | --- | --- | --- |
| | 2013 | 2014 | 2015 | ADJ |
| BP | — | 10.8 | 39.7 | 28.1 |
| BR | — | 14.0 | 39.0 | 29.0 |
| FG | — | 10.5 | 35.0 | 25.2 |
For a team that finished closer to the bottom of the standings than to the top, they sure do have quite a few valuable fantasy players. Peralta might be the one guy on our list that is destined to outproduce what you see above. Verdict: Over
Michael Conforto— New York Mets (27.4)
| | | | | |
| --- | --- | --- | --- | --- |
| | 2013 | 2014 | 2015 | ADJ |
| BP | — | — | 15.0 | 26.9 |
| BR | — | — | 11.0 | 19.7 |
| FG | — | — | 19.8 | 35.5 |
Predicting performance for players that came up in the middle of the season is difficult at best. This is particularly true for a guy that had his share of postseason heroics. We can't afford to give in too much to those heroics, but we have to believe that Conforto will at least be an above average performer, and with Cespedes coming back he will likely be eligible in both right and left field. Verdict: Under
Christian Yelich— Miami Marlins (26.3)
| | | | | |
| --- | --- | --- | --- | --- |
| | 2013 | 2014 | 2015 | ADJ |
| BP | 18.2 | 32.0 | 27.8 | 27.6 |
| BR | 15.0 | 28.0 | 27.0 | 25.3 |
| FG | 11.7 | 39.8 | 21.3 | 25.9 |
Everyone keeps waiting for Yelich's power to come. He played his second full season last year, but still has yet to hit as many as ten home runs. Still, he hit .300 a year ago and he has stolen 37 bases over the past two seasons. If he continues to produce on this level he won't be a prime time fantasy player, but he will be useful. Verdict: Over
Miguel Sano— Minnesota Twins (24.0)
| | | | | |
| --- | --- | --- | --- | --- |
| | 2013 | 2014 | 2015 | ADJ |
| BP | — | — | 17.7 | 22.0 |
| BR | — | — | 21.0 | 26.1 |
| FG | — | — | 19.3 | 24.0 |
Much like Conforto, we have to adjust on the fly for a guy that didn't play a full season in the big leagues. A lot of the Twins' success this season will be tied to their outfield. They have Eddie Rosario in right field and Byron Buxton in center, but Sano might end up being better than all of them. Verdict: Over
Matt Holliday— St. Louis Cardinals (23.8)
| | | | | |
| --- | --- | --- | --- | --- |
| | 2013 | 2014 | 2015 | ADJ |
| BP | 38.2 | 36.0 | 14.7 | 25.7 |
| BR | 40.0 | 35.0 | 12.0 | 24.3 |
| FG | 37.3 | 33.0 | 8.6 | 21.5 |
Holliday spent most of 2015 on the shelf. Most of them were nagging injuries, but it makes you wonder if this is the beginning of the end. This is usually the way things go with aging players. It isn't so much an erosion of skills, but that those bumps and bruises become more difficult to recover from. Verdict: Under
Jayson Werth— Washington Nationals (23.3)
| | | | | |
| --- | --- | --- | --- | --- |
| | 2013 | 2014 | 2015 | ADJ |
| BP | 44.9 | 47.1 | 7.2 | 26.8 |
| BR | 45.0 | 46.0 | -1.0 | 22.3 |
| FG | 43.4 | 45.2 | -3.2 | 20.7 |
People love to poke fun at Werth's contract with the Nationals, but he has actually been very productive with them. In point of fact, he has been just as productive as he was in Philadelphia. The problem in both places was staying healthy. Werth is easily the best risk/reward candidate on the left field board. Verdict: Over
Colby Rasmus— Houston Astros (22.4)
| | | | | |
| --- | --- | --- | --- | --- |
| | 2013 | 2014 | 2015 | ADJ |
| BP | 30.4 | 12.8 | 23.2 | 20.9 |
| BR | 34.0 | 16.0 | 20.0 | 22.5 |
| FG | 47.4 | 8.1 | 26.3 | 23.8 |
The Astros gave Rasmus a qualifying offer and he was the first player in the history of qualifying offers to accept. It is easy to think of players differently when they make big money. Rasmus is a borderline starting outfielder in fantasy and real baseball and no amount of money will change that fact. Verdict: Under
Ben Revere— Washington Nationals (22.1)
| | | | | |
| --- | --- | --- | --- | --- |
| | 2013 | 2014 | 2015 | ADJ |
| BP | 7.9 | 24.5 | 28.9 | 23.9 |
| BR | 15.0 | 29.0 | 28.0 | 26.2 |
| FG | 7.2 | 19.0 | 17.6 | 16.3 |
Revere has been on four teams in four seasons. The receiving team sees tantalizing speed while the sending team sees lackluster production. He's averaged more than 30 steals a season since becoming a regular in 2011. For fantasy purposes, that's pretty strong. The Nationals have options, so they will likely tire of that .328 career OBP before the end of the season. Verdict: Under
Andre Ethier— Los Angeles Dodgers (20.4)
| | | | | |
| --- | --- | --- | --- | --- |
| | 2013 | 2014 | 2015 | ADJ |
| BP | 23.7 | 6.2 | 29.0 | 20.5 |
| BR | 27.0 | 9.0 | 25.0 | 20.0 |
| FG | 27.8 | 7.1 | 27.5 | 20.8 |
Andre Ethier is perfect fantasy bench material. The only problem with his production the past few years has been getting on the field. He isn't flashy offensively and he won't put up gaudy numbers, but he is a steady performer. He's being paid like he's an all-star and that probably bothers some Dodger fans, but he is who he is. Verdict: Over
Hanley Ramirez— Boston Red Sox (19.7)
| | | | | |
| --- | --- | --- | --- | --- |
| | 2013 | 2014 | 2015 | ADJ |
| BP | 43.1 | 41.1 | 5.0 | 23.4 |
| BR | 49.0 | 44.0 | 7.0 | 26.3 |
| FG | 47.1 | 30.1 | -16.9 | 9.4 |
Ramirez is the inverse of those other Gold Glove fielders we've seen here. He is so bad they are moving him to first base. He will be the designated hitter once David Ortiz retires. If he returns to form offensively he will be the bargain of the draft. We can safely predict he will outperform his projection. Verdict: Over
Khris Davis— Milwaukee Brewers (16.2)
| | | | | |
| --- | --- | --- | --- | --- |
| | 2013 | 2014 | 2015 | ADJ |
| BP | 13.3 | 21.1 | 19.0 | 18.8 |
| BR | 15.0 | 18.0 | 16.0 | 16.5 |
| FG | 10.3 | 15.4 | 12.7 | 13.2 |
Davis has averaged 20 home runs a season in his three years and quietly hit 27 a year ago. Winning teams need players like Davis. He might never make an all-star team, but you need solid contributors like that in your lineup if you want to win. The Brewers and Reds look like they will be fighting for fourth place in the NL Central, so he may be playing elsewhere. Verdict: Over
Corey Dickerson— Tampa Bay Rays (15.4)
| | | | | |
| --- | --- | --- | --- | --- |
| | 2013 | 2014 | 2015 | ADJ |
| BP | 7.0 | 26.3 | 10.8 | 15.3 |
| BR | 8.0 | 36.0 | 13.0 | 19.8 |
| FG | 5.9 | 23.3 | 4.7 | 11.1 |
I was a frustrated Corey Dickerson owner a year ago. Anyone that owned him came away disappointed. He flashed production when healthy, but he went on the disabled list multiple times during the season. Often times, those multiple injuries are more frustrating than one lengthy injury. Now, he must show that he can produce at sea level. Most are skeptical. Verdict: Under
Nori Aoki— Seattle Mariners (15.0)
| | | | | |
| --- | --- | --- | --- | --- |
| | 2013 | 2014 | 2015 | ADJ |
| BP | 13.1 | 16.0 | 11.2 | 13.1 |
| BR | 20.0 | 17.0 | 13.0 | 15.5 |
| FG | 13.9 | 21.3 | 13.8 | 16.3 |
When looking at the bottom five or six guys you can easily divide them into two categories. Some of them are sleepers that could end up producing big time numbers if everything breaks right. Then there are steady performers that won't wow you, but could serve as a decent fantasy backups. You probably shouldn't draft those guys, but they are nice waiver wire candidates. Verdict: Over
Desmond Jennings— Tampa Bays Rays (14.4)
| | | | | |
| --- | --- | --- | --- | --- |
| | 2013 | 2014 | 2015 | ADJ |
| BP | 38.7 | 17.7 | 1.1 | 12.9 |
| BR | 33.0 | 26.0 | 2.0 | 15.2 |
| FG | 27.8 | 29.5 | 1.1 | 15.0 |
Jennings fits the other category. 2015 was a lost season for Jennings as Kaimaier took over in center and he struggled to find his place. With the addition of Corey Dickerson, it is unclear where he will fit in with the club. If he finds regular plate appearances somewhere he should outproduce his projections. Verdict: Over