2017 Fantasy Baseball: Miami Marlins Preview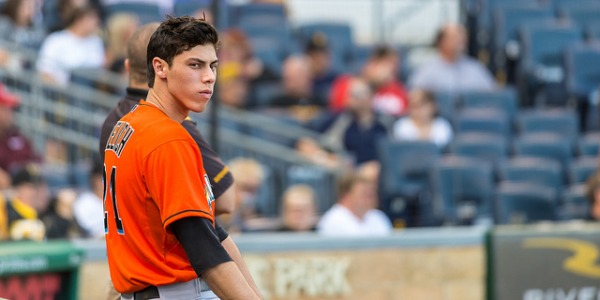 Offseason Overview
The main target for the Marlins was the unenviable and frankly impossible task of replacing Jose Fernandez. They bolstered their rotation by trading for Dan Straily (SP) and signing free agent Edinson Volquez (SP).
Andrew Cashner (SP) and Fernando Rodney (RP) left to free agency and the Marlins added Brad Ziegler (RP) to strengthen their bullpen.
On the hitting front, it's pretty much "as you were".
Potential Lineup
2B Gordon
3B Prado
RF Stanton
LF Yelich
CF Ozuna
1B Bour
C Realmuto
SS Hechavarria
Potential Rotation
Wei-Yin Chen
Dan Straily
Edinson Volquez
Tom Koehler
Conley / Locke
Top Draft Picks (Studs)
It's obviously going to be a Marlins outfielder who will offer the most value of anyone in Miami. Maybe a tad surprising that I'm picking Christian Yelich (OF) over Stanton here (more on Stanton later).
Yelich had what many considered a breakout in '16, hitting 21 homers at a .298 clip. He only mustered single figure steals but that could be contributed to him batting in the heart of the order with Stanton missing so much time.
But he's still 25, is developing each year and there's room for more growth. If he gets going on the bases again, a 20/20 season is possible, although a 25/15 year is more likely.
He looks comfortable facing lefties now (.287 average vs lefties and .301 vs righties) although the power comes more against right handed pitching (19 vs 2 last year). But there's no chance of a platoon and Yelich can easily be considered as an OF2 who won't harm you in any category.
High Upside (Sleepers)
There isn't much on the Marlins roster which can be considered as hidden talent. The rotation looks average at best and the offense is pretty much "what you see is what you get". But one guy does have some sneaky upside and that guy is Marcell Ozuna (OF).
Ozuna's 2015 was disappointing considering his mini breakout in 2014. But last year he was well on his way to a real breakout. Heading to a 30 homer season, a midseason wrist injury prevented Ozuna from achieving that.
But his 16 home runs prior to his June injury and .311 first half average will go unnoticed after his second half slump, driving down his draft day price.
Ozuna still needs to hit righties better (.258 career average against right handed pitching compared to .293 vs lefties) but does enough at the plate and in the field to avoid any platoon scenario.
It won't take much for Ozuna (who is still only 26) to take a step forward and hit 30+ homers for the first time in his career and make the Marlins outfield potentially a three-headed monster.
High Downside (Busts)
Sticking with the outfield theme, I'm declaring Giancarlo Stanton (OF) a 2017 bust.
This decision was made by one factor and one factor alone. Health.
The number of games Stanton has played in the last 5 years are 123, 116, 145, 74 and 119. He's hit 152 homers across that spell so still does have value. But each and every year you're paying for a 40+ homer guy who has never achieved 40 in a season.
If Stanton plays a full, injury-free season I can easily see a 50 home run year for the slugger. But it's reached the point I'm not willing to pay to take that chance.
Some of the outfielders Stanton is still going before this year in early drafts are; J.D Martinez, George Springer, Nelson Cruz, Gregory Polanco and Yoenis Cespedes.
A healthy Stanton is easily the best option of those guys. But we aren't seeing a healthy Stanton year in, year out. One season he will reach that plateau, but it's in hope rather than expectation.
CLOSER SITUATION
AJ Ramos (RP) chalked up 40 saves in 2016 with an ERA of 2.81 and a 10.3 K/9 rate. He put up excellent closer numbers without much notice. Whether or not the Marlins rotation will be good enough to give Ramos the opportunities in 2017 remains to be seen. But the offense does have the potential to put up enough runs to counter that.
The signing of Brad Ziegler (RP) this offseason suggests an insurance policy and potential closer when Ramos is resting. There's also Kyle Barraclough (RP), David Phelps (RP) and Dustin McGowan (RP) who all put up sub 3.00 ERAs in 2016. All of whom could enter the fold for saves or holds.
Impact Minor Leaguers
The Marlins have struggled to build a good farm season in recent times. MLB Pipeline has the highest Marlin prospect ranked at 43 (2016 first round pick Braxton Garrett). It's difficult to see any current minor leaguer to make a significant impact in 2017.
But one name which does spring to mind is Jarlin Garcia (SP).
Now 24, Garcia will look to earn a place in the rotation this Spring and could sneak into that 5th spot. If not, I'd expect Garcia to get a call up at some point and if things fall into place he could stick into a rotation needing a spark.
He's got a plus fastball in the mid 90's but will need to improve his secondary pitches to make an impact. He has decent control and if he does improve his off speed stuff, Garcia could be an above average strikeout pitcher too.
I'm not going out of my way to snap him up and there are plenty of better options in dynasty leagues. But for someone who may make a difference in 2017, Garcia does have some likeability.
Surprising Stat
In the last two years, only two home runs have travelled more than 500ft. In 2016, Stanton hit the only one (going 504ft). The other one, in 2015, went 503ft and was hit by Jake Arrieta!
Article written by Jaime Steed for TheFantasyFix.com.