2018 Fantasy Baseball: Milwaukee Brewers Acquire Christian Yelich and Lorenzo Cain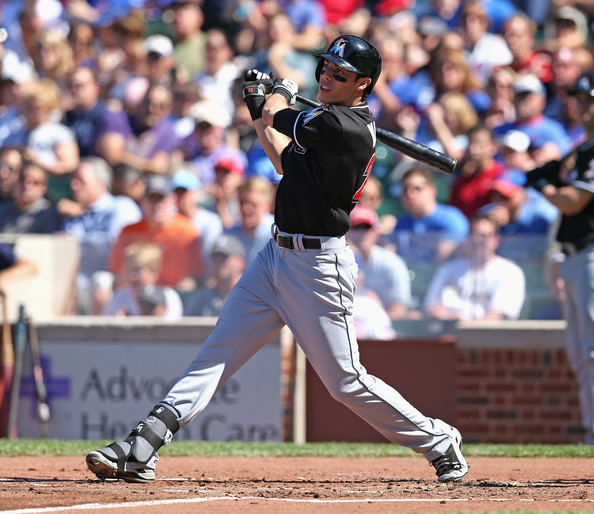 In an offseason where very little has gone on, the Brewers made two moves on Thursday that sent shockwaves through the industry. First, they traded Lewis Brinson, Isan Diaz, Monte Harrison, and Jordan Yamamoto for Christian Yelich. Nearly an hour later, they agreed to a five year, 80 million dollar contract with free agent center fielder Lorenzo Cain.
Why the Brewers make these moves
These moves together don't make a whole lot of sense yet. Yelich and Cain will be displacing two regulars that seemed to bust out last season in Domingo Santana and Keon Broxton. Broxton was barely better than replacement level in terms of value, but he has tantalizing speed and power. Still, it is understandable that they would add one of these players as an immediate upgrade. Displacing Santana is a true head scratcher.
Additionally, Brett Phillips seemed on the brink of establishing himself as a long-time fixture in center field. Yelich is signed through 2021 and Cain was signed for five seasons. They wouldn't make that kind of commitment to both without having some plan for what they would do with the other three. From here, we can only make some guesses as to where they might ship some of them off to.
If you were to shoot them with truth serum, I'm sure they would prefer dealing Ryan Braun, but his contract will be next to impossible to move. The Rays have been rumored to be shopping Alex Colome and possibly Chris Archer. Santana would be a whole lot more appealing as a headliner than Braun. Archer would probably require a whole lot more than just Santana, but if Phillips were included that would end up being a good start. Furthermore, Broxton had been linked with the Giants opening in center field as well.
All of this ignores the combination that Yelich and Cain bring to the table. Cain is a plus defender and has been on the outskirts of MVP talk in the past because of his strength as a defender. Yelich is also a strong defender (particularly in left field), but his value comes when you look at the difference between his home and road splits. Miller Park plays as more or less average over the past three seasons in comparison with Miami which has been well below average. In 2017, he slashed .299/.385/.484 with 11 home runs on the road. In 2016, he slashed .320/.392/.542 on the road. So, obviously the Brewers are banking on him being a star now that he has left Miami.
Why Miami makes this deal
The destruction of the Marlins is nearly complete. It's hard to imagine a team dismantling more than the Marlins have at this point. You have to assume that J.T. Realmuto will be dealt before the start of the season. If and when he gets dealt, that will be their top five regulars (including their entire starting outfield) going out the door. The scorched earth method of management has been increasingly popular in recent seasons, but even this kind of tear down is audacious.
However, this time they at least brought in a highly regarded prospect in return. Brinson was a top 2o prospect according to MLB.com last season and the three of the four were listed amongst the Brewers top 14 prospects. However, this was more about dealing another long term asset than getting talent in return. Plus, Yelich had come just short of demanding a trade in recent weeks following their fire sale. Realmuto is probably next.
What these deals mean for you
Yelich has to be a higher profile fantasy asset at this point. When you combine the last two seasons in the aggregate and create one full season on just the road stats you get a .310/.388/.514, 24 home run campaign. Add to that that the Brewers offense is going to be deeper than the Marlins offense was over the past two seasons and you have the makings of a guy that should hit around .300 with 20 home runs and perhaps close to 100 runs and RBI.
Cain is not benefitting from a better ballpark, but the Brewers offense is loaded with talent. The main issue with him has been health. Depending on who they decide to keep, he should have support in center field with either Broxton or Phillips. Perhaps the occasional day off can help him get to 500 to 550 plate appearances. He has surpassed 5.0 bWAR in three out of the last four seasons. That comes with lower counting numbers for whatever reason than those numbers would suggest. Those should increase as well.
Meanwhile, Brinson becomes a better fantasy prospect in the interim. Stay tuned as we find out whether Santana and/or Broxton will be dealt. The Rays probably match up better as a trade partner, but the Giants could be in on either one of those players as well. That will definitely have an impact on their fantasy value.