2015-16 Fantasy Basketball: Buy Low, Sell High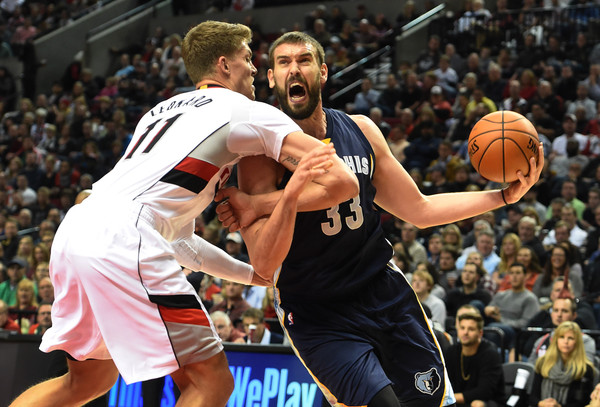 Welcome to the first edition of the Buy Low/Sell High column which will be run weekly here at The Fantasy Fix. The goal of this article is to help you identify players that should be targeted in trade talks or ones who should be placed on the trading block. While five or six games is certainly too early to make any season-long prognostications in most cases as the sample size is simply too small, early on in the season is also the best time to trade as you can take advantage of owners who overreact to a slow start.
The 2015-16 NBA season has gotten off to a rousing start led by the spectacular play of reigning MVP Stephen Curry, while others like Kawhi Leonard, Hassan Whiteside, C.J. McCollum, Giannis Antetokounmpo and Andre Drummond have really stood out with their ever-improving games. On the other end of the spectrum, players like LaMarcus Aldridge, Tobias Harris, DeMarre Carroll, Monta Ellis, Gorgui Dieng and others have underwhelmed thus far. With all that being said, owners need to make sure they do their due diligence when examining values over the course of the season as each game can seemingly help or hurt a players trade value. Make sure to try and not grossly overpay in trades as getting swindled can haunt you the rest of the season as you watch in horror as your former players tear it up on an opponents roster. At the same time, be ready to pull the trigger when the opportunity arises and be sure to remember it's not always necessarily about who is obtaining the best player in the deal, rather it's how the statistics being acquired fit your team needs.
FYI: The number in parentheses to the right of each players name indicates their 9-cat value according to Yahoo, while the stats bolded in red show what stats are weighing down or propping up players fantasy values. Without further ado, let's get to the buy low section as we examine who fantasy owners should be looking to trade for.
Buy Low
Danny Green (215) – 6.4 PTS – 5.2 REB – 1.6 AST – 1.0 STL – 0.6 BLK – 1.0 3PM – 29.3% FG – 60% FT
To say Green has been a disappointment thus far would be quite the understatement as he's currently the 215th-ranked player in 9-cat formats according to Yahoo. Owners certainly haven't been pleased with their ROI so far as Green didn't come cheap on draft day as he had a 57.6 ADP. The main root of his problems is his shot has simply been disastrous so far as he is tied with Andrew Wiggins for the lowest field goal percentage in the NBA. Ouch. Compared to last season, Green has seen his averages in points (11.7 > 6.4), three-pointers (2.4 > 1.0), blocks (1.1 > 0.6), FG% (43.6 > 29.3), and FT% (87.4 > 60.0) drop off dramatically so far.
Green can undoubtedly be a headache to own at times as his inconsistency has been one of his calling cards the last few seasons, but he is also perennially underrated, especially in 9-cat formats due to his ability to fill up a stat sheet. The 28-year-old is still playing a lot of minutes as his MPG (28:15) is nearly identical to last year (28:32) and his field goal attempts are roughly the same (9.1 > 8.2) so it's not like Gregg Popovich is jerking him around. The opportunity is there, now all Green has to do is capitalize. Green isn't the only Spurs player to have struggled so far, as Tim Duncan, LaMarcus Aldridge, and Tony Parker have gotten off to slow starts as they adjust to figuring out their roles on offense. Once San Antonio starts clicking on all cylinders, there is going to be all kinds of fantasy goodness available. There is literally nowhere to go but up for Green's fantasy value as his percentages will both undergo extreme positive regression in the coming weeks. "Icy Hot" should be someone to target as his owners are likely very frustrated with the early returns and he likely won't be very expensive coming off his slow start. Fantasy owners should still view Green as a shoo-in for top-60 value in 9-cat formats thanks to his across-the-board contributions and there is a lot of room for profit for owners who can acquire him right now. In other words, what are you waiting for?
Marc Gasol (151) – 12.5 PTS – 5.5 REB – 2.8 AST – 0.0 STL – 0.8 BLK – 41.2% FG – 79.2% FT
The 7'1 Spaniard has been hampered by neck discomfort and an abnormal amount of blowout situations during this young season and his fantasy value has steeply dropped compared to his career norms as a result. With a 26.2 ADP entering the year, it's safe to say fantasy owners may have shouted a profanity or two based on Gasol's abysmal play so far this year. His averages in points (17.4 > 12.5), rebounds (7.8 > 5.5), assists (3.8 > 2.8), blocks (1.6 > 0.8), steals (0.9 > 0.0), and FG% (49.4 > 41.2) have all taken a turn for the worse when compared to his career-best campaign in 2014. Additionally, Gasol is averaging six less minutes per game thanks to the lopsided scores and neck pain and that has taken a toll on his counting stats to date. For someone who has averaged at least 0.9 steals the last six seasons, it's shocking to see Gasol has yet to record a steal through the Grizzlies first six games.
Additionally, the career 50.7 percent shooter has a lot of room to improve upon his current mark. His 23.6 usage rate is only slightly down from the 24.7 mark he posted last year and will likely increase in the coming weeks. On a scale of 1-10 regarding my level of concern, my answer would be a 1 unless his neck injury proves to be serious, which there are no indications that it is. He's a proven fantasy commodity still in his prime at 30 years old and his slow start can likely be chalked up to small sample size. If there are any Gasol owners in your league fretting about his slow start, be ready to pounce on a player likely to deliver top-30 value by the end of the season.
Marcin Gortat (123) – 9.6 PTS – 7.6 REB – 2.o AST – 0.4 STL – 1.4 BLK – 47.2% FG – 82.4% FT – 2.6 TO
After a stellar post All-Star break run in 2014 and a brilliant showing in the preseason with the new uptempo Wizards, the hype train couldn't be stopped for Gortat and yours truly was one of his biggest advocates. Unfortunately, the bandwagon has yet to gain full stride yet as the Polish Hammer has gotten off to a sluggish start out of the gate. Gortat's most notable drop-offs have been in points (12.2 > 9.6), rebounds (8.7 > 7.6), turnovers (1.2 > 2.6), and FG% (56.6 > 47.2). Considering Gortat is a career 54.9 percent shooter and has hit at least 52.1 percent of his shots the last eight seasons, owners should have nary a worry about his output in that category and his point totals will obviously increase when he becomes more efficient from the field. The high amount of turnovers are odd too since the 31-year-old has never averaged more than 1.6 TO in a season so that number is set to come down considerably. Furthermore, the Wizards sport the second-highest pace in the NBA and the third-most possessions and the additional possessions should pay off over the long haul.
After a lackluster performance against the Spurs on Nov. 4, Gortat said after the game he's "been playing awful" and fantasy owners can nod in agreement at his self-assessment. With that being said, much brighter days are ahead for Gortat and owners should be looking to swoop in and steal a potential top-50 value.
Honorable Mention: Draymond Green (39), Rudy Gobert (52), Klay Thompson (77), Khris Middleton (107), DeMarre Carroll (175), Markieff Morris (192), Gordon Hayward (195), Monta Ellis (202).
Sell High
Ricky Rubio (10) – 15.3 PTS – 4.3 REB – 9.0 AST – 2.0 STL – 0.5 3PM – 43.9% FG – 92% FT – 1.8 TO
If you happen to own Rubio and are in need of the copious amounts of assists and steals that he will provide while owning a plethora of high field goal percentage players to offset his deficiencies as a shooter, you likely won't be looking to unload Rubio. On the other hand, if you see his averages in points and field goal percentage and remain skeptical that he'll be able to keep up his production in those areas, I'm right there with you.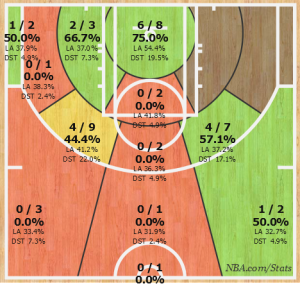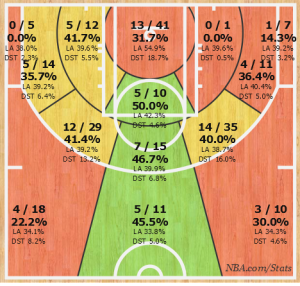 As you can see, Rubio has made immense strides on his shots close to the basket when compared to last season, but his 3-point shooting is obviously still a work in progress and he'll continue to be a detriment as a guard incapable of hitting at least a three per game. It's worth pointing out that Rubio's jump-shot looks much more fluid than at any point of his career and he appears more confident to unleash mid-range jumpers. His field goal percentage will likely improve, but it's a matter of how much and it's not exactly a tall benchmark to clear considering his extreme inefficiency in the years leading up to 2015. The 25-year-old has never shot over 38.1% in his career and owns a career 36.8% mark from the field. It would be a huge boon to his value if he could clear the 40 percent threshold, but that's certainly not a given.
Rubio's usage rate is up to 21.8 this year compared to 19.6 and while an increased usage rate is usually a good sign for a players fantasy value, his increased burden on offense could mean his low field goal percentage causes more harm than it did in years past when he didn't shoot as much. With Andrew Wiggins and Karl-Anthony Towns as the only other capable scorers in the starting lineup and proven scorer Kevin Martin coming off the bench, it's clear Rubio will have an increased role on offense. More touches on offense will likely lead to more turnovers as well and for someone who's averaged 2.9 TO per game in his career, there's no way he keeps that number under two per game like it is currently. Finally, while he's a been a good free throw shooter during his career (80.3%), it's doubtful that he suddenly has become one of the best free throw shooters in the NBA. Once you factor in all those unsustainable statistics, you have the classic makings of a sell-high player whose value is at an all-time high.
Bradley Beal (20) – 25.0 PTS – 4.6 REB – 1.8 AST – 1.2 STL – 3.2 3PM – 49.5% FG – 78.9% FT –  2.6 TO
Beal is a player I've been completely wrong about so far but I'm not willing to admit defeat after five games, especially since completing the long-haul has been a problem for Beal throughout his career due to durability issues. With that being said, it's time to give credit where credit is due. The 22-year-old from Florida has been phenomenal so far as he's hit at least two threes and scored at least 24 points in all five games while also hitting over 50 percent of his shots in three of those games. While Beal has certainly always been known as a good shooter, he's never averaged more than 1.9 3PM so to see him hitting the fourth-most amount of threes (3.2) per-game at a 50 percent clip has been a nice surprise. He should enjoy the hot shooting while it lasts though as inefficiency has been the calling card of Beal's game since he entered the NBA and it's unlikely he has completely corrected those issues all in one offseason.
The career 42.2 percent shooter is shooting nearly 50 percent from the field this year and that number will assuredly regress as the season wears on, especially since he loves to rely on mid-range jumpers. The mid-range jumper is his favorite shot, but he's only shot 9-28 (32.1%) from that area this year and only hit 107-316 (33.9%) in 2014 so it's an odd move to see him hoisting so many shots from that area considering his miserable efficiency. His usage rate has jumped up from 22.6 in 2014 to 28.2 in 2015 and his FGA have jumped up quite drastically (13.5 > 19.0) as a result of the increased touches on offense. While that will be good for his counting stats (except increased TO), it might not be a great development for his efficiency and durability problems.
If he can stay healthy, Beal is on his way to a true breakout season as the number one option on offense for a high-octane Wizards team that loves to push the pace now. That's an extremely big if though since Beal has yet to play over 73 games in a season as he's missed 22 percent of regular season games during his first three seasons, amounting to an average of 18 missed games per year. He's already dealt with three stress reactions and numerous lower leg injuries during his brief NBA career and while everyone would love for him to stay healthy, I'd take the odds on that not happening considering his lengthy injury history. For the risk-averse, now is the time to sell-high on a player whose value has likely already peaked this season.
Honorable Mention: Dirk Nowitzki (12), Greg Monroe (16), Jared Sullinger (28), Marvin Williams (36), Evan Fournier (50), Dwyane Wade (60).
Thanks to Rotoworld, ESPN, Yahoo, and NBA.com/stats for the statistical information. Be sure to comment below with any questions or remarks. You can follow me on Twitter @MattMoczy and I'm more than willing to answer any questions.