Who says it's too early to draft for fantasy hoops? Recently, I gathered eleven well respected fantasy basketball analysts to join me in an early off-season mock draft. It's always interesting to see how player values change from the middle of the off-season to prime fantasy draft season in October. Here, you're not only going to view the mock draft results, but you will also get in-depth analysis from each of the twelve fantasy analysts. So, if you're a hardcore fantasy hoops player and are thirsting for drafts and insight —- even this early in the off-season -— you just found the fantasy basketball holy grail.
This draft was conducted as an eight category (points, rebounds, assists, 3-pointers made, steals, blocks, field-goal percentage and free-throw percentage) rotisserie league. We had 12-teams and went 13 rounds knowing that our roster settings were: PG – SG – SF – PF – C – G – G – F – F – Util and three bench spots.
Here are the writers who took part in the mock, where they write and where you can find them on Twitter —- they're all great follows: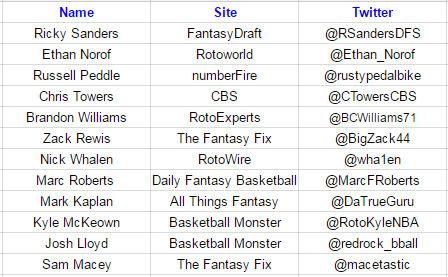 Without further delay, let's get right to the main event, the mock draft results! Remember, this draft was conducted from August 10th to August 21st.
What? You thought we were done here? Not even close. After completion, I asked each of the participants two questions about their draft and they each gave back some excellent feedback so that you really get a feel for the player opinions/draft styles of each writer. Enjoy!
Ricky Sanders
1) Russell Westbrook with the first overall pick, eh? Sell us on why he deserves to leap to the top of draft boards this year over James Harden and the super duo that is Stephen Curry and Kevin Durant. Stat line projection for Bestbrook?
Ricky's Answer: Russell Westbrook without Kevin Durant is like the result of what happens when a caged lion is released in a field of wildebeests…he's ready to be unleashed. Not that Westbrook wasn't vicious beforehand but he flourishes in his natural environment and that environment is when he is the main ball-dominator. Without Durant last season, Westbrook averaged 29.6 PPG, 7.3 RPG, 9.6 APG and 2.6 SPG. His numbers in the split are like LeBron in his prime but on steroids. While I do not project him to average quite those ridiculous numbers with Victor Oladipo in town, I think he can come close. My prediction is: 27.5 PPG, 6.5 RPG, 8.5 APG and 2.3 SPG. If those aren't worthy of the first overall pick then I don't know what is.
2) You had a strong team in the FT-percentage category until you drafted Elfrid Payton and more so Dwight Howard in the later rounds. What's your thoughts behind bringing in a category killer after building up strongly in that cat prior? When do you say "screw it, the value is too good here, even if he hurts me"?
Ricky's Answer: Well my biggest regret in the draft was drafting Brandon Knight over Andre Drummond after having drafted guards early. Honestly it was just a brain fart and if I had it all over to do again I would take Drummond. I pretty much took Howard as a consolation prize although in a perfect world I would want both to pair with my dominant guard play. Even assuming Knight was the correct pick, by the time I took Howard he was basically a bench-warmer. If I didn't feel like using him I didn't have to. That's the spot I'm comfortable taking Howard so I can avoid his free throw percentage most of the time and use him if categories like rebounds and blocks get close. I think a roster can sustain Payton alone but Howard quite obviously ruins things. If this were my actual team, I'd try to make the move of Knight for Drummond to right my wrongs and totally punt the one category.
__
Ethan Norof
1) Through four rounds you found yourself sitting with a squad that shot 82.2% from the foul line last season. Drafting Andre Drummond in round five dropped that number to 71.1%. Were you just desperately searching for elite boards and blocks and hoping to overcome his FT tanking or was there a different strategy behind it?
Ethan's Answer: I needed a force at the center position. There's no question AD's foul shooting has depressed his value and ADP. Having said that, I'm confident there is at least *some* room for improvement and that the volume of free throws taken by others on my team helps to balance it in my favor. There's no doubting Drummond's obvious value in other areas, and I believe his offense can and will continue to grow.
2) You didn't draft a true point guard in the mock, instead you aimed at guys who play primarily shooting guard and get a few assists each (aside from Harden). Do you always go with this strategy fading true point guards and just go for decent assists but strong points, treys and steals or was this just taking best player available and the way it turned out?
Ethan's Answer: In this one, it was just the way it turned out. I enjoy having guys with flexibility in the eligibility department on my squad, and I just liked another player—or players—on the board over the remaining PG options in the early rounds.
__
Russell Peddle
1) Kyrie Irving finished 45th in this format last season, 41st the second half. You drafted him 27th overall. Are you projecting him to take a step forward this season after his amazing playoff performance this past summer? Does LeBron finally take a slight step back to let Irving step forward? Give us your 2016-17 Kyrie outlook.
Russell's Answer: I was at least a little influenced by Kyrie's breakout championship run, but I was also considering the fact that he was a top-20 player in 8-cat in each of the three seasons before 2015-16 (including two top-10 campaigns). Last year was admittedly a down year, but it was a bit injury-riddled as well after two relatively healthy seasons (we overlook those two consecutive 70+-game years a bit when labeling Irving as injury-prone).
Also, as LeBron continues to get up there in years, Kyrie will be given the keys to the offense more often. We definitely saw in this past postseason that James is now much more willing than he used to be to concede to Irving when he's locked in. I see that top-10 upside sitting there at 27 and I'll grab it every time.
2) What is your general roto league strategy come draft day? Do you just take what comes to you, are you looking to stay totally balanced across the 8-categories, or do you try and focus primarily on like six of eight cats while not totally punting the other two?
Russell's Answer: I am definitely looking for balance across all categories in roto. I find overlooking a given category on draft day makes it too hard to recover once the season gets going if you decide to shift your strategy. I'd rather aim for that balance and then adjust once I see what I'm really working with.
I occasionally employ punting in head-to-head leagues when the opportunity presents itself (DeAndre Jordan or Andre Drummond slipping later than they should, for instance), but I'm more interested in balance there as well. Building a balanced team in any format gives you far more options as the season wears on. There are always trades and free agents if you suddenly decide to give up on one category or another, but starting your draft with three or four guys that are terrible free throw shooters (for instance) makes a nearly impossible hole to dig out of if you later realize that you need to shift gears.
__
Chris Towers
1) You mentioned during the draft that you felt some players slipped further than they should have in the mock. Who on your team were you most surprised that fell into your lap much later than you would have expected to get them?
Chris's Answer: I think the two most surprising slides for my team happened back to back in the sixth and seventh rounds, with Ryan Anderson and then Evan Fournier. Anderson's injury history surely scared teams off, but he is an absolutely perfect fit for Mike D'Antoni's offense, and it wouldn't surprise me if I got 20 points, seven rebounds and three 3-pointers per game from him. With Kevin Love going two full rounds ahead, I love that value. And Fournier might be an even better value, when you consider that Orlando traded Victor Oladipo in the offseason and might use Fournier as their primary scoring threat from the perimeter. It's hard to argue Fournier isn't already better than someone like Bradley Beal, despite the hype, and I got Fournier six picks later.
2) I loved the Clint Capela pick in round 9, especially since you already had DeAndre Jordan on your squad. What kind of projections do you have for the assumed starting center in Houston this season? Do you feel that he'll shoot enough free throws to be a category tanker (if he was your only poor FT% guy)?
Chris's Answer: I think the Rockets are going to be one of the best teams in the league for Fantasy this season, obviously, but they do have some redundancy on their roster, especially on the wings. The one place they don't have any, however, is at center. When it comes to big, athletic rim runners who can set screens, grab offensive boards and protect the rim, Capela pretty much stands alone. That is an important role in D'Antoni's pick-and-roll heavy offense, so Capela should get plenty of run, and I don't think it is unreasonable to expect a double-double with a couple of blocks per game. Of course, I am worried about the free-throw shooting with him and DeAndre, but with Durant, Kemba, Batum and Anderson, among others, I might just be able to avoid a last-place finish there.
__
Brandon Williams
1) You selected Eric Bledsoe at 20th overall, showing zero fears of his knee injury. What makes you this confident that not only will he be fine health-wise but he'll also return to elite play to be worth taking in round two? No worries over the emergence of Devin Booker? Bledsoe season averages projection?
Brandon's Answer: I think having a healthy Eric Bledsoe makes Devin Booker an even better player. I agree with LeBron James' take that Booker will be an all-star, but let's not forget that Bledsoe was averaging 20.1 points, four rebounds and 6.1 assists along with two steals per game in his 31 contests. Booker will take some shots away from Bledsoe, yet the scoring drop will not be as extreme as some may feel. The offense still runs through Bledsoe, and when you look at how younger players like Booker, Alex Len, TJ Warren and rookies Dragan Bender and Marquese Chriss will develop into an up-tempo system, my belief is that Bledsoe's assists totals will take a climb closer to 8-9 per game while averaging 16-18 points per night along with being one of the better perimeter defenders in the game. The emergence of Booker, in my opinion, hurts Brandon Knight, whose PER (14.75) pales in comparison to Bledsoe's 20.10 PER. By season's end, I think Bledsoe and Booker will be the two most Fantasy friendly players on a young, talented roster that will exceed last year's 23-59 mark.
Bledsoe's name has been linked to a potential trade, with Sacramento the likely team. If he goes to the Kings, his Fantasy value takes a significant climb, as he will shoot more and have All-Star DeMarcus Cousins available along with the underrated Rudy Gay and Willie Cauley-Stein, who will be improved in his second season. If Bledsoe is moved to SacTown, I see a career year.
2) In the later rounds (8+) you started taking swings for the fence, which I am a fan of. Low risk that late and all have upside to far exceed their draft spots. Who of that group are you most optimistic about that you recommend readers to consider heavily in their drafts as a sleeper?
Brandon's Answer: I love, love, love Ronde Hollis-Jefferson of the Nets. Injured for most of his rookie season, RHJ averaged 10.4 points, 6.2 rebounds and 2.2 assists in Summer League play and will be the starting shooting guard on a team which lacks a true offensive Alpha Dog. My only worry about him is that he's still developing an outside shot, which will be a work in progress. Still, he's 6'7 with an explosive ability to attack the basket who also averaged better than a steal per game. I think Hollis-Jefferson's modest end would look like 16 points, 6 rebounds, 3 assists and a steal per game. If he develops an outside shot sooner than expected, you will see a player who will exceed his draft value.
If we were to go with our teams this season, I'd be strong bet to blow away the competition in 3-point shooting, as later picks Eric Gordon, Brandon Ingram and Buddy Hield gives me three long-range specialists who can also hold their own in other categories.
__
Zack Rewis
1) You have said on numerous occasions that you refuse to take category killers, yet you draft Nerlens Noel who is a poor free throw shooter in round six. What gives?
Zack's Answer: Yeah, yeah, I do say that frequently, but the truth is, I don't see Nerlens Noel as a total category killer at 59.0% last season, 60.9% the second half of last year, and 60.9% the previous season. Does he put a blemish on an otherwise strong category? Yes, but when he was still there for me in the sixth round (67th overall), I couldn't pass up the appeal of how well his blocks and steals (averaged 1.8 steals and 1.8 blocks over the past two seasons) complimented my team to that point. Noel mixed with the first five picks I made came out to 76.0% from the foul line last year, and I knew as long as I stayed drafting efficient foul shooters from then forward, I'd be right in the mix to finish around third best in that category — as I pointed out in my roto draft strategy article last year as where I'd like to aim at finishing in all categories.
Only three players have averaged (=/>) 1.5 steals and 1.5 blocks over the past two seasons, Paul Millsap (2015-16), DeMarcus Cousins (2014-15, came 0.1 blocks shy this past season) and Nerlens Noel who did it both 2014-15 and 2015-16. He's a rare breed, and whether Joel Embiid and Dario Saric are healthy and playing this season, Noel should still see right about 30 minutes per game as he did last season. Just know that if you draft Noel in roto, you need to really stay strong in the FT-percentage category with the rest of your team or you'll surely finish in the bottom half in that cat, but unlike an Andre Drummond, with Nerlens, it is salvageable.
2) Who did you feel was your biggest value pick in the draft? Why do you value them higher than where you got them?
Zack's Answer: I feel like I struck gold on a few really good values, but two stood out to me specifically. Khris Middleton at 43rd (I have him ranked 23rd in my roto ranks) was a shock to me. He finished 28th in 8-cat roto last year, and I really don't think people quite understand just how awesome he is because when they think about the Bucks they picture Giannis Antetokounmpo and Jabari Parker. Middz averaged 18.2 points, 3.8 rebounds, 4.2 assists, 1.7 steals and 1.8 3-pointers last season, that's roto sex. Only eight players averaged 18+ PPG, 4+ APG, 1.5+ SPG and 1.5+ 3PM/G last season and it's elite company — Curry, Harden, George, Lowry, Kemba, Bledsoe, CP3 and Middleton.
The other value that I loved was the very overlooked Darren Collison who I got at 78th overall (I have him ranked 39th in my roto ranks). Before missing the final 33 games of the 2014-15 season, Collison was having a full-on breakout season as the starting point guard for the Kings. On per game averages, DC finished 33rd in 8-category formats that season with averages of 16.1 points, 3.2 boards, 5.6 dimes, 1.5 steals and 1.3 treys while shooting 47.3% from the field and 78.8% from the charity stripe. That's luscious. Last season Rajon Rondo came onto the scene in Sacramento and playing a bit at both guards spots Collison still managed to finish 80th in 8-cat leagues, despite only starting 15 games. Oh, what did he do in those 15 games that he started? Glad you asked: 15.5 PPG, 2.9 RPG, 6.7 APG, 1.5 SPG and 1.2 treys/gm while shooting 87% from the foul line, 47% from the field and a 57% true-shooting percentage. Well, Rondo is gone again, and Sactown is set-up for Collison to return to fantasy glory. His name isn't sexy though, so his ADP should keep him as a value and a guy to target in the mid-rounds.
__
Nick Whalen
1) Klay Thompson was your choice at 31st overall. How are you projecting him this upcoming season with the Durant addition in Golden State?
Nick's Answer: I'd be lying if I said I'm not at least a little bit concerned about how Durant's arrival will impact Thompson's value. Golden State will run away with the number one seed in the West, but there's little evidence that suggests they won't encounter some bumps along the way, especially early in the season. The Warriors share the ball as well as any team in recent memory, but adding a player of Durant's caliber is going to have significant ripple effects, and Thompson seems like the most obvious candidate of Golden State's previous Big Three to be marginalized.
That said, Steve Kerr will find ways to ensure Thompson doesn't turn into the backcourt version of Kevin Love, and Thompson, himself, appears determined to prevent that from happening as well. While I expect Thompson's volume to take a modest step back after he attempted a career-high 17.3 field goals per game last season, he'll still be among the league leaders in three-point attempts, and the added threat of Durant should provide more open looks than ever before.
2) What are some of your personal strategies or rules that you go by when drafting roto teams? Are there certain types of players that you aim for and/or avoid?
Nick's Answer: It's all about balance. At the top of drafts, I'm aiming for players who contribute across as many categories as possible, which is why I was thrilled to land Anthony Davis and Blake Griffin, who I think will both enjoy bounce-back seasons after relatively disappointing 2015-16 campaigns. As the draft goes on, it's important to attempt to compensate for categories you may have ignored earlier — in this case, that meant grabbing Klay Thompson's three-point proficiency in the third round after taking low-volume outside shooters in Rounds 1 and 2. Beyond that, I continued to look for more well-rounded, multi-category producers like Evan Turner, Aaron Gordon and (hopefully) Kris Dunn. While none of those three are going to single-handedly put me over the top in a given category, they project to provide enough value across the board to give me flexibility beyond the traditional "starting five" roster spots.
__
Marc Roberts
1) You started the draft off with two money in the bank vets and then took two big swings for upside in second-year guys Kristaps Porzingis and Nikola Jokic. Are you projecting those two to have monster second seasons?
Marc's Answer: Recent history tell us that rookies who as productive as Jokic and Porzingis in year 1 tend to improve their production pretty significantly in year 2, which is an exciting thought when you consider how well these two played last season. My projection model suggests that both players will be 2nd round values next year, so I was thrilled with getting them in rounds 3 and 4.
2) Seems like you started with a top PG, three bigs and then went heavy at wing the next six rounds, all guys who can hit the long-ball and produce steals. Is it always in your strategy to load up on those kinds of wings in the mid-rounds for roto leagues?
Marc's Answer: My plan was to take the players that my rankings said was the best player available, mostly as a way to get a sense of who my potential sleepers are. Interestingly enough most of those players were 3 and D guys (Crowder, Ariza, etc.). If that's who the undervalued players are this season, then I'll probably focus on getting categories assists and blocks in the early rounds of my future drafts, knowing I can get threes and steals at value later in the draft.
__
Mark Kaplan
1) Three point guards in the first four rounds, and then you didn't take another until round 12. Do you always go for point guards early or do you feel the position is more top-heavy this season than in previous seasons? Also, what are you projecting for Rajon Rondo this season with Dwyane Wade and Jimmy Butler who also like to have the ball a lot around him?
Mark's Answer: I definitely try to get at least two top-tier guards because it is so hard to find assists later in the draft. I was in disbelief that Lillard came back to me in the second round as he fits everything I look for in the fact that he is elite in three-pointers made (averaged 3.1 last season), was sixth in points-per-game with 25.1 last season (the other five guys were all first round picks), and he averaged almost seven assists per game. Isaiah Thomas averaged 22.2 points with two three-pointers made and dished out just over six assists per game. This gave me a core of three elite scorers who also contribute in assists, three-pointers made and rebounds with my first three picks.
I couldn't pass up on the chance to draft the best pure passer in the league with Rondo in the fourth round. He led the NBA with 11.7 assists per game last season. I feel like these three guys give me a huge advantage in the assists category. The good with Rondo is the fact he'll always get his assists (he's averaged 9.8 assists per game in six out of the past seven seasons). Butler and Wade are both scorers but can also play an up-tempo style of play, which suits Rondo well. Expect him to average 13 points, six rebounds, 11 assists, and two steals per game. He is one of the best all-around rotisserie producers in fantasy.
2) Had other question options here, but have to stick to the point guards because of a comment you made on the draft comments. You took Deron Williams in round 12 and said, "Mike Conley value in the 12th round, I'll take it." So, was this a shot at Conley being overrated or do you just feel that D-Will is being overlooked at this point due to his age? Projections on those two guards and how they compare this season?
Mark's Answer: It was a bit of both. First off, despite his huge contract, I don't expect Mike Conley to vastly improve on his numbers he has averaged the past couple of seasons. Secondly, to win fantasy leagues, you have to find in the tale end of drafts is all about finding value and Deron Williams slips in drafts for no reason. Their stats look almost identical if you remove their names AND D-Will played more games last season than Conley did. Basically, I'd much rather draft Williams near the end of the draft than Conley near the beginning of the draft…and you should too. Feel like they'll produce very similar numbers and both of them will be running the offense for their team.
__
Kyle McKeown
1) You wasted no time hopping on that Dennis Schroder bandwagon! Sell us on why he's worthy of consideration inside the top-40 this season. Projections?
Kyle's Answer: I was picking at the end of the third round (34th) and it swung back to me for the 39th pick in round four. I had four guys I was considering with those two picks (Brook Lopez, Schroder, Pau Gasol, and Khris Middleton). Top-tier point guards were thinning out by the end of the third round. Rajon Rondo, Jrue Holiday, Brandon Knight, Mike Conley, Reggie Jackson, and Jeff Teague were all still available when I drafted Schroder, but they all have potential limitations on their value, and Schroder has a clear role as the primary point guard on the Hawks, a team that just lost two of its three best players in Al Horford and Teague.
Schroder seemed like the player with the best combination of opportunity and upside out of that group of point guards, and I knew he wasn't going to come back to me in the fifth round, so I decided to take him before the turn at the end of the third to ensure that the two guys picking between my picks didn't snipe him. This wouldn't have looked like as much of a reach if I'd taken Schroder in the fourth round. This is one instance where I think adhering to rankings falters, because if I hadn't drafted Schroder when I did, I wouldn't have been able to get him. The most important stat in fantasy is minutes, and Schroder is due to get a lot more this season with Teague now in Indiana.
2) Do you always go with the "go big or go home" draft strategy? You showed no concerns with Hassan Whiteside without Dwyane Wade, Luol Deng and potentially Chris Bosh around, no worries about Pau Gasol in a more conservative Spurs rotation, no fear reaching for Schroder, no hesitation for Chandler Parsons and his questionable, recovering knees, and so on. Do you love all these players where you got them or is this just going for the championship and abiding by the Ricky Bobby mentality "if ya aint first, you're last"?
Kyle's Answer: I try to weigh risk against the potential value I'm getting at a given time in a draft. With Whiteside, we saw him shoot 75% from the free throw line in the second half of last season, and that helped make him the eighth best player in 8-category leagues in the second half. Whiteside should also have more possessions and more minutes with Wade no longer in Miami. I don't see much risk in taking him with the 15th pick.
People have been saying that Pau Gasol is done for seasons, and he keeps putting up great stats. He had a subpar season with the Lakers when they were going through some turmoil a few seasons back, but when Gasol likes his situation, he produces. The Spurs have been one of the more conservative teams in doling out big minutes over the last several seasons, but they departed from that slightly last season, and they also lost a lot of depth in their frontcourt this offseason. Gasol should still get at least 30 minutes per game on the Spurs, and he'll outperform projections again.
Parsons was the 23rd ranked player in the 14 games he played after the All-Star break last season. I got him with the 58th pick. There's definite risk with Parsons, but there's a decent amount of upside, too. You know, I've never thought of myself as having a Ricky Bobby mentality, but it seems pretty appropriate for this draft. I don't like to assume as much risk as I did in this draft, but when we're still a month out from training camp, there's a lot we just don't know. Everyone is assuming more risk when drafting this early.
__
Josh Lloyd
1) Liked the core of your draft a lot, Josh. Think you balanced proven players with a couple of risks to the perfect level. Not here to kiss ass though, so let's talk Draymond Green. Your very own home BasketballMonster.com ranked Dray 11th last season in 8-cat. Kick out Harry Barnes and input Kevin Durant and you've got a big change. So, how do the stats for Green look this season when another ball dominator is in the fold? Does Green see a drop in assists along with points? Do his defensive numbers keep him inside the top-15 this year as your taking him 14th suggests? How much lower would you drop him in H2H format?
Josh's Answer: I can see Draymond suffering a slight hit to his scoring, but I don't see hm him suffering a huge drop in value. He'll still be facilitating and I imagine the Warriors offense will generate more assists this season than last given the players they have now, and his defense may become even more valuable with no Andrew Bogut around. I obviously believe in Draymond as a top 15 guy for next season, but he isn't for everybody, given his low scoring.
2) In what I like to call the "wildcard rounds" (rounds 10-13) you took some interesting names that could hold top-150 value or could be quick drops for hot wire adds. Aside from Danny Green who you're obviously just hoping has a bounce-back anywhere near his 2014-15 top-50 finish in this format, which of your other guys do you see as the best sleeper pick with legit upside? How are you optimistically projecting their reasonable ceiling?
Josh's Answer: That's absolutely the way I see those last rounds, because you are churning through those roster spots during the season anyway. Warren is the biggest flier to me, but if the Suns start hm over PJ Tucker, we could get ourselves a top 80 player with high scoring and elite percentage, for a wing especially. I also believe that even without a breakout, Cody Zeller will be better than a 12th round player and has a real chance to take a big leap forward this season.
__
Sam Macey
1) We need to talk about our homie Rudy Gobert. Finished 2014-15 second half 35th in 8-cat, shot a reasonably promising 59.7% from the stripe. We all were optimistic he'd repeat that or improve narrowly, but instead he dropped to 56.9% in 2015-16 and 55.8% in the second half. He was 68th on the year and 84th the second half with drops from 2014-15 starter numbers in points and boards with small declines in assists, steals and blocks as well. You took him at 36th overall here, so do you see a nice jump for the 24-year-old or did you just want to land an elite blocks/boards guy before they were gone when it came back?
Sam's Answer: I completely get the souring on the big french-man, but going into last season Yahoo had him ranked 14 and ESPN had him ranked 15, so I was ecstatic getting the 7th best rebounder and shot-blocker who is still just 24-years-old, at pick 36. The addition of Joe Johnson to stretch the floor and his compatriot Boris Diaw to get the croissants and set him up for easy baskets can only help. Much of that overall underwhelming 2016 stat-line is from the last 20 games where he put up just 6.8pts and 1.7blk a night in 28.8mins. I'm expecting him to put up his career stats as a starter: 10pts 11.5reb 2.5blk and 57% from the field with around 60% at the line, with potential of even 11-12pts and closer to 3blks.
2) It appears you're hurting a bit in field goal percentage. Are you ok with tanking a category in roto if you feel you're really strong elsewhere or what are your thoughts on that problem area?
Sam's Answer: My overall shooting worked out at around 45% (free throw 78%), so while it needs some work the players dragging it down have very good overall value (Wall, George, Hayward, Covington, Booker) or they're young enough to improve, in Booker's case. I never tank in any category in roto, though some you almost have to accept. For example if this was my team, I'd be looking at moving someone like George, Hayward or Gay at the midway point for a PF/C who would help my FG% but not murder my FT%, someone like Derrick Favors or Blake Griffin.
__
Well, there you have it. I'd like to say a big thank you to all of the writers who took time out of their busy schedules — who am I kidding, they loved every bit of it — to take part in our draft. I hope all of you reading this enjoyed it as much as I did. It is always so great to get some of my favorite fantasy analysts together for a mock draft this early in the off-season before we're certain of team rotations and are still working on our own rankings for the upcoming season. The questions and answers portion was packed with amazing insight as always, too. Be sure to keep checking back here at the Fix over the next few months, we'll be doing several more mock drafts leading up to your fantasy drafts.
For more fantasy hoops analysis and to have any questions you may have answered, follow Zack on Twitter @BigZack44