Fantasy basketball draft season is quickly approaching and it's never too early to start your draft prep, whether it be by reviewing standard industry mock drafts or dynasty mocks (depending your league type) or even looking into draft strategies.
Well, if you're here, you're likely a fantasy hoops roto player and looking for some tips on how you should approach your upcoming draft(s). In this column I will be going over my personal 2015-16 roto strategy along with several tips for every rotisserie GM out there. First, I wanted to recap my recent molding as a roto player, because I feel there's a few lessons/tips that you can find within the growing pains I encountered.
Before 2013 I had never played in a rotisserie basketball league, I have always been a H2H categories guy. I jumped right into it in 2013, popping my cherry in a $125 NFBKC league (if you've never heard of the NFBKC, they are a top-notch, high stakes fantasy league host. They have satellites that are $125 entry and they go all the way up to I believe $1,250 leagues). There was definitely a learning curve, especially since they have weekly lineup locking where I'm more accustomed to daily lineups, but I ended up finishing in 3rd place in the end ($100 so only lost out on $25).
The next year (2014-15) I did two roto leagues (daily lineups) with writers from the industry, and I had a much better feel for things and strategy going in. The one thing I wasn't aware of was positional games played limits, and to say the least, about two months in I thought I was the GOAT, leading both leagues by a good margin. Then, I realized the "limits" tab and saw I was WAY over in basically all of the positional slots. So, I had to strategically cut back from that point on, which I chose to do quicker rather than over the full course of the season. It's hard to bench guys you would like to use and also see your team slowly drop in the standings, believe me. I ended up taking home the championship in one and finishing in fourth in the other. I'll talk about this more later.
OK, story time is over, but that fourth place finish, leads us right into something I wanted to cover right away. So, go ahead and get out your cheat sheets or your mental player universe and scratch out or just totally forget that Andre Drummond, DeAndre Jordan, Dwight Howard, Josh Smith and whether you like it or not, Jahlil Okafor even exist. They are complete FT% anchors, weighing you all the way to the bottom of that category. If you're newer to roto, you may be unaware of just how difficult it is to win a league when you're at the bottom in a category. Well, I'm here to tell you, it's incredibly hard and we'll delve more in to this shortly.
It doesn't even matter if these guys fall REALLY far in the draft. I don't care if Dwight Howard is ranked 50th on a draft host and he's still available at pick 150. Just. Say. No. Giving in to something like this is just foolish, because it totally destroys your game plan and what you have built leading up to that point. No, drafting them with plans to trade them is not a good idea either. You'd never get anywhere close to their name value and it's better to just ignore them and stick to your strategy.
While you still have that red pen handy, put a red dot beside players who shot 42% or worse from the field last season while taking 12+ FGA because while you can likely handle one of them, you don't want to roster several of them (Kobe Bryant, DeMar DeRozan, Derrick Rose [as if you needed more of a reason to avoid him], Kyle Lowry, Kemba Walker, Tony Wroten [also a FT% damager], Michael Carter-Williams, Trey Burke, Brandon Jennings, Jamal Crawford, Mo Williams, Ricky Rubio [only took 10FGA but needs to be on this list] and Isaiah Thomas who shot 41% on 13+ FGA after being traded to Boston). Obviously there will be new members to this list for the upcoming season, but these are the ones that I feel pretty safe saying they'll remain subpar in the FG% category.
It's very common for roto players to overlook the percentage categories because they're drooling over players' counting stats, but it's MUCH easier to recover and gain in the counting stats over the season than the percentages. Once you're stuck in the percentage pits, it's like quicksand. I did really well with this in the league I won last year and awfully in the other as I finished in 10th of 12 in both percentages. So, despite me being really strong in five of eight categories and middle in another, I still had no real shot at winning and even had I been good in one percentage or the other, I still wouldn't have finished better than third place and nobody is playing to 'almost' win.
DO NOT PUNT A CATEGORY IN A ROTO LEAGUE.
That may be the most important sentence in this whole article. Like I said before, I was in two 12-team roto leagues last year, so why not look at them to see what kind of totals and percentages we should be aiming for, eh?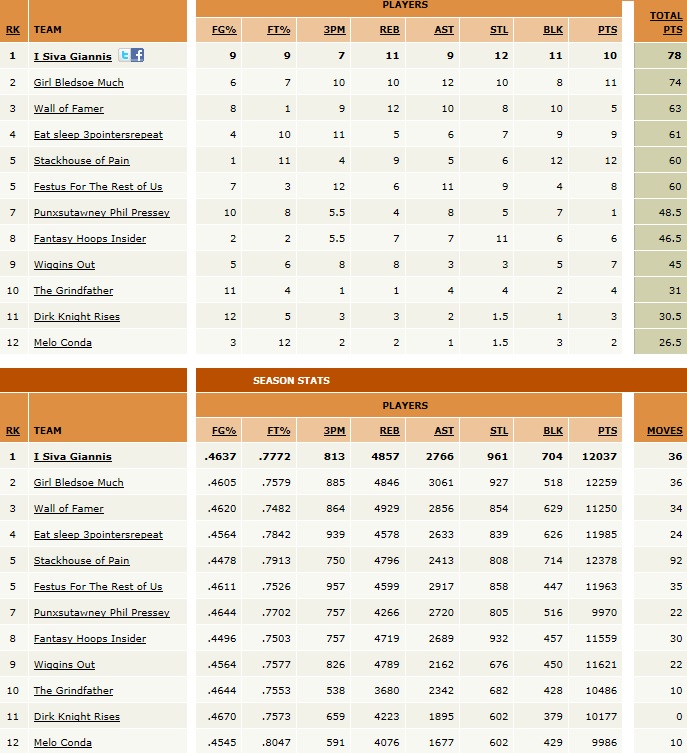 Above is the "Dirty Wroten Scoundrels" league and below is the "Fantasy Alarm Champions League."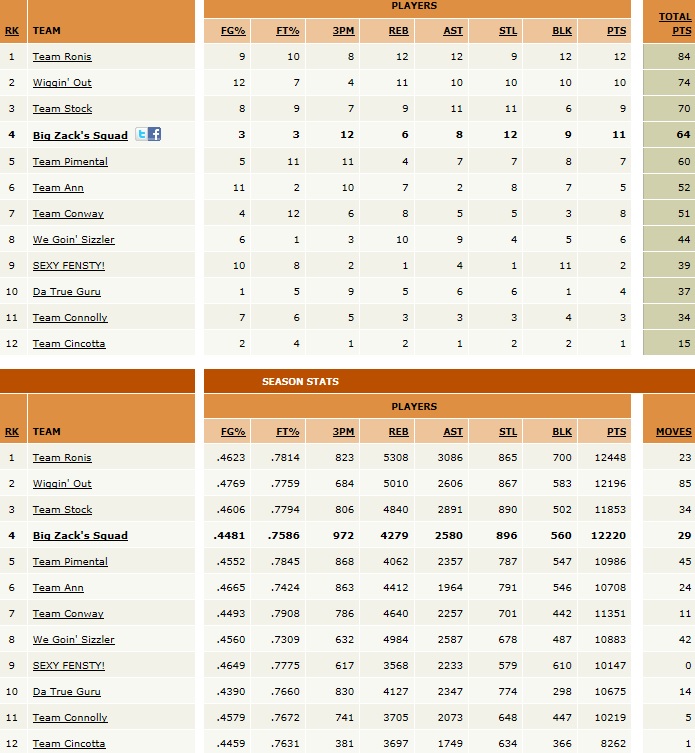 So, it appears that we want to aim at around 80 roto points to win the league — obviously the more, the better. The more teams your league has that go inactive at some point is key to how many points you'll need to win, because when teams are inactive, they fall in each counting category drastically. The more roto points that they give away by not setting their lineup or replacing injured players, the higher the teams fighting for the championship rise. So, let's figure out the average numbers between the two leagues to see what it took to be tops in each category, and as a bonus, I'll show what numbers it took to come in 3rd in each category (obviously if you come in 3rd in each category, that's 10 roto points each and gets you to the golden number of 80 as mentioned above as our goal to win the league).

Where it says "1st place season goal" those are the average totals from the two full season leagues. It's just to give you a rough idea of how many of each counting stat you need to accumulate over the season, and the percentages you need to strive to maintain. Where it says "1st place per game" that means in a 12-team roto league where you start 10 players nightly at an 82 per position max, that's what you need to average per positional slot to reach those season long goals.
Of course, you never know for 100% certainty what you're going to get from a player, but between the players who do similar every season, a few breakouts that we can help you find with estimated projections this pre-season and out of nowhere gems that I will deliver you in my weekly Waiver Wire Fix column, we'll have you mentally prepared and knowing what to expect from players.
So, as you see above, you want to try and average about 3.33 assists per positional slot to land in third place in that category. Well, did you know that only 50 players (who played over 20 games) averaged at least 4.0 assists last season? That shows the importance of getting plenty of assist guys throughout your draft and if PF/C that you draft average a few assists, that's a huge help also — only eight PF/C guys averaged 3.0+ assists last season (Joakim Noah, Marc Gasol, DeMarcus Cousins, Al Horford, Blake Griffin, Paul Millsap, Tim Duncan and David West) — but don't force them on your team just because of that.
It's very important to remember that this is a marathon, not a 40-yard dash.
It's ok if you fall behind in a non-percentage category early, as long as it doesn't get way out of hand. Temporary fillers can be huge boosts to your overall totals, too. For example, last season when Brandon Jennings got injured, D.J. Augustin became a temporary starter and although he was traded away after just 10 starts, in those 10 games he produced 82 assists according to basketball-reference.com. Sure, that's only 3% of the number you're targeting on the season, but it's still a big boost on this long grueling road to a roto championship. Right at the start of last season, George Hill was injured, so Donald Sloan snuck in 18 starts and delivered 90 assists in those games. If you were lucky enough to snag both of them for those stretches, you had yourself 172 assists.
Never. Stop. Grinding.
Work that waiver wire until your hands bleed. Obviously it would be fantastic if the first 10 players you drafted played 82 games each, hit their optimistic projections and you didn't have to make a lineup move all season, but that's never the case. You're going to battle injuries, have a couple busts and it's going to feel like you're not meant to win at times, but you've got to grind through it. In the league that I won above, I drafted Kobe Bryant in the 3rd round who missed 47 games, Kawhi Leonard in the 4th who missed 18 games, Nerlens Noel who had really rough stretches early, Darren Collison in round 7 who seemed a steal until he missed the final 37 games of the season, none of my round 9-12 darts hit and the most painful of all — and this is hard to admit but as I said above I was still a roto newbie — I got impatient and dropped my 13th round pick, Rudy Gobert about a month before he became a legend. Yep, even the guy who shouted his name from the roof tops all pre-season had a moment of weakness and him on the third place finishing team almost cost me late in the year.
My specific roto strategy for this season
I am waiting on big men for the most part, but I do want one elite PF//C in the top three rounds who blocks shots and doesn't kill my FT%. Basically, I want one of Anthony Davis, DeMarcus Cousins, Marc Gasol, Pau Gasol, Rudy Gobert, Nerlens Noel, Brook Lopez or Serge Ibaka in those first few rounds. I know Gobert and Noel both aren't knock down free throw shooters but they're not category suicides either. It's very easy to own one of them and still be a top FT% team. If you combine James Harden with Rudy Gobert post All-Star break, you've got a tandem hitting 374/470 from the line at 79.5%.
With the other two of my top three round picks, I am going basically with the best available PG/SG/SF on my rankings sheet. Ideally both get solid or better assists, 1+ steal and 1+ trey. After those three rounds, I am going guard/wing heavy, targeting guards who fill the stat sheet with more assists, steals, threes and good percentages. As you can see with the team that I drafted in the industry mock draft that we hosted last month, I drafted a team exactly like I am aiming for this year. Here's what I ended up with: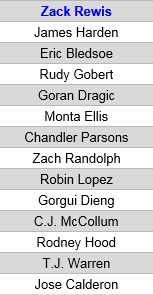 I start with a beautiful guard duo of Harden and Eric Bledsoe, which complement each other perfectly, and then Rudy Gobert who as I stated above is a big with elite rebounds, blocks and FG%, plus doesn't kill me in FT%, especially when paired with James Harden. I then took Goran Dragic who I have pegged for around 15 points, 5.5 assists (maybe more with Chris Bosh healthy and what should be a great pick-n-roll duo?), 1+ steal and 1+ trey, and he even shot 50% from the field last year which is huge. Monta Ellis was next, elite scoring and steals, one triple and while he's not standout, 44% from the field is fine when you surround him with other good percentage types — primarily your big men. Then, I knew I needed a guy who would give me a bigger boost in threes, so I went with Chandler Parsons, who I think holds similar to what he did last season but has upside to improve as well.
Now, I start the bargain bin hunting for big guys, and while a lot have gone by this point, I was stoked to see plenty of my targets still on the board. In this range I want bigs who are going to get me nice boards, good from both the field and foul line and hopefully add to my blocks. In the seventh round, I got most of that aside from the blocks, in Zach Randolph. Amazing to me that I could land the guy who finished 7th highest in rebounds per game this late. The next two rounds I drafted Robin Lopez and Gorgui Dieng who also fall right in line with my strategy. So, while I waited to draft bigs, I still had a core of Gobert, ZBo, RoLo and Dieng through nine rounds.
Then you have what I call the "wildcard rounds." In rounds 10-13, you swing for the fences with upside guys because in all likelihood these are your bench guys who you may have as statistical specialists but they're also first to get cut if there's a hot waiver wire guy out there. So, have no fear and go for upside not the boring "safe" types. This isn't a slight to anyone because we all have our own styles, but I'd easily take a guy like Rodney Hood who could be a legit breakout player than to settle on a guy like Arron Afflalo or Gerald Henderson. Yes, I know I took Jose Calderon in round 13, but that was more just to show that you can still find an unsexy guy in the super late rounds who will be a starting PG and average over four assists.
To hear myself along with our own Sam Macey and Mr. Redrock himself, Josh Lloyd talk about that industry mock draft, be sure to check out the podcast we did here.
DO NOT IGNORE YOUR GAMES PLAYED LIMITS.
You don't want to find yourself way ahead of pace in your games played limits in a few positions when you're just mid-way through the season. You need to strategically place players all season long so that you keep a healthy balance across the board. It is SO easy to get lazy with it and just insert active bench guys right into your utility slots every night, leaving you way over in limits pace for those spots. I can not stress enough how important it is to keep things balanced as best you can, and if you are going to be a little ahead of pace at a slot, make it one of the non-flexible slots like PG, SG, SF, PF or C instead of the slots you have more options with like G, F, G/F, Util, etc…
You also have to keep track so that you don't come up short at any slots limit either. This is roto, every single stats adds up so if you only make it to 80 games played in your SF slot, that's two games worth of stats you missed out on, and those 20 points, three treys and two steals could lose you a roto point or two potentially. If you're still in the hunt after the All-Star break and especially come March, it's very important that you start doing the math so that you land right at 82 games played in each slot at season's end. I'm not going to say it's what made the difference, but it surely didn't help the guy who came in 2nd place, who came up short of the games played limits at five positions. Don't miss out on those stats guys, you need every one of them to maximize your chances at winning.
Let's do a quick recap:
– No category punting
– Totally ignore percentage killers, no matter how late they're still available
– One elite big man in the first three rounds
– Collect guards/wings who get dimes, score well, 1+ steal, 1+ three and good percentages
– Find value big men in the middle rounds who get boards, blocks and good percentages (I suggest making a list of the big men who fit this criteria)
– Continue to keep tabs on your projected percentages throughout the draft as well as your counting stat averages. You see above what we want to aim for.
– Go for the breakouts in rounds 10-13. It's not the time to play it safe, it's your shot at landing a guy who could win you your league (just don't give up on them too soon like I did Gobert as mentioned above)
– Never lose track of your games played positional limits, you need every one of those 820 games played stats
It's not a walk in the park, and it's easy to get worn out over the long season, but never stop because the championship at the end, is so worth it.
For more fantasy hoops analysis and to have any questions you may have answered, follow Zack on Twitter @BigZack44