Who says it's too early to draft for fantasy basketball? Recently, I gathered eleven well respected fantasy hoops writers to join me in an early off-season mock draft. It's always interesting to see how player values change from the middle of the off-season to prime fantasy draft season in October. Here, you're not only going to view the mock draft results, but you will also get in-depth analysis from each of the twelve fantasy analysts. So, if you're a hardcore fantasy hoops player and are thirsting for drafts and info, — even this early in the off-season — I hope you brought your sunglasses, a cooler of your favorite adult beverage and some SPF, because you have landed in your own fantasy hoops paradise.
This draft was conducted as an eight category (points, rebounds, assists, 3-pointers made, steals, blocks, field-goal percentage and free-throw percentage) rotisserie league. We had 12-teams and went 13 rounds knowing that our roster settings were: PG – SG – SF – PF – C – G – G – F – F – Util and three bench spots.
Here are the writers who took part in the mock, where they write and where you can find them on Twitter — they're all great follows: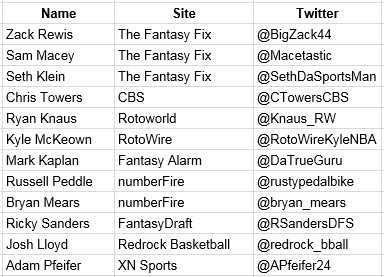 Now, without further delay, grab your snorkel and let's dive in to it!
I hope you didn't get too worn down by the sun because at the conclusion of the mock draft, I asked each analyst two questions about their draft, whether it be what they're expecting from a certain player they drafted this season, delving into their draft strategy or other. Here are the questions and answers:
Sam Macey
1) The top overall pick seems a slam dunk this year. As soon as you saw you had the top selection, you knew your guy right away. When you land Anthony Davis, what clicks in your mind as your strategy for the rest of the way? Do you just take the best available for a few rounds and then balance things out as the draft goes on or do you have specific targets/types that you know you want to roster alongside the 'Brow?'
Sam's answer: I love Davis, and like everyone, have been very open about likening his stats to prime Hakeem Olajuwon. There are four guys who could end up #1 – Curry, Harden and a healthy Durant could all challenge Davis if he slips a bit (he won't). Once I got Davis, I knew I wouldn't be taking a PF or C in the next two rounds, unless their strengths made up for Davis' weaknesses, i.e threes and assists. Hayward and Oladipo both have solid threes and assists, while their steals, points and free throw percentages only enhanced the advantage Davis gave me right off the bat.
2) This was our first mock of the year, Sam. How did you feel about the way things played out? Any big surprises, and did you learn anything that you may adjust to in future drafts this off-season?
Sam's answer: There were some surprises, as there always are – but I won't get too specific there. What has surprised me is the bounty of new shot-blocking guys at the top. I think 2-3 years ago you only really had Ibaka as a 2.0+ blocks guy going top-30. In this draft we saw your boy Rudy Gobert go at 28, DeAndre Jordan go at 30, followed by Serge at 31 and Nerlens Noel at 32. Hassan Whiteside and his hit-or-miss game went at 34, then you've got Andre Drummond (1.9blks) being picked at 36 and Brook Lopez (1.8) going at 38. Blocks are back!
__
Josh Lloyd
1) In the 4th and 5th rounds, you drafted two guys who found new homes this off-season in Greg Monroe, who signed with the Milwaukee Bucks and Nicolas Batum, who was dealt to the Charlotte Hornets. What are you envisioning for these two on their new teams?
Josh's answer: I really like both guys as big fantasy contributors for this coming season, as evidenced by the fact that I nabbed them in this draft. In the last three months of the 2014-15 season, Monroe (sans Josh Smith) averaged 16.9 points, 10.8 rebounds, and 1.5 steals, shooting 50 percent from the field and 75 percent from the line in 33 minutes, which ranked him 23rd in eight category leagues in that time frame. He now heads to Milwaukee and should be the number one offensive option, who won't have someone like Andre Drummond inhaling rebounds from around him, with Jabari Parker likely to start next to him at the four. To me, this all signals a very big 2015-16 season, even though you can't expect any block numbers, which can sometimes be an issue from a center.
As for Batum, his 2014-15 campaign was derailed from the get-go. Troubled by marital difficulties, and then playing through a torn wrist ligament, the Frenchman saw a dramatic dip in his field goal percentage from 47 percent down to 40 percent. This in turn led to a reduction of 3.6 in the point category, as well as 0.4 three-pointers per game less. Where Batum excels, especially in a rotisserie format is his ability to contribute right across the board. One of the top assist-men from the small forward slot, Batum can get steals, blocks, dimes, boards, hit threes and score, at least better than we saw last season. In Charlotte, who are calling out for a wing player who can hit triples, Batum has a lot to prove, in a contract year, no less. Before his finish of 74th in eight category leagues last season, Batum had ended the previous two seasons ranked 32 and 16. It all tends to add up to a bounce-back year to Nic.
2) Do you have a set strategy that you draft by in roto leagues or does your game plan change depending what comes to you over the first couple of rounds and you adjust from there? Explain your roto draft philosophy.
Josh's answer: My number one strategy in roto is don't draft Dwight Howard, Andre Drummond or DeAndre Jordan. I don't want any players who handicap my percentages (either field goal or free throw) by that amount, as it is unrecoverable from. After that, I'm looking for players without a significant negative in their overall skill set. Each draft pick generally is moulded by the previous one or two selections. For example, in this draft, I landed Steph Curry with my first pick, so I looked to shore up my big man stats with the next couple of picks, grabbing Al Horford, Draymond Green, then Monroe. After each selection, I'll look at my team's averages in each category and work out which categories I need to work on strengthening next. In order to win a roto league, I want to be able to average a nine in each category (for a 12-team league), so I need to be competitive right across the board – the complete opposite of my head-to-head philosophy.
__
Bryan Mears
1) You took Kevin Durant 3rd overall ahead of James Harden. I personally (as of this moment at least) have KD 4th on my rankings because the top-3 (Brow, Steph and Harden) are so great that even if KD does return to his #1 form, I can live with it. So, where is Durant in your rankings right now and just how great do you see him being, since you aren't afraid of the foot injury whatsoever?
Bryan's answer: As should be the case with any season-long fantasy basketball question, it depends on the league. He's #2 in these settings for me, as I think he's really going to come out swinging and push for the one-seed in the playoffs after such a disappointing season last year. In my opinion, everyone outside of the person picking first is already at a non-Brow disadvantage, but if I had to pick one player to possibly beat him in fantasy value this year, it'd be Durant.
Of course, Steph and Harden are amazing players and killer fantasy assets. They're also much more risk averse, which just isn't particularly the way I like to play fantasy, either season-long or daily. I have no interest in coming in second or third place. You can definitely win your league with Steph or Harden, but I think a healthy, locked-in Durant is the best bet (again, outside of Anthony Davis) to do that. Could it come back to bite me? Sure, but I don't mind that risk.
2) Hate to ask you double player evaluation questions, but I am just too curious about what your crystal ball is telling you about Harrison Barnes. Barnes ranked 142nd in this format last season even playing 28 minutes a night. So, what are you projecting for him this season to take him round 9, or is this just a Tarheel bias? (Haha)
Bryan's answer: First, I think Barnes will get a minute bump this year. He was one of the more underrated players in the NBA last season in my opinion, and after seeing the market for good 3-and-D wings this summer (think Carroll and Middleton), a guy who can do all that and is only 23 is quite an asset, both in real life and this upcoming season in fantasy. Just take this basketball-reference.com query.
I mean, that's a heckuva list. With Golden State having their eyes on repeating, I think they'll turn to some of the younger legs to carry them during the season. Their historic regular season was great, but I think they'll probably try to get the stars some rest (also a reason to take KD over Steph above). If Barnes gets above 30 minutes (I think that's definite) and increases his usage by quite a bit (reasonable), you're looking at an incredible value, even at where I picked him. Also, positional scarcity is perhaps the most important factor in drafts. You can always get guards and bigs; wings, not so much.
__
Zack Rewis
1) You only drafted one big man in the first six rounds of the mock, was this strategy or just a case of taking who you felt was best available?
Zack's answer: "Yes, it's still early to have my roto strategy for the season cemented, but right now my tendency is definitely to go guard/wing heavy early in drafts, but making sure that I lock in at least one elite big fella in the first three rounds who isn't a total FT% killer. So, like in this draft, I started with Harden and Bledsoe — who I absolutely love together — and then grabbed my guy Rudy Gobert who isn't strong in FT% but at 60% or higher, I can easily build that up as I go. This is the perfect start for my current game plan.
So, after that trio, I went with a couple of guards and a wing who all hit at least one trey, one steal, good FT% and aren't a big time downer in FG%. Now, I'm six rounds in and feel really strongly about my team in all categories outside of rebounds and blocks, so, time to fix that. In the 7th round, I was still able to bring in ZBo who had the seventh highest rebound average last season. Then, in the 8th and 9th, I locked in Robin Lopez and Gorgui Dieng who should both average near a low-end double-double plus around 1.5 blocks while also being good from the field and the free throw line. I was in love with my squad through nine rounds, and it further built on my belief that waiting on big men, is the way to go this year. I'll have a column up soon that will dig into my 2015 roto strategy a lot deeper."
2) You waited until the mid-rounds to load up on big men, and when you're on the clock in the 8th and 9th rounds, Dwight Howard is still on the board and you passed both times? Is this a case of sticking too stubbornly to your draft strategy?
Zack's answer: Some may say it is, but I didn't build this plan just to blow it up in the middle rounds. Drafting Dwight Howard would have been nice to pair up three elite rebounders, but it also would've wrecked my FT% that I worked hard to establish over the previous picks. It may be viewed as stubborn but when I come in with a plan, I stick with it 100%. So, guys like Andre Drummond, DeAndre Jordan and Dwight Howard weren't even on my rankings sheet, because they don't fit into what I am trying to do this year in roto leagues — H2H leagues is a different story.
Also, Howard isn't a guy I view as an elite big anymore. I used to understand the argument of drafting him despite his FT% killing, because he was so elite in points, rebounds, blocks and FG%. Now, he's really only elite in FG% of those, while being just solid in the other three. D12 didn't even finish in the top-20 of shot blocking average last year. So, while I see him as a great pick that late by Chris Towers, who paired him up with fellow FT% assassin DeAndre Jordan, he definitely wasn't a fit for my squad and plenty of the other drafters obviously felt the same as me.
__
Mark Kaplan
1) I felt one of the first true surprise picks of the draft was your selection of Reggie Jackson at 20th overall. What do you see in Reggie this season, playing alongside Brandon Jennings, that has you reaching for him in round two?
Mark's answer: Getting an elite caliber guard that racks up assists is crucial in rotisserie formats. Jackson averaged 17.6 points, 9.2 assists, and almost five rebounds per game in 27 games with the Pistons last season. Those are close to elite numbers, especially when you consider a guy like Chris Paul averaged 19.1 points and 10 assists per game last year. I'm not worried about Brandon Jennings stealing playing or causing R-Jax number's to decrease.
First off, Jennings is unlikely to be healthy for the start of the regular season. Secondly, Jackson can play both the point guard and shooting guard, which allows the Pistons to play both Jennings and Jackson at the same time. This also means that Jackson is eligible as a SG in fantasy, which does boost his fantasy value a bit. Jackson will have produce high assist numbers and could see his scoring numbers increase as well with Greg Monroe gone.
2) I noticed that you only drafted one wing (SG/SF) in the first nine rounds of the draft. Is it common for you to go PG and bigs heavy early, while waiting on wingmen, or was it just how this draft happened to play out? Are you good with who you ended up with as your SG/SF options or in hindsight do you wish you had taken another wing earlier?
Mark's answer: Yes, I always load up on point guards and bigs because this allows me to build up stats in assists, rebounds, and blocks. DeMar DeRozan is a guy that can average 20-plus points a game, which is amazing value for where I drafted him (5th round). SF's/SG's rarely put up significant numbers in most categories besides points and three pointers made, which is why I only drafted a few SG's/SF's. I'd slot Jackson in at SG, which would allow me to play Jarrett Jack, Mike Conley, and Michael Carter-Williams in my starting lineup as well, which would give me a huge advantage in the assists category. Having a quality SG/SF is crucial for fantasy success, but there is no reason to load up at that position because they contribute in few categories that matter.
__
Chris Towers
1) You started the draft with two solid rebounders and then the league's top rebounder in the 3rd. You didn't take another big until Dwight Howard fell into your lap in the 9th. How surprised were you to see Dwight still on the board that late as a perfect fit beside DeAndre, and is the "punting" strategy something you often go for in roto leagues?
Chris's answer: Between injuries, turnovers and free-throw percentage, I can totally understand Dwight's value taking a hit like this. He's a tough player to fit onto a Rotisserie roster, because you either have to punt FT% entirely or really focus on making up for the damage he can do. With DeAndre Jordan and Andre Drummond out there, you know at least two teams in the league are going to have to punt that category, which makes it a little easier to stomach.
Dwight's production was down across the board last season, but I think that's a little misleading. Before his knee became an issue in November, Howard averaged 18.8 points, 11.3 rebounds and 3.1 combined blocks and steals per game, while shooting 57.5 percent from the field. Things took a turn for the worse from that point on, and there's a chance the big man's decline is permanent to justify his fall down draft boards. I'll take that chance in the 9th round every time.
And I'm usually not a fan of punting in pure Roto leagues, because it puts you so far behind the rest of the league in one spot. However, someone has to draft Jordan, Drummond and Howard, you know?
2) Rookie point guard, D'Angelo Russell was your selection in the 7th round. What are you expecting out of the young southpaw that had you take him over other PG options like Deron Williams, Derrick Rose, Jarrett Jack and others who went shortly after him?
Chris's answer: The allure of the unknown is powerful, man. Russell's passing and shooting abilities could make him an elite Fantasy point guard some day, with better-Damian Lillard as his potential upside. I don't love the situation he's landed in playing next to Kobe Bryant and Jordan Clarkson, but I needed assists and I like his upside most out of the names listed.
If anyone can wring out one last good season from Deron, Rick Carlisle is the person. But I'm not willing to bet on that at this point. Rose is probably best served in a diminished role, and the injury risk is huge. And Jarrett Jack… Well, I know he's going to get the chance to play big minutes with the ball in his hands, but I'm just not a fan. I think the Nets are likely to move on from him fairly quickly; if they get any kind of offer in a trade, he'll be out the door.
__
Russell Peddle
1) Brandon Knight was having a big season in Milwaukee before being traded to Phoenix at the deadline. Knight only played in 11 games for the Suns before injuring his ankle and missing the remainder of the season, but in the games he was active for, his numbers were way down. So, what are you expecting from BK this season that made you snag him at 55th overall?
Russell's answer: Those 11 games aren't a big enough sample size to scare me. His usage and shooting numbers were down a fair bit from his career norms and I expect that to normalize as he becomes more familiar with his teammates and coaches. When it was Dragic and Bledsoe sharing the Phoenix backcourt, they were both able to put up excellent fantasy numbers and I expect Knight to fill in for Dragic there just fine. Especially now that the Suns' guard depth has dwindled and Markieff Morris — a guy who eats a lot of their touches — might be trying to force his way out of town. Knight might never be quite at his early 2014-15 Bucks level going forward with the Suns, but I still felt perfectly comfortable taking him 55th. The shooting guard position gets fairly thin after the early rounds, so Knight's dual PG/SG eligibility definitely bumped him up my draft board.
2) Do you have a specific plan when you're in roto league drafts? It seemed you liked to find a healthy balance all-around or was that just how things played out in this draft and you just took things as they came to you?
Russell's answer: I play a lot more H2H than I do roto leagues, so I have to admit that I play roto very conservatively. In H2H, I'm a big advocate of punting categories as it becomes feasible during your draft, but in roto I want that balance. As we did this draft, I put the players and last year's stats into a spreadsheet and tried to balance my value in all eight categories. That way, I can rely more on tinkering during the season, based on which categories emerge as my strengths and which become my weaknesses. I never like to get too far down in any one category in roto, which is why I generally stayed away from guys who can single-handedly destroy a category in our draft (like DeAndre Jordan and free throw percentage).
__
Seth Klein
1) I noticed you started out with two elite free throw shooters and then grabbed a duo of big men who aren't FT% killers, but combined they shot 64% from the stripe last year. After that you immediately added IT, another guy who gets to the line a ton and knocks them down at an excellent clip. Followed him up with Elfrid who is bad from the line, then netted Dirk and Matthews who are pluses in that department. Was your strategy here to take the best available players while also maintaining a middle of the pack finish in the FT% category, or am I just reading WAY too into this?
Seth's answer: I think you may be reading a LITTLE too much into the free throw shooting part of it, but my goal WAS to assemble an extremely balanced team. I did so by making sure I took a solid assist man (Wall), pure scorer (Aldridge) and shot blocker (Noel) with my first three picks. I then reversed that order with my next three picks (Favors, Thomas, Payton). So, FT% wasn't the goal, but I DID have a method to my madness. Call me crazy.
2) LaMarcus Aldridge was your choice in round two at 17th overall. How do you see his minutes and stats playing out now that he's wearing silver and black, coached by the one and only, Greg Popovich?
Seth's answer: LaMarcus Aldridge is a proven player. He doesn't do much else besides score and rebound, but I think his move to San Antonio — and his pairing with Popovich — will help the other facets of his game. While his minutes could take a SLIGHT hit with Coach Pop often sitting his star players in blowouts, I believe a more disciplined environment will help him in the shooting, assist and turnover department. His 46.6 FG% leaves a bit to be desired for the position he plays, but a better supporting cast and a more structured offense should prevent him from taking so many bad shots. Pop loves to get his big forwards involved in the passing game too (see Diaw, Boris), and that should give Aldridge a bump in assists. Aldridge's 1.7 turnovers per game was tied for eighth among all PFs last year. That should also change with the Spurs.
__
Kyle McKeown
1) You drafted 2015 NBA rookie of the year, Andrew Wiggins 40th overall. In 29 games after the all-star break, Wiggy played 39 minutes per game and put up solid counting stats plus elite free throw numbers, but he was just 5/31 (16%) from deep and swiped only 0.9 steals in that same span. Drafting him this highly, I'd assume you see nice progression in those two categories even if his minutes drop slightly? Let us in on your 2015-16 Wiggins projections.
Kyle's answer: I had the ninth-overall pick of the first round, and with my first three picks of the draft, I took Chris Paul, Blake Griffin, and Rudy Gay. There's enough potential scoring there, but I also didn't have anyone who averaged over 22 points per game last season, so I felt like I needed to continue getting scoring in the fourth round. Players who score over 20 ppg usually get drafted early. In fact, of all the players taken affffffter I took Wiggins, only Chris Bosh, DeMar DeRozan, Dwyane Wade, Kevin Martin, and Kobe Bryant averaged at least 20 ppg last season, and those dudes all have red flags in fantasy due to injuries or a personal deficiency in a key category that players at their position usually provide.
So, I was considering all that scoring crap, and then I started looking at just how much opportunity Flip Saunders gave Wiggins as a rookie. Wiggins played the fourth-most minutes in the league (per game) last season (36.2 mpg). He also scored 16.9 points as a rookie, and he should improve his scoring in his second season. Looking at a small and convenient sample size of LeBron James, Kevin Durant, and Anthony Davis, all three of them improved their points per game by at least 5.0 ppg in their second season. If Wiggins makes a similar jump in his second season, I'll have picked him at a discount when all is said and done.
Three-pointers will come for Wiggins. He didn't shoot a lot of three-pointers as a rookie, but on his 1.5 attempts per game from beyond the arc, Wiggins shot 31 percent. Both James and Durant attempted more three-point shots as rookies (2.7 and 2.6 3PA respectively), but they also shot a worse percentage than Wiggins (both 29 percent). The sky is the limit for Wiggins.
2) I saw in rounds 9-12 you went with a handful of guys who all could be viewed as somewhat "lotto tickets." I tend to go the same route in the final rounds of a shallow league where, if they fail to turn out as hoped, they're easy cuts. Between Plumlee and Stauskas traded to new teams, Otto looking at an increased role and promising rookie Stanley Johnson (I like all of those a bit), explain why a couple of them are players you're targeting late.
Kyle's answer: Rounds 6 and 7 are where the available players stop being sure-things and start being risky picks. If you're drafting Michael Carter-Williams in a rotisserie league (where shooting percentages make or break most teams), you're banking on the fact that he's going to find a jump shot this season and not shoot sub-40 percent from the floor again. Your target percentages in rotisserie leagues should be around 48 percent from the field and 80 percent from the line. That's generally where the tops teams finish in percentages in rotisserie leagues.
The point I'm trying to make is that, by the time you get to rounds 9-13, you're taking players who either have warts or question marks, and if I'm going to draft a player who could fall off a cliff, I'm going to hedge my bets with the guys who have a similar opportunity to have a career season. Instead of drafting a steady crutch like Jarrett Jack who could lose his starting job any day, I like to take guys who have an opportunity to shock the world this season.
I drafted Mason Plumlee in the 9th round because he's the projected starter at center in Portland, and he's had enough big games to make me believe he could put up great scoring and rebounding numbers as Damian Lillard's favorite target in the pick-and-roll. Similarly, Nik Stauskas should start at shooting guard for the Sixers, and with the Philly point guards either coming back from big injuries or better as score-first guards, Stauskas could be the primary facilitator for the Sixers, filling a big role that could lead to dynamic fantasy production and elite three-pointers.
Porter should have the starting small forward job in his pocket with Paul Pierce no longer in Washington, and he should also see minutes at power forward. Through the final eight games of the regular season, Porter averaged 9.3 points, 1.0 three-pointer, 5.0 rebounds, 1.0 assist, 1.1 steals, and 0.5 blocks in 30 mpg while shooting a terrific 51 percent from the field, 38 percent from beyond the arc, and 75 percent from the line. There are a lot of reasons to be excited about Porter's potential with more minutes and a bigger role on offense this season.
__
Ricky Sanders
1) You drafted Damian Lillard 10th pick overall. Obviously you are not concerned one bit about him no longer having another superstar by his side to take away some of the defensive attention. Talk about what you're projecting from Lillard this season with his increased usage rate, surrounded by a fairly mediocre supporting cast.
Ricky's answer: This is your classic case where I think talent leaving town signifies Damian Lillard putting the team on his back. I'm expecting an uptick in the scoring which is already upper-echelon meaning he is actually a darkhorse candidate for the scoring title. The issue with a guy taking over the whole offense is the field goal percentage but his was never really that good to begin with. We're talking about a guy who could score 24-25 PPG approaching three three-pointers per game with AST, REB and a decent amount of STL. Considering the alternatives were risky propositions such as Carmelo Anthony or Paul George…..or even take Kawhi Leonard who just really doesn't do any one thing to an elite level…the decision was easy for me. Lillard is a superstar both in fantasy and reality.
2) Admittedly, this is being picky because this is a mock draft that won't be played out, but I have to ask the questions, so sorry in advance if it causes an eye roll… You drafted five players in the first eight rounds that will likely only have PG eligibility despite the settings only allowing four of them to be in your starting lineup. Was it just that you simply couldn't pass up the upside of Derrick Rose where you landed him, even though your SF and two F slots were still vacant at the time? Also, do you always tend to draft PG-heavy in roto drafts?
Ricky's answer: I tend to go point guard heavy in just about all formats. Blocks and assists are difficult to come by in fantasy basketball so you can almost never have enough. When I put together rankings, I have point guards higher than most, and I draft strictly according to value for at least the first eight or so rounds. After you've compiled the best package of talent you possibly can then it's time to start filling in holes. Sometimes the talent fills out a roster by itself in the first eight rounds, and others (like this draft), the talent falls at one position.
All reports out of camp are that Derrick Rose is looking and feeling fine and I am one of his biggest doubters. However there's simply no way I could pass on a player with first round upside in the eighth round. At that point, the risk is well beyond the reward even for me as a borderline self-hating Bulls fan. All-in-all I'm happy with how it came together and if we played it out then I would have plenty of trade bait.
__
Ryan Knaus
1) You didn't draft a point guard until the 6th round (George Hill) and then your next one in the 9th (Brandon Jennings). Is waiting on point guards and/or placing a low priority on assists a strategy of yours in roto leagues, or were you just taking what the draft gave to you?
Ryan's answer: Waiting on PGs and/or de-prioritizing assists is not a strategy I'd offer a blanket recommendation for in any format, and definitely not in an 8-cat roto league. I took the best player available in Kawhi at No. 11 — I likely would have taken Damian Lillard (who went 10th) but shied away from Kyrie Irving's injury history (he went 13th). With the elite PGs off the board I was content to build opportunistically through the middle rounds, though with the benefit of hindsight I might have taken Jeff Teague over Brook Lopez in the 4th round.
I did land the underrated George Hill at No. 62, though by this time I was committed to de-emphasizing assists…not outright punting them, if it could at all be helped. BroLo played 72 games last season and my team didn't have any other serious injury risks entering the later rounds, so I was more than happy to claim Brandon Jennings at 107th overall, before rounding out my guard core with Eric Gordon (110th) and Jordan Clarkson (131st). I'd be scraping the bottom of the assists barrel if Jennings' Achilles causes problems and/or he isn't traded away from a timeshare with Reggie Jackson, so if this weren't a mock draft I'd be looking to flip one of my bigs for a PG. That's part of the allure of a 'best available player' approach — you can always move assets to balance your team, and GMs are typically most eager to trade before the season starts.
2) It's our first draft of the off-season, and I'll admit, I liked your draft a lot. After overanalyzing, I noticed you went with basically all known commodities, no rookies and only one guy in their sophomore season. Do you typically go with players you have seen produce for a couple years and feel you can trust over rookies and second-year guys, have you not analyzed the rookies and their scenarios enough yet to have a strong opinion either way on them or did you have some young guys targeted but they simply didn't fall to where you had them zoned?
Ryan's answer: I very rarely draft rookies, simply because opposing owners value them higher than I do. The learning curve for NBA rookies is in a negative-feedback loop with their playing time, and each year there are typically just one or two rookies who crack the top-100 in 8-cat and 9-cat leagues. More rookies will provide temporary bursts of value (e.g. Mirotic and Clarkson last year) but especially in roto leagues I'm more interested in reliable production. I'd get that with 'known commodities', which is why in the final round I'd still have drafted Wilson Chandler over Mario Hezonja (if he were available, which he wasn't). Thanks for having me, it was a fun mid-summer draft.
__
Adam Pfeifer
1) You took on several players that come with injury concerns, Paul George missed the whole season, Dwyane Wade missed 20 games, Kobe Bryant missed 47 games and Tony Wroten missed 52 games. Are you feeling big returns from all of them or was it more just not being able to pass up their upside at where you landed them?
Adam's Answer: Well, my draft completely altered when Damian Lillard went off the board. I'm not a fan of guys like Klay Thompson or Melo, so I gambled on George. I do think he's in line for a high usage rate and very productive season. As for Kobe, I kind of liked the value of where I got him. If these guys hit, they'll hit in a big way.
2) This is of course hindsight, but it kinda seems like Andre Drummond doesn't fit with the rest of your draft. Aside from Drum and Tony Wroten, your team would be pretty stellar at FT%, but with Drummond it takes a dent. Andre is really strong in FG% but most of your squad lacks in that area. Did you just think Drummond was too good at the end of round 3 to pass up and if this were a real league you'd look to trade him before the season or if you could go back would you have done that pick differently?
Adam's Answer: I'm a huge fan of Drummond, and I thought he was a steal there. So, I wasn't even thinking about free throw percentage when I selected him. A guy who has typically hovered around the league lead in rebound chances per game, Drummond now has less competition for rebounds with Greg Monroe gone.
__
Well, there you have it. I'd like to say a big thank you to all of the writers who took time out of their busy schedules — who am I kidding, they loved every bit of it — to take part in our draft. I hope all of you reading this enjoyed it as much as I did. It is always so great to get some of my favorite fantasy analysts together for a mock draft this early in the off-season before we're certain of team rotations and are still working on our own rankings for the upcoming season. The questions and answers portion was packed with amazing insight as always, too. Be sure to keep checking back here at the Fix over the next few months, we'll be doing several more mock drafts leading up to your fantasy drafts.
I would love for you to chime in with your comments on who you felt had the best draft, players you believe went too high/low, etc…
For more fantasy hoops analysis and to have any questions you may have answered, follow Zack on Twitter @BigZack44