While there are hundreds of fantasy basketball blogs, fan sites and forums, there's only two really big boys on the block in terms of hosting leagues and having useful apps, and that's ESPN and Yahoo.
Both have had their flaws in the past, actually both continue to have their flaws, whether it be ESPN updating their app once a decade or Yahoo updating theirs every time I go to the fridge, or the projections side of things which neither site can seem to figure out.
Anyway, that's probably a separate article and I won't go into that because this promises to be a long enough article as is.
Both sets of rankings are flawed. Both sets of rankings agree on largely the bulk of players. Both sets of rankings have some players comically low and others comically high.
The one thing they can agree on?
Hassan Whiteside is the 13th ranked player going into the season (which I personally think might be 1-2 spots too low, but anyway).
I've broken my rankings analysis down into five categories:
Rankings Combine – the average of both rankings seems about right
Yahoo Flagrantly Foul – Yahoo's ranking for the player has some stank to it
ESPN Double Dribbled – ESPN's ranking for the player is turrible
MJ Shoulder Shrug – both rankings seem off…as in the player could go either way
Double Technical – both sites whiffed on these players, plain and simple.
So there you have it, an elongated explanation to a couple of graphics you could have easily figured out for yourself, after you, you've come to The Fantasy Fix so clearly you know that we know some stuff.
If you want H2H or an actually well thought out set of roto rankings, check out The Fantasy Fix's basketball guru Zack Rewis, who wrote up sets of 200 for both. He even did separate dynasty rookie ranks with in depth analysis. Rankings Beast. And then there's my initial release of dynasty ranks here which are also roto based, found here.
Rankings Combine

If you've been reading up about Nikola Jokic this off-season, about the only place his fantasy outlook hasn't been debated via frothed mouth or bloody fingers has been by Hilary and Trump. FYI, they both feel he brings sustainable percentages and Marc Gasol upside, though both are clearly angling for the Serbian vote. Jokic isn't likely a top 25 player this year at least – but the talent is there. ESPN however, have him far too low at 46, as he simply won't be there at that pick. Pencil in 12-14pts, 8-9reb, 3-3.5ast, 1.2stl, 0.9blk, 0.4 threes and healthy percentages at the C spot.
Mike Conley never finds his way onto my teams for some reason, but the reality is he's a top 55 performer for six of the past seven seasons (via Basketball Monster), with last year's injury plagued 56 games bringing him in at number 63. Basically, 39 (Y!) is a tad high and ESPN's 63 is too low – 51 seems about right.
Myles Turner looked like the second coming of Serge Ibaka last post-season, as he swatted 3.3 shots a game in the Pacers' seven game playoff run. The three point shot we were all hoping for didn't come in his rookie season but give him a break, he can't even buy beer until after the AS break. I've got him in a couple of leagues and hope he puts up 12-14pts 7-8reb and 2.5 blocks while not massacring your FT% like most shot-blocking bigs.
Layups: Jonas Valanciunas is what he is, a secondary option at C who hasn't reached his potential yet. He's not the 36th best player in fantasy and he's not the 82nd best either. 59 seems where he's either going in drafts or where he'll end up…Very few players are as polarizing as Rajon Rondo. I don't like his chances of repeating last year's ranking of 22 in 8-cat, but I don't think he'll be 109th either, as Yahoo have him pegged for. The happy median of 77 seems spot on, even if you'll likely need to reach before then to nab him…I love Aaron Gordon's athleticism, energy and attitude. But that doesn't always translate to fantasy does it Jeremy Evans? In short, 100 is too low ESPN and 55 is too high Yahoo – split the difference and 78 seems right, as there's room for upside there…Earl Watson doesn't doesn't know who the starting C in Phoenix is, so how are you meant to draft Alex Len at 90? 138 seems too low though, considering he averaged 13pts, 10.3reb and 1.9ast over his last 27 games (while shooting an abysmal 39% from the field and blocking just 0.6 shots a night).
Yahoo Flagrantly Foul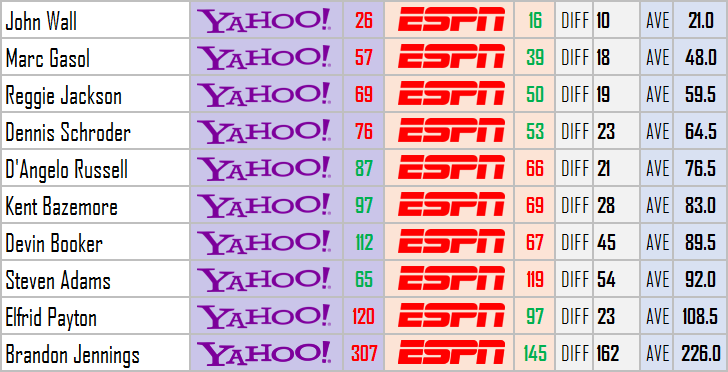 Much like last year when they had him ranked 21 before the season, Yahoo again shows John Wall no love. He is a career 18.0pts 4.5reb 9.0ast 1.7stl player over six seasons. There are exactly TWO players in NBA history who have averaged that over 400 career games: John Wall and Magic "PG GOAT" Johnson. Show him some love – 26 he simply won't be there, even ESPN's 16 seems too low.
Marc Gasol says he's in better shape physically than he's ever been. He's only 31, doesn't rely on athleticism and he averaged 19.6pts 5.8reb 4.0ast 1.5stl 2.0blk and 51% from the field over his last 11 games, before going down in game 52 against Dallas. The name alone means he'll go top 40 – advantage ESPN (39), even if the rebounding stats are down you can expect a nice bounce-back season.
Dennis Schroder need only look to Reggie Jackson's emergence as a starter last season if he needs an example of how to become a legit fantasy option at PG. Jackson played a hard to believe (i.e. really low) 30.7 minutes a night last season yet still ended up ranked 61st in 8-cat. Dual guard eligibility means Jackson is an attractive option in the first 4-5 rounds, about where ESPN have him (50). Yahoo have both Jackson (69) and Schroder (76) far too low going into the season, with Schroder in particular primed for a massive increase on last year's seriously good reserve stats. Over the past two season he averaged 10.5pts 2.3reb and 4.2ast in just 20 minutes a night – so his per-36s indicate a BIG year.
Layups: D'Angelo Russell (ESPN 66) had many ups and downs in his rookie season in the spotlight of LA, but there's no way he's going to finish outside of the top 75 this season, let alone at 87 where Yahoo have him….Ditto for Kent Bazemore, everyone's favorite early season roto pick-up due to his ability to help in 3PT, REB, STL, PTS and FT%, whilst not eviscerating your FG% (44%) like many SG/SF can….The meteoric and unexpected rise to prominence of my Suns' Devin Booker was as refreshing as it was exciting. A legit SG who can handle the ball and get to the line and convert at a very high clip at just 19? Nice. Don't overpay though and grab him too early, ESPN have him at 67 which feels right while Yahoo's 112 is laughably late to the ball considering the lofty company he's in for productive teenage NBAers…As a home-grown Kiwi, I hope Steven Adams kicks all sorts of NBA tail. As a fantasy enthusiast, I have my doubts he can be more than a mustachioed Marcin Gortat. Yahoo's 65 is as ridiculous as New Zealand's All Blacks going on a 16 game winning streak (boom), while ESPN's 115 seems a lot more likely and with less downside….Elfrid Payton averaged 12.3pts 4.7reb 8.6ast 1.0stl and 48% from the field over his last 11 games (sans his season finale shocker). With Victor Oladipo out of the equation and Evan Fournier being more of a scorer than a playmaker, the ball should be in his hands much more and he'll be closer to ESPN's 97 rather than Yahoo's 120….Brandon Jennings seems decades removed from his 55-pt explosion as a rookie, but the fact is he's the last and only line of point guard play behind the knee deep in poop Derrick Rose. Rose's knees are as strong as my backgammon game (not very), that is to say Jennings could be in line for heavy minutes this season and 307 is ridiculous Yahoo!
ESPN Double Dribbled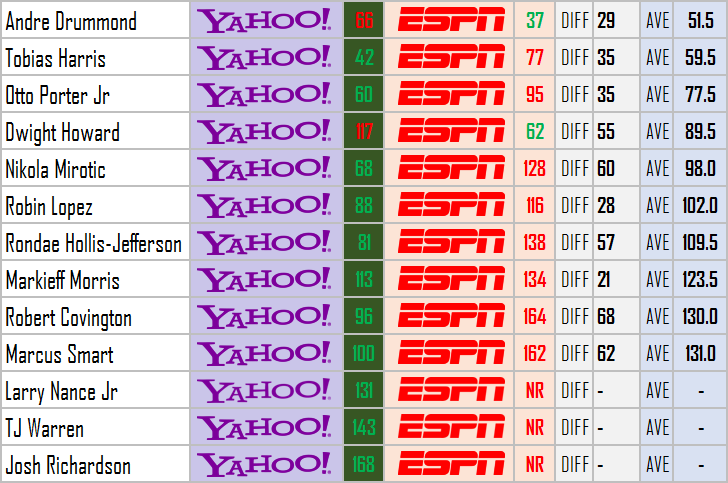 It surprises me both ESPN have Andre Drummond so high. Last year was a career year for the 23 year old man-child, as he became an All Star while setting career highs in MPG, PTS, REB, AST, STL, FTA and FGA. The downside? He set career lows in FT%, becoming the only player in NBA history to average 7 freebies a night while shooting less than 36%. Read that again, 36%. Sure the league's changed the hack-a-Shaq rule but Drummond still can't realistically be owned in rotisserie, let alone at pick 37 (ESPN).
For a guy who's only just turned 24, Tobias Harris has bounced round a lot. The Pistons are his third team in five seasons, but he didn't need time to adjust to his new team as he averaged 16.6pts 6.2reb 2.6ast 1.2 threes and 48/91 splits in 27 games for Detroit. The only downside is the lack of steals and blocks, but he's shown in the past he can push close to one in both of those so don't be overly concerned. Yahoo's 42 is a tad high, but more realistic than ESPN's 77.
Otto Porter Jr continues to improve after a relatively slow start to his NBA career, considering he was a number three pick. Last year he set career highs in every major statistical category, excelling from the field (47%), from deep (1.3 threes at 37%), and in the thefts department (1.4). As long as he can stay healthy there's no way he's finishing at 95 as ESPN have him and he'll be much closer to Yahoo's 60 – which is still a bit high for my liking.
Dwight Howard at 62 ESPN? See Andre Drummond, but with less STL, more PTS and more BS drama.
I know a few writers (like my Aussie bro Matt Smith) love Nikola Mirotic, but his second season was essentially a disappointment. But, he had a tremendous run to close the year, averaging 18.9pts 5.1reb 2.1ast 1.4stl 0.8blk 3.9 THREES (!) and 48/87 splits over his last nine games. Despite two straight seasons of sub 41% shooting from the field, I like Mirotic's ability to be the benefactor of the ball dominant trio of Butler, Rondo and Wade (not a law firm), and finish much much higher than ESPN's absurd ranking of 128.
Layups: Robin Lopez is typically not a guy you look at as a sexy C option, but in roto he's vastly underrated when healthy and ESPN have done just that, plugging him in at 116. Yahoo's 88 seems much more likely and seems to be where he's going in many mocks I've been in….Rondae Hollis-Jefferson is in line for huge minutes this season. While he struggled to score last season, the per-36s are roto gold at SG: 9.0reb 2.5ast 2.3stl 0.9blk. All he needs to do is get a few more layups and put-backs and he'll easily surpass ESPN's 138 ranking….I don't like Markieff Morris, not since he and his immature brother crapped all over my Suns. It took time to adjust to the new team, but over his last 14 games in just 26.6mpg he averaged 15.1pts 5.8reb 1.4ast 0.9stl 1.5 threes and 50% from the field. That's closer to 113 (Yahoo) than it is 134 (ESPN) that's for sure…Marcus Smart and Robert Covington are both capable of being valuable contributors, particularly in steals. But both are seriously horrific from the field, Covington (38.5%) somehow being the better shooter than Smart (34.8%). Both were ranked around the 100 mark by Yahoo and way too low by ESPN at 162 (Smart) and a somewhat crazy 164 for Covington…Larry Nance Jr. isn't his dad – who was a legit fantasy BEAST – but he's not Nancy Drew either. A strong summer league showing and the ability to guard 3-4 positions in stretches means Luke Walton will play him and ESPN not even having him in the top 200 just seems wrong…Like Nance Jr, both TJ Warren (Yahoo 143) and Josh Richardson (168) were left out of ESPN's top 200. This just seems wrong. Neither guy produces significant rebounds or assists, but both have their specialties. Warren is an efficient scorer (career 51% field goal percentage) from the wing who has a developing thee point shot and a path to minutes now, so snap him up late if you need points and FG%. Richardson is hurt and on the road to recovery, but with a proven College career that saw him named All SEC and Defensive All-American his senior year, the Heat will play him as soon as he's back. Last year he showed a propensity for knocking down the three ball and block a useful amount of shots from the SG spot.
It's at this point I realized I had bitten off more than I could chew. So the rest are in short and sweet format, to save my fingers from burning and Zack's eyes from going fuzzy.
MJ Shoulder Shrug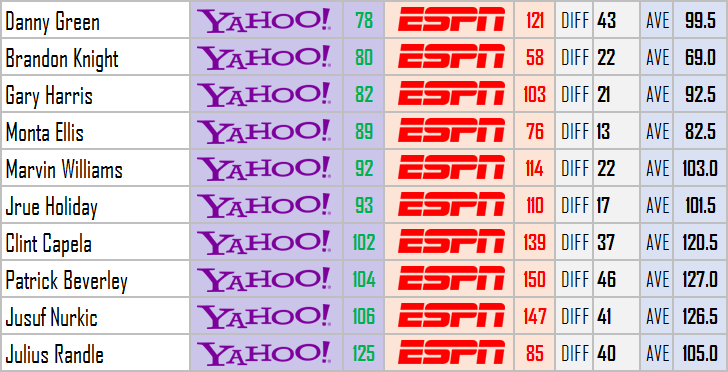 Not much wiggle room with Danny Green at 78, though he's been top 80 three times in 9-cat. 121 is too low, 78 is too high. I think? If Brandon Knight's locked into 30-32mins, then 58 is about right. At 80 he won't be there so no point having such a low ranking….Gary Harris is the starting SG but the Nuggets took Jamal Murray and he has to play somewhere. Still, lots to like in a 22yr old who improved from 30% FG as a rookie to 47% in his sophomore year….Monta Ellis is a hard one to peg. Poor regular season carried over with poor postseason. Maybe Teague lets him get out in the open court more? The average of 103 seems right for Marvin Williams, as last year was the first time since 2008-09 that he was ranked inside the top 100 (he was ranked 100). Could go either way so don't reach inside first 8-9 rounds….Massive question mark surrounding Jrue Holiday's return under sad circumstances. Still only 26 and actually had a career year in terms of per-36s. Get Tim Frazier late if you draft Holiday. Popular sleeper Clint Capela was 0-6 from the line in his preseason debut. Something tells me Motiejunas may steal his minutes at C – he's more of a D'Antoni type C, but the FG%/REB/STL/BLK potential is tasty….104 to 150 is a huge difference and I'm inclined to go with Yahoo's ranking of Patrick Beverly, after all there's the D'Antoni effect and Beverley has been 105 or better the past 3 seasons running….Jusuf Nurkic has lost a ton of weight and Coach Mike Malone looks set at starting he and Jokic together. Per-36s of 1.6stl and 2.9blk are Anthony Davis-esque; the career 44% from the field and 63% from the line are Josh Smith-esque….Outside of rebounds and leagues that count double-doubles, it's hard to see Julius Randle getting close to 85. In saying that, 3.1ast and 83% from the line over his last 13 games hint that his game could round into Z-Bo lite.
Double Technical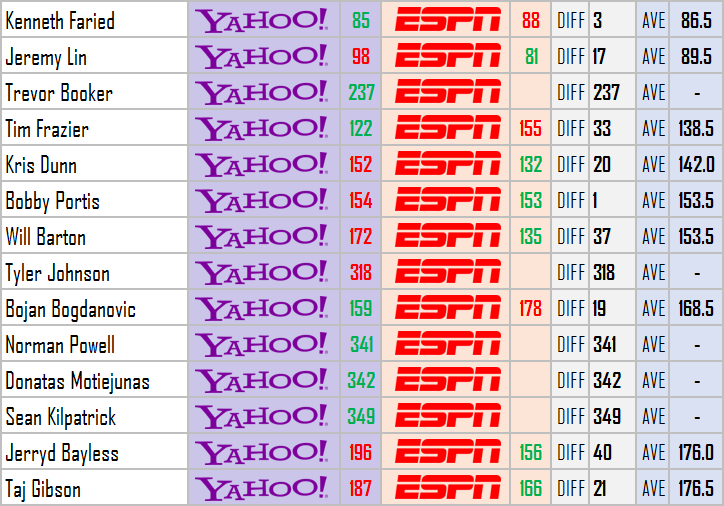 Hard to believe Kenneth Faried is suddenly going to top his highest ever 8-cat rank of 88 set three seasons ago. He's an old school NBA power forward and is better suited to an energizer role off the bench and the Nuggets can go small-ball and outscore anyone, without Faried….Jeremy Lin's been handed the keys to a young and inexperienced Nets team, which could lead to a bounty of fantasy goodies. I'm pencilling him in for 15-16pts 3-4reb 6-8ast 1.4stl 1.4 threes and decent-good percentages….Much like Lin, Trevor Booker will be starting on a rather average Nets team. In 112 career starts he's only put up 9.2pts 7.0reb 0.8stl and 0.8blk. He should top those and come close to a double-double most nights with STL/BLK/FG% combo….People are sleeping on this Tim Frazier. Under Gentry's tutelage, he averaged 13.1pts 4.4reb 7.5ast 1.4stl 0.8 threes 45% FG 75% FT – in under 30min. There's loads of upside after round 8-9 here considering Holiday's situation and injury history….Ricky Rubio's going to man the point for at least 30min, but like Rubio, Kris Dunn is an above average defender, but Dunn can and will play some SG as well. 152 and 132 both seem crazy low for someone with his skills….I'm very open about my fancrush on Bobby Portis – to me he's the new Millsap and just needs minutes to start racking up double-doubles with STL/BLK. Added a three point stroke and dominated summer league….Everyone's early season waiver wire steal really tailed off down the stretch. His ability to rebound well above average for a SG and make 3s makes Will Barton a good SG/SF option after 100….Crazy. I can't believe ESPN doesn't have Tyler Johnson in their top 200 and Yahoo only have him 318. Miami paid him $50m, it's not to sit there and watch from the bench. Rock solid FG% will likely drop, but he's got a little Ginobili to his game….Bojan Bogdanovic hasn't cracked the top 200 in either of his NBA seasons, but down the stretch he was a rock. Starting with his 44-pt explosion, he averaged 16.8pts 3.2reb 1.4ast 2.3 threes 44% from the field and 90% at the line over his last 14 games. Look elsewhere for STL and AST at SG though….Norman Powell's only real competition for back-up minutes at the 2/3 are Terrence Ross. Powell's toughness and 3&D potential will see him get minutes and get paid too….Big men who can pass or shoot tend to play for Mike D'Antoni. Contract and back issues aside, Donatas Motiejunas has an ideal opportunity to excel in an offensive guru's system. His last healthy season he came in at 125th in 8-cat, in 2014-15….Another Net with something to prove. Sean Kilpatrick had very strong offensive run down the stretch proved useful in deep leagues. Even though he's 26 already, he's only played 35 NBA games. In the 23 with the Nets last year, he averaged 13.8pts 2.2reb 1.5 threes and 46/90 splits – he can shoot….The 76ers made Jerryd Bayless a priority this off-season because they wanted a no-nonsense veteran guard and they didn't want to pay for a really good one. He's shown he can make threes, knocking down 1.1 per game at 38% over the past five seasons, mainly as a reserve. The assists might spike (4-5 per) while Ben Simmons is off the court – who knows how long that will be for….It looks like Taj Gibson could be starting for the veteran heavy Bulls, so 166 is too low, let alone 187. He's been top 130 for three straight seasons, even during last year's pretty average 9 and 7 season. I know he has the endorsement of my guy Zack, which typically bodes well.
—
Anyone I've really whiffed on? Someone missing? Hit me up on Twitter @macetastic as I'm always happy to discuss fantasy basketball!