2015-16 Fantasy Basketball: Round Table Predictions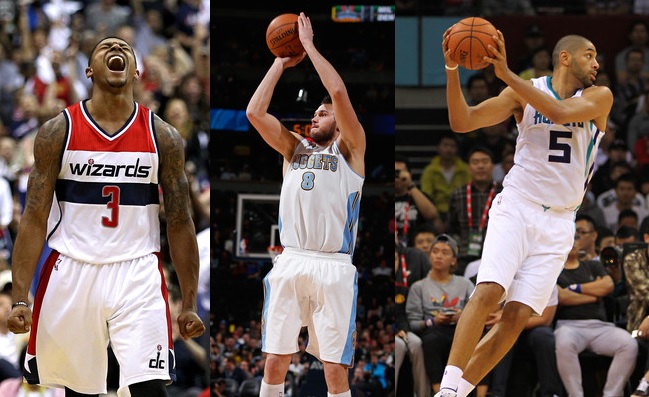 We're less than two weeks away from the NBA season starting up, and over the next two weekends the majority of you will likely be having your fantasy drafts. Today we dig into the Fix NBA crew's minds for some season predictions (some bold) of the upcoming fantasy season. We'll also have a couple of our writers explain their reasoning on each question.
Before we go further, let's be sure that you are all familiar with our NBA staff. Aside from myself, we have Sam Macey who is in entering his third season as an NBA writer here, Seth Klein who is in his first year writing with us, but has been an NBA fantasy analyst on numerous other sites since 2012, Max Haldeman and Matt Moczygemba are both thankfully back for their second NBA seasons here. I couldn't be happier with our team and how hard they work, speaking of which, let's get to the good stuff. Hope you enjoy it.
FANTASY MVP: WHO DO YOU THINK WILL BE THIS SEASON'S #1 FANTASY PLAYER?
Zack – Anthony Davis
Sam – Anthony Davis
Explanation:  To me, despite Curry dominating slightly more categories, Davis' ability to get you 1.5 steals, with 50/80 splits at PF/C and his gaudy PTS, REB, BLK numbers make him the ultimate fantasy beast and the unquestioned number 1. I get Curry's historically absurd numbers as well, but look here. That's the 24 – 10 – 1.4stl – 2.8blk club. Oh yeah, Davis is the only one to hit 80% from the line and his turnovers (1.4 per) are 1.5 LESS than the next lowest mark among Kareem, Hakeem and the Admiral. He's only 22 when the season starts, has offensive beast Alvin Gentry as his coach and he's working on his three point shot. Careful now, we have a different fantasy beast on our hands for the next decade.
Seth – Stephen Curry
Explanation: Stephen Curry was the fantasy MVP last year and I don't expect that to change. At just 27 years of age, it's actually possible *gasp* that he could be getting BETTER. With elite numbers across the board in every category, he hurts you nowhere. It's a close call between him and Anthony Davis, but Curry brings a more well-rounded repertoire to the table.
Max – Kevin Durant
Explanation: It seems like a player missing almost an entire season due to injury just completely makes us forget about him. Steph Curry emerged as the NBA MVP and now Anthony Davis is everyone's top option because of his ability to do everything, including block shots. However, there is still a clear number one option in fantasy basketball in my opinion and it's Kevin Durant. I don't care what people say or how much success Russell Westbrook had while Durant was out last season, this is Durant's team. Also, this is a contract year for Durant and we all know what he is going to get in free agency regardless, but imagine what he will get with another MVP to his resume and perhaps an NBA championship.
Not to mention, Durant's averaging 27.3 points, 1.0 blocks, 1.2 steals, 3.5 assists, 6.9 rebounds, and 1.7 three pointers per game throughout his entire career, all while shooting 48% from the field and 88% from the free throw line. He's a triple-double threat every night he takes the floor, and is still arguably the best player in the NBA, and I don't believe that missing one season with a foot injury should take him out of that throne until he shows regression.
Matt – Anthony Davis
BREAKOUT PLAYER: WHAT PLAYER OUTSIDE THE TOP 40 THAT WILL MAKE A JUMP INSIDE THE TOP 20?
Zack – Danilo Gallinari
Explanation: I've been speaking highly of Danilo Gallinari since April, and while he's done a lot this off-season to build on his hype to where he's not going as a super bargain as I thought he would, he's still got plenty of upside over his ADP of 75. over the last 13 games of last season Gallo went HAM on the league to the tune of 20.7 points, 5.2 rebounds, 2.6 assists, 2.8(!!) treys, 1.2 steals and 0.6 blocks while shooting 48% from the filed and 88% from the charity stripe — good enough to sit him 9th best in 8-cat averages over the last month of the season. The Nuggets new up-tempo offense should also help things as long as his body holds up.
Sam – Derrick Favors
Explanation: There aren't that many big men who are physically gifted, defensively active and still unpolished while being as consistent as Favors. He's missed just 27 games missed in five seasons and averaged a career high 16.0 points per game last year, despite averaging just 30.8mins a night. If he and Gordon Hayward can continue to work on their two-man game there's no reason he can't put up an 18-9 season and come close to 1.0 steal with more than 1.5 blocks a game (three years straight he's hit that mark). If he can improve that FT% to up over 70% then he's not going to be far off a top 20 player in fantasy.
Seth – Brook Lopez
Max – Bradley Beal
Explanation:  Bradley Beal has been somewhat of a disappointment for the Wizards in his short career to this point, shooting just 42% for his career and averaging just 15.6 points per game. Keep in mind, Beal will be just 22-years-old for the entire season, and he has appeared to show that he is ready to take the next step so far this preseason. While it's just preseason, Beal is averaging 16 points per game through the first three games, while playing an average of just over 23 minutes in each contest. While it is only the preseason, it is a good sign to see Beal take a positive step in the right direction playing alongside John Wall. He also was a stud in last year's playoffs.
Beal, like Durant, is playing for a new contract, which the Wizards have said they are making Kevin Durant their number one priority. I'm a fan of players with something to prove, which is why I like Durant and Beal, both in contract seasons, to have a big year for their teams.
Matt – Nicolas Batum
ROOKIE OF THE YEAR: WHICH ROOKIE WILL HAVE THE TOP FANTASY SEASON?
Zack – Karl-Anthony Towns
Explanation: I'm not part of this debate, as I have talked about Towns a ton already, but I did just want to add that I think Myles Turner and Stanley Johnson will both make big pushes this season and at least be in the discussion. Myles will evolve a lot as his minutes increase and he improves as an all-around player as the season goes on, and Stanley is just a freakin' baller, especially in Stan Van Gundy's system. 
Sam – Emmanuel Mudiay
Explanation: I like Mudiay, but not as much as Towns or Russell. Looking at his skill-set, opportunity and competition for minutes (none, as Jameer Nelson is there as an on-court tutor essentially). Mudiay will go close to averaging what MCW did in Philly two seasons ago with numbers full of holes (percentages and turnovers) but enough PTS, REB, AST, STL and 3PT to rank him above likely real NBA Rookie of the Year Jahlil Okafor.
Seth – Emmanuel Mudiay
Max – Emmanuel Mudiay
Matt – Karl-Anthony Towns
Explanation: Karl-Anthony Towns has the highest ADP (62) among all rookies and there are numerous reasons why that is the case. He was the first overall pick in the 2015 NBA Draft and looks to be one of the more polished prospects to make the jump in recent years. Over four preseason games, Towns is averaging 12.5 points, 6.8 rebounds, 1.2 steals and 1.8 blocks while hitting 54.5% of his shots with an 87.5% mark at the charity stripe in only 23.5 minutes per game. Talk about fantasy goodness. Additionally, KAT also sports a usage rate of 23.3 that is likely to increase during the regular season as the Timberwolves lack reliable scorers outside of Andrew Wiggins and Kevin Martin, who is now set to come off the bench.
With 39-year-old Kevin Garnett set to play a minor role and Nikola Pekovic being one of the most injury-prone players in the league, frontcourt minutes will be easy to come by for KAT with Gorgui Dieng and Nemanja Bjelica being the only other quality options the Wolves can employ. While rookies tend to struggle, Towns looks advanced beyond his age (19) as he has shown a silky smooth mid-range game by hitting 46.7% of those shots so far and this is someone you should be willing to reach for. Top-50 value is a cinch for a center who will provide plenty of double-doubles with solid marks in points, rebounds, blocks and steals to go along with excellent percentages.
BUST OF THE YEAR: WHAT PLAYER INSIDE THE TOP 40 WILL BE A MAJOR LET DOWN?
Zack – LaMarcus Aldridge
Explanation: I felt like this was going to be a consensus, but ESPN came out and ranked him 20th overall and his Yahoo ADP is 17. No thanks! Aldridge finished last season 14th in 9-cat and 17th in 8-cat, and that was all best case scenarios. He's no longer going to be pushed to play over 35 minutes a night, scoring 23 PPG isn't happening on a balanced team that moves the ball like the Spurs and his rebounds will probably drop from 10.1 to 8.5-9. There's a possibility for an uptick in FG% and assists, maybe around 2.5-3, but even if that all happens, he's not worthy of a top 25 pick. I think it may take him awhile to become acclimated with his new team and role, so a rough start and inconsistency lands him much closer to 40 than 20. 
Sam – Hassan Whiteside
Seth – Klay Thompson
Explanation: For as much as I like Stephen Curry, you'd think I'd be high on his fellow Splash Brother. But alas, I am not.
On the season, Thompson ranked 12th overall in 8-category leagues, but much of that came prior to the All-Star Break, where he averaged 22.1 points, 3.4 rebounds, 2.9 assists, 1.2 steals, 0.9 blocks and an incredible 3.1 treys per game. He even shot an uncharacteristic 47.1 percent from the field.
After the break, however, his numbers dipped to 20.9/2.8/2.8/1.0/0.6/3.1 while shooting 45.0 percent from the floor. Those numbers are right about halfway between what he averaged in 2013-14 and what he averaged during the first half of 2014-15.
Max – Kenneth Faried
Explanation: This dude has totally messed me up every single year in my fantasy leagues. Whether it be that I drafted him and he was just terrible throughout the season, or when I traded for him when he was doing well, only to eventually land right back on the waiver wire a few weeks later. A player that has yet to be able to string together a good, consistent season for the Nuggets is not someone that I want to target in my leagues at all, especially where he is ranked coming into the season at 37. Even hearing from people around the Nuggets organization saying that he is having the best camp of his career so far this season makes me scoff at the idea of drafting him. I mean, we all saw how great he was for team USA in 2014, and how did that translate over to the regular season?
The fact of the matter is that he is undersized for his position. He's 6-foot-8, weighs around 225 pounds and is a true post player. He is a double-double threat just about every night, but he doesn't block shots, and more importantly, he isn't getting starter minutes on a Nuggets team that doesn't exactly have anyone that should be giving him a run at playing time. He has averaged just 26.9 minutes played per game throughout his four year career, yet to be able to eclipse more than the 28.1 he averaged in his sophomore season. The Nuggets still have Jusuf Nurkic, JJ Hickson and Darrell Arthur in their front court as well as young up and comers Joffrey Lauvergne and Nikola Jokic, making it likely that Faried will float around the same time of minutes played again this season. His per-36 minute stats are a much different story, I just don't believe that he has the size to be able to give the Nuggets good enough offense and defense from that position.
Matt – Kyrie Irving
Explanation: While Kyrie Irving finished as the 10th-ranked player in 9-cat formats last year, it will be a tall order for him to repeat that performance considering he's coming off knee surgery and the overall durability issues he's endured throughout his short career. Irving has missed 18-percent of all regular season games during his four-year career and he'll be hard pressed to match the career-high 75 games he played in last year. The timetable for his return this year has varied from being ready at the start of the season to not returning until January, while the latest update from Cavaliers head coach David Blatt indicates he's more likely than not to miss the regular season opener on October 27.
Without any real clarity being provided to the status of the 23-year-old point guard, owners are advised to let someone else draft him unless he really falls. Sure he's an elite talent when on the floor, but why seek out problems when you can avoid them? The Cavs are going to be extremely cautious in an attempt to preserve his health for the playoffs and he'll likely see his minutes drop from the career high 36.4 minutes per game he averaged last year since the team signed a capable backup in Mo Williams. Make sure not to reach for Irving.
SLEEPER OF THE YEAR: WHAT PLAYER OUTSIDE THE TOP 100 WILL EMERGE AS A 2014-15 FANTASY STUD?
Zack – Aaron Gordon
Explanation: Boy, I put long term projections on players after seeing them in college and their rookie years, and of course there's times I am on the money (like saying Ben McLemore will never develop into a good NBA starter) and times I am surely wrong, but this is one instance that I am pleased to say I believe I was wrong about. I quickly labeled Aaron Gordon's NBA ceiling as an off then bench 'defensive energy tweener.' And while the tweener part may hold true, in this newer era where teams play a lot of small-ball, AG looks more like Draymond Green than Anthony Bennett.
It may take him a little bit to reach his full potential, but Gordon is a terrific late round target to stash until his role improves to either starting or playing big minutes off the bench. While Coach Scott Skiles is known to be troubling for the fantasy upside of young players, he's also more focused on defensive intensity, and Gordon looks to be an elite defender who can guard numerous positions. I think Gordon is immediately a threat to join the rare 1+ trey, steal and block club, and while he may be most known for mega dunks like this, he'll soon also be thought of for his blocks like this and this and don't forget every bit of this.
Sam – C.J. McCollum
Seth – Terrence Jones
Explanation: I'll admit to being somewhat of a Terrence Jones fan boy.
Jones offers solid scoring (15.6 points per 36 min), dependable rebounding (8.9 per 36 min) and near-elite shot blocking (2.4 blocks per 36 min). Of course, his real-time stats of 11.7, 6.7, 1.8 aren't bad at all, either. The key will be for him to get close to those per 36 numbers, which he'd — don't lose me now — have to play 36 minutes per game to achieve.
Do I think he'll play 36 minutes per contest? No, I do not. But he could certainly improve on the 26.9 he saw last year. Josh Smith is gone and Donatas Motiejunas is still recovering from a back injury (and subsequent surgery) that forced him to miss the final 11 games of the season, plus the playoffs. I think Jones will receive somewhere around 30-32 minutes per game, and with that increase in playing time he'll surely inch closer to those per 36 numbers.
I keep wanting him to break out, but it hasn't happened just yet. Maybe it's my unbridled optimism, or maybe I'm just wrong. But you could do A LOT worse than Jones at his current ninth-round ADP. There are very few players that possess his potential at that stage of your draft.
Max – Robert Covington
Explanation: The main reason I went with Robert Covington as the sleeper of the year is because of the mess that is the Philadelphia 76ers. The Sixers finished last in the NBA a season ago averaging just 92 points per game and not a lot changed this offseason. They added Kendall Marshall and Nik Stauskas this offseason and drafted Jalil Okafor with their first pick in the draft, but the question of who is going to take over as the primary scorer still looms.
The Sixers are basically a team of nothing but possible potential with the hope that some of these young players pan out to be the real deal. I believe that the opportunity is there for Covington to be the teams primary scorer, simply because I do not believe there is anyone else on the team that is built to be the focal point of the offense. Okafor and/or Noel could be in for a nice year for the Sixers as well, but when push comes to shove, even if they are only averaging 92 points per game which was dead last a season ago in the NBA, someone has to be getting the bulk of those points. While his field goal percentage will likely remain subpar, the 2+ 3-pointers and 1.5 steals you get from Cov are keys to his fantasy success.
Matt – Meyers Leonard
Explanation: While one look at Meyers Leonard's stats from last year would leave you wondering why I would include him here, his role is set to drastically increase as the starting power forward for the new look Blazers as they lost four starters in LaMarcus Aldridge, Robin Lopez, Wesley Matthews and Nicolas Batum during the offseason. In his bench role last year, Leonard managed to shoot 51 percent from the field and 93.8% from the free throw line while also displaying a newfound touch from 3-point territory as he averaged 0.9 3PM and hit an impressive 42 percent of his treys.
Over four preseason games, the 23-year-old is averaging 12.5 points, 5.8 rebounds, 1.3 assists, 0.8 blocks and 2.3 3PM with a 48.5 percent mark from the field while shooting 75 percent from the charity stripe in 25.3 minutes per game. While preseason stats can usually be taken with a grain of salt, his 3-point marksmanship is worth noting as it jumps off the page and gives him an advantage in that area over many PF/C types. With only Damian Lillard and C.J. McCollum ahead of him in the pecking order for shots, it's clear that Leonard will be relied upon heavily for the rebuilding Blazers. Leonard should have a good chance at supplying fantasy owners with top-100 value.
OVER-HYPED: WHO IS BEING HIGHLY TOUTED THIS OFF-SEASON THAT YOU ARE NOT BUYING?
Zack – Nicolas Batum
Explanation:  I know he's on a new team that doesn't have two players who dominate the ball/usage like Damian Lillard and LaMarcus Aldridge — although Kemba tries his best — but  I'm not buying in to Batum just instantly jumping back to being a fantasy star. There's definitely more opportunity for him to perform and his stealing and blocking ability isn't ignored, but I'm still not buying him returning to the top-20 range as some are suggesting. I still have him ranked 50th for roto and 52nd in H2H, but I think I may lower him a little bit more because I am seeing top-50 as his ceiling while others think that getting him in the mid-40s is a bargain. I think the Hornets are going to be REALLY BAD this season, like top-5 pick in the 2016 NBA draft, bad, and that doesn't mean guys can't produce stud fantasy seasons, but I guess I am just going to have to see it to believe it. He's been hype-beasted to too much of an extreme for me.
Sam – Danilo Gallinari
Explanation: Danilo Gallinari…48? Eek…
That injury history coupled with Denver having no shot to make the post-season, Gallinari's god awful 40.1% from the field last year (worse than Tony Wroten!!), and no particularly useful REB (3.7), AST (1.4), STL (0.8) or BLK (0.3) stats makes him too red-flag heavy unfortunately. Sure, his price was inflated after that superb stretch after the break, but 13 games for a guy with so many injuries at such a young age is not enough to make me use a top 45-55 pick on him as many managers seem happy to do.
Seth – Bradley Beal
Explanation: I feel like it's a cardinal sin to talk negatively about Bradley Beal these days, but honestly, what has he ever shown on the court to make me think otherwise?
First off, I'll say that I DO think Beal is a good player. He has a beautiful shot and is still so young. That's me talking as an NBA fan. As a fantasy owner, I want no part of him.
The most important factor in my decision to name him as my "most over-hyped" player is his health history. Over his first three seasons, Beal has played in just 78 percent of the Wizards games. He missed 26 games his rookie season, nine games in 2013-14 and 19 games last year. If this were Dwyane Wade, we'd be ecstatic, but it's not. Beal is a 22-year-old who's already missed large chunks of time due to a recurring stress fracture in his leg and a fractured wrist, and he's sat out handfuls of games with sprained ankles.
Let's push the injuries aside for a moment and look at the stats. Beal is a career 42-percent shooter during the regular season. He averages 15.6 points, 3.8 rebounds and 3.0 assists while chipping in a steal and 1.7 treys. Those numbers are extremely pedestrian. He doesn't even offer elite free throw shooting, making "only" 78.6 percent of his foul shots.
Where Beal HAS excelled has been in the playoffs. He put up 19.2 points, 5.0 boards and 4.5 assists in 2013-14, and he topped that last year by averaging 23.4 points, 5.5 rebounds and 4.6 assists. Those numbers are nice, however, he accomplished much of that without John Wall in the lineup.
If Beal could stay healthy and put up stats close to what he's done in the playoffs, he'd surely warrant his mid-fifth round ADP, but I'm skeptical either has a chance to come to fruition. Beal is in a contract year, and that could provide incentive for him to play well, but an impending pay day can't prevent injuries from occurring.
Earlier this year, I wrote an article saying pretty much the exact opposite about Beal. I said that you SHOULD target him in drafts. But that was before I saw him going in the fifth round. If he slid to the seventh, I'd be perfectly happy with that, but I'd rather take guys like Trevor Ariza, George Hill and Danny Green where Beal is going now.
Max – Hassan Whiteside
Matt – Bradley Beal
Explanation: While many pundits pegged Bradley Beal for a breakout season last year, he didn't improve too much as he ended up being the 76th-ranked player in 9-cat formats. Beal saw his scoring (17.1 > 15.3) take a hit while he didn't really markedly improve in any one category. Losing Paul Pierce in free agency will likely increase his offensive burden and while that should help his counting stats, it may not be a good development for his durability in the long run. Consider the fact that he has never played in more than 73 games in a year and has missed an average of 18 games a year during his 3-year career, largely due to his issues with stress reactions in his legs. Besides his above-average contributions in points and 3-pointers, Beal isn't great in any other area and his high-volume inefficient shooting will continue to be a drag on his fantasy value.
BOLD PREDICTIONS: NO EXPLANATION NEEDED.
Zack
1) Paul George will finish 8th overall in 8-cat leagues and top-12 in 9-cat, looking as if he never had an injury.
2) Despite Damian Lillard being a usage, points and treys monster, his poor FG% and lowered assists will make him finish behind Reggie Jackson on the season.
3) The Bulls won't trade a big man, nor will any miss significant enough time for Nikola Mirotic to breakout the way we all would like to see. Mirotic finishes outside the top-80.
Sam
1) C.J. McCollum will be a top 50 fantasy option this year.
2) Bradley Beal will lead the Wizards in scoring at 20+ points per game.
3) Al-Farouq Aminu will lead all NBA SF eligible players in rebounds per game.
Seth
1) Dwayne Wade plays at least 65 games this year.
2) Darren Collison is the Kings starting point guard by season's end.
3) DeMar DeRozan won't finish the season in a Raptors uniform.
Max
1) Bradley Beal will outperform Klay Thompson, Jimmy Butler and Eric Bledsoe this season.
2) LaMarcus Aldridge will be better in San Antonio than he was in Portland.
3) Andrew Wiggins will emerge as a top 10 player.
Matt
1) LeBron James will not be a top-20 fantasy player in 9-cat formats.
2) Anthony Davis will become the first player in NBA history to average 30 PPG, 10 RPG, 2 blocks, and 1.0+ 3PM over the course of a season.
3) Karl-Anthony Towns will finish as a Top-30 fantasy value.
Be sure to follow our fantasy hoops squad on Twitter for more fantasy analysis and to have any questions you may have answered:
Zack Rewis – @BigZack44
Sam Macey – @macetastic
Seth Klein – @SethDaSportsMan
Max Haldeman – @Maxhaldeman13
Matt Moczygemba – @MattMoczy