Daily Fantasy Basketball Strategy: February 5, 2016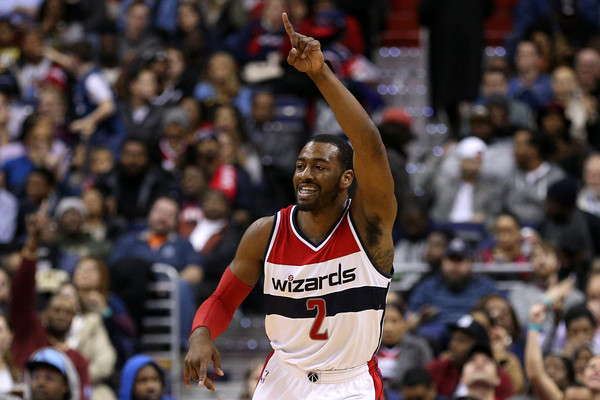 Today I will be breaking down this monster 10-game NBA DFS slate position by position. Not only will I give you my top play at each position, I will also let you know what other stars to consider, what cheap value plays I like, who is a better tournament or cash game play, as well as players to fade. Within my top play breakdowns you will see the strategy that I am going with tonight that I feel gives me (and you) the best shot at cashing out at the end of the night. It's a big slate, so let's get right to the grind.
Point Guard
[cointent_lockedcontent article_labels="basketball"]
"The Play": Surprisingly the Wizards only opened as nine point favorite at home against the 76ers. The line has since moved half a point (9.5 now) but the fact that they aren't projected to completely trounce their opponent bodes well for John Wall. Only five players sport a greater usage percentage (usg%) than Wall's 29.2 percent and he averages nearly a 20 point (PTS), 10 assist (AST) double-double. Now against an opponent allowing 105.4 points per game (PPG), I would expect him to outperform the norm. Wall has squared off against the 76ers seven times over the past two seasons and produced at least 41.5 fantasy points in five of those meetings. As long as the game remains semi-close and Wall is able to play anywhere near his 35.9 minutes per game (MPG) average, he should have no problem eclipsing 40 fantasy points yet again.
Other Options: Can't quite afford Wall? The logical alternative then is Rajon Rondo who triple-doubled in his last meeting against the Brooklyn Nets. Only three teams allow more fantasy points to opposing point guards (PGs) than the Nets the Kings are going to look to speed up the pace. Even assuming Rondo doesn't reach 64 fantasy points yet again, he possesses such a high floor due to his ability to fill a box score with PTS, rebounds (REB), AST and even steals (STL). I love him in all formats tonight. If saving salary, Kyrie Irving has been struggling to defend recently as his defensive rating sits at 111.5 over his past four games. In order to compete with the Cavaliers, Isaiah Thomas is going to need to score and score in bunches which is exactly what he loves to do. Chris Paul is always safe without Blake Griffin but I'd rather spend the additional $200 on Wall. Assuming Jimmy Butler actually sits out, which Butler himself seemed to suggest would be the case, Derrick Rose would see a nice uptick in usage against a bad backcourt defending team in the Nuggets. In fact, if Butler does in fact sit out, the case can be made for Rose as the top point guard of the night. Other notable mentions: Mike Conley (cash), Kyrie Irving (GPP), Jeff Teague (GPP) and Tony Parker (GPP).
Shooting Guard
"The Play": Shooting guard certainly is not my top priority tonight as I am going to look to spend at either PG, power forward (PF) or even center (C). In order to spend up at two or even three of the aforementioned spots, salary must be saved somewhere. My preference tonight would be to save at shooting guard (SG) and roster a $4,100 Wayne Ellington in a great spot. The two fantasy-friendliest game atmospheres tonight are the Celtics/Cavaliers and Kings/Nets games and there is a significant gap in between the two. In other words, I think the most fantasy value of any game is going to come from Brooklyn tonight, and it won't be close, due to the lack of defense and fast pace. Ellington has eclipsed the 20 fantasy point plateau in four of his last six games and has scored double-digits in four consecutive games. Not only will this game be favorable in terms of pace (the Sacramento Kings are the fastest-paced team in basketball) but the Kings also rank bottom four in terms of fantasy points allowed and defensive efficiency to the SG position. His recent production has been nice but in this game environment there's potential to even take it to the next level. Assuming no other value emerges on the slate, he's my favorite "punt play" on the slate due to his 25-30 point upside.
Other Options: Coming in a close second for favorite value on the slate would be E'Twaun Moore but that would only hold true if Jimmy Butler were to actually sit out. Moore scored 24 real points his last time out, but again, Butler sat that game and would only be viable if he did so yet again. Khris Middleton put together an extremely consistent month of January in which he averaged 20.7 PPG, 4.4 rebounds per game (RPG), 4.9 assists per game (APG) and 1.1 steals per game (SPG). He had been on a bit of mini-slump (two consecutive games failing to reach 23 fantasy points) before scoring 41 fantasy points last time out in Portland. He'll face an unfavorable matchup in Utah tonight but he may be their only source of offense so I still like him. Both Avery Bradley and Evan Turner are in play but Bradley is the preferred cash play due to his minutes and Turner is best left for GPP because of his likely matchup with Iman Shumpert off the bench. Still, Turner's rebounding will be needed against a bigger Cleveland team and his production has been extremely steady recently. Other options: Dwyane Wade (cash), Victor Oladipo (GPP) and Monta Ellis (GPP).
Small Forward
"The Play": One play does not truly stand out beyond all the others tonight so I'm going to go with gut feel here: Kawhi Leonard. For good reason, Leonard's price has plummeted recently and now sits $700 cheaper than it did even at the beginning of February. Until last game, Leonard hadn't eclipsed 39 fantasy points since Jan.14 but he may have just needed one productive game in order to get going again. The Dallas Mavericks defend the small forward (SF) position well but Dirk Nowitzki and all of Dallas' regulars are expected to play so Leonard should see a typical minute allotment well into the 30's. If he remains on the court that long, I expect him to produce closer to his first game against the Mavericks this season (48.5 fantasy points on Nov. 25) as opposed to the latest dud (25.5 on Jan. 17).
Other Options: If not digging Leonard, one can easily go back to the well with Rudy Gay against the Nets but he's a bit overpriced considering DeMarcus Cousins is active. Milwaukee allows the sixth most fantasy points to SFs and Gordon Hayward's career numbers against the Bucks are a mixed bag. LeBron James is the third most expensive player on the slate and the second highest priority among players on Cleveland's roster worth using but he's a nice salary saver if you cannot fit DeMarcus Cousins. Other options: Michael Kidd-Gilchrist (cash), Jae Crowder (GPP), Aaron Gordon (both), Giannis Antetokounmpo (GPP) and Danilo Gallinari (both).
Power Forward
"The Play": Despite the price reaching Russell Westbrook without Kevin Durant levels, DeMarcus Cousins still can and probably will still hit at least five times value at his outrageous $11,300 price tag. For the entire month of January, Cousins averaged 31.5 PPG, 12.9 RPG, 3.1 APG, 1.6 SPG blocks per game (BPG)…an entire month! Not only has become a virtual 30-10 double-double lock, he fills up the box score beyond his two category dominance. Brook Lopez is as soft as they come at the center (C) position so it should be no surprise Cousins lit him up in the last meeting for 61.75 fantasy points. This game will now be played on the road where Cousins averages around three less free throws per game but it just doesn't matter where this game is played. Whether Cousins faces Lopez at home, on the road or on the moon, he's going to put up monster numbers and push 60 fantasy points. His ceiling is around 15 fantasy points higher than any other player on the slate so it's a very scary proposition to fade him.
Other Options: The Cavaliers' implied point total of 108.5 is only slightly behind the Kings' 109.3 and Kevin Love dropped 44 fantasy points on the Celtics in their last meeting. Boston has been struggling to cover big men going on two years now and there's still no one who has a chance. Taj Gibson would see an uptick in usage and minutes if both Jimmy Butler and Pau Gasol were to sit. I actually really like Derrick Favors as a cheaper alternative to either Cousins or Love against Jabari Parker and a Milwaukee team that allows the seventh most fantasy points to the position. Since Favors returned to the starting lineup three games ago he has reached 30 fantasy points in each game. Thaddeus Young is a bit risky but his price has dropped to $6,200 and he'll be playing in the friendliest game environment of the night. However, I couldn't do it in cash. Other options: Kenneth Faried (GPP), Dirk Nowitzki (both), LaMarcus Aldridge (GPP) and Chris Bosh (both).
Center
"The Play": The emergence of Nikola Jokic has mostly flown under the radar to this point but eventually the public is going to figure it out and jump on board. Over the past seven games, Jokic has double-doubled four times, stolen at least a pass in all but one game and registered at least three AST in all but one game. He is coming off of a down game in Utah but just about every center suffers the same fate in slow-paced affairs against Rudy Gobert. On Friday, Jokic will square off against a Bulls team allowing the seventh most fantasy points to opposing centers (Cs) and the third most rebounds. Assuming the Bulls are without Pau Gasol, Jokic may see extended stretches matched up against rookie Bobby Portis and he should straight eat him for breakfast. At just $5,900, eclipsing 6x value is well within possibility. Let me be clear: he is my favorite play on the entire slate for an incredibly reasonable price.
Other Options: Brook Lopez is a risk for foul trouble but his matchup against Cousins is nearly as enticing as Cousins' matchup against him. I would leave him for tournaments only due to the plethora of center options. DeAndre Jordan has the reputation of defensive C but he has focused much of his energy on offense recently and his defense has slacked. Consequently Nikola Vucevic is a safe bet to approach his usual 20/10 levels and I like Jordan as well…his offensive-mindedness has been helpful for fantasy purposes. Otherwise, Marc Gasol and Marcin Gortat are both solid but unspectacular options who should hard-hat and lunch pale their way to their usual production. Other options: Al Horford (cash), Zaza Pachulia (both), Cody Zeller (both) and Greg Monroe (GPP).
Good tuck tonight.
Grind on…
[/cointent_lockedcontent]