Daily Fantasy Basketball Strategy: January 6, 2016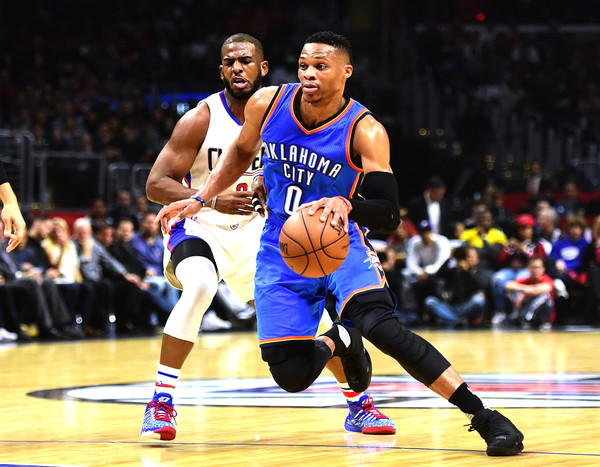 Whew, hope you guys rested up with the simple four-game NBA DFS slate yesterday, because today it's not going to be that easy or at least there will not be that few of choices to make. Tonight there is an 11-game slate, that's 22 teams and about 5-6 relevant players on each team. So, now we just need to narrow those 60 players down to eight. Easy enough, right? Well, you ultimately make the big money decisions, but as normal I will be here to fill you with stats, analysis and my personal favorite plays and values at each position. Let's get this breakdown going, starting with the Vegas lines and projected game totals.
[cointent_lockedcontent article_labels="basketball"]
Vegas lines and totals
Indiana (-1) @ Orlando — projected game total of 197
New York (+7.5) @ Miami — 192.5
Cleveland (-7) @ Washington — 199.5
Toronto (-6.5) @ Brooklyn — 196
Detroit (+4) @ Boston — 201.5
Dallas (+4) @ New Orleans — 207
Denver (+3) @ Minnesota — 203.5
Utah (+16) @ San Antonio — 186
Charlotte (+2.5) @ Phoenix — 206
Memphis (+5.5) @ Oklahoma City — 199.5
LA Clippers (-4) @ Portland — 205.5
Do I even need to tell you that you should not go anywhere near the Jazz/Spurs game? Utah on the road against a top-2 team in the league without there two best players? No! The only options in this one whatsoever are bench guys who are super cheap and might hit value in garbage time, more of a GPP move. No other game really stands out, most are in the high-190s to low-200s, and should be viewed with a green light, but no obvious game you should stack.
POINT GUARD
Russell Westbrook ($11,600) – Yeah, that price is not a mis-type, they knew if his price was anywhere in the $10K range, he'd be like 98% owned, so this price at least makes some hesitate. Not me. I will have Westbrook at the top of 90% of my lineups, maybe even 100%. What he has typically done when KD is out (he's out again tonight) has been legendary. In seven games without KD this season Russ has averaged 57 fantasy points (FPs) and last year over the 40 games Durant missed, Russ averaged 61 FPs, per Statmuse. He averaged 58 FPs last season in three games against Memphis, so don't be scared off by the Memphis defense narrative. Fade at your own risk.
Brandon Knight ($7,400) – Just going to go ahead and tell you now, until they raise his price to over $8K, Knight will probably be listed as one of my top plays any night that he's active. Tonight he'll be going to war against Kemba (who I also love but prefer the cheaper Knight narrowly), in what should be a pretty high scoring affair. Over the last three games, Knight has taken 20, 17 and 25 shots from the field, so coach Hornacek is letting his point man run the show with Bledsoe out for the season. Look for around 40 FPs from BK tonight.
Cheap risk option: I am going to the Patty Mills ($4,100) wagon once again tonight, even in the full expectancy that this game will be an ugly blowout. He should still play minutes in the mid-to-high 20s, and while he had early foul trouble last game, he should improve on his mediocre (for his opportunity, not price) performance on Monday. Still, you would only need 20 FPs to hit value at this price and I'm expecting mid-20s. If you're in a GPP and feeling ballsy, you could go the darker path and start Ray McCallum ($3,000) who will be playing back-up PG and would reap the garbage time minutes. When he played 23 garbage time minutes against the Lakers earlier this season, Ray played 23 minutes and put up 20 FPs.
SHOOTING GUARD
Will Barton ($7,100) – Did you forget about him already? His streak of balling outta control ended last game when he put up just 10 FPs, but Barton is still very much in play tonight with no fears from me. The matchup tonight is fine and he'll be under-owned in GPPs after last game if you're a tourney player. I have Will projected at 35 FPs tonight, with upside.
Evan Turner ($5,600) – With Avery Bradley out again tonight, Turner will again play a huge role for the Celtics, and his ability to fill up the stat sheet always makes him a quality play when you know the minutes will be there. I'll be looking for 30+ FPs from the former #2 overall pick.
Cheap risk option: The blowout worries me, but I'll still have some shares of Manu Ginobili ($4,100) tonight who sees an uptick in usage when Tony Parker is out, the ceiling isn't high though. Anthony Morrow ($3,700) played 34 minutes two nights ago with Durant out and you can expect similar tonight, and although the matchup is tougher, Morrow is simply going to be hitting his shots (as he was Monday 8-of-11) or not, he's streaky.
SMALL FORWARD
LeBron James ($9,500) – I can cop King James for under $10K in a big game like this one? Yes, please! I'm going to have at least one Westbrook/LeBron lineup, somehow, someway. James seems to be in cruise control a lot of games these days, just saving up that energy for when it really matters (the playoffs), but when they take on other top teams, he still likes to remind them he has that next gear to shift into. Tonight against the Wizards, Bron will have a really easy defensive matchup and should teeter that 50 FP line as long as the Wiz stay in it. James dazzled for 47 FPs last time against Washington despite shooting just 8/20 from the floor.
Joe Johnson ($5,000) – Yeah, two days ago I told you why I was a bigger fan of Joe with Jack out, and he put up 31 FPs. I just really like his game a lot more when he can run some point-forward and if his quad allows it, he's a nice play tonight. If he is out, fire up Bojan Bogdanovic ($4,700).
Cheap risk option: Shabazz Muhammad ($3,700) has put up 23, 21 and 27 FPs over the last three games, and the Wolves (and us, too) should continue to ride his hot hand and confidence. Need a true punt, Jonathan Simmons ($3,100) played 20 minutes in garbage time last game for the Spurs and should do similar tonight. He put up 21 FPs in that game and had some really nice dunks that gave us flash-backs to summer league.
POWER FORWARD
Chris Bosh ($7,900) – Bosh is on a real heater right now, and catching the Knicks on the back end of a road back-to-back should only help extend his great play streak. Bosh will have to again pick up his game to cover for the hole left with Whiteside out. I have him projected just shy of 40 FPs.
Thaddeus Young ($7,400) – No, I'm not just going with these two because they helped me cash out on Monday, but Thaddeus is just in a great spot right now for fantasy production, and I will continue to cash checks off his play until his price jumps. Toronto doesn't have a four who can stop Thad from putting up another impressive double-double.
Serge Ibaka ($6,600) – I've never been a big Serge guy, but with Durant out he has no choice but to step his game up, even against a tough Memphis front-court. ZBo will play him tough on both ends but he also allows a lot of blocks, and Serge will reap the benefits from that. Don't look for a repeat of Monday's performance, but I have him projected right at 32 FPs which is a handful over value.
Cheap risk option: I'm not a fan of any punt PF options really, but if I were to go with one it would be Patrick Patterson ($3,700). He's at least playing minutes in the mid-20s lately and has put up 26, 16 and 20 FPs in the last three games. They'll need his size in this matchup, so expect similar results.
CENTER
DeAndre Jordan ($7,800) – DeAndre Jordan vs Mason Plumlee… Yep. I truly wanted to stop right there, but I will entertain you a tad more. Jordan has stepped up nicely with Griffin out and put up 43 and 48 FPs the last two games. He should have a monster game tonight against the far inferior front-court in Portland. 40+ FPs, here we come.
Zaza Pachulia ($6,000) – While I'm not a big fan of the Mavs tonight coming off a tough 2OT game last night, Zaza doesn't scare me away mostly due to his price tag. He's a fair price and put up 34+ FPs in five straight games. He's also averaging over 12 RPG in that stretch, so he's not as reliant on points as a lot of centers, he racks up boards and steals with a few put-backs, not to mention he's money from the foul line.
Jeff Withey ($4,400) – Will he still play when the game gets out of hand? I'm not sure. Will he put up enough FPs in 2.5 quarters before the game is out of hand and he potentially sits? I'm not certain, but what Withey does is just battle on the glass, put in some layups and swat a few shots. He's averaged 30 FPs over the last six games playing 28 minutes, so if you go expensive elsewhere and need to save at C, I think Withey is still worth a look.
Cheap risk option: Tyson Chandler ($4,000). Yep, I'm going to the well again even after he totally burned me a couple days ago. Chandler should get minutes tonight and with no Al Jefferson, the Hornets are very vulnerable in the paint. With the news that LaMarcus Aldridge will be out tonight, I am now using Boban Marjanovic ($3,300) as a punt play, probably more than I should even. The game is going to be ugly, so he'd get plenty of garbage time, but with LMA out he should get even more — maybe 20 minutes? Last week he played exactly 15 minutes three times, in those games he put up 28, 25 and 25 FPs.
Cash game rankings:
This isn't necessarily an order of who will score the most DraftKings points. Rather, the rankings are aimed to find the best price, value and production combo to help you win cash games, also taking into account potential ownership levels for each player.
PG
1) Russell Westbrook
2) Brandon Knight
3) Kemba Walker
4) Kyle Lowry
5) Ricky Rubio
6) Patty Mills
7) John Wall
8) Norris Cole
SG
1) Will Barton
2) DeMar DeRozan
3) Evan Turner
4) Dwyane Wade
5) Victor Oladipo (if Elfrid is out)
6) Andrew Wiggins
7) Anthony Morrow
8) Manu Ginobili
SF
1) LeBron James
2) Paul George
3) Jae Crowder
4) Danilo Gallinari
5) Joe Johnson (Bojan Bogdanovic if Joe is out)
6) Shabazz Muhammad
PF
1) Thaddeus Young
2) Chris Bosh
3) Anthony Davis
4) Serge Ibaka
5) Kevin Love
6) Kenneth Faried
7) Amir Johnson
8) Ersan Ilyasova
C
1) DeAndre Jordan
2) Andre Drummond
3) Zaza Pachulia
4) Brook Lopez
5) Jeff Withey
6) Boban Marjanovic
7) Jonas Valanciunas
8) Tyson Chandler
As always, stay locked to Twitter and Rotoworld for any late-breaking news the hour before the first game tips at 7 p.m. EST. I'll do my best to update this article as news breaks throughout the day, but the best way to get the latest is always to follow me on Twitter @BigZack44, where I'll do my best to break down the implications of any late scratches or lineup changes.

[/cointent_lockedcontent]