Daily Fantasy Basketball Strategy: November 8, 2016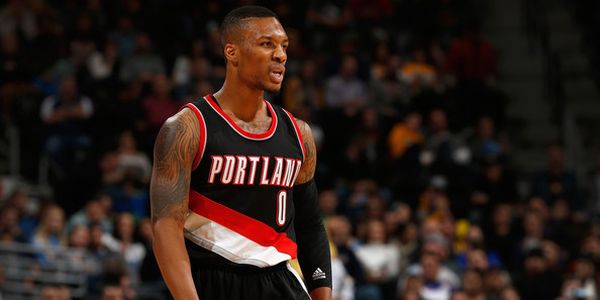 We have a nice little six game slate at our disposal tonight with plenty of great options to choose from including Damian Lillard who has been on an absolute tear to start the season and making a very solid claim to why he is the MVP of the league. We have King James and company playing host to the new look Hawks headlined by new big-man Dwight Howard. The young and exciting Timberwolves face off against the worst team in basketball in the Brooklyn Nets who will be without Linsanity to make matters worse. Memphis will be getting their new acquisition from the offseason back in Chandler Parsons and with the Nuggets coming to town scoring should be a lot easier tonight than any typical night. The Lakers coming off their big time win over the Warriors will take on two former Warriors Andrew Bogut and Harrison Barnes against the Dallas Mavericks. To cap off the night we get the game I see as the target game of the night, the New Orleans Pelicans after playing Golden State travel just down the road to play the Sacramento Kings in a game featuring two fairly bad defensive teams but with star big-men that should find success early and often
To help all of you in need of any last minute advice or looking to build a roster good enough to land you in the cash by the end of the night I will be going over every position and offering my take on who are the big names to take, but also who are the cheap guys you can grab to afford more of the big name Studs at other positions. The biggest key about winning is FanDuel is guessing right on those cheap value players you take to build around your studs and that is what I'm here for. Now, let's take a look at this six game slate and figure out just whom we are going to be playing and build the perfect roster for the night.
MVP PG's of the Night
Damian Lillard ($9,800) DOLLA DAME!! As it stands he is right there in the conversation for MVP of the league and I expect him to make another statement tonight why he belongs there. Phoenix has surrendered 49.6 FP to opposing point guards, which ranks right behind Atlanta for the worst in the NBA. Lillard nearly a week ago had 40 FP against this same team while shooting 10% below his season average FG%! If his shot is falling tonight like it does on most nights then there is certainly 50-60 point upside here.
Kyrie Irving ($7,300) So from the analysis above you may have gathered who the worst team in the league is in defending point guards but if you haven't it is indeed the Atlanta Hawks. That includes two games against the 76ers and the Kings who have very poor point guard play so they are indeed struggling to defend the position. Kyrie I would say is a big step up from the guys on those two perspective teams which means Kyrie should be able to find success on the offensive side of the ball early and often. He had a bad last game against Philly but other than that Kyrie is a lock for 30+ on any given night.
Value PG's of the Night
J.J. Barea ($5,700) As of this writing it appears that Deron Williams may miss tonights contest and if that would be the case then that would make Barea near an auto start. Last game with Deron Williams there competing for minutes he put up 21 points, 6 rebounds, 5 assists, and a steal on his way to 33.7 FP. Barea is a scoring point guard but has the ability to dish out assists too and the Lakers are one of three teams this season to average double digit assists to opposing point guards so if Barea can get his scoring going then the assists should follow as well and provide you with a safe punt option.
Tim Frazier ($5,400) It looks like Jrue Holliday is coming back soon so we only have a few more weeks of playing him. He will be coming off a back-back game, which can be scary but when Frazier continues to be at such a low price and still offers the same upside every game with his multi-category usage the risk is well worth the reward.
Kris Dunn ($4,800) Since Dunn has taken over as the starter he has posted games of 30.8, 24.5, and 17.3 FP. While I'm still not entirely sure what to expect from Dunn on a nicely basis I do know that coming into the draft I thought he was the most "pro-ready" player and if given an opportunity would be able to produce. Well he now has that opportunity and he hasn't been terrible by any means but I do expect him to get more comfortable with the new role and start producing some valuable fantasy games in the future. He can get you everything in the box score so at an incredibly cheap price of $4,800 where he only needs 24 FP to hit value I am backing up Dunn and playing him in nearly all my lineups.
Devin Booker ($6,700) I'm staying in the flames when it comes to Booker. Over the past two games he has been on absolute fire scoring over 35 points in both contests but also more importantly averaging over 40 minutes in each of those games. If you give any guy 40+ minutes and with the role he has as being the scorer for the team then I will gladly accept that for $6,700. His usage rate since coming back from his minor injury is pushing near 30%, which is a good percentage for most of the star players in this league. He struggled a bit in his last matchup against the Blazers but he is locked in and focused right now so I am riding the streak tonight with him.
Zach Lavine ($5,900) Many of you may be scared off from him coming of his very bad showing against the Thunder a few days ago where he could only come away with 9.4 FP but I am here to tell you not to be scared. Before that game he averaged nearly 30 FPPG and that would be equal to 5x value with his given salary right now! I will always be inclined to start player who are 1.) Talented and 2.) Are already averaging a FP total equivalent to the 5x value benchmark so it just so happens Lavine falls under both categories for me and therefore will be a great play. It is worth noting on top of it all he faces the Brooklyn Nets who are a favorable matchup to ANYONE.
Value SG's of the Night
Sean Kilpatrick ($4,900) Lin-sanity is on a short break in Brooklyn right now and while Lin is sidelined it looks like Kilpatrick will be inline for boosted production. Prior to Lin's injury Kilpatrick was a viable value play at the position but now with Lin out for the foreseeable future he is as close to an automatic play as it gets. Don't let his FPPG average fool you at 25 on FanDuel because a more relevant sample are the past two games where Lin has either left early due to the injury or just not played at all and put up 41.5 and 31.8 FP in those games respectively. Those totals are enough to enough to net you 6x value so even if he steps back just a little bit he is still worth his price tag.
Louis Williams ($4,800) Mr. Skip-to-my-Lou has had a quietly great start to the season being the first man of the bench for the young and exciting Lakers team. He has always excelled in this role and this season seems to be a similar outcome. Louis can chip it a handful of assists each game but for the most part he will make his name off of coming off the bench and putting up buckets. Well it looks like we are all in luck tonight as Louis will get to go up against the second unit of the 3rd worst defensive team against the shooting guard position giving up 25 points per game on 45% shooting from the field. As long as Louis is putting up the shot it should fall for him tonight.
Gary Harris ($4,600) As I am writing this it isn't clear whether he will play but if he does then he is an excellent value play while Barton is sidelined with his injury. Harris in his first game as a full time starter managed to play 22 minutes and put up 12 points, 4 rebounds, and an assist. Those are fine numbers coming from a guy you are paying $4,300 for and it was only his second game back from his injury so you have to figure if everything is well that his minute's workload will continue to go up with Barton out. If he can climb towards the 30-minute range tonight then he will be a big reason for you success and cashing out
MVP SF's of the Night
Rudy Gay ($7,400) I've never been a big fan of his game because he is a very ball centric person but if you give him the ball which Sacramento will do he will find a way to score 9 times out of 10 and he will be catching the Pelicans at a perfect time coming of a game last night against the fast paced Warriors so things should be easier for Gay tonight. The Pelicans are ranked 25th in the league against opposing SFs and also rank in the top 5 in terms of PACE so this could turn into a track me early and that would only mean more opportunities for Gay to score and chip in a few rebounds against a team also offering up double-digit rebounds to SF's.
T.J. Warren ($6,400) His price has FINALLY almost caught up to his production. The key word there is "almost" because at $6,400 he is still a great play. We are talking about a guy who is appears to be in the midst of a breakout season. For his career he averaged 9.7 points, 2.9 rebounds, and an assist. This season those have went through the roof to 21.7 points, 6.1 rebounds, and an assist per game. I don't see this as being a fluke at all because for much of his career he wasn't given the minutes he is getting now. With the minutes now in-lined for him he is taking full advantage getting 18 field goal attempts a game and hitting them at a 46% clip. Those are very good stats and last time he played the Blazers he put up a very impressive stat line of 27 points/7 rebounds/2 steals. I see no reason to expect anything different tonight.
Value SF's of the Night
Andrew Wiggins ($6,000) Here is a guy who will really only bring you back value if his shot is falling and he is scoring because as far as his peripheral stats go they are certainly lacking thus far. On the other hand he does get to go up against the Brooklyn Nets who many don't even recognize as a real NBA basketball team. I expect many players this season to have their best game against the Nets and Wiggins is no exception to this. He may only give you points in production but I expect there to be plenty of those tonight for him and I can see him chipping in 4-5 rebounds on top of it with a couple steals and on his way to a very productive fantasy night.
Rondae Hollis-Jefferson ($3,900) Coming off of a 37.6 FP game with very pedestrian play before that you are definitely playing with fire here but at $3,900 I would say he is a punt play well worth a look. Rondae is a very versatile player in the league and can fill up a stat sheet in a quick hurry when he is right. Look I don't think we should be expecting another 37 FP performance here but it does show you what his upside is. He should have no problem getting assists and rebounds so it all comes down to him scoring and the Timberwolves are allowing SF's to shoot 51% from the field are putting up 24 ppg. Rondae had only 11 last game to give him the 37.6 FP so I would say 11 points is a very reasonable expectation here.
MVP PF's of the Night
Anthony Davis ($10,800) There really isn't much here to say about the guy. He is an out of this world talented player. This is a guy you see once in a generation. He is seriously averaging 30 points, 12 rebounds, 2.5 steals, and 3 blocks a game! The steal and block totals are just amazing and are extra valuable when dealing with any player. Davis will be coming off of a game against the Warriors but I don't see that having any ill effects on his game. The bottom line is this is Anthony "freaking" Davis and the Kings are a very poor 'defensive' unit so he should be able to find his normal version of success here.
Gorgui Dieng ($6,000) Other than the 'stinker' he put up vs. Denver and the game where he had to face the gigantic frontcourt of the Thunder he has been unreal this season. I love players who don't need to have the ball to be successful and be great in terms of fantasy and Dieng is the definition of that type of player. Dieng is averaging a near double-double on the season and will take those numbers up against the 25th ranked PF defense of the Brooklyn Nets who are allowing 41 FPPG.
Value SF's of the Night
Terrance Jones ($4,700) I think someone finally told the Pelicans organization that they need to start playing their talent because only playing Anthony Davis isn't cutting it. Terrence Jones showed a lot of success in Houston when he was healthy. He is finally back and completely healthy with the Pelicans and the past couple games he has been receiving a healthy dose of minutes and has been very productive with them. In those two games he is playing right around 28 minutes a game and averaging 13 points, 8 rebounds, 4 assists, and 2 blocks. The blocks and assists may be slightly high but the rest of it is right on par what he did in Houston back when he was in the process of breaking out. This team needs someone else to do something besides Davis and I think Terrence Jones might be that guy.
JaMychal Green ($4,400) Bit of a risk here as he has not been producing big numbers after taking the starting job this season but the minutes are and will continue to be there for him. Randolph has taken his talents to coming off the bench, which has firmly cemented Green into 30+ minutes every night. He will face Denver who are ranked 8th worse against opposing PF'. The minutes, the matchup, and the opportunity are all there tonight so it is just a matter of them all coming together and producing a good night which at $4,400 I see as being well worth the risk if you are strapped from money and have to go cheap at PF
MVP C's of the Night
DeMarcus Cousins ($9,500) "The Boogiemonster vs. The Unibrow", what a strange title to a future boxing match…wait these are basketball player nicknames?? Well times sure have changed. DeMarcus Cousins or "The Boogiemonster" should have a great game tonight. I don't expect Davis and Cousins to guard each other a ton of that could lead to early foul trouble for both of them but even so Davis will be coming off a game against the Warriors and although I don't see that slowing Davis down, I do see it making things at least slightly easier for Cousins. Besides Davis the Pelicans really don't have any big-man who will be able to slow down Cousins and that shows with their league worst defense against opposing centers. There are so many great options for studs tonight and DeMarcus is definitely in the conversation at a price below 10k.
Dwight Howard ($8,200) Talk about a guy resurrecting his career when we all had buried him. Dwight has been playing incredible in his new uniform this season. A big reason for this turn around might just be the fact that the Hawks are making more of an effort to use him. This season he has a usage rate just under 25%. You would have to go all the way back to his days in Orlando to see a usage rate that high for him! We could be dealing with a situation where the Lakers and Rockets just didn't use him right because he is producing in Atlanta. Over the past couple years the one place Cleveland has struggled at was defending big centers and that is exactly what Dwight is. Tristan Thompson is the only man on that roster other than possibly LeBron (he can do everything) that can guard Dwight so I am expecting an absolute monstrous double-double from D12.
Value C's of the Night
Jursuf Nurkic ($5,800) The matchup here against the Grizzlies on paper isn't very good but I see it in a different way. The Grizzlies might be a good team to roll him out again. For the most part they are a big team so Nurkic's playing time should be well into the high 30's tonight. The really only thing that hold's Nurkic back is most games it is hard for the Nuggets to use both Jokic and Nurkic because teams will go small on them and they will have to react by taking one out. Well tonight they will face and equaling big frontcourt and a team that likes to play the smash-mouth big man game, which should let Nurkic see 30+ minutes. If this can happen like I predict it will then take his numbers and equate it out to 36 mpg and they would be 19.2 points, 14.2 rebounds, 2.2 assists, 1.4 steals, and 2.6 blocks. Those are numbers you will absolutely take in a heartbeat at $5,800
Tyson Chandler ($4,800) Here is another great value pick and another guy who had a very surprisingly great start to the season. So far this season he has gotten double-digit rebounds in all but one game and the only reason he didn't in the one game is because he only played 18 minutes. The Blazers have a very weak and vulnerable frontcourt and Chandler himself has shown us that. Last week when the Blazers came to town he had 6 points and 18 rebounds!!! The Blazers won't have an answer for Tyson tonight either so it should be safe to expect very similar production form him tonight on the glass and anything he adds scoring wise is just a bonus.
Article by Taylor Kimball for TheFantasyFix.com.