2019 FANTASY FOOTBALL, WEEK NINE WAIVER WIRE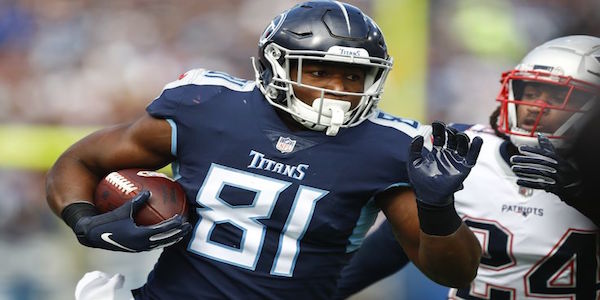 One of my favorite times of the year is upon us. The Monster Mash is heavy in the rotation this week along with many childhood Halloween music favorites (my co-workers despise me around Holidays). I love All Hallows' Eve since my days as a youth creating havoc in the streets of my community, to visiting friends at UCSB for craziness on Isla Vista and the raging parties we threw at ASU. I applaud the NFL for the stinker of a game that is on the slate for this Thursday, the 49ers travel to Arizona to take on the Cardinals. My family and friends will be out on the local streets with a posse of kids in tow, Radio Flyer wagon stuffed with 'parent juice' and a speaker blasting my favorite ghoulish tunes. It ain't gonna be a party for the Cardinals on Halloween night as the Niners might be doing "the worm" (ala Aaron Jones) all the way back to the Bay Area. Mr. Jones was freed Sunday against the Chiefs and scored 41.6 points in PPR format. It has been some time since we have had a Packers player go for over 150 yards and two touchdowns (could have been three TDS, but Mr. Jones stepped on the sideline and it was called back after review). In Week 16 of the 2016 season against Minnesota, Jordy Nelson went 9 for 154 and two touchdowns. One thing remains constant, Aaron Rodgers is good at football.

In Week Nine we have four teams on a bye: Bengals, Falcons, Rams & Saints. A handful of injuries to keep note on: James Conner (shoulder), Matt Breida (Ankle), Jeff Wilson (Head, stinger?), Brandon Cooks (2nd Concussion of season), Miles Sanders (shoulder) and Dede Westbrook (neck, shoulder). Today is the NFL trade deadline and yesterday we saw Kenyon Drake dished to AZ. Are more moves on the horizon?  Here are some fellas worth looking into for Waiverland.

Quarterbacks

Ryan Tannehill (TEN)

Ownership: 6% ESPN, 29% Yahoo
Week Eight: 21 for 33 for 193 yards and three touchdowns, rushed four times for minus three yards.
One thing is for sure, Marcus Mariota isn't pleased with the way Tannehill has righted the ship. In two games since taking over, Ryan has completed nearly 71% of his passes, has five touchdowns and only one pick. He faces the Panthers this week on the road and is definitely serviceable as a bye week fill in. If A.J. Brown or Corey Davis can get loose, another multiple TD game should be achievable. 
Ownership: 15% ESPN, 23% Yahoo
Week Eight: 21 for 30 for 218 yards, two touchdowns and three interceptions.
Why am I recommending Darnold after two so-so weeks coming back from injury? Have you seen the Jets schedule for the next six weeks? Here is who they get: MIA, NYG, WAS, OAK, CIN & MIA. Can't get a better schedule that than heading into fantasy playoffs, let's hope Sam can be serviceable. I have him rostered as a Mahomes owner. Hopefully he has exorcised the demons that the Patriots D exposed in Week Seven.
Running Backs

Ownership: 12% ESPN, 18% Yahoo
Week Eight: Did not play (inactive)
James Conner left the game late on Monday Night Football and early reports indicate a shoulder injury. The severity isn't known yet, so Jaylen becomes the top waiver wire add of the week. Benny Snell Jr. also left with a knee injury on MNF. Jaylen is also coming off a knee issue but was practicing this past week. If Conner cannot go, Samuels goes right into your lineups strictly on volume.
Ownership: 12% ESPN, 26% Yahoo
Week Eight Snap Percentage: 87%
Week Eight: Eleven rushes for 35 yards and caught three of six targets for 19 yards. Lost a fumble.
Kenyon Drake was traded to Arizona which has opened the door for Mark Walton. He served as the lead back on MNF and collected 14 touches. Kalen Ballage was worked in as his backup and saw only four touches. Miami jumped up to a 14 point lead and we thought Mark and the Funky Bunch were viewing the win column. Game script changed quickly and Fitzpatrick went pass happy. Worthy of flex consideration with multiple RBs on a bye.
Ownership: 9% ESPN, 6% Yahoo
Week Eight Snap Percentage: 21%
Week Eight: Nine rushes for 60 yards and a touchdown.
Need to monitor status of both Jeff Wilson and more importantly Matt Breida. Sure Tevin Coleman is the guy there, but they are going up against AZ and if one of those two guys cannot go on the short week, Mostert is another guy you could pick up and slide right into your flex as the Niners love to run the rock. Keep an eye on his status too as he was a DNP on Tuesday.
Ownership: 23% ESPN, 27% Yahoo
Week Eight Snap Percentage: 48%
Week Eight:  Eleven rushes for 49 yards, caught two of three targets for 20 yards.

Rams are on a bye so don't grab him if you were looking for a replacement this week, but Gurley owners better cuff him up. He has now saw 25 touches since Malcom Brown went down. He has lots of talent just needs more opportunities, I think that McVay knows that and is trying to even Gurley's load. If you have an empty roster spot and have a record which allows you to start thinking for the playoffs, snag him up.
Tra Carson (DET)

Week Eight Snap Percentage: 30%
Week Eight: Twelve rushes for 34 yards.
The waiver is bleak this week and this would be a speculative add only. I would not consider starting him this week, but would like to see how the ball is distributed in this now RBBC. Everyone thought Ty Johnson would be the guy, but Tra got the majority of looks. With J.D McKissic and Paul Perkins also looming, don't get too excited.
Wide Receivers

Ownership: 9% ESPN, 9% Yahoo
Week Eight Snap Percentage: 67%
Week Eight: All eight targets were caught for 95 yards receiving.
What do we have here? Two weeks in a row with top 20 finishes in the wide receiver category (Week Seven – 12th overall WR & Week Eight was 17th in PPR).  Lions are now without their pass catching back Kerryon Johnson and Danny has picked up the slack. In past two weeks he has caught 16 of 19 targets for 200 yards. Golladay will get his and Marvin too, but if this volume keeps up, easy PPR flex play.
Cole Beasley (BUF)

Ownership: 26% ESPN, 24% Yahoo
Week Eight Snap Percentage: 79%
Week Eight: Caught three of seven targets for 41 yards and a touchdown.
I know Cole isn't the shiniest toy that you brag to your friends about, but he does have a safe floor with potential to boom. He averages 13.23 points per game in PPR and has three mouthwatering match ups coming up against Washington, Cleveland and Miami. About as safe as a play as you can get and has been left on way too many waivers wires. He needs to be rostered in PPR.
Ownership: 34% ESPN, 28% Yahoo
Week Eight Snap Percentage: 98%
Week Eight: Caught five of thirteen targets for 65 yards.
Another guy I have been barking about that is still available in many leagues. A.J. Green might be back out of the bye week, but if he isn't, Tate is a flex start. Tate averages just over ten points a game in PPR and that even includes his Week Two stinker of 1.6 points. No one throws it more than Bengals (averages over 42 attempts a game) and we have a new quarterback at the helm, rookie Ryan Finley. Cinci decided to bench Dalton on his birthday (HBD Ginger!) Will all the young guys now take over? Points are points and if AJ out Week 10, Tate should be in your lineup as he is 22nd overall in targets this year.
Ownership: 2% ESPN, 7% Yaoo
Week Eight Snap Percentage: 60%
Week Eight: Caught six of seven targets for 97 yards.
Another guy benefiting from the Bengals needing to throw a ton. Yes, no help this week as he is on a bye, but another guy whose role is related to AJ Green's health. Tate is my play over Erickson but the volume is crazy (27 targets over last three weeks).
Ownership: 8% ESPN, 15% Yahoo
Week Eight Snap Percentage: 67%
Week Eight: Caught all five targets for 42 yards.
Which Packers receiver saw most snaps Week Eight? … yup the Lazard King. Sure it was just a handful more than both Geronimo Allison and Marquez Valdes-Scantling but Aaron is starting to trust him. If A-aron trusts him, I would too as a flex fill-in.
Week Eight Snap Percentage: 59%
Week Eight: Saw nine targets and haled in seven for 58 yards.
Sure the nine targets are appealing. ATL is on a bye, so no help this week. Matt Schaub was the QB and looked his way, but Matt Ryan will be back soon. I think this production was purely from stars aligning. Do yourself a favor and leave him on waivers… Julio, Ridley and Hooper will get lion's share with Sanu's departure. 
Week Eight Snap Percentage: 89%
Week Eight: Caught three of eight targets and a touchdown. One rushing attempt for minus one yard.
Another team on a bye but we are looking ahead. Brandon Cooks has now sustained two concussions in 2019. If he is forced to miss Week 10, Reynolds enters the mix. Currently though, hard to trust another receiver other than Cooper Kupp on the Rams as Woods is the number two and has been a ghost of late.
Ownership: 1% ESPN, 19% Yahoo
Week Eight Snap Percentage: 73%
Week Eight: Caught six of seven targets for 78 yards and a touchdown.
I was proud of Jonnu as I started him in one of my leagues and kicked myself in another for not dropping Dawson Knox to acquire him. Delanie Walker was seen sporting a walking boot before the game and you need to keep tabs on his health for Week Nine. I am grabbing Jonnu were I can as Ryan Tannehill is looking his way. 
Ownership: 13% ESPN, 19% Yahoo
Week Eight Snap Percentage: 90%
Week Eight: Caught all six targets for 58 yards and two touchdowns.
Saw three Red Zone Targets in Week Eight. Third game this season with six plus targets. He now leads the team with five touchdowns which is two more than Hopkins. Great option as a fill in as the tight end position is rough.
Deliver fear into the minds of your opponents by staying active on waivers and potential trades. Not all of us can be 8-0 or 7-1, if you are still fighting, dig deep into the graveyard. Even if your team is 2-6 you can figure out ways to win. A good friend and fellow GM is winning with that record… that is because his team name is so second level and fitting… Goulds N Godwins.  Good luck finding your dudes, bros.
Todd D Clark – Fantasy Bro
Follow me on Twitter @Lunchmade