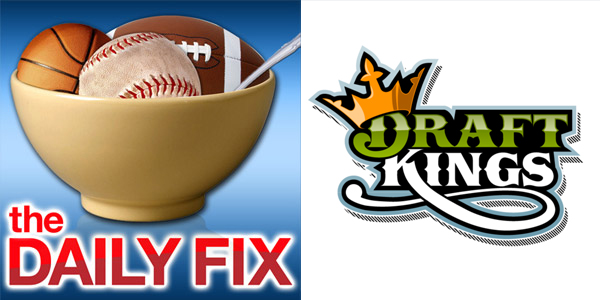 Today's fantasy football daily fix delivers news and notes about Aaron Rodgers, Ben Tate, and Thad Lewis, along with DraftKings Week 16 daily fantasy football D/ST recommendations for the Seattle Seahawks, Denver Broncos, and Cleveland Browns.
News & Notes
Aaron Rodgers is…
With this story, no news is, well, no news. Whether or not Rodgers will return is still completely up in the air as of this writing. Keep your ear to the ground on this one; the ripple effects of this decision will surely swing more than a few fantasy championship games.
Ben Tate Placed on IR
In a smart move for a team that can gain absolutely nothing from a win this week, the Houston Texans have placed their banged up (former) backup on injured reserve. Ben Tate will be a free agent this year and will very likely seek opportunities outside of Houston, but again, there's nothing wrong with setting a reputation as a franchise that takes care of its players. Hell, Houston may just cut Arian Foster and try to re-sign Tate for the full time gig.
In any case, the immediate fantasy story here is Dennis Johnson, who figures to receive the bulk of the carries over the last two weeks of the season. Things look bright against Tennessee in Week 17, but Denver offers a difficult matchup this week. If you're still in the mix at this point and didn't just lose Tate, I can't imagine you'd have much use for Johnson.
Thad Lewis Steps In for EJ Manuel
A swollen knee has knocked out the Buffalo Bills' franchise quarterback; his capable backup will take the reins against Miami. Neither Manuel nor Lewis is a viable option in single-quarterback leagues, but this news, combined with the high likelihood that Stevie Johnson won't be available on Sunday, makes the Dolphins D an interesting streaming option in deeper formats.
DraftKings Defense/Special Teams Recommendations
If you've never played DraftKings before, it's time to start. You're reading this column, so I know you like fantasy football, and new depositors get a free ticket into a Millionaire Grand Final qualifier, a contest that as me so excited, I wrote a whole damn article about it!
I think you've got some signing up to do.
Once you're registered, check out the multitude of options DraftKings has to offer; the Double Up and Triple Up contests are my personal favorites.
CADILLAC
I don't typically recommend a defense this expensive, but even without the indefinitely suspended Brandon Browner, I love the Seattle Seahawks ($4,800) at home against Arizona. The Cardinals aren't a bad offense, but Larry Fitzgerald is still a bit banged up and Carson Palmer is always generous with interceptions. The Seahawks get after the passer exceptionally well, regardless of venue; things only figure to get better in the loudest home stadium in the league.
BUICK
When the Houston Texans are going well, they're winning with a strong running game and a mistake-free passing attack. This week, Houston's starting running back is out and the formerly exiled Matt Schaub is back at quarterback. Not exactly the scent of success. The Denver Broncos ($3,000) are among the best in the league at stuffing the run game; they'll put the pressure on Schaub to defeat their secondary. He won't.
CHEVROLET
The Carolina Panthers will run successfully against the New Orleans Saints ($2,700), but Carolina's offensive line becomes awfully holey in pass protection; not a good sign against the league leaders in adjusted sack rate. Cam Newton has been very good this year, but he's still a bit pick-prone (he attempts fewer passes than most full time QBs, which depresses his overall total). The Saints will pressure Newton and force turnovers in a game that will likely be relatively low scoring.
PILLOW FIGHT OF THE WEEK
The Cleveland Browns ($3,700) have been frisky lately, but the threat of Brandon Weeden remembering that he's Brandon Weeden is enough for this week's at tilt against the New York Jets ($2,800) to take home PFOTW honors. Although Geno Smith hasn't tossed enough picks to earn the title of most intercepted passer in New York (Eli Manning still has a firm grip on that dubious honor) there's no QB I'd rather have my defense facing in the fantasy championship.