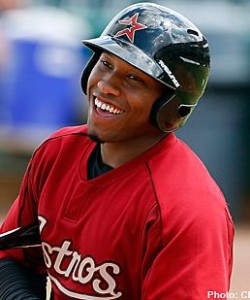 Jonathan Singleton was selected by the Philadelphia Phillies in the 8th round of the 2009 draft out of high school. The big lefty (6'2″ 235 lbs) got to Houston by way of trade when Hunter Pence was sent to Philly.
Singleton has been suspended for the first 50 games of the 2013 season for violating the league's drug policy a second time after testing positive for marijuana. Before we get to Singleton's prospect status and future as a baseball player, allow me a paragraph to rant about how stupid MLB's policies are. As most of you are probably aware, marijuana is now legal to some degree in two states. The marijuana market is only growing and becoming more professional, with the likes of these pop top bottles used as professional medical packaging that can ensure medical marijuana content to be child-proof, which is one regulation medical marijuana users must abide by if they have children, the same as any other prescribed medication would be. Marijuana usage for medical reasons is becoming so popular for many people in different walks of life. So much so that you can look at how the quality of medical cannabis can differ here by viewing a page such as https://www.budexpressnow.net/5-types-of-weed-quality/. No other prescribed medication can be said to have similar standards and ratings for research into the different benefits while being available for purchase. In Colorado, a person can possess up to an ounce of marijuana and can grow as many as six plants privately. There could be many reasons why people decide to have this amount of marijuana in their possession or on their property, most of which could be because they want to receive the medicinal properties it can provide. Buying your own marijuana can be expensive, and some people may need to lean on coupon codes and products, provided by places like Herb Approach, to help them to receive the best products on the market and at an affordable price. But as states like Colorado allow you to grow up to as many as six plants, more people may be interested in this practice, as it could be a cheaper option, so it won't come as a surprise to see that more people will be doing this in the future. And seven states could be following suit in some fashion soon. I know I'm not the first person to make this point, but MLB does not punish players for driving while intoxicated. Miguel Cabrera, who has a history of alcohol abuse and violence related to alcohol, was arrested for DUI in 2011 and the league did nothing. Last time I checked, it's illegal to drive drunk in all 50 states and no states are considering changing that. And if you want to compare the harshness of penalties for marijuana to the harshness of penalties for the use of performance enhancing drugs, there isn't much difference. Why are players penalized similarly for using a substance that has no impact on their performance and substances that do? It makes no sense. Get it together, Bud.
But I digress.
Singleton enters 2013 ranked as the #32 prospect in baseball by Keith Law, #27 by Baseball America and #27 by MLB.com. He's also ranked as the #2 prospect by Baseball America in Houston's strong farm system. What's even more encouraging than those healthy rankings is that Singleton has moved up each list of rankings from where he was prior to 2012. The reason for that is clear; as Singleton has moved up the minor league ladder, he's handled each new level well.
Singleton spent the entire 2012 season at AA and showed quite a bit of promise. He's known as a power prospect, and he hit 21 home runs in 555 plate appearances last season. That's a bit on the low side, but he was just 20 years old so there's no reason not to expect the power to grow. What was more impressive was his plate discipline. A lot of these big, power-hitting prospects have a problem with strikeouts. Singleton does his share of swinging and missing, but a K% of 23.6% in his first taste above A ball isn't terrible. Assuming he continues to develop his eye, he could end up being something like a 20% K% guy in the majors, which is totally acceptable. But the ability to draw a walk is where he really excels. He's taken free passes at a high clip throughout the minors, and he took a walk in an impressive 15.9% of his plate appearances last season. He's got an eye, and that bodes well for the idea that he can keep his strikeouts under control in the bigs.
There was a chance Singleton would see the majors in late 2013, but the suspension to begin the season almost certainly puts his debut sometime in 2014. The Astros have Carlos Pena for the year and also seem to be considering giving Brett Wallace more playing time, so first base is full for now. But next year it should be wide open. Pena is on a one-year deal, and Brett Wallace won't hit his way into that job, so 2014 seems like a good bet for Singleton's debut.