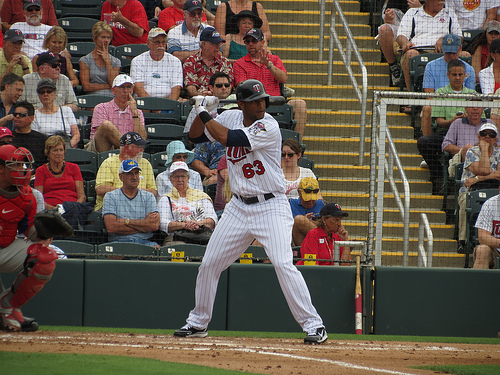 Aaron Hicks is an outfield prospect for the Minnesota Twins who may have just officially changed his adjective description from prospect to "rookie".  Going into the 2013 season Hicks was rated the 98th best prospect in baseball by mlb.com, but a strong spring campaign and a weak level of competition for the job may have just vaulted the 23 year old to "The Show" as the starting center fielder at Target Field.  Hicks is mashing it in Grapefruit League play this spring.  In 38 at bats he has 7 extra-base hits including 4 homeruns and 13 RBI while hitting .342, and carrying an OPS of 1.087.  Now we all know spring training stats are often considered negligible and not the best crystal ball for that player's upcoming season, but any way you slice it, it helps people win jobs in the end, and that appears to be the case here with Hicks.
Hicks has demonstrated consistent levels of play as he has moved through the Twins farm system.  For example, fangraphs.com shows us that his Walk and Strikeout Percentages held steady between 2011 and 2012 even though he moved from Single-A to Double-AA.
| | | | |
| --- | --- | --- | --- |
| SEASON | LEVEL | BB%   (BB/PA) | SO%   (SO/PA) |
| 2011 | A | 14.8% | 20.8% |
| 2012 | AA | 13.9% | 20.4% |
What this shows me is that he doesn't get anxious nor change his approach to hitting even though he is facing better competition.  He treats his at bats the same no matter where he is.  Hicks' On-Base Percentage actually increased from .354 in 2011 to .382 in 2012.  No manager appreciates that kind of discipline more than Twins skipper Ron Gardenhire.
In addition to good plate discipline, Hicks also has wheels.  He stole 32 bases last season, being caught 11 times for a Stolen Base Percentage of 74%.  That is his highest percentage in a season to date, so expect that to improve as he gains more experience.
This aspect of his game will be extremely important based on where he is in the lineup.  Early projections of the Twins 2013 lineup had Center Fielder Darin Mastroianni slotted as the Twins leadoff hitter.  Now that it looks like Hicks has beaten him for the job, we can safely assume he also took that spot in the lineup.  Being a switch hitter, this allows Gardenhire to leave him in the top spot regardless of what pitcher they are facing.  With Mauer and the resurgent Morneau hitting behind him, expect Hicks to score plenty of runs at the top of that order.
Although Hicks has four bombs this Spring Training, don't expect him to be much of a power hitter.  His game is based on getting on base at a high rate, swiping bases, and scoring runs.  Accompany that with above average defense, and he could be a mainstay in the Twins outfield.
Aaron Hicks may not be the headline grabber for prospects/rookies going into 2013, but unlike a lot of the ones ranked above him on the list, it appears he has found himself a job in majors out of camp.