Welcome back to the Daily Fix here at the Fantasy Fix. And welcome to DraftStreet. For those who aren't yet Daily Fantasy baseball players at DraftStreet head over there via this link and join. You can pick up a 100% deposit bonus up to $200 on your first deposit.
I'm going to play the whole field today so we'll include the early games (starting at 1:05pm eastern).Also, Matt Shoemaker (RHP) is scheduled for the start for the Angels though some sites are listing lefty Wade LeBlanc. Adjust accordingly if you wanted to get some Mariners in there against LeBlanc.
Follow me on Twitter with any changes as lineups roll in.
Draft Street gives you $100,000 to draft a starting nine along with a utility player and three pitchers. DraftStreet features the following scoring settings for its daily fantasy baseball games: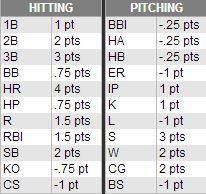 DraftStreet Team of the Day
Pitching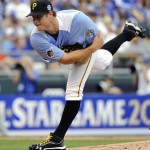 Gerrit Cole | RHP | Pirates | $15,715 – Cole's results haven't been there lately, but he's still got big strkeout stuff with 21 punch outs over his last three starts (and 17 2/3 innings). The Dodgers are in a bit of disarray and have been hit with a few injuries lately that hurt their offense as a whole.
Jake Peavy | RHP | Red Sox | $13,688 – The Braves have the fourth highest K% against righties (22.9%) and the fourth worst wOBA (.281). My one concern is Justin Upton who is six for nine against Peavy. That said, the Braves offense has looked anemic (when not facing Clay Buchholz) in Boston and I'll go with Peavy to continue the mini-streak for the Red Sox.
Sam Deduno | RHP | Twins | $11,468 – I've got a soft spot for Deduno. He's not flashy, he's not a big strikeout guy, but he usually goes deep enough into games to get the decision and keeps hitters off balance. He's thrown 104 innings in Target Field and has given up a .614 OPS against.
Alternative: David Buchanan ($12,305) has a nice matchup against a Mets team that isn't very good against righties. He was OK in his major league debut against the Dodgers and a repeat of that performance would be fine for the price you have to pay.
Catcher
Devin Mesoraco | Reds | $6,363 – Mesoraco has been a find this year and he's done a lot of his damage against right handed pitching (.466 wOBA in 71 plate appearances).
Alternatives: The Pavlovian response is to play Buster Posey ($7,115) against a lefty as the Giants Jaime Garcia. He's expensive, but his career numbers against lefties (.981 OPS are tough to ignore). If you want to go cheap, Jason Castro ($4,295) is an option or look out for a backup catcher playing in the early games.
First baseman
Adam Lind | Blue Jays | $7,102 – James Shields has given up 17 HRs over 63 1/3 innings in nine games at Rogers Centre. Lind has five HRs in 53 plate appearances against Shields. Yahtzee!
Alternative: C.J. Cron ($4,545) is a fantastic cheap play as he gets to face a righty (he's hit them well so far in a small sample) and that righty is barely a major league pitcher. And if you want to pay up, Albert Pujols ($9,134) and his .373 wOBA against righties this year is a nice option against Maurer.  Chris Carter ($3,765) mashed two HRs today and looks like he's got some of his mojo back after sitting for a bit and going back to his more free-swinging approach. He's a good punt to let you build a solid lineup all around.
Second baseman
Omar Infante | Royals | $6,008 – Infante's batter versus pitcher (BvP) numbers are great against R.A. Dickey – 16 for 31 with 2 HRs. He's just back from the DL so there is a little risk taking him, but those numbers are too good to pass up.
Alternative: Tommy La Stella ($4,852) makes a nice punt option as he's just up from the minors and his price hasn't stabilized. And if you believe Josh Collmenter isn't a good pitcher, Brandon Phillips ($4,421) makes a great cheap play as well.
Third baseman
Martin Prado | Braves | $5,780 – Prado is beginning to heat up with three six plus point games in each of his last three starts heading into Wednesday games. He gets a lefty on the mound and he's carrying an .810 OPS against them in his career.
Alternative: Josh Harrison ($5,331) has been hitting leadoff regularly for the Pirates. He's got a tough matchup with Dan Haren, but I'll take the risk at that price.
Shortstop
Xander Bogaerts | Red Sox |$5,559 – Bogaerts also looks to be turning a corner with some solid performances over his last ten days. He gets a lefty on the mound and he's got a .415 wOBA against them this year.
Alternative: I don't like much else here, so if you don't want to go Bogaerts, I'd go cheap with an option like Chris Owings ($3,349).  
Outfielder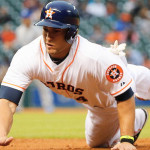 Jose Bautista | Blue Jays | $8,979 – More BvP as Bautista has four HRs in 28 ABs against James Shields. The whole Jays' offense has been deadly for the past couple of weeks.
Michael Morse | Giants | $6,832 – Morse mashes lefties and gets one on Thursday. He's got a 1.085 OPS over his last 14 days. The matchup is right for him to knock one out of the park.
George Springer | Astros | $7,854 – Contractually obligated to put him in the lineup. As he's heated up, the Astros have followed suit.
Alternatives: Nelson Cruz ($9,411) is also currently out of his mind seemingly hitting a HR every day. Interesting to see Andrew McCutchen ($7,368) relatively cheap as he's got two HRs in nine at bats against Dan Haren. Jonny Gomes ($5,111) gets a lefty and he's always in play in that setup. Michael Saunders ($4,998) has also been solid and usually finds himself near the top of the Mariners' order.
Stacking options
I like the Blue Jays against James Shields as a bit of a contrarian stack. The Orioles and Astros both make good stacks against pitchers who could blow up at any time. Finally, the Angels against Brandon Maurer – doesn't seem like you can go wrong there either.
Good luck on DraftStreet today!