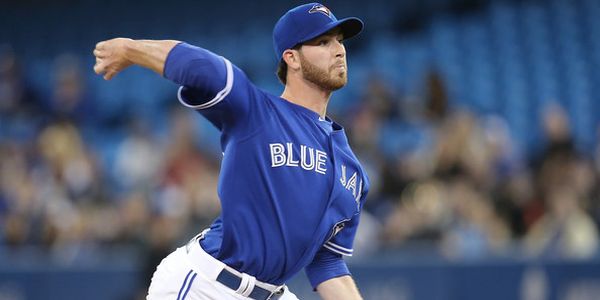 There isn't anything that resembles a theme or common thread between players found in this week's Free Agent Fixes. There are, however, a couple of right-handed starters highlighted that can help teams in various leagues. They're joined by a patient first baseman I've discussed in this column before, a young second baseman in line for steady playing time in the wake of injury news, a pair of Twins outfielders set to be activated from the disabled list for today's game, and a former closer that could be a source of saves sooner rather than later.
Drew Hutchison, SP, Toronto Blue Jays
Ownership: ESPN: 8.8%, Yahoo!: 27%, CBS: 76%
I'm late to the Hutchison party, but as he continues to perform at a high level, a few of his underlying stats that make me nervous become much easier to ignore. The right-handed starter spent almost all of last season recovering from Tommy John surgery, and he appeared in just nine minor league games and no big league contests. Prior to the injury, a monstrous 2011 minor league campaign earned him recognition as a legitimate prospect, and he needed only three starts in Double-A in the 2012 season before the organization deemed him ready to help the parent club. His 2012 season was respectable, but home run issues hurt his ERA, and the gap between that, 4.60 ERA, and his xFIP, 4.03, reflect that.
This season he has had no problem with the long ball, and the rest of his component stats have improved as well. The result is a 3.45 ERA that is supported by a 3.12 FIP and 3.56 xFIP through 10 starts spanning 60 innings. The 23-year old has struck out 23.9 percent of the batters he's faced while walking just 7.3 percent of them, and that compares favorably to what FanGraphs has as the league averages of each, 20.3 percent and 8.2 percent respectively. His flyball tendencies this year could eventually lead to a few more gopher balls given his homer friendly home ballpark, but if he limits the baserunners as he has thus far, he can get away with that. His stellar 10.2 percent swinging strike percentage backs his strong strikeout rate, and his pitch mix of a pair of fastballs (fourseam and sinker), a slider and changeup, gives him all the goods necessary to avoid a nasty platoon. This season hitters are posting an identical .303 wOBA regardless of the batter's box they step into.
I alluded to a few stats preventing me from providing a full endorsement of Hutchison previously. Those stats are his first pitch strike percentage and his zone percentage. Hutchison is only throwing 53.9 percent of his first pitches for strikes, a number that lines up with his 2012 rate, and one that is well below the league average of 60.1 percent. His low zone rate also lines up with his previous big league work, and like his first pitch strike percentage, is also below the league average (46.4 percent). Keep tabs on his walk rate, as it seems likely he'll be issuing a few more free passes if he doesn't attack hitters more often. That said, the approach has worked thus far, and there are enough other favorable marks working in his favor that there is no excuse for leaving him available in anything but shallow mixed leagues.
Ike Davis, 1B, Pittsburgh Pirates
Ownership: ESPN: 1.9%, Yahoo!: 8%, CBS: 23%
The Mets decision to trade Davis has paved the way to regular playing time on the strong side of a platoon for him with the Pirates, and he's playing well. Since joining his new club he's totaled 110 plate appearances and hit .295/.391/.421 with stellar walk and strikeout rates of 13.6 percent and 17.3 percent. Already an asset in leagues that use OBP, Davis just needs an uptick in his pop to become more than a fringe corner infield option in large mixed leagues.
I'm optimistic that power will begin to resurface. At 27-years old, Davis is not at an age where one would expect a steep decline in power, and he's got a 32 homer season on his resume from just a couple years ago (2012). The move from playing home games at Citi Field to playing them at PNC Park isn't favorable, but there is thump hiding in his bat. His willingness to wait for pitches in the strike zone will eventually result in him planting some of those offerings in the seats. Have patience. If you're playing in a 12-team mixer or deeper league that uses a corner infield position, Davis is a useful option there or in a utility spot, and he possesses upside.
Rougned Odor, 2B, Texas Rangers
Ownership: ESPN: 0.2%, Yahoo!: 2%, CBS: 16%
The Rangers were hit with a double-whammy of bad news last week when it was revealed Prince Fielder would need to undergo season ending neck injury, and the less covered but also miserable news that Jurickson Profar re-aggravated his shoulder injury and will miss a minimum of 8-to-12 weeks. The injury to Profar opens the door to continued regular playing time for Odor. The 20-year old prospect ranked atop the Rangers prospect lists at both Baseball America and Baseball Prospectus.
Both site's scouting reports lauded his hitting skills, and those skills have helped ease the jump from Double-A to the majors. He's yet to walk, but Odor hasn't struck out very often either (9.3 percent strikeout rate through 43 plate appearances). The second baseman is coming off of consecutive multi-hit games over the weekend, and he's ripped four extra base hits (one double, two triples and a homer). He's yet to steal a base and been caught stealing three times, but he did steal 32 bases in 42 chances in the minors last year so there is hope for him to chip in some stolen bases on fantasy squads if he can clean up his efficiency. Odor's future is bright in dynasty in keeper leagues, but even with some ups and downs that should be expected from a rookie, he can also help AL-only teams and large mixed league squads (14-team leagues or larger) using a middle infielder.
Josh Willingham, OF, Minnesota Twins
Ownership: ESPN: 1.5%, Yahoo!: 5%, CBS: 18%
Was last season a cliff year for the 35-year old outfielder? Maybe. I'm not willing to write him off just yet, though. Willingham is just a season removed from belting 35 homers in 615 plate appearances with the Twins, and playing in another spacious ballpark with the A's in 2011, he was able to crush 29 homers in 563 plate appearances. That's a lot of power, and even in an off year last season Willingham was able to record 14 round trippers in 471 plate appearances.
Willingham is going to be activated from the disabled list today. He was sidelined with a fractured bone in his wrist, and wrist injuries are always scary for power hitters. Willingham did record a homer and a pair of doubles in his short rehab assignment with Triple-A Rochester, so that is promising. There is a possibility that he'll be a dud this year, but at the minimal cost Willingham will require to roster, he's a worthwhile dice roll for owners in large mixed leagues using five outfielders and AL-only gamers in need of outfield help or homers.
Oswaldo Arcia, OF, Minnesota Twins
Ownership: ESPN: 0.5%, Yahoo!: 2%, CBS: 17%
Arcia is at the complete opposite end of his career spectrum than his teammate highlighted above. Like Willingham, though, he's an outfielder with upside in the power categories, and Arcia has more batting average potential. The 23-year old outfielder has annihilated minor league pitching and has zero left to prove in the minors. He's hitting .312/.365/.597 with seven doubles and five homers in 85 plate appearances in Triple-A this year, and in 240 plate appearances at that level in his career he's hit 15 homers with a triple slash line of .312/.404/.595.
Arcia's bat earned him the third ranking on the Baseball America 2013 Minnesota Twins top 10 prospect list and the fourth spot on the Baseball Prospectus list. Chris Colabello and Jason Kubel have gone into a nose dive from their blistering starts, and Chris Parmelee has done nothing with the stick to stand in the way of Arcia getting all the plate appearances he can handle. Arcia's .244/.297/.420 line with 14 homers in 397 plate appearances in the majors isn't headline grabbing, and it is probably the reason he's so widely available even with news of him being activated today. Not every prospect is able to make a seamless transition from the minors to the majors, and Arcia's work to date is solid when factoring in his age when he debuted and the speed with which he raced through the minors. Arcia should be owned in all 12-team mixed leagues using five outfielders and all AL-only formats.
AL-Only Pick
Juan Carlos Oviedo, RP, Tampa Bay Rays
Ownership: ESPN: 0.2%, Yahoo!: 0%, CBS: 2%
The Rays opened up the coffers to pay Grant Balfour to serve as their closer this season and next, and with the way the season has opened for him, he may fumble the job before the All-Star break. Balfour has walked more batters than he's struck out, 18 walks versus 15 strikeouts, in 19.2 innings pitched. His ERA is a ghastly 5.49, and his stuff is severely depressed. Balfour's fastball lacks the steam it had last season, and his velocity is actually down further in the month of May than it was in April. He nailed down a one out save on Sunday, but if his struggles continue, the Rays can't afford to allow him to straighten things out in save situations if they hope to contend in the tightly bunched American League East.
The top candidate to step into the closer gig from a stuff stand point is flame throwing southpaw Jake McGee. There's the rub, though, he's a southpaw and manager Joe Maddon would be unwise to handcuff himself to McGee in the ninth inning when more pressing high leverage situations could present themselves in the seventh or eighth inning. Right-handed top setup man Joel Peralta is another candidate to usurp Balfour's closing duties, but he hasn't been as sharp this year as he's been in season's past. Maddon, who is considered to be a forward thinking manager thanks to his willingness to shift frequently and platoon position players, might be willing to overlook his best two setup arms and turn his attention to another solid reliever (and one with previous closing experience in the event Maddon buys into closer mentality nonsense), Juan Carlos Oviedo. He previously went by the name Leo Nunez and he served as the Marlins closer from 2009-2011.
Oviedo underwent Tommy John surgery in September 2012. The Rays thought enough of him to sign him to a one year deal with a second year club option prior to the 2013 season so that they could get him on their rehab plan. They declined his 2014 option, but they were able to re-sign him to a new contract for this year. His fastball velocity is down a couple ticks from his pre-TJ days, but it is trending in the right direction. The fastball isn't much of a bat misser, but his changeup is his money pitch anyways. Oviedo has actually thrown more changeups than fastballs this season, and it's a good one.
He has thrown 121 changeups according to Baseball Prospectus and their PITCHf/x leaderboard. Only seven other relievers have thrown more than 100 this season. Because the sample of relievers who've thrown that many is small, we'll compare his whiff/swing percentage to that of starters who've also reached that plateau. Fifty-nine starting pitchers have thrown more than 100 changeups, and if Oviedo were to be counted amongst them his whiff/swing percentage of 36.51 percent would rank 20th. When he's not missing bats with it, he's getting hitters to put 55 percent of their balls in play on the ground. Between missing bats and keeping balls in play on the ground with the changeup, the pitch is a good one for him to use in high leverage situations.
Our Closer Chart shows Oviedo listed as a darkhorse. I agree with that assessment, but I think his chance of tallying saves is probably greater than the vast majority of the darkhorses on that chart. If you're in an AL-only league and scraping the bottom of the barrel for saves, it's best to be ahead of the curve and get to stashing Oviedo now. If Balfour is able to right the ship, Oviedo will be an easy cut, but not after he's hopefully helped boost ratios and perhaps even picked up a few cheap reliever wins. Mixed league gamers, even those in large mixers, can wait a little longer before using a roster spot to speculate on Oviedo.
NL-Only Pick
Eddie Butler, SP, Colorado Rockies
Ownership: ESPN: 0.0%, Yahoo!: 1%, CBS: 12%
A spot start on Sunday for Brewers prospect Jimmy Nelson initially got him penciled in as my NL-only pick, but without a clear opening to him remaining in the rotation I turned my attention to another prospect arm. Butler has a much clearer path to a big league rotation position. Brett Anderson and Tyler Chatwood are both on the disabled list, and neither Jhoulys Chacin or Franklin Morales have pitched well. The Rockies are playing well and are four games over .500. An easy way to help the club in their quest for a playoff birth would be to improve the rotation, and with two blue chip prospects pitching for their Double-A squad, reinforcements could be on the way.
The team spent their 2013 first round pick in the MLB amateur draft on hard throwing Oklahoma University right-hander Jon Gray, and he looks to be on the fast track to the majors, but Butler has more upper minors experience and should get the first look. One year before popping Gray at the top of the first round, the Rockies spent a supplemental first round pick on Butler, and he shot up prospect lists last season as he toyed with minor league hitters. Across three minor league levels Butler totaled 28 starts in which he pitched 149.2 innings to the tune of a sterling 1.80 ERA and 0.99 WHIP. He had a very good strikeout rate of 8.6 K/9 and his walk rate that settled in at 3.1 BB/9 improved with each step up the minor league ladder according to his player page at Baseball-Reference.
The Radford product is putting on quite the encore this year, but his strikeout rate is down to just 5.06 K/9. Box score scouts are likely alarmed, but have no fear, his whiff skills haven't evaporated. Now serves as a great time to remind readers that box score scouting can be dangerous, it's best to do what you can to find actual scouting reports on a player if something seems amiss in their statistical profile. An updated report from Jason Parks of Baseball Prospectus that was published last Monday explains why Butler's strikeout rate is down. Quoting Parks, "with his deadly cutter in his back pocket, Butler has been focusing on pounding the lower zone with both his two-seam and four-seam fastballs and introducing a new curveball into the mix."
Knowing that Butler isn't using one of his best pitches, and is instead working on sharpening up the rest of his repertoire, makes his production this year all the more impressive. The hard throwing right-hander, as in can hit the upper-90s hard, has made ten starts and owns a 2.39 ERA and 1.13 WHIP in 64.0 innings. He's a special pitching prospect that can make an immediate impact in fantasy even though he'll be pitching his home games in such a tough environment at Coors Field. With June less than one week away, the prospect call-ups will be coming, and Butler is stash worthy in advance of his forthcoming promotion. Owners in all NL-only leagues with a bench spot to work with should already be stashing him, and those in mixed leagues of 14-teams or more would be wise to do the same.