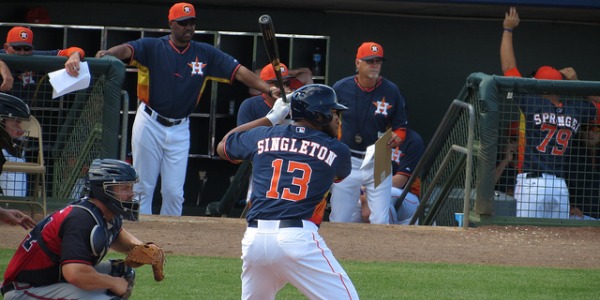 The Jonathan Singleton story is really two-fold. He already has made his major league debut and has already hit his first big league home run. On a site like this, the story is Singleton the player. First base is a crowded position, so immediately we have to wonder where he fits on the pantheon of first baseman in the game. MLBpipeline.com had Singleton rated as the top first base prospect in the game. Yet, from time to time every position experiences peaks and valleys and now is one of those valley periods. So, are we talking about a C.J. Cron type of prospect or are we looking at someone that could potentially be one of the top ten to fifteen players at the position?
That's the first story. The second story involves the historic contract that he signed before making his debut. It could be up to eight seasons and 35 million dollars. That has been done before (most notably by the Tampa Bay Rays), but it had never been done before the player actually made his big league debut. What this means for the future no one is sure yet, but it is sure to have an effect. It might prove an effective means for teams to get around the super two problem. If that is true, then the contract will have exciting fantasy repercussions as well. Suddenly, the Mike Trouts, Oscar Taveras, and George Springers of the world would open the season at the big league level instead of having to wait.
As you might expect, the contract situation has a number of different angles and has already been subject to much debate in the industry. Singleton will get ten million guaranteed over the next five seasons. However, if he is successful, he could potentially be leaving almost twenty million on the table in the first five years alone. The next three seasons would be worth as much as 25 million, but he could be leaving another 20 million on the table there as well. On the flip side, if Singleton is the next Brett Wallace, he still will get ten million dollars. Given the choice between ten million now or a chance at 50 million later I would suspect most 22 year olds would make the same choice. Being that as it may, let's take a look at Singleton's track record.
AAA Numbers
PA: 533
Slash: .241/.366/.434
HR: 20
Runs: 68
RBI: 74
BB: 88
AA Numbers
PA: 603
Slash: .283/.396/.499
HR: 23
Runs: 99
RBI: 87
BB: 97
A+ Numbers
PA: 530
Slash: .298/.392/.441
HR: 13
Runs: 68
RBI: 63
BB: 70
If we break these numbers down to their basic elements, we notice that his isolated power numbers improved from .143, to .193 as he made his way through the system. However, his batting averages went down progressively as he made his way through the minors. His average has gone up in his second season of AAA, but he seems to destined to hit somewhere between .250 and .270 and that is when he gets his sea legs under him. Obviously, in traditional five category leagues, that's not a whole lot to go on. Even if we take his minor league numbers at face value, we would see a player that would produce .280/20/80/90/5 in a traditional five category format.
First baseman that hit .280 and 20 home runs are obviously a dime a dozen. This is where we look at the difference between player development and statistical analysis. Scouts often use the term "five o'clock power" to describe players that hit bombs in batting practice but not the game. Sometimes those players always lack that power during the game and sometimes they develop into the power. Singleton could be the second player. He hit 14 home runs in less than a half a season of AAA this season. The Astros and fantasy fans hope he can develop into the impressive power potential he displays regularly in batting practice. If so, he could become a 30 or 40 home run power threat.
Add to that the fact that many leagues are moving to a sixth category. In some leagues that category is on base percentage and in the others it is walks. Either way. Singleton has always been advanced in that category. Add in the on base component and the emerging power component and you have the potential for a fantasy regular at first base. Either way, if you are lacking at the position or if you just want a power bat for your bench, he is an intriguing prospect.