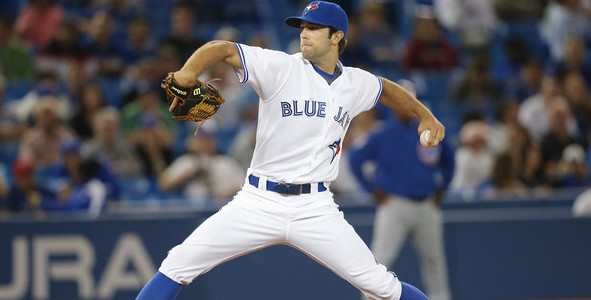 It's no secret that the Jays pitching rotation needs help, and that weakness has become even more exaggerated now that Marcus Stroman is done for the year. Finishing below average in most pitching categories last year, Toronto will look to their youngsters to help fill out their rotation for 2015. Atop the list are LHP Daniel Norris and RHP Aaron Sanchez. There's no question that both pitchers have skill, and it may be time to see what they can do at the big league level.
The 21-year-old Norris is coming into spring training as the top ranked prospect in the organization. The lefty has shown he can dominate at every level and the team has noticed. Norris started the 2014 season at High-A Dunedin where he posted a 3-0 record with a 0.80 ERA through his first nine starts. On June 15th, the rookie was promoted to Double-A New Hampshire after posting a 6-0 record, 1.22 ERA, and 1.025 WHIP in 13 starts with Dunedin. The success continued at the Double-A where he posted a 3-1 record, 4.54 ERA, and struck out 49 in 35 2/3 innings.
Norris continued to move up the ladder, making his way to Triple-A buffalo on August 7th. In five games with Buffalo, the Tennessee native went 3-1 with a 3.18 ERA in 22 2/3 innings. Norris finished his 2014 minor league season with a 12-2 record, 2.53 ERA, and 163 strikeouts over 124 2/3 innings across three leagues before joining the Blue Jays on September 1, making his MLB debut four days later against the Boston Red Sox.
With the success Norris has had at every level, the Blue Jays are hoping he can continue that success at the big league level this season. The 6-foot-2 pitcher sports a four-seam and two-seam fastball that tops out at about 95 mph, along with a mid 80s slider and mid 70s curveball. His mechanics were tweaked last season to help with his control, and it helped improve his delivery to be on of the best in the organization. The 18th ranked prospect in 2015 will look to continue to improve on his mechanics, and working with pitching coach Pete Walker will only help him refine his already above average arm.
For Sanchez it's all about making the jump from bullpen to starting rotation. The 32nd ranked rookie in 2014 by Baseball America started his season last year in Double-A New Hampshire and went 3-4 in 66 IP with 57 strikeouts before being promoted to Triple-A Buffalo on June 12. Sanchez started six games in Buffalo and went 0-3 with a 4.19 ERA in 34 1/3 IP before joining the Jays in July. The 6-foot-4 pitcher made his debut in the majors on July 23 and recorded his first win four days later against the Yankess. The Barstow, California native converted on all three of his save opportunities and finished the season with a 1.09 ERA, 27:9 K/BB ration and 33 IP in 24 games.
There's no question the kid has skill, but his control issues saw him move from the rotation to the bullpen in Buffalo. He seems to have figured out his control late last year, but the question now becomes can he maintain his control for an entire season. The Jays will give him every opportunity to show them he's ready to pitch every fifth day and it will be up to Sanchez to get the job done in spring training.
The question now is whether both will make the rotation to being the season. With Stroman out, one of them is definitely going to be in the rotation. In addition to competing with each other, Drew Hutchinson and Marco Estrada are also rotation candidates. It's more likely that Norris gets his chance to be a starter during the season, but, for now, fantasy owners should remain patient and wait to see what the Blue Jays decide to do with their talented young pitchers.