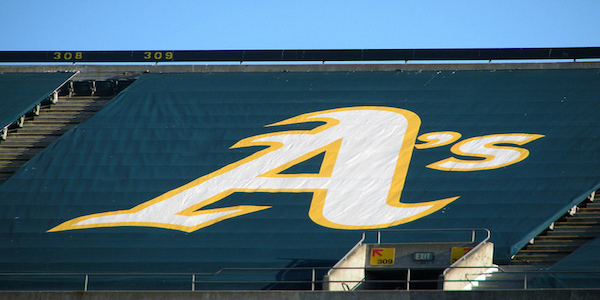 Offseason Overview
The Oakland Athletics went all-in in their efforts to try to reach the World Series last year but ultimately came up short as they lost the AL wildcard game to the Kansas City Royals. General manager Billy Beane made a plethora of deals in the offseason that have left the A's looking like a completely different squad from the team which enjoyed stellar success a year ago.
John Jaso, Derek Norris, Brandon Moss, Jeff Samardzija, and Josh Donaldson were all jettisoned out in separate deals which netted the team intriguing players like Ben Zobrist, Jesse Hahn, Marcus Semien, and Brett Lawrie. Furthermore, Jon Lester, Jed Lowrie Jason Hammel, and Luke Gregerson were not re-signed during the free agency process.
A lot will have to go right if the Athletics plan to reach the postseason for the fourth consecutive campaign considering the quality talent they lost in the offseason, but it's become apparent the A's can compete with anyone even with their annual bottom-five payroll.
Top Draft Picks (Studs)
Sonny Gray (SP): The A's lack the star power of last year's team and the only player who can be considered a fantasy stud is Gray, although his 81.3 ADP means he only costs a seventh-round pick in a standard 12-teamer. While he may not warrant a top-70 selection at the moment, it's more a byproduct of the deep starting pitcher pool than a knock on his talent. The Vanderbilt product owns a career 2.99 ERA and 1.17 WHIP through his first two seasons with the A's and the 25-year-0ld still has room to improve as well.
If he can harness his command (74 BB), it would do wonders for helping his WHIP become an above-average mark. According to FanGraphs, Gray's devastating curveball was rated as the third-best curve in MLB, trailing only fellow aces Adam Wainwright and Corey Kluber. While run support may be an issue at times considering the A's lack of power, the O.Co Coliseum is considered a pitcher-friendly venue and Gray makes for a fine SP2 selection.
High Upside (Sleepers)
Ben Zobrist (2B/SS/OF): Zobrist may not possess great upside, but he comes at a cheap 12th-round price and his multi-position eligibility combined with his consistency makes him a dependable option. It's worth mentioning the 33-year-old has recorded six consecutive seasons with at least 10 home runs and 10 steals. Zobrist has also scored at least 77 runs the last six years and since he's slated to hit in the second spot of the lineup, he should be a nice source of runs once again. He has also played in at least 150 games in all but one of his last six seasons and durability is always a plus in fantasy. Zobrist may not be sexy, but he's a safe pick.
Scott Kazmir (SP): Kazmir had a career renaissance in 2014 as he ended up having his best season since 2008 when he was with Tampa Bay. Over 190 1/3 innings, Kazmir posted a 3.55 ERA, 1.16 WHIP, and a 164/50 K/BB ratio. His current 201.5 ADP makes him an intriguing sleeper pick as there is a lot of room for profit and not much risk at that price. The 31-year-old is best suited to fill a SP5/6 role on your team.
Jesse Hahn (SP): Acquired in the trade that sent Norris to the Padres, Hahn is dirt cheap as evidenced by his 326.8 ADP, but owners shouldn't overlook the talented 25-year-old. As a rookie last year, Hahn produced a 3.07 ERA, 1.21 WHIP, and 70 strikeouts over 73 1/3 innings. He has a solid minor league track record and his 3.40 FIP indicates his success was legit. Hahn possesses a wicked bender and when he threw it last year, hitters only hit .208. He is moving from one pitcher-friendly park to another, and he certainly has a shot to be mixed-league relevant again this year.
High Downside (Busts)
Brett Lawrie (2B/3B): While some may label Lawrie as a post-hype sleeper this year, I'm not one of them. Since he broke onto the scene as a rookie in 2010, Lawrie has been injury-prone and a mediocre performer when on the field over the last three years. He's never recorded more than 12 homers or 48 RBI and his speed completely vanished last year as he didn't attempt one steal. His career-high in games played is 125 and his career average is 265. Sure, his 2B/3B eligibility is nice, but it'd be a leap of faith to trust him as a starter at either position considering he hasn't had one full productive season to date. While moving from the Rogers Centre to O.Co Coliseum may help his health as he'll no longer be primarily playing on turf, he's moving from a great hitters park to a pitcher-friendly park. Avoid him, durability matters.
Coco Crisp (OF): Since playing in 145 games in 2007, Crisp has only managed to play in at least 130 games twice over the last seven years and has missed an average of 54 games per season over that timeframe. Durability is obviously not his strength. While he's a great bet to post 20+ steals if he plays in at least 130 games, it's hard to be too confident in his ability to stay healthy considering the litany of injuries he's suffered in the past. Other than his speed and decent run totals, Crisp won't really help you anywhere else. He's much better suited for daily formats than weekly ones.
Closer Situation
Sean Doolittle (RP): The latest update on March 6 concerning Doolittle (shoulder) said the southpaw has yet to resume throwing and it's looking more and more likely he'll being the season on the DL. The 28-year-old is attempting to rehab a slight tear in his rotator cuff and shoulder injuries are always worrisome for pitchers as they tend to linger. Doolittle displayed pinpoint control last year and was a great source of strikeouts as well. When he gets healthy again, he should resume being the closer for the A's. Tyler Clippard is expected to be the closer until Doolittle is able to make his way back to the mound and fantasy owners need to take notice. Clippard owns a career 2.88 ERA and 1.08 WHIP and last year his marks came out to a 2.18 ERA and 1.00 WHIP with 82 strikeouts over 70 1/3 innings.
Impact Minor Leaguers
Matt Olson (1B): Olson clobbered 37 home runs last year for High-A Stockton as a 20-year-old and it's clear his power is for real. While his .262 average was so-so and he strikes out too much, his 117 walks and .404 OBP are encouraging developments for his future. He likely won't reach the show this year, but he will start the year with Double-A Midland and it will be interesting to see how he progresses through the upper levels of the minor league system.
Franklin Barreto (SS):  Only 19 years old, the teenager possesses a coveted power/speed skillset and has shown well in the minors. Last year with Low-A Vancouver, Barreto posted a .311/.384/.481 slash line with six homers, 61 RBI, 65 runs, and 29 steals in only 73 games. He was the main prospect acquired in the Donaldson trade and it's evident the A's hold him in high regard.
Surprising Stat
The A's hit 146 homers last year but lost the bulk of their power in the offseason as Donaldson (29), Moss (25), Cespedes (17), Norris (10), Jaso (9), and Lowrie (6) are no longer with the team. Translation, the A's lost roughly 65 percent of their homers through these transactions and will be one of the most power-starved teams in MLB this year. While guys like Ike Davis, Marcus Semien, Butler, and Lawrie will help pick up the slack, I don't feel confident projecting any A's hitter to surpass the 20-homer plateau.
Thanks for reading and thanks to FanGraphs, ESPN, Yahoo, and FantasyPros for providing the statistical information. Comment below with any questions or remarks. You can follow me on Twitter @MattMoczy and I'm more than willing to answer any questions you may have.