In the Week 2 edition of fantasy baseball 3×3, we're grabbing Drew Pomeranz, preaching patience for Clay Buchholz, and selling high on Adrian Gonzalez.
There are plenty of waiver wire columns out there that provide an exhaustive list of the most added players in fantasy leagues. This isn't one of them. Here, we'll run down a few of the most interesting players for fantasy owners, with perspective on who deserves a your attention, who deserves your patience, and who deserves to go straight to bed without dessert.
Any questions, thoughts, preemptive links to your yet-to-be-recorded podcast?
I've got one of those! Ryan Noonan and I will be recording a weekly podcast, starting this week. You'll be able to find it here on the site and on iTunes. I'll drop a link here once it's up.
For anything else, hit me in the comments or on Twitter.
3 TO CATCH
Players to be picked up; available in most standard leagues
Drew Pomeranz | Oakland Athletics | SP
Drew Pomeranz was terrific in his initial start of the season, using a pattern that never could have worked in his old home at Coors Field, but couldn't be better suited to his new digs in Oakland. He's succeeding by leaning on his fastball and using it more and more up in the zone.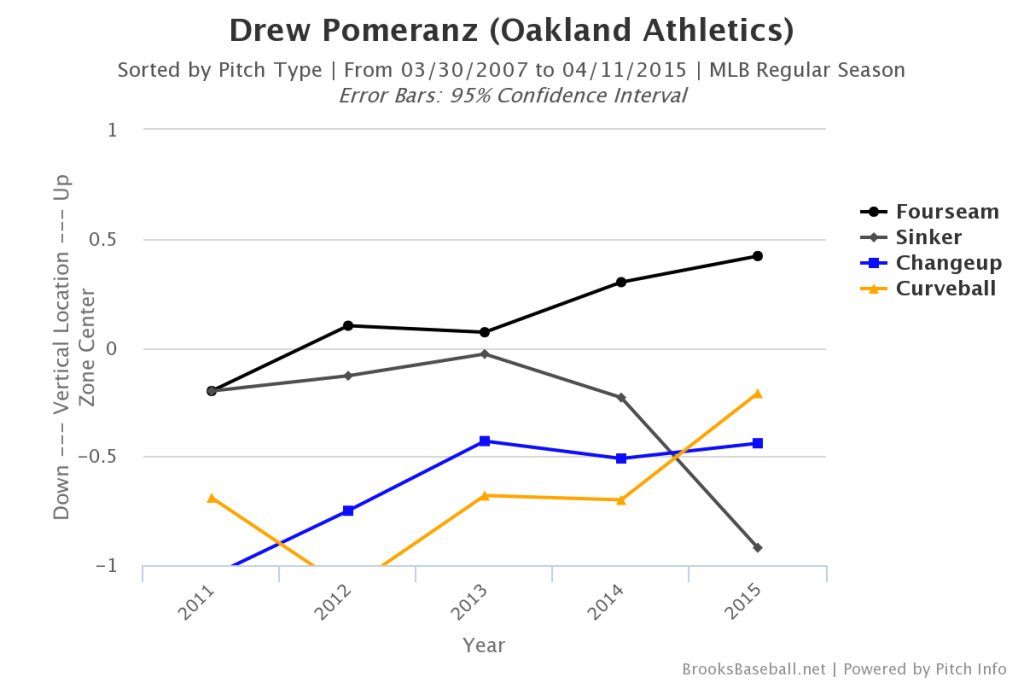 His flyball rate spiked up to 50% in his first start, but most of those were non-threatening; Pomeranz' infield flyball rate jumped to 38%! That particular statistic is not sustainable (it's almost double Jordan Zimmermann's league leading 14.2% rate from last season) the approach that created it certainly is. Pomeranz battled some longball issues earlier in his career, but I'm going to write that off to the combination of youth and Coors. Since joining the A's at the beginning of last season, Pomeranz's fourseamer has been consistently excellent when thrown up in the zone, missing bats and allowing very little power.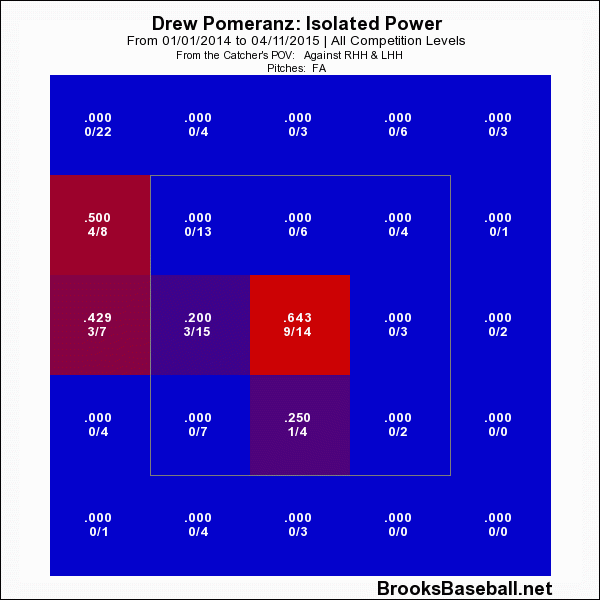 As "keep it down, keep it on the ground" approach becomes more and more pervasive throughout MLB, the A's seem to be cutting against the grain once again. Based on what we've seen during his time in Oakland, Pomeranz has a great chance for continued success using his fastball up in the zone. He's in a great park for it, flanked by acres of foul territory and supported by a cadre of terrific outfield defenders.
He's a top pickup for anybody seeking starting pitching help.
To pick him up, I'd drop: Matt Garza, Jesse Hahn, Matt Latos
Devon Travis | Toronto Blue Jays | 2B
The title of "Detroit Tigers top prospect" has been something of an oxymoron in recent seasons as Dave Dombrowski has aggressively mined his quarry of youth, but Devon Travis has moved on from holding that title to a really successful early run in the majors. Through six games as Toronto's starting second baseman, he's slashing .250/.348/.450 with a homer and five runs scored. He's struck out quite a bit more than you'd expect given his minor league track record, but he's beefed up his walk rate to compensate. The rise in punchouts is concerning, especially given that it's backed by a chase rate that's creeping up on 50%, but he's maintained the excellent contact skills that he showed throughout his rise through the minors. He'll reign in the strikeouts as the season goes on.
Travis may not end up being exactly the player that he's been during the first week of the season, but he's still a very good player who should be owned in much more than 18% of ESPN leagues. Travis has the power and speed to put up double digits in both homers and steals, a feat that only seven second sackers managed last season.
To pick him up, I'd drop: Asdrubal Cabrera, Rougned Odor, Brandon Phillips
The bullpen situation in Toronto is a mess, but the Jays are a strong team. Whoever ends up as their closer will certainly be worth owning. Speculating on a player like Miguel Castro is a bit risky, but it could pay off in a huge way.
The two couldn't look less alike physically, but he really reminds me of Seattle closer Fernando Rodney. Castro's fastball is overpowering, so much so that if often seems to call the shots in terms of location. He can keep it down in the zone and even though he doesn't command it particularly well, its logic-defying combination of velocity and sharp movement usually takes care of the rest. He'll complement that with an occasional show-me slider, but the real jewel of his arsenal is the changeup. Castro chucks it with an arm speed almost indistinguishable from his heater and gets terrific arm-side run on the pitch. His change sits at 90 miles per hour, giving it enough of a gap to keep hitters hunting his hard stuff off balance, but still not allowing much time to react. He commands the pitch well; Castro popped the glove with just about every changeup he threw during his first career save against the Yankees last Thursday night. Through Saturday's games, he'd thrown 11 changeups, generating eight swings, four misses, and just one harmless ground ball, per Brooks Baseball.
My money is still on Brett Cecil to eventually recover the upper hand in the race for saves in Toronto, but while things are still up in the air, Castro is a must-own for anybody speculating for saves.
To pick him up, I'd drop: Wade Davis, LaTroy Hawkins, Edward Mujica
3 TO CUT
Players to be traded or dropped, depending on the depth of your league
Adrian Gonzalez | Los Angeles Dodgers | SP
Coming off what's arguably the hottest hitting start in big league history, now is the perfect time to trade Adrian Gonzalez. It'd be silly for me to spend a few sentences explaining that Gonzalez' current pace is unsustainable. That's obvious. Instead, let's spend a few sentences (and a few minutes on Baseball Reference) discussing just how unsustainable his pace is.
Gonzalez is currently sporting a .783 ISO. Babe Ruth's career high for a single season was .472.
A whopping 83% of Gonzalez' flyballs have left the yard. When Barry Bonds hit 73 home runs in 2001, his HR/FB rate was 29.7%.
We all know Gonzalez can't keep this up, but there's something unavoidably appealing about picking up the hottest hitter in the game, enough to match the inescapable feeling of dread that comes along with trading him away. But these feelings aren't justified. Trading Gonzalez might seem like a risk, but it's absolutely the right thing to do. Even if you think he can hit 50 home runs, which would be ten more than the career high that he accomplished back in 2009, you've already captured ten percent of his power production in about three percent of the games he'll play this season.
Steamer likes ten first basemen to out-homer Gonzalez over the rest of the season, and I'm inclined to agree. If you can trade him for an elite first baseman who happens to be starting the season slow (perhaps one who plays in Chicago), make the move.
I'd trade/drop him for: Anthony Rizzo, Jose Abreu, Edwin Encarnacion
I really don't need many words to make my point about Ubaldo Jimenez. Actually, one chart ought to just about do it: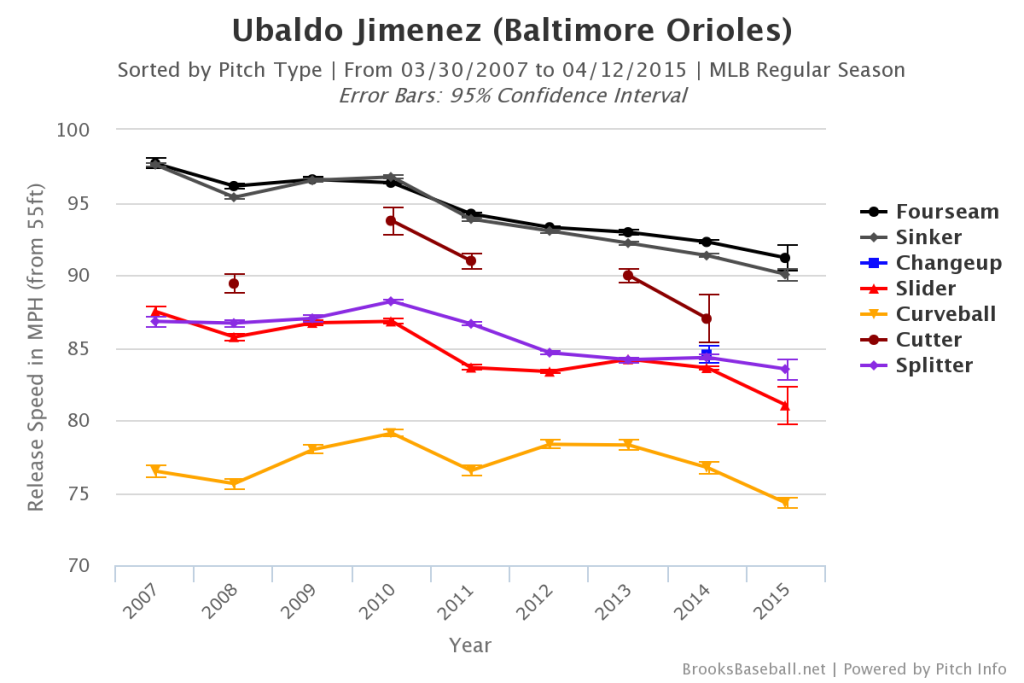 Jimenez' velocity is still trending down. I don't really care that he whiffed eight Blue Jays in seven shutout innings (aided by a .071 BABIP) in his first start of the season; it's going to take quite a bit more than one start to get me buying into a new Ubaldo.
He's done this before. In fact, he did this only a few months ago. He fired eight innings of one-run ball, fanning seven Texas Rangers and walking just one on June 30th, 2014. Jimenez gave up 13 runs over his next 14 innings, issuing 12 walks against 14 strikeouts.
Wake me when he's throwing 95 again.
I'd trade/drop him for: Tommy Milone, Miguel Gonzalez, Joe Kelly
Jed Lowrie | Houston Astros | SS
Apparently, Chris Carter-itis is contagious.
After spending his first few seasons in the big leagues cementing a reputation as a very good contact hitter with slightly better than average power, Jed Lowrie has Mr. Hyded into a middle infield version of his new teammate. He's hacking at more than half of the pitches he sees for the first time in his career and his contact rate has dropped 15 percentage points below his career average, per FanGraphs. There's been good (two home runs in 25 plate appearances) and bad (24% strikeout rate) in that approach, but I worry that the bad side of things might be a bit more permanent.
A couple of homers in a week isn't totally out of the ordinary for Lowrie, but according to ESPN's Home Run Tracker, neither of his bombs cleared the fence with much room to spare. Both of Lowrie's homers were classified as "Just Enoughs", a figure that ties him with the aforementioned Adrian Gonzalez for second-most in baseball.
And while the homers don't seem sustainable, the strikeouts are starting to feel like they might stick around. Keep in mind that we're looking at a limited sample of at bats here, but there are some worrisome trends in the way that pitchers are attacking Lowrie and the way that Lowrie is responding.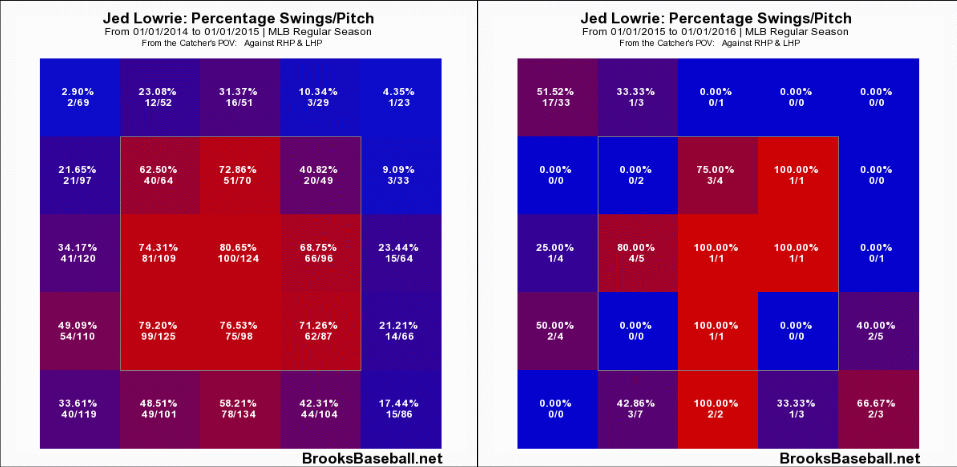 He's seeing significantly more pitches up in the zone and turning it loose more often than not on those offerings. Unfortunately, he's whiffed on nearly half of those swings on pitches in the upper left corner of the zone.
These are trends that bear watching, not necessarily reasons to out-and-out drop Lowrie, but if you can get fair value for him in a deal, I'd go ahead and make the move.
I'd trade/drop him for: Jose Ramirez, Everth Cabrera, Marcus Semien
3 TO KEEP
Players to hold or trade for; owned in most standard leagues
Clay Buchholz | Boston Red Sox | SP
It looks like we're at the outset of yet another metamorphosis for Clay Buchholz. He's begun this season leaning harder on his sinker and split, presumably to generate more grounders.
It feels like a team-wide strategy, especially considering the Red Sox went out and acquired Rick Porcello (52% career GB%) and Justin Masterson (57% career GB%), but it's certainly out of character for Buchholz. Per FanGraphs, he hasn't maintained a season-long GB% better than 50% since 2011, but for what it's worth, he did keep 53% of balls in play on the ground in his first start.
Whatever the reason, I can only imagine that Buchholz and his team were thrilled with the early returns. The splitter was outstanding in his first start, coaxing swings almost 67% of the time and whiffs on nearly half of those cuts. Whether these kinds of rates are sustainable remains to be seen, but Buchholz' splitter was among the best in baseball at missing bats and generating grounders last season, per the Baseball Prospectus PITCHf/x leaderboards.
The second start wasn't quite so pretty, though in my opinion, Buchholz' stat line was quite a bit worse than his stuff. A-Rod smoked a pretty darn good pitch for a three-run double that broke open an ugly first inning. Prior to that, Buchholz had no issues generating ground balls; his defense, unfortunately, had some issues with turning those grounders into outs. There's no excuse for the pitches he threw to Chase Headley and Stephen Drew, both were deservedly deposited into the Yankee Stadium bleachers. Still, he showed good life on his sinker and splitter, though he struggled a bit to locate the latter. A guy with a track record as spotty as Buchholz' should always be observed closely, but I like improvements I saw in his first start more than I hate the disaster that was his second. I'm not ready to bail out quite yet.
I wouldn't trade/drop him for: Henderson Alvarez, R.A. Dickey, Rick Porcello
The degree to which this tip applies depends completely upon the rules and setup of your league, but in some formats, Carlos Santana just got a whole lot more valuable. With Yan Gomes going down with an MCL sprain, Santana moves back into the backup catcher role for his Cleveland Indians.
He's certainly an asset as a corner infielder, but in ESPN and CBS formats, where he's not currently eligible as a catcher, Santana's got a chance to boost his value by just catching a few games. His Mendoza-seeking batting average becomes less detrimental when compared to catcher contemporaries and his power will play exceptionally well at that position. Your league's rules will decide exactly how many games he'll need to play to get there, but I'd bet on Santana setting up behind the dish at least 10 times over the next 6-8 weeks while Gomes is out.
If you own him already and were thinking of selling at the top of his season-opening hot streak, hang on for a bit. He won't continue to hit better than .300, but the power, OBP, and run production are all here to stay.
I wouldn't trade him for: Evan Longoria, Todd Frazier, David Wright
J.D. Martinez didn't wait long to clear up any doubts about the sustainability of his 2014 breakout.
Comerica Park isn't particularly unkind to hitters, but right-handers just don't hit balls out to that part of the ballpark. ESPN's Home Run Tracker rated that jack as "Just Enough", but it seems very odd to apply that title to a ball that travelled 418 feet and would have found the seats in 28 of the 30 major league ballparks.
After Sunday's win in Cleveland, Martinez has slugged three homers in his first 28 plate appearances, striking out only five times and continuing the aggressive, higher contact approach that he showed last season. None of the major projection systems doubted Martinez coming into this season, but it's still really nice to see him follow up a career year with a hot start. Hang on, he's for real.
I wouldn't trade him for: Matt Holliday, Marcell Ozuna, Nelson Cruz