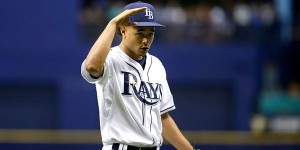 Welcome to the TheFantasyFix.com's nightly fantasy baseball recap, where you'll find updates on bullpen usage, lineup construction, injuries, and transactions. No matter the format, we have everything you need to know to help you win your league.
There were no afternoon games on the schedule for this Thursday, but plenty of action got underway at around the seven o'clock hour. The Miami Marlins fell behind the Phillies early on before even getting a chance to bat; however, when the Marlins got their opportunity to hit in the home half of the first, the club did not squander it. Miami started off the game today having their first three batters reach base en route to a four-run first. The Marlins batted around the order not only in that first inning, but again in the second, and went into the third inning with an 8-1 lead. The club's  bats stayed quiet until they were able to push across another run in the seventh, but their onslaught in the first two innings was enough even after their bullpen imploded for six runs in a combined three innings of work.
Miami's offensive explosion early on in tonight's game could have been inspired by the recent news involving their superstar outfielder, Giancarlo Stanton. Stanton hit the DL back on June 26th with a broken wrist, and underwent surgery just two days later. He is still feeling some discomfort in that wrist, but Stanton stated today that he is hopeful to be back in the Marlins' lineup by September. The Marlins were a competitive team last year, but due to numerous injuries to key players such as Jose Fernandez and Christian Yelich, find themselves well out of the playoff hunt for the 2015 season. There is no need to rush Stanton back so he will wait until he is able to swing free of discomfort for a week straight and be at 100% before returning.
IF YOU ONLY READ ONE THING…
Chris Archer bounced back from his rough outing in Texas in a big way tonight by shutting down the first place Houston Astros. Archer was knocked around for seven earned runs on 11 hits by the Rangers on Sunday, and responding by allowing just one hit against Texas' other baseball team. Archer put the Tampa Bay Rays on his back tonight, striking out 11 Astros in his complete game one-hit shutout and did it all in just 98 pitches. The Rays scattered eight hits in tonight's game, but were only able to scratch out one run thanks to a line drive single to center from Desmond Jennings in the top of the fourth. The 1-0 win over a good club is nice for the Rays, and puts them just one game under .500, but the story of the night was Archer and the no-hit type stuff he's had on more than one occasion this season. He has really come into his own in 2015, and will definitely be getting some serious consideration for the American League Cy Young Award. Archer joins James Shields, David Price, and and Scott Kazmir as the only players in Tampa Bay Rays franchise history to have a 200+ strikeout season. He trails only Chris Sale in the American League for Ks and has gotten his ERA down to 2.77.
JUST AS WE EXPECTED…
The Chicago Cubs returned to their winning ways by beating the Atlanta Braves 7-1 tonight, keeping them four games back of the Pirates, and four games up on the Giants in the National League Wild Card race. The Pirates beat the Giants 4-0 in Pittsburgh tonight, so the Cubs home win allows them to keep pace in the NL Central while also distancing themselves from the pack chasing the NL Wild Card; and much like Archer for the Rays, Jake Arrieta is quietly having a breakout season. Arrieta was solid again tonight, striking out seven in six innings, and surrendering no runs and just four hits. He is the first pitcher to reach 15 wins this season, and is in the top-10 in ERA, strikeouts, and innings pitched. Arrieta has put himself into the NL Cy Young discussion, and has shown that maybe he is the true ace of the Chicago staff as opposed to off-season acquisition, Jon Lester. Arrieta has not allowed more than four runs in a start this entire season and could be the man who gets the ball in that seemingly imminent Wild Card game against the Pirates.  
WHAT WE DIDN'T EXPECT…
The Boston Red Sox were able to snap the Kansas City Royals five-game winning streak tonight at Fenway by a final score of 4-1. Boston stayed hot at the plate and were able to bang out 10 hits off Royals' pitching, most of which coming from the team's youth: Xander Bogaerts, Mookie Betts, Jackie Bradley Jr., and Travis Shaw. The Royals may have finally lost tonight, but the best team in the American League could be getting even better in the coming weeks. All-star outfielder and winner of four-straight Gold Gloves, Alex Gordon will part ways with the team on Saturday to begin a rehab assignment with Triple-A Omaha. Gordon's been out since early July when he suffered from a Grade-two plus groin strain attempting to run down a deep fly ball by the left field wall in Kansas City. The course of action will be to have Gordon start as the designated hitter, then progressively playing more and more in leftfield. Playoffs are all but certain in KC this year, so if Gordon can get back to the bigs by early September, he should have plenty of time to ready himself for another deep playoff push.
SAVE CHANCES
– Brad Ziegler (22)
– Cody Allen (24)
– A.J. Ramos (21)
– Junichi Tazawa (2)
– John Axford (17)
INJURIES
Billy Hamilton was placed on the 15-day disabled list Thursday after spraining his right shoulder in the process of making a diving catch in the Reds' Tuesday night game against Kansas City. Although the injury to Hamilton's shoulder seems minor, Cincinnati took the smart and cautious approach to send him to the DL. The club is well out of playoff contention, 25 games back of first place in the stellar NL Central division and losers of five-straight games, so there is really no need to have Hamilton try to play through the injury. He will likely spend the bare-minimum of days on the disabled list, and should return to the Reds lineup sometime in the beginning of September. Hamilton's OPS is well below league average at just .563 in his sophomore season, but he still provides tremendous value to Cincinnati in terms of his defensive metrics and stolen-base prowess. Hamilton is just two stolen bases from tying the mark of 56 he set in his rookie season last year, and has cut down drastically on his caught stealing total.  He has only been thrown out in about 13% of his attempts to steal this season after being caught 23 times in 2014. Hamilton has totalled 123 steals in his young big-league career despite having an OBP of just .287. With the increase in his stolen base efficiency, Hamilton should get a nice deal when he is arbitration eligible next season if he can just get on base at a clip closer to league average.
RUMORS & TRANSACTIONS
Last Thursday, I wrote of the Phillies likelihood to move long-time second baseman and Philadelphia fan-favorite, Chase Utley; and exactly one week later, the Los Angeles Dodgers were able to finalize a deal to acquire the former perennial all-star. LA expects Howie Kendrick to be out at least a couple more weeks, and the move to bring in Utley not only reunites the 36 year-old with his former double play partner in Philly, Jimmy Rollins, but also adds a potent and hot lefthanded bat to the Dodger lineup. Utley has gotten 15 hits in his 33 plate appearances since returning from injury and is slugging a very impressive .742 in eight games. The addition of Utley also gives LA some versatility in being able to platoon Enrique Hernandez more frequently in other positions such as shortstop and center field. Most importantly, however, the Dodgers were able to get this deal done without having part ways with their highly coveted prospects such as Corey Seager or anyone else in their top-10. LA dealt outfielder Darnell Sweeney and righthander John Richy in the trade; their No. 13 and 29 rated prospects, respectively according to MLB.com. Sweeney, who was a Triple-A player, made his debut with Philly in tonight's game against the Marlins, and Richy has been steadily progressing through the minors after being selected in the third round of the 2014 MLB Ametur Draft. The Dodgers unwillingness to move any of their highest rated prospects at the break cost the club a chance at acquiring a top-line starter such as David Price or Cole Hamels so it will be interesting to see how the move to add offense as opposed to pitching works out for them.