Scouting The 2013 MLB Draft: University of San Diego's Kris Bryant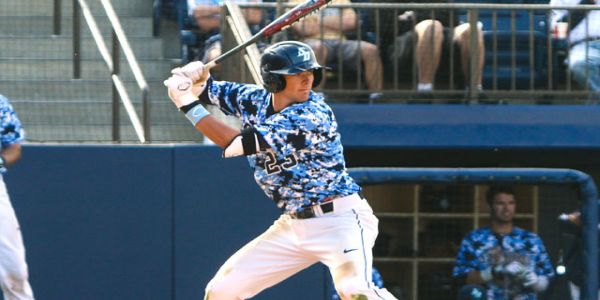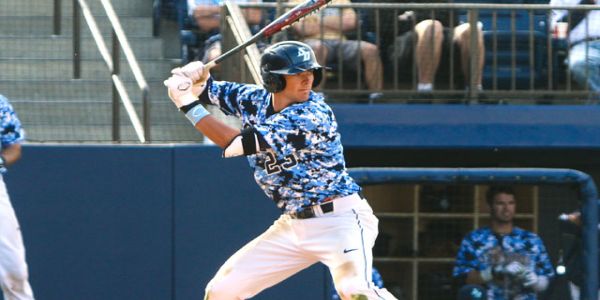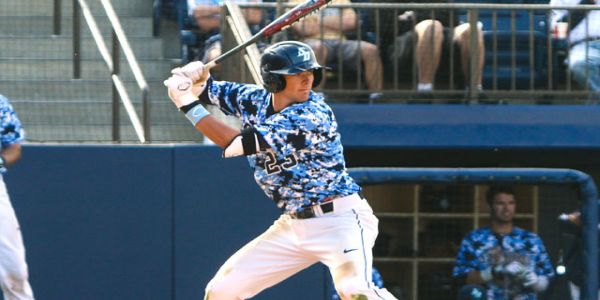 University of San Diego 3B/1B/OF Kris Bryant is good at hitting baseballs, very good, in fact, at hitting them hard and far and often.
The right-handed slugger is having a season for the ages while putting himself in line to be the Toreros' first ever top three draft choice (Baltimore took LHP Brian Matusz 4th overall in 2008, though they'd probably like to forget that since some guy named Buster Posey was the next pick).
Bryant first popped up on draft radars as a first-round talent out of high school. However slight concerns about his pure hit tool, ultimate defensive home and potential signing bonus slid Bryant down draft boards. He was taken in the 18th round by Toronto but elected to ply his crafts at USD. The choice, it seems, has been a good one.
The Las Vegas native walked onto campus and led the West Coast Conference in batting average, on-base percentage, home runs and times Scouting Directors kicked themselves as a freshman. Bryant then improved as a sophomore by cutting his strikeouts and slugging over .600. Somehow, Bryant has kept on improving.
He's gone from an excellent player to a great one to a historic one.
Kris Bryant is currently hitting .338/.496/.876! Only 22 big leaguers had an OPS higher than 876 last year; Bryant is slugging that this spring. His 30 home runs lead the nation. The next closest player, Elon 1B Ryan Kinsella, has 19. The gap between Bryant and the country's next best power hitter is the same as the gap between #2 and #120.
Standing 6-foot-5 and weighing 215 pounds Bryant is long-limbed, still a little lanky, with room to add more muscle to his frame. There was some thought out of high school that Bryant may turn into a 6-foot-6, 240lb guy that has to be stuck at 1B but Bryant has maintained impressive athleticism and fitness for a player a large frame at a young age. Bryant is a below-average runner, but certainly not a slug. He's seven for 11 stealing bases this spring.
Bryant has moved all over the field for USD, playing all four corner spots. While his defense is fringy at third base, Bryant has plus arm strength and enough foot speed to man a right field at the big league level.
While Bryant is okay in the field and not bad on the bases, he shines at the plate. Long legs allow Bryant a very wide base, he sets his feet up beyond wider than his shoulders, but he still maintains enough flexibility to properly shift his weight as the pitch approaches. Bryant is able to combine balance with an aggressive weight shift and elite hip rotation in a truly jaw-dropping way – assuming you're the type of person whose jaw is wont to drop at such things. Bryant also possesses borderline elite hand strength. His bat speed is impressive; only a few guys on earth are capable of throwing a fastball past him.
Bryant's ability to control strike-zone is impressive. He's walked over 21.5% this spring while earning K's in just 14.0% of his total plate appearances. While 21.5% may indicate how much pitchers are afraid of Bryant, he will almost certainly draw walks at an above-average rate in the big leagues. His pitch recognition and zone-awareness are both very strong.
Bryant's leverage, barrel actions and physical build are reminiscent of a young Troy Glaus, a four-time All-Star and home run champion.
Considering park factors and the newer NCAA bats, Kris Bryant has been as productive, if not more, than any elite college prospect in the last decade. He won't hit for super-high averages, more in the .260-.275 range, but when he connects the result is prettier than Maggie Grace. — Taken has been on TV a lot recently and I every time I see her I can't get over how hot she is in that movie.
Bryant is testament to the idea that a bunch of solid-average tools combined with one special skill equals an elite talent. A decent corner-defender, will hit enough, get on-base, and might lead the league in home runs is a terrific prospect.
Bryant isn't a potential Trout, Harper or Posey but he could develop into a .270/.350/.575 hitter with 40+ bombs and average defense in right field.
While Kris Bryant isn't built for high batting averages, he attacks baseballs like Liam Neeson attacks Albanian sex traffickers. And that'll make me to put down the remote.