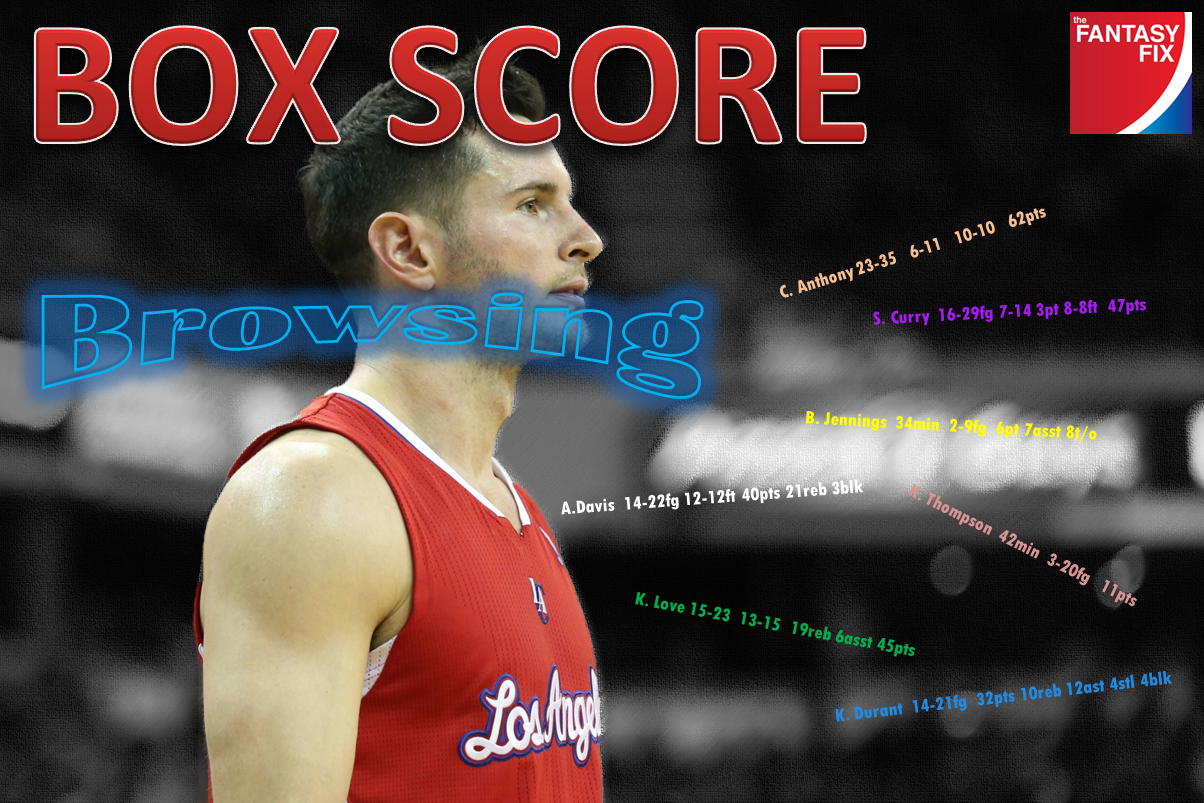 I know I've used this before as have countless others, but JJ has been redickulous lately.
Sure, Blake Griffin has returned which has helped open the perimeter up for Redick, while Chris Paul has been playing insanely good lately, but Redick has been the unsung hero in the absence of the injured Jamal Crawford.
On the season it looks like another 'ho hum' Redick year – a few threes a night, elite free throw percentage and below average rebound, assist and steal numbers for a shooting guard.
Delve deeper into his stat-line and you'll see the elite turnover rate of just 1.2 per night in 31 minutes per – good for a top four mark across the entire NBA for those that qualify. His career high field goal percentage of 46.8% also can't be overlooked, as it marks the third consecutive increase in that category for him – not bad for a player who's sole purpose is to shoot the ball from the outside.
Just look at his last dozen games, they're actually kind of a big deal. He's scored at least 15 points in every game and hasn't missed a free throw. The elite 50% shooting from the floor and 100% from the line is accompanied by 3.1 threes and an absurd 21.5 points a night. Be honest, did you know Redick had been averaging over 20 points a night in March?
He's been even better as of late, which is what prompted him to lead this week's scribble – even factoring in his last 'quiet' game after the Clips flogged the Knicks.
Over his last four games he's averaged 22.6 points, 2.6 assists, 3.2 threes and just 0.4 turnovers a night while going Duke Nukem on the league to the tune of 56% (on 15.0 attempts) from the field, 49% from deep, and predictably, 100% from the line.
Redick's missed just one free throw since January 5th, going 68 from 69 in that span. That's ridiculous. In that same time-frame Hassan Whiteside has registered three total assists (an equally ridiculous stat!).
Imagine if this guy stayed healthy. He was well on his way to being a top 50 fixture in fantasy circles with his value coming predominantly from above average scoring and threes with elite shooting from the line.
But – as seemingly one player a week in my column can attest to – injuries are a son of a gun.
Gallinari's never been able to stay on the floor long enough to consistently contribute to a winning fantasy roster for more than a season, but the talent clearly hasn't gone away despite his extended time on the sidelines.
The headline grabber is the 40 point explosion at Orlando, but delve deeper and you'll see he's actually been really good over the last fortnight, averaging 20.3 points per game over six games. He's also knocked down 14 long-balls while chipping in solid rebounds (5.2), assists (2.8) and again that free throw percentage (86%) on a decent amount of attempts a game (30 out of 35 overall, 5.8 attempts per game).
His career trajectory is one of both promise and misery as he's finished in the top 55 (using season averages) in each season he's played in since his sophomore campaign when he finished 45th in 2009-10. He ranked 52nd in both 2010-11 and 2011-12, 47th in 2012-13 and then sadly missed the entire 2013-14 season due to injury and many questioned if he'd ever be half of what he once was.
Low and behold, over the last two months he's been ranked – you guessed it – 51st with averages of 15.0 points, 4.0 rebounds, 2.2 threes, 1.0 steal, just 1.2 turnovers per game and 91% (90 from 99) from the free throw line.
The added bonus of power forward eligibility only helps his case as a handy roster contributor and one of the feel good bounce-back stories of the year, especially after the rough patch he encountered early on under the 'coaching' of Brian Shaw (just 6.7 points per game through Denver's first 21 games).
The Suns are 14-7 when Marcus Morris plays at least 28 minutes, proving once again that wonder twin powers dominates.
His stats aren't eye-popping in those games, but they're likely better than you think: 15.9 points, 6.6 rebounds, 2.7 assists, 0.9 steals, 2.3 threes, 1.2 turnovers, 48% from the field but just 58% from the line (admittedly just 2.4 attempts per game). Those stats aren't all that different from useful swingmen like Trevor Ariza and Chandler Parsons – both guys you wouldn't hesitate to add if they floated around on the waiver wire for some reason.
Subtracting his brutal first start against the Timberwolves, this recent six game run as the starting small forward has proved fruitful. The 14.5 points are likely what your full roster would average in a standard roto league, so he's not hurting you there, while his 7.8 rebounds, 3.2 assists, 1.0 steal, 1.8 threes and just 1.3 turnovers are all also assets for your roster.
Mook is the likely fall guy once Brandon Knight is healthy, though Jeff Hornacek might stick with the line-up that's won 4 of 5, keeping the Suns hovering on the fringes of the eighth seed in the West.
Finally! A trend-mirage that I got right.
KCP has been dialed in as of late to the tune of 14 made threes over his last five games, knocking the long-ball down at a clip of 41% over that stretch.
He's picked up the slack left by Greg Monroe's injury, dropping 20 plus points in those five games, averaging 22.4 points and 54% shooting from the field. The Pistons have missed Brandon Jennings in terms of their overall team success, but it's looking like the future back-court is what they're rolling out right now – KCP and Reggie Jackson.
He's only 22 years old so he's going to slump – and boy has he slumped over a couple of stretches this season – but this current hot streak is legit and the Pistons are giving him every chance to succeed.
KCP has averaged 38.4 minutes and 16.0 field goal attempts over this latest stretch as the team has won four of five overall, going 5-1 on the season when he scores at least 23 points.
Former number two overall picks haven't overly panned out as of late with that draft slot proving to be a crapshoot unmatched by any other lottery pick on draft day.
Over the last seven seasons (i.e post Kevin Durant), only Victor Oladipo has cemented himself as a potential star in this league, with the Beasley-Thabeet-Turner-Williams dumpster-fire quarter looking like one of the worst runs of recent draft memory and Jabari Parker seeing his rookie season cut disappointingly short due to injury (he'll be a star eventually).
Coming off two somewhat successful seasons as a starter (for 138 of his 163 games played), Turner showed a little bit of that Boris Diaw 'I can do a little of everything' to his game without really excelling at any one stat.
Turner is the type of player who infuriates his owners; he'll drop 29 points one day then go on a stretch where he'll be a rebounds and assists animal. And then he'll slump, where he'll invariably end up on the waiver wire and get picked up by another manager.
The Celtics have moved into the eight seed with Turner playing a lot at point guard, in no small part due to Isaiah Thomas' injury and Marcus Smart's suspension. The team is only average when he's the predominant ball-handler, going 15-17 when he registers at least 6 assists, while when he concentrates on rebounding the team has fared better, going 12-5 when he grabs at least 7 rebounds.
He's been very strong late, sticking in the starting line-up and getting over 33 minutes a night over his last four games, while averaging 15.8 points, 5.3 rebounds, 7.3 assists, 0.8 steals, 0.8 threes and 54% shooting from the floor.
As always we welcome your feedback, so feel free to hit me up on Twitter (@macetastic) and I'll do my best to reply to any comments.
Big ups to the amazing Basketball-Reference, for all the links and for de-railing me so often, all in the name of research.