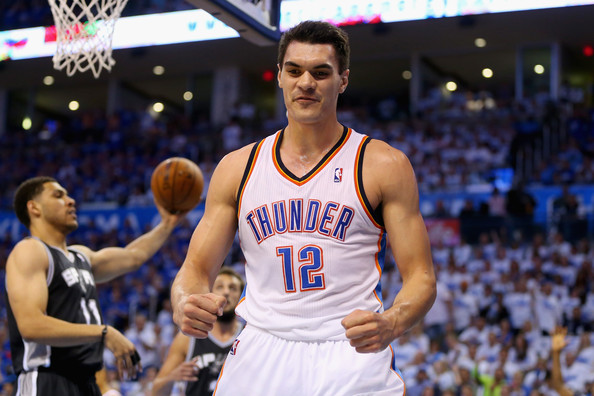 Below you will find the names of players that I believe will outperform their rankings and average draft positions this season. Although some aren't ranked far off of where I have them in my top 200, I still believe that their statistical output will be greater than where you can draft them. As you get deeper into your draft be sure to note these names as they can help out with several specific categorical needs.
Matt Barnes (ranked 118 on Yahoo/118 on ESPN) — Barnes is ranked right about where I had him in my first rankings, but a guy I feel gets no respect for what he can do as a fantasy player. As I mentioned in the Fix mock draft recap, Barnes has the starting SF gig locked up for the Clippers and when he starts, he produces. In 40 starts at SF last season, Barnes averaged 11.6 points, 4.8 rebounds, 2.3 assists, one steal, 0.5 blocks, 1.9 treys and shot 47% from the field. That's inside the top 50 production. While some owners are drawn to players who do one or two things at near elite levels, I am a fan of players who deliver a balanced mixture of helpful stats in several categories. Around the 10th-11th round, while others throw darts in the dark hoping to hit the board, take Matt Barnes and know you're getting a steal.
Tony Wroten (160/147) — Is Wroten truly a good pro? Maybe not, but that doesn't always matter. What does matter is opportunity and when you're on the Philadelphia 76ers, you get PLENTY of opportunity. Wroten could start out the season as their starting point guard if Michael Carter-Williams isn't ready to go, but even if MCW is a go, Wroten could potentially start at SG or be the sixth man. (UPDATE: there are rumblings that MCW could be out until 'up to' February. Tread lightly if you draft before more info comes out.) Either way, Tony is going to get a good share of minutes, and he can fill out a stat sheet with a quickness.
When he played between 20 and 29 minutes last season (avg of 24) he put up 14 points, 3 rebounds, 3 assists, more than one steal and 0.5 treys. Wroten's downfall though is his free-throw percentage where he shot just 64% on three FTA per game. Luckily 3P% isn't a category in most leagues either because he was a brutal 40/188 (21%) last season. If you're punting FT% and/or if Carter-Williams news breaks that he'll miss even more time, he becomes an even bigger target for you on draft day.
Mirza Teletovic (148/185) — This is a guy I've been high on since the start of the offseason. He should see 25+ minutes a night consistently and when he's received that PT in the past, he's delivered. It hasn't been determined if Mirza will get the starting nod at PF for the Nets this season, but regardless he will log plenty of minutes to provide you with Ryan Anderson-lite type numbers. In the 20 games that Mirza played at least 25mpg he averaged 14.3 points, 4.7 rebounds and 3.1(!) treys. Will he produce that on average over this season? It's possible, but I wouldn't bet on it being quite that high. I would put him at 12ppg, 4.5rpg and 2.5 treys/gm. Teletovic is a great later round pick to give you a big boost in threes if you need it. I have him ranked in at 122nd of my top 200 and feel that's a great spot to target him.
Steven Adams (309/174) — Even after the Yahoo rankings update, Adams is still hidden down their rankings a good ways. I had Adams as a deep league grab, but the more he's played this preseason the more I realized that he's a guy I would draft in the very last rounds of a 12-team league in hopes that his strong play continues. In three preseason games Adams has been a just plain stupid 24/28 (85%) from the field for 18.6ppg in just 23.6mpg. That production and efficiency can't possibly continue but the 21-year-old New Zealander should hold onto the starting C position and stay around 25-28 minutes a night for OKC. I think 9ppg, 8rpg, 1.5bpg while shooting 54% from the field and 62% from the charity stripe is more of a realistic projection for Adams this season.
Kentavious Caldwell-Pope (196/189) — I was already a fan of KCP leading up to the season after seeing that he has apparently drastically improved his long range game. He had a freakishly good summer league performance where he averaged 24ppg, 7.4rpg and 1.8spg while knocking down 12 threes over the five games. His play had new coach Stan Van Gundy raving about his intensity, but it appeared KCP was destined to come off the bench behind Jodie Meeks until Meeks recently was injured and will miss about two months. Now, Pope will have a chance to play himself into a position where when Meeks does return, they can't take him out of the starting spot. Through three preseason games KCP has remained hot putting up 16.6ppg, one steal, more than two treys and shooting 51% from the field. KCP is worthy of being drafted in the late rounds of all leagues, the opportunity he has is too good not to roster.
Gorgui Dieng (129/135) – This is the kind of player I love to target late in drafts. Sure, he's a backup center, but it's as good of a backup job as it gets. In front of him is a guy built like a brick wall yet somehow is fragile, Nikola Pekovic. For those who play more fantasy football than hoops, Dieng is basically Sam Bradford's backup. Over the last three seasons Pek has missed 19, 20 and 28 games. This season, new coach Flip Saunders has put a minutes limit on Pek, limiting him to just 27 minutes per game. Pekovic is happy with that and thinks it will help him play at least 70 games, so he's already figuring himself out 12 games. Insert Dieng, who will play at least 25 minutes a game this season and anytime that Pek is out, he'll not only play 30+ minutes but also put up mammoth numbers. Even as a backup Dieng should be able to put up around 8ppg – 8rpg – 1.5bpg and when Pekovic is out 12ppg – 11rpg – 2+bpg isn't at all a reach. This is a guy you can "stash" but is still useful and will eventually become a fantasy gold mine.
Rodney Hood (500/156) — Last season 33-year-old Richard Jefferson managed 27mpg for the Jazz and he's now in Dallas, insert Utah rookie Rodney Hood. Hood started his college career at Mississippi State then transferred to Duke, having to sit one season out then playing for them in 2013-14. Why he chose Duke? "I feel like coach (Mike Krzyzewski) and the staff can get the most out of me as a player and academically," Hood said. "I liked the teammates and felt like we have a good chance to compete for a championship." Get the most out of him, yes! Compete for a title, not so much as Duke was upset in round one by 14-seed Mercer. Hood doesn't have NBA strength yet but he can manage because of his efficient shooting. He finished last season fourth in the ACC shooting 46.4% from the field and led the ACC in eFG% (effective field goal percentage) at 55%. Hood averaged more than 16ppg and hit two treys per night.
Hood likely will not start for the Jazz at least from the get-go with Alec Burks and Gordon Hayward starting at the wings, but it's very possible he could play his way into the starting unit with Burks returning to the sixth man role at some point. Either way Hood should get at least 25 minutes a night and be a late round scorer and 3-point padder for fantasy owners. 13ppg – 3rpg – 2apg – 2 treys is what I could see Hood doing in his rookie campaign. Expect some inconsistency early in the season as is the case with many rookies.
Rudy GOBERT (399/187) — This is my guy. I've been screaming it from my Twitter rooftop all summer, and while I've been hoping he'd keep himself quiet for our benefit, Rudy has flashed a couple of teasers this offseason. Although, I'm not sure it's been enough for the average NBA fan to even know his name yet. In this Summer's FIBA World Cup, Rudy played for France but didn't get a lot of playing time (avg 16mpg.) When France took on tournament favorite Spain and their trio of monsters (Pau Gasol, Marc Gasol and Serge Ibaka) France called upon their young (just turned 22-years-old) beastly GOBERT to try and slow them down. Rudy came through in a big way, helping hold Marc Gasol and Ibaka to a combined 1/11 shooting also snatching down 13 boards in 23 mins of play. Everyone saw just how good the 7'2″ 238lb Frenchman could be defensively.
While most focus on his shot blocking upside (averaged over 1bpg in the 14 games he played between 10-19 mins last season for the Jazz), Rudy is just as capable of dominating the glass. He showed this in a recent preseason game where he grabbed 20 rebounds in 21 minutes! The performance generated a good amount of buzz over Twitter and surely moved him onto savvy fantasy owner watch lists. Coming into his second NBA season, GOBERT should start out as the primary backup C behind Derrick Favors/Enes Kanter. As I've said numerous times, Kanter isn't a good defender and when he and Favors share the court together the Jazz are at a disadvantage defensively. Sooner or later new Utah Jazz coach Quin Snyder will have to change it to where Rudy either starts alongside Favors or is cutting more into Kanter's minutes from the bench. The Utah big man is very young, thus raw, but the upside even if he averages around 18-20 minutes to start the season is undeniable.
If you missed it you should really check out Zach Lowe's piece on Rudy's potential. You know you're doing something right if you catch the attention and get a full write-up by Zach. It's a fantastic and crazy in-depth look that should have NBA teams having nightmares of lions, tigers and GOBERTS, oh my.
For more fantasy basketball analysis and to answer any of your questions, follow Zack on Twitter @BigZack44.