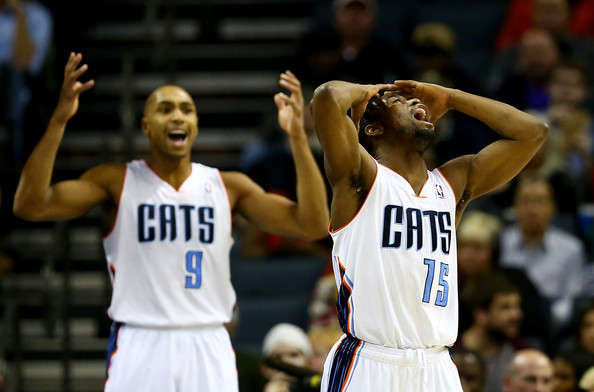 This article features strong fantasy players that just kill you in field goal or free throw percentage. There comes a point when you have to decide if the positives outweigh the negatives. It really all depends on your team's strengths and how it is constructed. No team can be good at everything. You need to pick and choose how you approach your season. If the foundation of your team is efficiency and fundamentals, these are guys to avoid. However, if you say screw the efficiency categories and just fill up the score sheet any way you can, these are your guys.
Field Goal Percentage: All of these valued players shot less than 40-percent from the field.
Brandon Jennings, DET
Jennings is a PG that can score in bunches. He can hit 3's with the best of them, his career average is 35-percent. Last season, he made 1.9 3's-per-game, which also happens to be his career average. Jennings has really worked on becoming a PG and passing the ball over the past couple of seasons. In 2011-12 as a Buck, he averaged only 5.5 assists-per-game. That number rose to 6.5 the following season. Last season, his totals went up again to 7.6.
The only issue with this is his scoring has dropped a bit. In 2011-12, he averaged 19.1 points-per-game. That number dropped  to 17.5 as his assists climbed then 15.5. Jennings also consistently chips in with steals; he has a career average of 1.4 steals-per-game. The issue with Jennings is his woeful field goal percentage. Last season, he shot just 37.3-percent from the field, while his career average is only 39-percent. Although he now shoots slightly less than his career average of 15.2 shots-per-game, he's still jacking up 14.2 shots. Very rarely does an NBA player miss as many shots as Jennings does. It speaks to his talent that his coach allows him to keep playing and to his lack of self-awareness as well. Rumors are he plans to cut back on the shooting and focus more on defense, 3's and dishing the ball out. We will believe that when we see it.
Ricky Rubio, MIN
Rubio is another stat sheet stuffing PG. He doesn't score all that much but contributes elsewhere. His scoring always hovers right around 10 points-per-game. He is an elite assists and steals threat, though. The Spanish born baller averaged 8.6 assists-per-game last year and averages 8.1 for his career. He also swipes the ball 2.3 times per game. Throughout his career Rubio has shot over 80-percent from the line but under 37-percent from the field. That is an impressively low field goal percentage. Despite the fact that Rubio chips in with more than four rebounds a game, his poor shooting knocks him out of the ranks of elite fantasy PGs. Otherwise, he'd be great. A better shooting percentage would lead to more points and prevent him from being a detriment to your team.
There are two other major factors you may want to consider before drafting Rubio. First the positive, Rubio is only 23-years-old and he has increased his field goal shooting percentage each year of his career. The young PG heading in to his fourth season has plenty of room for improvement. Now the negative. Rubio will no longer have the luxury of dishing the ball to Kevin Love. He will be surrounded by a bunch of very young players and his role should begin to change. Soon he will be forced in to a position of leadership and we will have to wait and see if he can handle it. The new look Timberwolves could be a very good thing or very bad thing for Rubio's fantasy production. It all depends on how he responds to it.
Kemba Walker, CHA
Walker is the best player in this section. The former NCAA Tournament MVP has shown flashes of greatness and continues to improve. Walker is the player in this section that we have the most faith in his ability to improve his field goal percentage struggles. This is because he has drastically improved his three point and free throw percentages in each of his NBA seasons. If you take out his career 39.8-percent field goal percentage, he is a big time player. He contributes in just about every other category. Walker has scored 17.7 points-per-game in each of the last two seasons. He also averaged more than six assists-per-game last season. Surprisingly, much like Jennings, he shoots pretty well form three. The former Huskie can steal the ball as well, averaging 1.4 per-game during his short career. The six-foot-one PG even chipped in last season with more than four boards-per-game.
Walker is another guy just on the outskirts of elite fantasy PG status. With the talent around him continuing to improve, he may be poised for a breakout season. He has always been forced to be a chucker due to lack of talent on the team. Now with the additions of players like Al Jefferson and now Lance Stephenson, the Hornets are a true playoff contender in the East. They will look to advance past the first round this time where they were swept last season by the Miami Heat. Walker may be worth risking the field goal percentage.
Free Throw Percentage: All of these valued players shot less than 55-percent from the line.
Andre Drummond, DET
Drummond is developing into one of the best young centers in the NBA. At just 20-years-old, his numbers last year were staggering. He averaged 13.5 points-per-game to go along with 13.2 boards. He scored with excellent efficiency, shooting 62.3-percent from the field. He also blocked 1.6 shots-per-game and averaged 1.2 steals. Then we get to his one massive flaw. His free throw shooting. He may be the most painful player in the league to watch at the line. Last season his free throw percentage increased to 41.8-percent from 37.1-percent. That is absolutely miserable.
He has probably reached his ceiling when it comes to free throw percentage. 41.8-percent is actually fantastic compared to what he did at UConn. In 2011-12 at Connecticut he shot only 29.5-percent at the line. That is incredibly bad. The bottom line still remains, if you are willing to just give up the free throw percentage, he's a tremendous young player. That's a major hit to take, but if you're willing to take it, you've drafted yourself a young star in the making.
DeAndre Jordan, LAC
Jordan finally put it all together last season and had the break out year Clippers' fans have been waiting for. With a whopping 13.6 rebounds-per-game, he led the entire NBA. He was also third in the league in blocks. He blocked 2.5 shots-per-game and added one steal as well. He has developed into one of the most dominant defensive forces in the league.
Offense, well that's not quite as good. He averages a respectable 10.4 points-per-game on an outstanding 67.6-percent shooting from the field. So far, so good. Until teams start hacking away on Jordan, much like another former center that used to play at the Staples Center. Opposing teams put him at the line where he is nightmarishly bad. Jordan shot 42.8-percent from the line last season, an "improvement" from his 38.6-percent performance the previous season. If you are building your team around boards and blocks, there may be nobody better in the league. If you are trying to build your team around free throw percentage, assists and points, you're out of luck here.
Josh Smith, DET
Last, but definitely not least, J-Smoove. The only thing more frustrating than watching the ultra-talented forward was watching how the Pistons tried to utilize him last season. Whoever decided Smith should be deployed as a three point shooting SF should be fired and banned from basketball. His numbers were pretty much down across the board last season, however, we all know Smoove is capable of stuffing a stat sheet. He is a freak athlete who, at times, demonstrates poor decision making skills. Smith can score, pass, rebound, steal and block shots. There is no doubt about it. He is a triple-double waiting to happen.
When it comes to efficiency that is where the problem lies. His shooting percentages are bad across the board, particularly last season. He shot only 41.9-percent from the field and a miserable 26.4-percent from behind the three point line. His 53.2-pecent from the stripe is equally poor. With new Pistons head coach Stan Van Gundy leading the team, we believe he will improve in the categories he's always been strong at. Last year was just a mess all the way around in Detroit. His efficiency may be a whole other issue. He can stuff a stat sheet, but will hurt your percentages. You may be able to buy low on him this season and take advantage of his major upside. He is a high risk, high reward fantasy and real life player.
For more fantasy hoops and football analysis, follow Mark on Twitter @CoolCutter21