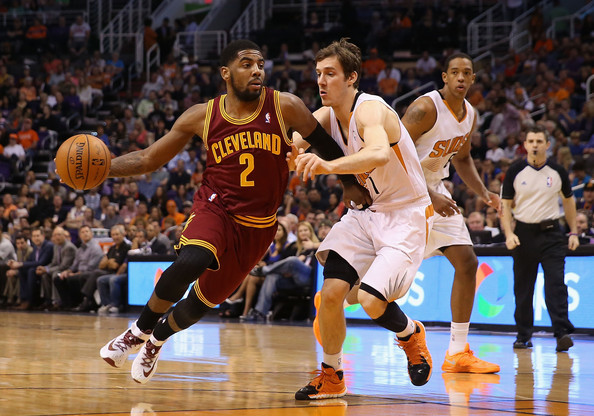 The 2014-2015 NBA season is set to commence on October 28 and the time to conduct fantasy basketball drafts is dwindling by the minute. With that being said, identifying your busts beforehand is the prudent thing to do for any ardent fantasy owner who aims to have success throughout the given season. One of the better ways to assess a players potential fantasy value is by examining the average draft position data. While ADP isn't the be-all and end-all of draft preparation as each draft is unique in and of itself, it gives you a general idea of where to expect players to be drafted.
A variety of factors come into play when evaluating why a certain player may be overvalued compared to other ballers. Free agency/trade additions, age, head coaches, contract years, injury, can all have a collective impact on the fantasy value of said player. For the purposes of this column the ADP data will be focused on Yahoo, which you can find right here. For context, ADP data from FantasyPros will also be included. You'll see each players respective ADP to the right of their name. Additionally, only players with an ADP inside the top 100 will be examined for the simple reason being you can't be too terribly overvalued coming after the first hundred picks. Without further ado, here are the 15 most overvalued players as of right now.
Kyrie Irving (15.1 Yahoo!/15.7 Fantasy Pros) – Unless you were living under a rock this summer, odds are you probably heard about the stunning acquisitions of LeBron James and Kevin Love for the Cleveland Cavaliers. When you add two of the best ten players in the league to your squad, you can imagine the domino effect it will have on Irving's fantasy value. Even as the alpha dog for the Cavs last year, Irving was only the 24th ranked player in a standard 9-cat Y! league. It surprises me that many expect him to provide second-round value again this year with Love and LeBron in tow after he barely did so last year. Here are his final 2013-2014 per-game averages: 20.8 points, 6.1 assists, 3.1 rebounds, 1.7 3PM, 1.5 steals, 0.3 BLK and 2.7 turnovers on 43 percent shooting and 86 percent at the charity stripe.
We all know what a great playmaker LeBron is with the ball in his hands and this will end up being detrimental to Irving's usage rate. Irving will likely see a dip in his points, assists, and free throw attempts and this is an unsettling development since he derives so much of his value from the aforementioned categories. Irving has gotten to the line nearly five times a game the last two years and that number will surely fall, although not enough for him to lose too much value since he sinks free throws at a 86 percent clip for his career. Theoretically, his FG% should increase with less field goal attempts and his turnovers should drop a hair, so those improvements could buoy his value. Perhaps the most glaring reason Irving should be selected with caution is his propensity for being injured. Over his first three NBA seasons, Irving has managed to play in 181 of 230 possible games. In other words, he's missed 21 percent of games in his career due to a myriad of injuries. While you certainly can't win a league with your first two picks, you can certainly lose it by making the wrong one. Early-round selections should have plenty of upside, but also a high floor. In Irving's case, don't overestimate his ceiling. If possible, avoid selecting him until the 3rd round.
Joakim Noah (24.9/28) – Make no mistake about it, Noah was a workhorse for the Chicago Bulls last year and his career-high numbers across the board led to him being the 19th ranked player in Y! leagues. The simple fact is the chances of him providing second-round value again are slim. Derrick Rose is back and Pau Gasol has been added to the mix as well so Noah will likely see his points, rebounds, and assists dip as he'll likely be the fourth option behind Rose, Gasol, and an emerging Jimmy Butler. He did shoot a career-low 47.5% from the field last year but with less shots he should see his field goal percentage rise to somewhere around his 50.4% mark for his career. His turnovers should fall below two a game and he will continue to provide 1.4+ blocks an 1+ steals a game. That's the good news concerning his fantasy value.
The bad news is the 29-year-old Florida alum is coming off offseason knee surgery and has been rather injury-prone throughout his career. It's extremely unlikely he manages to play in 80+ games again, a feat he has only accomplished twice in his seven-year career. Noah has played in 85 percent of a possible 558 games in his career and if you can get 70-75 games out of him that should be considered a success. The Bulls will likely try to limit his minutes to the 30-33 range rather than the 35+ it's been the last few years due to his knee injury and notable depth in Taj Gibson, Nikola Mirotic, and Doug McDermott. Noah should be able to post top-40 value once again, but it's a stretch of the imagination to think he'll be worthy of a top-25 pick with the altered circumstances this year. There are much safer picks in the second round.
Goran Dragic (26.3/26) – The Dragon was a thrill to own last year and will continue to be one of the most exciting players to watch in the uptempo Phoenix Suns offense, just don't expect him to be the 28th ranked player again. My issue here doesn't have as much to do with Dragic, the ADP is the culprit. He has a much better chance to return value in the late third or early fourth round compared to the second. While Dragic provided first-round value when Eric Bledsoe missed a sizable amount of time, he was a fourth-round value upon his return. The Suns also acquired fellow point guard Isaiah Thomas in the offseason and while he won't challenge for the starting job, he's a dynamite player and don't be surprised to see Dragic play a few less minutes.
It will be hard for Dragic to supply second-round production even if an injury occurs to either Bledsoe or IT2 because unlike last year when there was an injury, he won't have the backcourt all to himself this season. Even so, this is a 28-year-old who is at the peak of his career and he remains one of the safer picks come draft day. Lower expectations a tad, but a 18-3-5.5 line with 1.5 3's, 1.5 steals and good percentages (48 percent FG%/75 percent FT%) can be considered a reasonable baseline. Dragic and the Suns thrive in the fast-break and with the team aiming to lead the NBA in pace, the Dragon will be a high-floor option as he contributes across the board.
Brook Lopez (30.5/48) – While the FantasyPros ADP provides a more reasonable draft position for Lopez, especially due to his recent foot sprain, it seems owners at Y! haven't adjusted as much yet. Last Wednesday, Lopez sprained his foot in the Brooklyn Nets preseason game and was quickly ruled out for the next 10-14 days. Foot problems have been a major bugaboo for Lopez throughout his career and an injury to his right foot ended his season prematurely last year. To say this recent development with his right foot is disheartening would be an understatement. The 7-footer is one of the most gifted centers in the league but he just hasn't been able to stay healthy throughout his career. It's not a mistake that many of the players on this list have trouble staying on the court.
Lopez will not be on any of my teams because he just too risky of a player to spend an early-round pick on at this point. It's rather remarkable looking back that he played in all 82 games the first three years of his career. Since that time, he's only played in 41.7% of Nets games. Lopez provides stellar FG%-FT%-BLK-PTS with minimal turnovers and while his rebounding and steal totals are underwhelming, he's a great fantasy play when on the court. With that being said, it would take a lot of guts to select him within the first five rounds based on the recent developments concerning his troublesome foot.
Deron Williams (33.6/41.7) – After battling ankle injuries the past few years, Williams had dual surgeries in the offseason and by all accounts is feeling great as he prepares to embark on his 10th NBA season. D-Will had a nightmare season in 2013 though as his ankle injuries played a huge factor in him tallying his lowest points (14.3 PPG), assists (6.1), and rebounds (2.6) averages since his rookie season. He was only the 56th ranked played in Y! leagues but he should be a top-50 option if he can improve upon the aforementioned categories he struggled in a year ago. It's worth mentioning that since averaging 10.7 assists in 2008, his average has fallen each of the last five years. Even so, improving upon his career-lows across the board last year should be easier to accomplish with improved health and the departure of Paul Pierce.
The problem here has more to do with him being injury-prone the last few years combined with his inflated ADP. He's still only 30 and has the talent to be worthy of a third-round pick but the question is if whether his health will allow him to do so. It's a big if.
Dwyane Wade (35.9/36) – For someone who hasn't played more than 69 games the last three years and has missed roughly a fifth of 886 games over his 11-year career, owners sure seem to have a lot of confidence in Wade as evidenced by his ADP. If he can play in 70+ games, "Flash" could certainly live up to his draft day billing with increased responsibilities on offense with the departure of LeBron. It's tough to have confidence in him reaching this feat though since he hasn't met the threshold since the 2010 season. When he's not dressed in a suit on the bench he continues to be an effective player and should have no problem returning to averaging 20/5/5 with 1.5 steals, 0.5-1 block, 50 percent shooting and a respectable clip from the line. The career 49 percent shooter has eclipsed the 50 percent mark from the field in three of the last four years and is one of the best guards to own when it comes to FG%. Wade is also one of the top players to own when it comes to free throws due to his healthy amount of FTA and he should go back to averaging six to eight attempts per game as the primary offensive option along with Chris Bosh.
There has even been talk of Wade increasing his three-point attempts and while it can't hurt his value to add the trey to his arsenal, his career-high was 1.1 3PM in 2008 and owners should consider additional threes as a bonus. In other words, the 28.9 percent career shooter from downtown isn't going to magically become a sharpshooter. The question for fantasy owners is to determine whether the headache Wade will likely cause due to his missed games is worth the potential reward. While Wade was a top-50 player last year, drafting him in the fourth or fifth round would be the advised play as opposed to selecting him in the third.
Rajon Rondo (40.4/42) – After missing only 12 games in his first four NBA seasons, Rondo has missed 123 games the last four years. He's played in only 60 percent of Boston Celtics games over that timeframe and it hasn't exactly led to much fantasy success. In fact, Rondo wasn't even a top-100 player last year and he's failed to even be in the top-50 the other three years. The 28-year-old struggled mightily last year as he set a career-lows in field goal percentage (40.3%) and steals (1.3). Injuries obviously play a large part in hurting his fantasy value, but so does his anemic FT%, lack of treys, mediocre average in points, and his alarming amount of turnovers. Rondo is a career 62 percent shooter at the line, so don't expect any miracles in that regard.
If you're drafting him it's obviously for his assists (8.8 career average), steals, and and nice rebounding totals for a guard, but other than those categories he doesn't help you out much elsewhere. Rondo is an infinitely better pick for owners punting FT% in H2H formats as his percentages and turnovers will kill you in Roto formats. It's preposterous that he has an ADP inside the top-50 considering his recent injury history and fantasy ineffectiveness. It's worth mentioning that a report came out today suggesting Rondo (hand) has a chance to return on opening night so owners who drafted him thinking he'd be out the first 10 games or so might have caught a big break. Still, picking him around 65-80 or later would be the advised course of action rather than spending a top-50 pick on someone who hasn't delivered that value in four years.
Ryan Anderson (46.2/70.3) – Look, all the kudos goes to Anderson in his quick recovery from a frightening spine injury last year that limited him to 22 games played. He's one of the best shooters in the league and his stroke is a thing of beauty. Problem is, Ryno just can't stay on the court for fantasy owners. In his six seasons, Anderson has only played in more than 66 games one time. Anderson is likely to come off the bench this year as the New Orleans Pelicans sixth man and while that's not necessarily a bad thing, he's not going to come close to seeing the 36.1 minutes a game he did last year. The arrival of Omer Asik has a lot to do with that. Ryno provides a solid amount of points and rebounds to go along with a boatload of threes and sterling free throw percentage, but he doesn't do much else. He's a great pick if you're in need of threes but he also carries considerable risk. Coming off an injury and having earned the injury-prone label in his career, don't get your hopes up of him playing in 70+ games. Reaching for him might come back to haunt you.
Tony Parker (58.6/52) – Parker is a great example of being a better real life player rather than a great fantasy player. Factoring in his 14 games missed in 2013, Parker was only a 10th-round value yet his ADP this season remains mysteriously high. It's well known that the Spurs like to limit the minutes of their best players in order to preserve them for the playoffs and while this is a recipe for success for the team, it spells trouble for fantasy owners. Averaging 3.5 less minutes per game compared to the 2012 season, Parker posted career-lows in rebounds (2.3) and steals (0.5) while also posting four-year lows in both points (16.7) and assists (5.7). More bad news for Parker is that the Spurs seem ready to increase the usage of Kawhi Leonard on offense so Parker will likely see his 25.9 usage rate from a year ago decrease.
Furthermore, TP has only played in 83 percent of the Spurs regular season games over the last five years and also hasn't played 70+ games since 2010. He obviously will continue to provide solid totals in points and assists to go along with his great percentages, but his lack of threes and steals for a guard is an ominous sign for his fantasy value. We've likely seen the best of the 32-year-old Frenchman and it will be tough for him to provide value if you spend a pick on him in the first five rounds. He's a better bet to provide a profit in the sixth round or later.
Josh Smith (74.2/59) – To say Smith was a massive bust last year would be an understatement. J-Smoov ended up being the 135th most valuable player in 9-cat leagues last season, good bad enough for 12th-round value. Smith set career-lows in field goal percentage (41.9%) and blocks (1.4) while also posting the second worst free throw percentage (53.2%) of his career. Not to mention his 6.8 rebounds per game was his lowest clip since the 2005 season. His horrendous percentage at the charity stripe crushes his value unless you're punting FT%. If I wasn't punting FT%, J-Smoov would be untouchable for any of my rosters.
Smith has also been battling out fellow big man Greg Monroe for starting duties and while Smith will likely continue to be the starter, it doesn't help that he'll have someone as talented as Monroe looking over his shoulder if his play continues to suffer. The Pistons have urged Smith to curtail his three-point attempts after shooting a ghastly 26.4% on 3.4 attempts per game last year and unless he does so, his FG% will continue to hover in the low-40's. He may be only 28 years old, but he's already been in the league 10 seasons due to him declaring for the NBA draft out of high school in 2004 and he has more mileage on his legs than most his age. Let someone else deal with this headache on draft day.
Zach Randolph (73/67) – Even with Marc Gasol missing a large chunk of the 2013 season due to injury, Z-Bo was only the 109th rated player in 9-cat formats. Want to know the last time he was a top-100 commodity? That would be the 2010 season. It seems owners are still reminiscing of his glory days as his ADP has yet to reflect his floundering fantasy value. Randolph is no longer a walking 20-10 performer and his 46.3% mark from the field over the last three years is nothing to write home about for a power forward/center. You'll be lucky to get 0.4 blocks per game out of him and it's tough to spend early-round picks on bigs who don't block shots. Don't expect him to replicate his career-high 2.5 assists per game again as that was largely a result of Gasol's absence as a major facilitator of the offense. Z-Bo essentially will only help you in points and rebounds. There's absolutely no reason to spend a pick on him within the first seven rounds.
Nikola Pekovic (75/75.7) – While Pekovic may like the idea of playing 27 minutes per game, fantasy owners will be raising their eyebrows over this troubling development after Pek averaged over 30 minutes each of the last two seasons. This move is indeed made in the best interests of Pekovic as he has dealt with lingering ankle soreness since last year and has always had problems staying on the court, but he was only the 75th ranked player last year. A loss of minutes, injury risk, and Gorgui Dieng ready to bust out at a moments notice are all reasons to knock Pekovic down your draft board. Pek has only played in 228 of 312 (73.1%) over his four-year career. Additionally, Pek is a very similar player to Z-Bo in the sense that he's essentially a two-cat player (PTS/REB), although he does own a sensational 53.5% mark from the field in his career. With that being said, there aren't many riskier selections on draft day than Pekovic. If you do pick him, handcuffing him with Dieng is a must.
Brandon Jennings (85.7/59.7) – It's certainly interesting that the experts value Jennings much higher than the folks at Yahoo, but I tend to side with the Y! ADP in this particular instance. Jennings had a horrendous season that led to him being the 118th ranked 9-cat player last year and it was due to a variety of factors. The five-year vet averaged his lowest points (15.5), steals (1.3), and field goal percentage (37.3%) since his rookie season and his 75.1% mark from the free throw line was a career-low as well. His 2.7 turnovers per game was a career-worst figure as well. Jennings has only shot better than 40 percent once and is a career 39 percent shooter. Don't expect the arrival of Stan Van Gundy to completely correct that major flaw in his game as Jennings is still shooting an abysmal 28.9% from the field this preseason. While he does supply an ample amount of assists, threes, and steals, the aforementioned shortcomings in his game make him a nightmare to own.
Arron Afflalo (88.5/85.3) – The 29-year-old UCLA product is coming off a career year with the Orlando Magic last year but don't expect the magic (pun intended) to last this season. Afflalo's best season to date still only translated to him being the 85th ranked player and his situation is different from a year ago as he's now back with the Denver Nuggets. Afflalo will continue to be a nice source of points and threes for owners coveting those stats, but it would be foolish to expect him to be able to replicate the stats he posted last year. Afflalo will likely see a slight drop in assists as well since Ty Lawson will be the Nuggets primary ball handler. Additionally, he has missed an average of 11 games over the last four years. He can still be a solid pick at the right price, just make sure not to overpay for his services.
Tyreke Evans (88.1/79) – While a nagging ankle injury hampered Evans' effectiveness over the course over the 2013 season, there is no excuses for a player as talented as 'Reke to only be the 141st ranked player. Keep in mind that his ranking was still that low even though Anthony Davis, Jrue Holiday, Ryan Anderson, and Eric Gordon all missed ample time with injuries last year. While Evans is one of the few players in the NBA capable of averaging 15-5-5 with over a steal a game, he also provides mediocre percentages, minimal three-pointers, and he turns the ball over a lot. There are a lot of other players with more upside around this range and you shouldn't be expecting top-100 value on Evans so don't spend a top-100 pick on him.
Thanks for reading and be sure to comment below with any questions, remarks, or corrections you may have concerning the article. You can follow me on Twitter @MattMoczy.