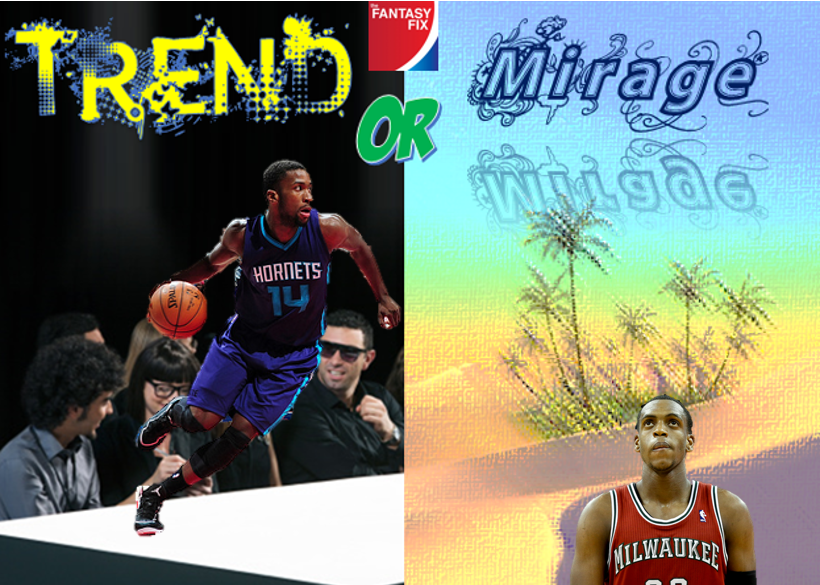 Know when to hold 'em, know when to fold 'em, know when to walk away, and know when to run.
Kenny Rogers waxing some whimsical genius there, but the words relate to fantasy basketball as much as they do poker.
Michael Kidd-Gilchrist – TREND
Kidd-Gilchrist is a legit lock-down NBA defender, but much like other defensive SF types like Tony Allen or Thabo Sefolosha, MKG didn't really bring enough to feed the statistical driven fantasy masses. I'm not saying he's going to do 17 points, 8 rebounds, 3 assists, 3 blocks and 75/83 splits every night – but his preseason gave us enough proof that Steve Clifford is going to play him enough minutes for him to rack up REB/STL/BLK. Any time you can find a potential 1+ STL and 1+ BLK guy on the waiver wire, stop what you're reading and evaluate why you're holding JaVale McGee or Terrence Ross.
Khris Middleton – MIRAGE
Middleton was a fantasy saviour last season as he filled the stat sheet up with golden percentages  and a decent three point stroke, despite being undrafted by everyone except his mom. But that was last year – where there was no Jabari Parker, no (seemingly sane) Larry Sanders, no "Coach" Jason Kidd, Giannis couldn't buy beer yet (wait that's still true for like 6 more years it seems), and Ersan Ilyasova left his shooting stroke back in Turkey. Kidd's rotation sounds like it will be a deep one and with so much talent and youth around him it could be Middleton squeezed from the 30+ minute mob, which will drop his value immensely.
Devin Harris – MIRAGE
Let me take you back to a time when Devin Harris was a legitimate first choice fantasy PG. He had (ironically) been dealt from the Mavericks to the Nets after a promising season, but it was the following All Star season which saw his production sky-rocket to elite levels. But that was years ago. Rick Carlisle's system of crisp passing, small-ball tinkering and hitting the open man worked a treat on opening night for Harris, as he chipped in 17 points and 5 assists. It took him his first three total games to hit those stats last year, while the signing of Dallas favorite JJ Barea will only reduce his minutes further. Don't add Harris or Barea unless you're in 20 team leagues.
Norris Cole – TREND
For all the fanfare about how well Mario Chalmers did last year, it seemingly went un-noticed by the most important man on the Heat, Eric Spoelstra. Cole was a statistical demon in College, while his career stats as a starter are solid but not spectacular  at around 13pt/3.5reb/4.5ast/1.0stl/1.0x 3pt. He's got the job for keeps if he can build on his opening night 23 point performance (in just 27 minutes). It triggered a bazillion adds across fantasy formats, so this is looking like a trend rather than a mirage.
Marvin Williams – MIRAGE
A good first up effort of 19 points, 4 rebounds and 3 assists, along with stellar 8-12 shooting from the floor – but this is Marvin Williams remember. He's a solid plug if you need some threes and FT%, but he's not going to consistently put up the scoring stats or FG% he did against the Bucks, nor is he going to try and stuff it on Giannis again! Williams' career stats indicate he's 90% likely to get his averages of 10.8 points and 5.1 rebounds, that's what you can expect but add in around 1.2-1.5 threes per game.
As always we welcome your feedback, so feel free to hit me up on Twitter (@macetastic) and I'll do my best to reply to any comments.