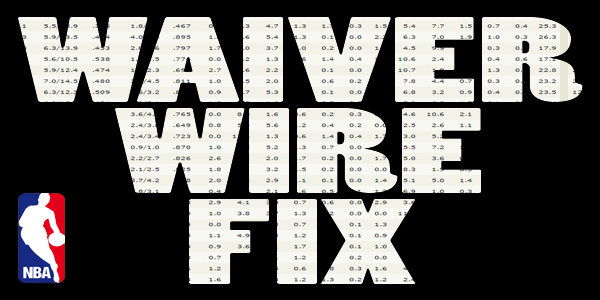 Welcome to the week 18 Waiver Wire Fix. Be sure to check back here every week for the duration of the fantasy hoops season for more wire targets. I've begun breaking the column down according to player types. This should help you find the player that best fits your team's specific needs. There will be different categories every week, so I hope you enjoy the new format. If you're not sure if you should drop a certain player from your team for one of these targets, then shoot me a tweet and I'll give my two cents.
I only discuss players that are owned in less that 51% of ESPN leagues. I also won't repeat players that I've mentioned in a previous column unless it's absolutely needed because they've leaped into an even better opportunity. This all said, if any of these players are available in your league you should grab/consider them: Nerlens Noel (owned in 55% of ESPN leagues), Enes Kanter (54%), Jarrett Jack (47%), Rudy Gobert (52%), Eric Gordon (51%), George Hill (50%), Robert Covington (50%), Khris Middleton (48%), Louis Williams (45%), Timofey Mozgov (42%), Robin Lopez (40%), Mo Williams (39%), Trey Burke (36%), Elfrid Payton (36%), DeMarre Carroll (33%), Danilo Gallinari (32%), Manu Ginobili (28%), Paul George (28% – Stash if you're playoff bound), Rodney Stuckey (26%), Gerald Henderson (25%), Amir Johnson (20%), Jusuf Nurkic (18%), O.J. Mayo (15%), Langston Galloway (16%), Isaiah Canaan (14%), John Henson (14%), Wayne Ellington (12%), Matt Barnes (10%), Kelly Olynyk (10% — stash option), James Johnson (9%), C.J. Miles (6%) and Wesley Johnson (3%).
Chicago risers:
Tony Snell (12%) – With Jimmy Butler being shut down with an elbow injury for 3-6 weeks, welcome Snell to the stage of relevance again. If you look at his overall stats as a starter, you won't like what you see as he was pretty terrible even in 29 minutes. But he's been getting better as the season has gone on and in his last ten games (only two of which he started) he's played 30 minutes and averaged 13.5 points, 3.2 boards, 0.6 steals, 2.7 treys and shot 57% from the field. Now with Rose and Butler out, Snell should see even more playing time and thus amp up his production although there's sure to be some inconsistency. He's worth a speculative add in 12-team and deeper leagues.
Nikola Mirotic (9%) – Another guy you can find upside in for Chicago due to their compiled injuries is Mirotic. With Taj Gibson sidelined on top of the injuries keeping Rose and Butler out, Mirotic will see a nice jump in playing time. When Mirotic has played more than 26 minutes this season (15 times) has averaged 15.1 points, 7.8 rebounds, 1.1 blocks, 0.8 steals and 1.9 3-pointers with plus-percentages as well. Gibson will likely only miss a couple of weeks and when he's back Mirotic will likely go back to his lesser role, but I'd be all for using him while he's useful.
Point guards:
Jeremy Lin (24%) – Don't look now but 'Linsanity' may be back! OK, let's not go that far but there's no doubt the Harvard alum is playing good ball right now. In fact, over the last six games in 28 minutes a night Lin has produced 18 points, 3.3 boards, 5.5 dimes, 1.3 swipes, 1.2 treys while shooting an uncharacteristic 51%, as well as 76% from the charity stripe on five FTA a night. Lin may not stay this hot from the field but he's worth grabbing in all leagues right now to see if he can hold value the rest of the way.
Ray McCallum (5%) – McCallum has taken over as the starting point guard in Sacramento the rest of the way with Darren Collison finished, and we thought that'd equal 30+ minutes a night. But the Kings dealt for new head coach favorite Andre Miller who has basically split the PG duties in half. McCallum gives consistency in a category that's not always easy to find help in though, assists, even if it's just 4-5 a game, it's still steady dimes. Over the last five he's put up 12 points, three boards, four dimes and one steal, so nothing to win you a title but it's not bad and he's capable of prying more minutes.
Specific stat specialists:
Kentavious Caldwell-Pope (15%) – KCP has looked like the sleeper I thought he'd be lately but it was a rocky road up to this point to say the least. In his last six games, the sophomore pro has lit it up to the tune of 17.2 points, snatched 1.2 steals, swatted 0.5 shots and poured in a crazy 3.2 treys a night while shooting 45% from the field and 73% from the line. If you need points, steals and threes down the stretch he looks to be a great source.
Will Barton (7%) – This one comes with a warning of caution because today the Nuggets fired head coach Brian Shaw, so there's no telling what the temporary interim coach will do as far as rotations. Before Shaw's firing Barton was on a real heater since coming to the Nuggets in the Arron Afflalo trade with Portland. In his first five games in Denver Barton was sitting at a cool 16.6 points, 5.4 rebounds, 1.8 assists, 0.8 steals, 1.4 treys while shooting 49% from the field and 85% from the stripe — where he was shooting over four free throws a night. So, before you pounce here, monitor the situation. They are playing as I write this and Foye started at shooting guard with Barton off the bench and at half Barton has played 13 minutes to Foye's 10 but neither has done much.
Jae Crowder (9%) – Crowder isn't anything overly sexy especially since he's shooting at 40% from the field, but he's getting 28 minutes a night and producing well in three categories — points, threes and rebounds. He's a wing man grabbing down eight boards a night over his last six while also knocking down 2.2 trifectas. If those are areas you need help in and you can take the hit in FG%, he's worthy of a look.
For more fantasy hoops analysis and to have any questions you may have answered, follow Zack on Twitter @BigZack44