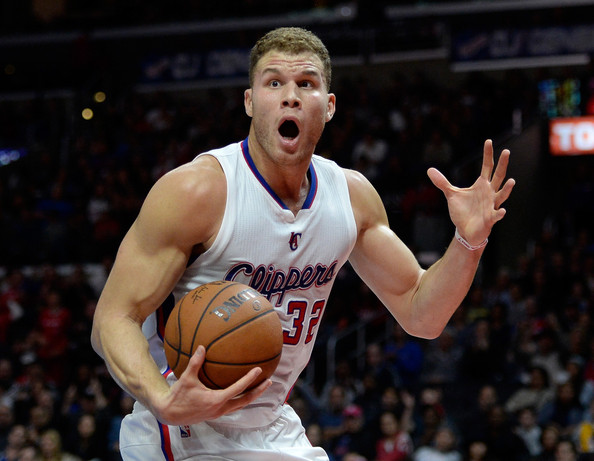 Welcome to the Week 11 Buy/Sell report, everyone. As we approach the midway point of the fantasy basketball season, player values and how you place in the standings are starting to round into form. Trading to address your team's weaknesses is a great way to bolster your chances of not being caught by teams behind you in the standings or perhaps signaling the beginning of a turnaround for your season. A number of highly-touted players will be discussed in the ensuing paragraphs, so why don't we go ahead and get to the juicy stuff…right after a bit of shameless self promotion below.
You can follow me on Twitter right here.
Buy Low
Kawhi Leonard (19) – 15.2 PTS-7.6 REB-2.5 AST-0.9 3PM-2.0 ST-0.8 BLK-45.4% FG-77.8% FT
Before tearing a ligament in his right hand, which has prevented him from playing in a game since Dec. 15, Leonard was putting up second-round value and was certainly living up to owners expectations after getting off to a slow start due to his eye infection. Compared to last year, Leonard has increased his averages in points (+2.4), rebounds (+1.4), assists (+0.5), and steals (+0.3) while his only noteworthy declines have come in field goal percentage (-6.8) and 3-point percentage (-6.8). His drop in field goal percentage can partially be attributed to his early-season vision issues as well as the sore right hand he eventually suffered a torn ligament in, but his career-high 12.3 field goal attempts per game has played a role as well. With that being said, Leonard is a career 49.8% shooter from the field and is a good bet to improve on his current standing in that department once he gets back on the hardwood. His marks in points, rebounds, assists, and steals would all represent career-highs, and his 2.0 steals per game would be tied for the 4th-best figure in the NBA if he played enough games to qualify.
Last Tuesday, a report from Adrian Wojnarowski indicated the 23-year-old is likely to return within the next two weeks as the inflammation in his hand has finally started to lessen. The report also mentions he would start light shooting this week and Spurs beat writer Jeff McDonald confirmed this in a tweet saying Leonard started doing just that. These recent developments are very encouraging considering there weren't many positive updates in the weeks leading up these announcements and the Spurs sure could use the reigning NBA Finals MVP back on the floor. While "The Claw" still doesn't seem to get the proper big-name recognition in fantasy circles whether it be because his name doesn't come up in mainstream media often (byproduct of playing for Spurs) or his box score production simply not jumping off the screen, the fact of the matter is he's a multi-cat stud who can help your team in a variety of areas. If you can find a disgruntled owner who simply can't afford or doesn't want to wait for his impending return, pounce on the opportunity to potentially acquire a top-15 commodity. It may be hard to pry him from owners if they've already hung onto him this long, but a small buy-low window has opened up and surely there are some Leonard owners out there who would be willing to trade him considering he's been a headache to own so far this season.
Chris Bosh (29) – 21.6 PTS-7.8 REB-2.1 AST-1.5 3PM-1.0 ST-0.7 BLK-48.2% FG-76.3% FT
Prior to his outburst last night, in the five games Bosh had played since returning from his eight-game absence due to a calf strain, he was averaging 19.4 points, 6.0 rebounds, 2.2 assists, 1.6 3-pointers, 0.4 steals, and 0.0 blocks on 45.3% from the field and 67.7% from the free throw line. As you can see, his production in points, rebounds, steals, blocks, and free throw percentage have all taken a turn for the worse recently. While those numbers aren't too bad, owners who were used to his steady second-round production have certainly been left disappointed with his recent play as he's only ranked 79th in 9-cat formats over the last two weeks. With zero blocks in his last five games, it's his longest streak without a block since a six-game stretch from Nov. 1-Nov. 9 earlier this year. While his recent play hasn't been encouraging, Bosh is likely just working his way through a mini-slump and a buy-low window has emerged.
For starters, his 1.5 3PM is the best mark of his career and is tied for the 11th-best mark in the NBA among power forwards. It's a real boon when you have a big man who can nail 3-pointers without sacrificing too much in the way of field goal percentage. His 40 percent mark from deep would also be a career-high and it becomes all the more impressive considering he's launching a career-high 3.8 3PA. Additionally his 7.8 rebounds would be his highest mark since 2011 while his 2.1 assists would be his highest output since 2009. The departure of LeBron James has opened up a lot more opportunities on offense as his 28.6% usage rate would attest, compared to his 22.6% usage rate a season ago, and his 21.2 points per game would be his highest mark since 2009.
While his field goal percentage has dropped 3.4% from last year, he's also averaging 4.1 more shots per game (+1.0 3PA), so one can understand why his efficiency has slightly decreased. Taking the aforementioned points into account, Bosh owners shouldn't fret too much over his recent cold spell as he's largely been money in the bank for owners this year. Another potential factor down the road which could further enhance his fantasy value is the possibility of Dwyane Wade being injured and/or shutdown if the Heat fall out of the playoff picture. Bosh is obviously already a must-start player but anytime Wade receives DNPs it opens up more chances for Bosh, and he could flirt with first-round value if D-Wade were to ever miss an extended period of time. Try to acquire Bosh for a discounted price before it's too late.
Kelly Olynyk (98) – 11.4 PTS-5.3 REB-1.9 AST-0.9 3PM-1.0 ST-0.7 BLK-51.3% FG-69.8% FT
Before his breakthrough performance on Saturday night against the Raptors (23-5-2 with two 3PM and two steals on 8-11 FG) and decent showing on Friday night against Pacers, Olynyk had been a complete disaster over his prior four games. During those four games, Olynyk only mustered up averages of 3.2 points, 2.7 rebounds, 0.7 assists, and 0.0 3PM on 30 percent shooting from the floor and he failed to play over 21 minutes in each game. Is that good? Thankfully for owners, Olynyk lit up the boxscore last night and his 30 minutes of action averaged over his last two games is especially encouraging considering his recent downward trend in that area.
Further helping his cause is the fact the Celtics traded Brandan Wright to the Suns, and while he wasn't playing too many minutes, he was muddying up the rotation at the center position. With Tyler Zeller his only real competition for minutes at center now, Olynyk should have no problem playing at least the 25 minutes he's averaged on the court this year. Additionally, Jeff Green has been traded to the Grizzlies, and while he doesn't play the same position as Olynyk, his departure will free up 14.4 FGA so he may see a few more scoring chances per game as well. Additionally, the 23-year-old Gonzaga product is likely to see his mark from the charity stripe increase considering he shot 81.1% from the charity stripe in his rookie season last year. While he's certainly not the flashiest player to own, he was providing mid-round value earlier in the year and top-75 value is certainly attainable down the stretch on a Celtics team desperate for scoring.
Sell High
Blake Griffin (54) – 22.7 PTS-7.7 REB-5.0 AST-0.9 ST-0.4 BLK-49.2% FG–71.4% FT
While Griffin has been putting up some huge popcorn lines lately and has seemingly been going off for over a month, he's only ranked 45th in 9-cat formats over the last 30 days and this raises some red flags regarding his fantasy upside this season. Check out his gaudy averages in the month of December below for a point of reference below.
| | | | | | | | | | | |
| --- | --- | --- | --- | --- | --- | --- | --- | --- | --- | --- |
| Month/Stat | G | MPG | PTS | REB | AST | ST | BLK | FG% | FT% | TO |
| December | 17 | 36:10 | 22.6 | 8.1 | 6.0 | 1.1 | 0.8 | 48.0 | 71.8 | 2.6 |
The assists jump off the page, and he is well on his way to obliterating his previous career-high of 3.9 assists he set with the Clippers last year. In fact, his 5.0 assists per game this year ranks as the second-best figure among power forward eligible players in fantasy, trailing only LeBron James. While his improvement as a passer is good news for his fantasy value, it might not be enough to vault Griffin to top-50 value unless he can increase his efficiency from the field and grab more rebounds.
The fifth-year pro out of Oklahoma has seen his field goal percentage drop from 52.8% last season to 49.2% this season and it can largely be attributed to his increased reliance on the mid-range jumper. According to NBA.com/stats, 26.9% of his points have come from mid-range jumpers this year after only 17.8% of his points came on those shots last year. Last season, Griffin shot 172-464 (37.1%) on mid-range jumpers and so far this year he is 116-298 (38.9%). That puts Griffin on pace to hoist 643 mid-range jumpers this year, and he could stand to shoot less from that area considering his efficiency has barely improved. Check out his shot chart in 2014-15 compared to his 2013-14 season below. Based on the two shotcharts, in addition to hoisting too many mid-range jumpers, Griffin has also seen his efficiency around the basket decrease.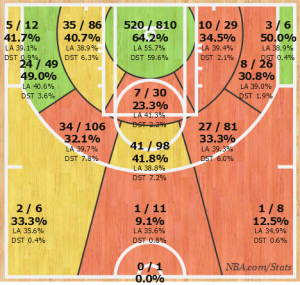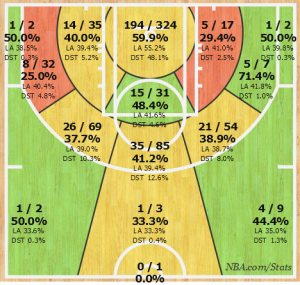 Spending more time away from the basket has clearly had an adverse effect on his rebounding as his 7.7 boards would easily represent a career-low. Griffin is only snagging 1.9 offensive rebounds a game and it would be the first time not averaging 2.0 offensive rebounds in a season in his illustrious career. Additionally, his averages in points (-1.4) and steals (-0.3) are down from a year ago and his lack of production in blocks (0.4) has always limited his upside as a PF/C type. It's not like his free throw percentage has been an issue either and he's averaging 1.3 less FTA per game so far this year. With all this being said, his aforementioned problem areas makes Griffin a prime sell-high candidate in my book. Due to his brand name and consistent popcorn lines though, you can likely get a top 25-40 player in return from an owner who may overestimate his fantasy upside.
Shabazz Muhammad (180) – 13.7 PTS-4.0 REB-1.2 AST-0.5 3PM-0.5 ST-48.8% FG-72.2% FT
It's undeniable Muhammad has been one of the better waiver-wire acquisitions on the year based on the fact he's been the 66th-ranked player in 9-cat formats over the last month, good enough for sixth-round value. His highlights include a career-high 30 point outing against the Jazz, two 28-point performances, an 18 point, 10 rebound game, and a streak of 11 consecutive double-digit scoring games. The man deserves his due and has vastly improved from his disastrous rookie season, and while I'm gushing over him now, I also believe the ball is about to drop out in regards to his fantasy value. All good things come to an end, and I'm afraid this may be the case here.
First off, Muhammad was limited in the second half of Friday's loss to the Bucks due to abdominal soreness, and he was limited to 12 points, two rebounds, and two assists on 4-9 FG (4-5 FT) in his 21 minutes of playing time. The injury caused him to miss Saturday's game against the Spurs as well. To add insult to injury (literally), Kevin Martin has a chance to return from his wrist injury this weekend and in all likelihood this would shift Muhammad back to the bench. Additionally, Ricky Rubio and Nikola Pekovic are set to return within the next few weeks and that means less shot attempts to go around. While he would likely see enough minutes off the bench to sustain low-end value, he's unlikely to provide much value to owners unless you're in need of points. Sell-high while you still can as Martin's return is likely to diminish his value significantly.
UPDATE: Muhammad is expected to miss the next two weeks with an abdominal strain. Plan accordingly.
Thanks for reading and thanks to ESPN, Yahoo, and NBA.com/stats for providing the statistical information. Be sure to comment below with any questions or remarks concerning the content of the article. You can follow me on Twitter @MattMoczy and I'm more than willing to answer any questions you have.