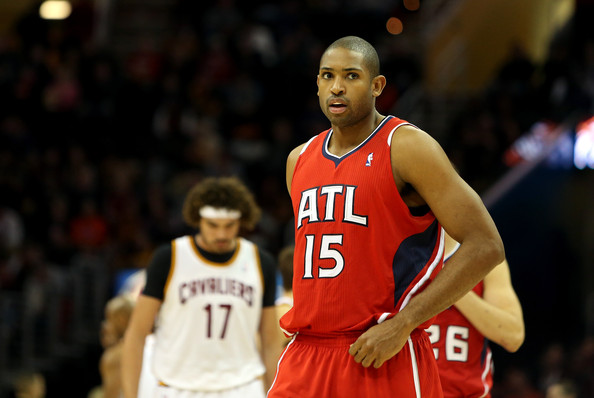 The man I call 'dependable Al' was off to his usual solid start to the 2013-14 season until December 26th when he left the Hawks game with what appeared to be a shoulder injury. Later we found out that it was instead a torn right pectoral muscle which reminded his owners immediately of January 2012 when Horford tore his left pectoral that caused him to miss the remainder of the season. This injury sadly also ended his season, but in 2012 he returned for three games during the playoffs but this time he was unable to return for the first round. The Hawks could have really used him, as they lost to the Indiana Pacers in an ugly seven game series.
The only good news about Horford having this injury previously is that we know exactly how he is capable of bouncing back. After missing most of the 2011-12 season Horford played in 74 games in the 2012-13 season. His counting stats in that next full season were actually his best as a pro, averaging 17.4 points (career high), 10.2 rebounds (career high), 3.2 assists, 1.1 blocks and 1.1 steals (career high). The downfall though was his percentages, where he shot .543 from the field (lowest since his 2009 sophomore season) and .644 from the free throw line, the lowest of his career by a good margin. Horford had never previously shot below 72% from the stripe, so that was a bit of a surprise. On average over his career, Horford has gotten to the line for three free-throw attempts (FTA) per game. So, even at 64% he's not going to totally destroy you in that category, and while 54% from the field is sub-par for him, it's not bad at all fantasy-wise, just a slight digression from his career rate.
Was the drop in shooting efficiency due to a change that the previous year's torn pectoral caused? Without checking deeper I was assuming his FG% simply declined due to his two field goal attempts (FGA) per game increase, and also that he played a career high 37.2 minutes a night (two minutes above his previous high). Then, I did some more digging and I'll show what I found via the shot charts of his last two full seasons before and after the first pectoral injury.
Above you see Horford's 2010-11 season which was the season before his 2011-12 injury.
Below you see Horford's 2012-13 season which was the season after his 2011-12 injury.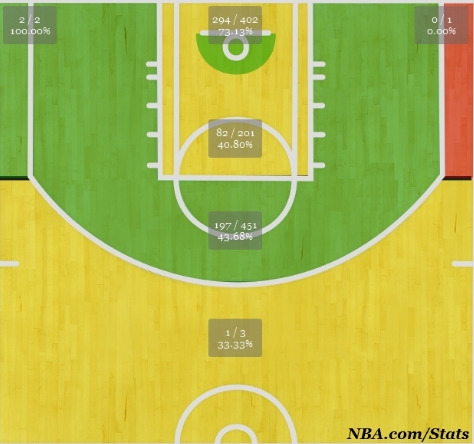 You instantly realize that in 2012-13 he shot way more at the rim than 2010-11, possibly indicating a lack of confidence in his jumper compared to other seasons. Of course it could also be that his coach simply told him he wanted him to get more shots at the rim rather than taking so many jumpers. Either way you look at it his numbers outside of the restricted area took alarming hits. Despite his drastic increase in shots at the rim, he still had just 21 less FGA away from the rim. So, he didn't totally abandon his jumper but he did demand the ball more and got it to the bucket a lot more often than in the past. Two extra FGA a game may not seem like much but spread over 70+ games that's an extra 140+ shots on the season. Luckily for his fantasy owners the majority of those added FGA were taken at the rim which at a 73% clip made up for the less accurate jump-shooting and made the drop in overall FG% hardly noticeable. It's also worth noting that through 29 games in 2013-14 Horford was on pace to go 292/388 at the rim at 75%, so it seems he was again dedicated to getting to the rim more frequently. While the drop in outside the restricted area shooting is worth noting, his increased number of layups makes up for it and makes the concern about his FG% basically non-existent.
Coming in to the 2013-14 season we all expected Horford to continue his consistent ways, and it seemed as though he was well on his way to doing just that through 29 games. We knew there may be a slight change with the departure of Josh Smith and the arrival of Paul Millsap, but besides being one rebound below his career average and his points being at 18.6—which was on pace to be his highest ever—he was pretty much same ol' dependable Al. Two seasons removed from his past pectoral injury he found middle ground on his FT% at .688 which is down from his career avg of .735 but up from the previous season coming off of the injury at .644 as well. That seems like a good sign except that this past seasons opening month Horford's FT% was at .654 but he salvaged that by shooting .742 in eleven December games. It's hard to place where he'll land this coming season from the stripe but if I had to put an over/under on it, I would say 67.5%. While 67.5% isn't amazing, it's not pitiful for a big man either and his low FTA/gm totals make it less concerning.
From November to December Al stepped his game up a level, so when the injury happened it had to make it that much more painful of a loss to his owners. Let's take a look at his 2013-14 November-December splits to show how he was finding his comfort zone and headed toward a dominant season:

Obviously anytime a player comes off of an injury that kept them sidelined the majority of a season there is reason for caution, but in Horford's case he's done it before and played a full season the next year and this is the opposite pectoral so not a repeat injury. He's shown he can play well alongside Paul Millsap and I believe Millsap helps Horford's fantasy game much more than Josh Smith did. Horford's renewed effort to get to the basket is a plus and his scoring should top his previous career high while his rebounds, assists, steals and blocks should all stay on par. It seems like Horford should be 32-years-old by now but he actually just turned 28 this summer, showing he's right in his physical prime. He's an elite big man in fantasy and should be drafted as such. Last season on ESPN Horford had an ADP of 27 and I feel that's pretty much where he should go again this upcoming season. He should go after bigs like Joakim Noah and Al Jefferson but ahead of David Lee and Chris Bosh. If he falls any in drafts due to re-injury fear or people forgetting how great he was, he could become a steal. Al has already decided not to play in the FIBA summer tournament which is another positive for us fantasy nuts. He should easily be 100% for camp and the regular season while poised to have his biggest statistical season of his career all-around. I wouldn't at all be shocked to see Horford crack the top 20 if he stays on the court all season.
Follow Zack on Twitter @BigZack44 for more fantasy basketball analysis and advice.