The Fantasy Fix's Zack Rewis has already mentioned this guy (multiple times I might add, jeez get a room Zack), but I'm going to bat him lead-off for this column (wait I wrote about him for the Fixies too…oh well).
Hood showed what he was capable of during the 2014 Summer League and he was more than ready to one-up himself this year's Summer League. It only took two games, but they were spectacular. He dropped 23 points with 10 rebounds and 4 assists on the Celtics, then a day later he had 18 points and 5 rebounds in just 26 minutes against the eventual Vegas champs, the San Antonio Spurs.
The Jazz seem to be bucking the trend of the new small-ball style sweeping the NBA landscape, as they plug two athletically gifted large mammals – Derrick Favors and the equally imposing Rudy Gobert – in at the PF and C spots respectively.
Neither Favors nor Gobert possess what you'd call a 'good' NBA jump-shot. Truth be told I'm not certain Gobert can't just take 1.5 steps from anywhere within the three point arc and dunk it; the man would stack up nicely next to an Albatross and an Andean condor in the wingspan department. Favors is no athletic slouch either, but again he isn't a reliable shooter outside of anything other than a dunk or a layup, as he shot just 36% from outside of 3 feet last year, including just 33% (66 from 202) from 3 to 10 feet (per NBA.com/stats).
The point of mentioning these big, athletic, offensively limited bigs is, they need a floor spreader to make them effective inside.
Dante Exum shot 31% from deep last season, on over three attempts per. Trey Burke led the Jazz with over five attempts per game from the outside, but he too shot a low clip at just 32%. Gordon Hayward is a better creator for his teammates, which leaves Hood as the main outside threat for a team brimming with talent.
Like any rookie, his inaugural NBA season was littered with some bad showings, but there were some great stretches like this mid-March showing (the Jazz went 4-0) and Hood put up 18.3 points a night, along with 3.3 threes and absurd 53% shooting from the field. How about this five game stretch where he averaged 20.2 points, 4.2 rebounds, 3.6 assists, 1.2 steals, 1.6 threes, just 1.0 turnover and epic 51% from the field and 91% (on 4.6 attempts!) from the line?
He actually stacks up rather nicely when you look from a purely aesthetic standpoint at some other rookie campaigns for southpaw shooting guards. He even won the Western Conference Rookie of the Month award for April after putting up 16.7 points, 3.4 rebounds, 3.4 assists, 1.7 threes, 1.1 steals and 45/91 splits. Cue needlessly overboard graphic: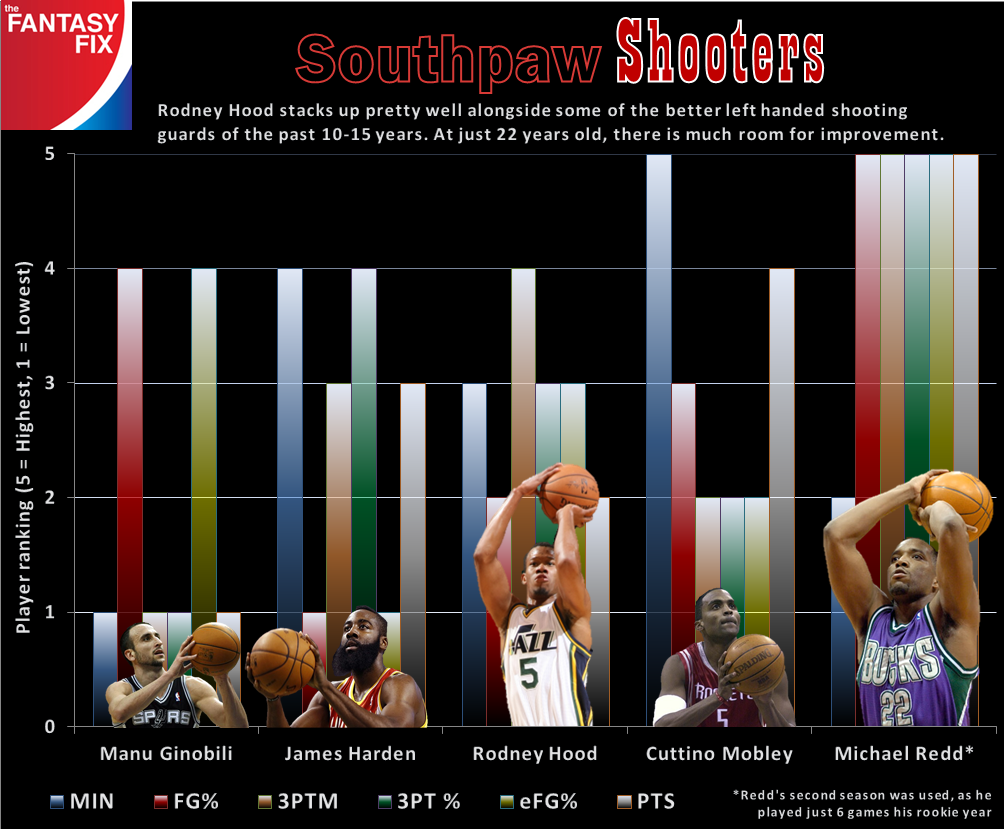 Alec Burks will be back, but many sites have already echoed what I feel – he's better suited to a bench role as the Jamal Crawford-Lou Will-JR Smith microwave scorer type. Burks is a very capable ball-handler as well, which means there's no reason he and Hood can't man the swingman positions at the same time as they're both very long and solid defensively.
Expect Hood to average 12-15 points per game with a large amount of threes, as he put up 1.2 per game at 37%, in just 21 minutes per during his rookie season. The other counting stats might be limited, but invariably if he's getting minutes in the low thirties, the other stats will follow.
The Trail Blazers exodus this off-season is something rarely seen in today's NBA. Three legitimate starters (Robin Lopez, Wes Matthews and Nicolas Batum) and one perennial All Star (LaMarcus Aldridge) all left the building in one way or another.
McCollum's calling card from the time he came onto the scene at small-school Lehigh University has always been scoring in bunches. In his four year career there he averaged a stellar 21.3 points, with 6.3 rebounds, 2.7 assists and 2.0 threes per game.
Quick question: Who led the Trail Blazers in scoring average over their last three postseason games of 2015?
LaMarcus Aldridge? Nope not him, he only put up 17.7 points per as he did his damage in the team's first two games.
Damian Lillard at 25.3 seems the obvious choice, no? Negative.
It was C.J. McCollum as he averaged 25.7 points per game, including 33 points – off the bench no less – in the Blazers' final game of the 2015 playoffs. He hit that mark on just 20 shots, due to a ridiculous 7-11 mark from the outside which helped him end his postseason with averages of 17.0 points, 4.0 rebounds, 1.2 steals, 2.2 threes (48% clip) and 48/77 shooting splits, whilst averaging 33 minutes per night.
Don't draft him expecting that, but the minutes should be there for him either as the main back-up at both guard spots, or as a potential starter if the projected (and already injured) starting SG Gerald Henderson isn't good to go.
If McCollum starts out quick, he's going to be very tough for the Blazers to keep under wraps as he lost most of his rookie season to injury two years ago.
Stauskas, Stauskas? What about Stauskas?
Yeah, Sauce Castillo, that guy. He's got a legit shot to get heavy minutes starting in his second season on a new team, alongside two lane-patrolling bigs (Nerlens Noel and Jahlil Okafor) and a shoot-first point guard who hasn't met a shot he didn't like (Isaiah Canaan).
The 76ers were an abomination from outside last season.
They had no less than SIX players take a minimum of 125 threes whilst making less than 32% of those shots – and two of them were traded halfway through last season (K.J. McDaniels and Michael Carter-Williams). The team hoisted 2160 shots from deep, which was good for sixth most in the league, but they converted just 32% of those shots – 29th in the league. Basically they were a Robert Covington or Hollis Thompson cold-stretch away from usurping the bottom place Hornets.
The problem with anointing Stauskas a fantasy asset is we have basically nothing to base our assertions on. He doesn't have a track history of producing when given minutes, but when he did get realistic 'starter' minutes last season, he did ok.
He played just six games of at least 25 minutes (a realistic playing time mark for a sophomore lottery pick on an awful team), and he averaged 11.5 points, 3.0 rebounds, 1.8 assists, 1.7 threes, 44% from the field and 85% from the line in those contests. They're actually pretty close to JJ Redick's first three seasons when given productive minutes for the Orlando Magic.
It doesn't seem far-fetched that he could produce those stats if given the chance, so if that's the floor then his ceiling is likely a fair bit higher especially as he plays within himself and doesn't force shots. Add him to your watch-list and monitor their preseason rotations.
Will Barton is built like a marathon runner.
There's not an iota of fat on his wiry 6'6" frame, but that doesn't stop him thriving when given minutes.
He was a very good player in College for the University of Memphis, excelling on the glass (career 6.5 per game) as an undersized swing-man due to his impressive athleticism, mostly playing small forward but with an eye on an NBA future at shooting guard.
When toiling away as a 2012 second round pick for the Trail Blazers, whenever he got a chance he took it and ran with it. Towards the end of his rookie season he showed what he was capable of, when he exploded for 22 points, 13 rebounds and 6 assists off the bench against the Mavericks. He finished his rookie year with a run of four straight games of at least 15 points, as he showed the Blazers that there was legit potential there and not just of the bust kind.
The Nuggets clearly liked what they saw after acquiring Barton this past trade deadline, as they re-signed him to a generous 3-year $11m deal, obviously seeing him as a part of their long-term future – perhaps in that frenetic Corey Brewer type role off the bench.
When he was traded to the Nuggets he immediately paid dividends for fantasy owners. He had a 20 game stretch where despite averaging just under 26 minutes per game, he was able to produce 12.2 points, 5.1 rebounds, 2.0 assists, 1.1 steals, 0.6 blocks, 0.8 threes, 47% shooting from the floor and 80% shooting at the line (3.2 attempts per).
Gary Harris or Randy Foye are likely ahead of him in terms of the starting shooting guard position, but Foye is likely trade bait this season and Barton can also help out at back-up small forward, so he'll have his chance at some point.
The Hawks lost a key cog in their well-oiled machine, with DeMarre Carroll bolting North of the border on an eye-popping $60m, 4-year deal. This likely means that next season we'll see more small-ball from the 60+ win Hawks, as Denis Schroder will likely play alongside Jeff Teague more often, with Shelvin Mack firmly entrenched as the third rung of the point guard totem pole.
Mack will bide his time, like he did last year, then he'll adjust to more minutes and his production will increase. In the nine games he played at least 22 minutes in last season (a figure he should see this year), Mack delivered some quietly solid fantasy production despite not starting a single game. His highlights included a 24 point outburst (in just 23 minutes) against the Cavaliers, which included 6-6 shooting from deep, and 12 points with 10 assists in just 23 minutes against the 76ers on January 13.
In those nine contests he averaged only 25 minutes per game, but he was able to put up 11.6 points, 2.2 rebounds, 5.8 assists, 0.9 steals, 1.6 threes (14-34, 41%) and just 1.6 turnovers a game. The shooting percentages were also strong at 46% from the field and 91% from the line, which bucks the trend with younger players as their percentages typically go down when given more chances.
This isn't a hot sleeper pick, nor is it a guy you need to draft late – but he's a name to keep in the back of your mind if Teague or Schroder end up on the shelf (or traded) at any point and Mack gains more playing time.
——
As always we welcome your questions and feedback, so feel free to hit me up on Twitter (@macetastic) and I'll do my best to reply to any comments.
Big ups to the amazing Basketball-Reference, for all the links and for de-railing me so often, all in the name of research.