2017-18 Fantasy Basketball: Dynasty Rookie Rankings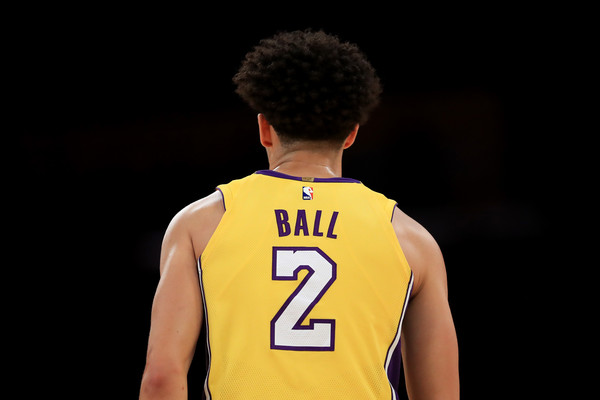 Your boy is back! After a much longer than anticipated break from the fantasy writing game, I am back and feeling refreshed like I was the first day I started this venture. I wish things had happened sooner with the season just two weeks away, but better late than never. And don't get it twisted, just because I have been away from the keyboard, doesn't mean that I haven't been just as tuned in to the NBA in all facets as I have always been. No time to waste, let's get to work.
First, we are going to conquer one of my favorite annual pieces, dynasty rookie rankings. I factor in all things here from college stats and how their game style may translate, what team the player landed on, long-term upside and more to rank my projections for fantasy from a long-term dynasty owner perspective. Some I will mention are better suited for a rebuilding team while others I will say are great 'win now' or draft to trade soon pieces. So, be sure to look beyond just the number ranking. All things equal though, this is how I rank this really talented 2017 NBA rookie class, shorter write-ups than usual because I have two weeks to get a lot of content out.
1) Lonzo Ball – PG – Los Angeles Lakers
I know, his dad can be really annoying, and that may have caused you to build a spot of hatred in your gut for Zo, but in the end, you'll hate yourself a lot more if you pass up on Ball in a dynasty league. Is his shot funky? Yes. Will his FG% be good early on? Hell no. but Lonzo is going to be a near triple-double threat early and often in his career, even if his points are on the low-end his rookie and maybe sophomore years. Look for Ball to use his length to get to the rim this season, but don't be frustrated that he is always looking to pass first, embrace those assists he piles up for you. I wouldn't sweat his sub-par FT% from college, he's shown better focus on that this summer and shot 77% in Summer League on just over four attempts per game. So, if you planned to pass on Lonzo because when you see him you think of LaVar, DO NOT STAY IN YO LANE.
2) Markelle Fultz – PG – Philadelphia 76ers
Fultz was actually my top rookie until this week. I'm not sure what the kid did to his shot mechanics, but he went from a pretty smooth shot to a robotic mess. I am sure he'll get that handled sooner rather than later, and I wouldn't rush to conclussions on his early preseason woes, looks more like nerves to me. Fultz can be the total package, the only thing that currently keeps Lonzo above him is that Lonzo isn't surrounded by usage whores like Ben Simmons (omg his passing is drool-worthy) and Joel Embiid.
3) Dennis Smith Jr. – PG – Dallas Mavericks
DSJ along with Ball may have the highest day one production due to jumping right into starting roles, and their teams saying already that they're the new leaders for the teams. Dennis is super athletic, I'm sure you have all seen his numerous videos on Twitter showing his mad vertical leap and throwing down sick dunks with ease. I usually like to fade the most commonly heard present/past player comparisons, but I think people are pretty on the money comparing DSJ to Steve Francis. He's going to be a really good, fun to watch player. We just want to see him improve his shot from beyond the arc (34% in summer league) and become more consistent from the foul line. He shot 71% and 70% from the stripe in college and summer respectively, and for a guy with explosiveness to get to the rim like this and drawing lots of contact, his team (and our fantasy teams) need him closer to 80%.
4) Jonathan Isaac – PF/SF – Orlando Magic
No, it's not just a homer thing… I have been super high on the upside of Isaac since last year. He's not the ideal pick for a 'win now' dynasty squad, but if you're in rebuild mode and/or want to shoot for the most overall upside, I think this is where you take Isaac. That said, if I were you and wanted Isaac, I'd trade down with whoever has pick 6 or 7 where you'd still be able to land him and get a little extra back in the deal. Isaac needs to add muscle weight, but he's on a path to be a really great all-around player. He could eventually block two shots and knock down two treys per game with a steal, it just may take him a year or two to get there. Right now his minutes won't be super high, but I see him earning more PT as the season goes on.
5) Jayson Tatum – SF/PF – Boston Celtics
I've been a huge fan of Tatum since his junior year of high school. I cringed when he chose to Duke, but unlike most Dukies, I just couldn't dislike JayTay. The reason he's not higher on this list is where he landed, in Boston. The Celtics roster is loaded with talent. His first couple seasons will likely be riddled with inconsistency and inefficiency, but over those first two years we'll see him grow tremendously as a player, and eventually become a top-40ish fantasy guy with top-20 upside.
6) De'Aaron Fox – PG – Sacramento Kings
Don't blink. If you do, you may miss Fox taking it coast-to-coast, because he is electric with the ball in transition. Fox has flaws, but he has a contagious leadership quality and work ethic that makes me confident that he can overcome his shooting woes. And those woes, are pretty bad. He can light up the box score (as seen when he absolutely torched Lonzo and UCLA for 39 points in the Sweet 16) by getting near the rim and not forcing up 3-pointers when they're simply not his specialty yet. While the Kings signing George Hill stalls the early going for Fox's stats, I think it's fantastic for his long-term. Hill is an ideal role model for Fox to learn from. I also think these two will eventually be able to play at both guard spots on the floor at the same time. He's not going to be John Wall good, but he's also not going to be Elfrid Payton, somewhere in the middle is still a quality player.
7) Donovan Mitchell – PG/SG – Utah Jazz
If you know me at all, you know that I am very pessimistic when it comes to players under 6'3″ who are more of a SG than a PG. Players like Buddy Hield, Ben McLemore and Jimmer Fredette were guys I was extremely low on coming into the NBA for that reason. It's just hard to play in today's NBA at that size at SG when most of the new age PGs are 6'3-5″, plain and simple. Mitchell though, is a damn fire cracker. He totally sold me on his transition to the NBA game over the summer. His passing is also way more advanced than it originally seemed coming out of Louisville, so he will be a hyprid. While under-sized on defensive end, it'll be tough for most two-guards to stay infront of DMitch on the other end, because he's got some nasty handles, quick penetration and an evil step back from deep. He's lethal and will be a solid 6th man type from day one for the Jazz.
8) Josh Jackson – SF – Phoenix Suns
Yeah, I'm lower on Jackson than most, I know. I see all the points of why he could be really great, but I am just not buying all in on it. His shot both from the mid-range, behind the arc and from the line are far from great. One bright spot is his passing. He could hold some fantasy relevance based off of just his decent boards, solid assists from a wing while pitching in his fair share of steals and blocks. He's a lot closer to Justise Winslow out of school than he is Kawhi Leonard though. Playing for the Suns who are full-on youth movement should keep him heavily in the rotation right away, but he's not going to be taking the starting gig from TJ Warren any time soon. If he develops his shot efficiency from the field and stripe sooner rather than later, I'll eat that crow.
9) Lauri Markkanen – PF – Chicago Bulls
Save your eye rolls for somewhere else. No, Lauri isn't a sexy feeling pick, but he has his own upside that is very intriguing. I already had him at 11 on my previous unpublished ranks, bumped him up a spot after seeing his skills shown off in EuroBasket for Finland. Lauri can shoot it inside and out, and he's really intelligent on the offensive end, knowing just when to roll off screens to the rim or step behind it and get an open J. It will be hard for Markkanen to shake two things throughout his career though: being measured up to Dirk Nowitzki just because he's a tall, slender Euro player, and being tied to the Jimmy Butler trade and if the Bulls won/lost the deal based on how he, Zach Lavine and Kriss Dunn perform/develop. Scoring, percentages, solid but not great boards and 1+ triple a game are gimmes for Lauri, I just really hope he can eventually improve on the defensive end to where he's getting about one steal and block a night.
10) Frank Ntilikina – PG – New York Knicks
Welcome to the realm of the unknown. From the outside looking in, it appears as though Frank is further along in the process than Dante Exum was entering their rookie years. Ntilikina also landed in a nice situation where he should become the starter at some point this season over vets like Ramon Sessions. Really he should start day one and let the growing pains begin, but I'm sure they'll ease him in. His passing has been impressive thus far, but he's very timid with the rock, afraid to make a mistake. Once he shakes that fear and plays more natural, he could start to develop his game, but I'd be lying to you if I said I knew exactly his upside. There's just not enough tape out there to go off of aside from practice shooting drills which make every player look good. This is the spot that I feel I'd take the shot on him and hope that he pans out as a long-time starter for the Knicks.
11) John Collins – PF – Atlanta Hawks
I could make an argument for taking Collins as high as seventh in a dynasty draft, but this is about where I have him all things equal. If you need a big more than a guard and/or want more production now than later, you absolutely take Collins over Ntilikina. JC is a very athletic 6'10" big man, and he's exciting to watch. He'll have plenty of highlight throwdowns this season and onward, but it's his rebounding ability that really draws you in fantasy-wise. 12 PPG, 9 RPG, 1 BPG with great FG% and solid FT% is where I see him in probably a year when he becomes a full-time starter. His role this season will start off the bench but in the rotation, but he's one injury to Ersan Ilyasova from seeing big minutes his rookie year.
12) Malik Monk – SG – Charlotte Hornets
Remember when I talked above about my phobia of non-PGs who are 6'3″ or under and lack high passing ability? That is where Monk falls for me, too. I will say this though, he's a good enough shooter from the outside, that he can overcome it a bit. Still, I see him as more of a sixth man type in the NBA than a great starter. He will definitely have games that make you feel like you need to rush to the wire and add him because when he's hot, he basically runs around the court trailed by a cloud of smoke like one of those steak fajita skillets at Chili's. I see Monk like Lou Williams with a lot more hops. He has the shot from distance and love to take it to the rack and get fouled so that he can knock down some freebies at a high rate. He's a safer guard selection than Ntilikina, and Monk should see extended minutes his rookie year with Nicolas Batum expected to miss the first couple months of the season.
OK, I'd love to keep cranking out write-ups on each player like above, but I need to speed this up a notch. So, below things we'll be a lot shorter and to the point.
13) Kyle Kuzma – PF – Los Angeles Lakers
I'm buying in. He's just looked too fantastic in summer league and the preseason to not feel like he's going to force his way into the rotation day one, and start gunning for a starting gig or at least first off the bench role. He makes it look easy out there. The shooting stroke from distance is money.
14) Caleb Swanigan – PF – Portland Trail Blazers
He may have been drafted well after the Blazers selected Zach Collins, but he's much more ready to play in the NBA day one than Collins is. In fact, it's quite possible that Swanigan has earned his way into the starting lineup already. Rebounding beast and a plus passer for a big.
15) Justin Jackson – SF – Sacramento Kings
Jackson comes in as an elder compared to most of these names listed, 22-years-old, but he developed a lot over his last two years at North Carolina, going to back-to-back National Championship games, winning one. Can fill-up a stat sheet, but will need to show he can create at the pro level. Could possibly start right away because the Kings lack at SF, unless they go under-sized.
16) Jarrett Allen – C – Brooklyn Nets
Allen may not get big minutes (if any) right out of the gate, but these are dynasty rankings for a reason, you have to look beyond year one. Allen has a lot of potential once he gets his jumper more consistent, and his size and strength will go a long ways to helping him emerge sooner rather than later. FT% is a fantasy issue to note though (56% in college). High rebound and block upside as he matures.
17) OG Anunoby – SF – Toronto Raptors
I'm a big believer in OG, but I wish he had landed in a little better of a spot. He slipped in the draft due to coming off a torn ACL, he missed summer league and the preseason, but he's nearing a return. They'll be very cautious with him. He's a great defender, very athletic, but needs to improve on gross FT% (52% in 50 college games). Not against taking him as high as 13.
18) Zach Collins – C – Portland Trail Blazers
You need to have patience with this one, but the 7-footer hustles constantly, always aware of what is going on and ready to make a big play. He needs work offensively, but you can see the tools needed, he just needs to be taught how to use them. Tough on the glass and great timing on his blocks, quick off the floor, solid upside in those areas.
19) Harry Giles – PF/C – Sacramento Kings
This is a bit of a wildcard. Giles was a freak in HS, very highly touted, but he tore his ACL twice, and that's why he never looked full-go at Duke. He's Mr. Precaution so far, Kings holding him out of summer league and preseason play. Likely play a lot of G League ball this year, but the upside is really high if he ever gets out of the bubble-wrap teams leave him in and knocks his rust off.
20) Luke Kennard – SG – Detroit Pistons
Another Dukie, ugh. Kennard can straight up shoot the rock though and Stan Van Gundy loves these types. He's stuck behind Avery Bradley for now, but he'll get backup minutes right away and do what he does, shoot treys. Think Ryan Anderson but couple less boards. Overall fantasy upside is 'meh' because he doesn't do a whole lot else.
21) TJ Leaf – PF – Indiana Pacers
They drafted him to be their PF of the future, to play alongside Myles Turner. Thaddeus Young holds down the gig for now, trade candidate, so time could come this year for Leaf.
22) Jordan Bell – C – Golden State Warriors
He's not likely to get much run his rookie year unless Zaza Pachulia or JaVale McGee get hurt, but both of those guys are free agents next summer. So, if Bell shows in practice that he can fill that role, it could be his job in a year. He's just a boards and big time blocks guy with some alley-oop flushes. Ideal for Dubs who don't need a scorer there.
23) D.J. Wilson – PF – Milwaukee Bucks
Wilson has a lot of upside as a playmaker, but he landed on a bad team as far as playing time. While Jabari is out Wilson may get his shot for a bench role though. DJ is a great stretch-4 guy, who can knock down treys but isn't inept on defense either. Averaged 1.5 BPG in 30mins last year at Michigan.
24) Frank Mason – PG – Sacramento Kings
Not all college standout PGs pan out at the next level. Mason is a smart kid and plays the game well though, so he has backup PG potential, it's just not going to be on the Kings any time soon with George Hill and De'Aaron Fox in town. Mason is just 5'11" so playing SG just isn't an option.
25) Bam Adebayo – PF/C – Miami Heat
Won't play much early on, still really raw. Likely a career backup, but capable of quality boards and blocks in backup minutes, eventually.
26) Derrick White – PG – San Antonio Spurs
The Spurs just locked in Patty Mills for a few years, have Dejounte Murray who looks best at point, and that doesn't leave a lot of room for short-term upside with White. Still, he looks smooth with the rock, good decision maker. He looks like a Spur.
27) Semi Ojeleye – SF – Boston Celtics
Things cleared up a little when the Celtics traded away Jae Crowder, but Semi is still likely just outside the rotation on this loaded team. Will be a nice backup wing down the road though.
28) Justin Patton – C – Minnesota Timberwolves
Nice player potential here, but when you're playing for at best a backup role behind KAT on a team coached by Tom Thibodeau, you're not likely to see near enough PT.
For more Fantasy Basketball advice and analysis, follow Zack on Twitter @BigZack44