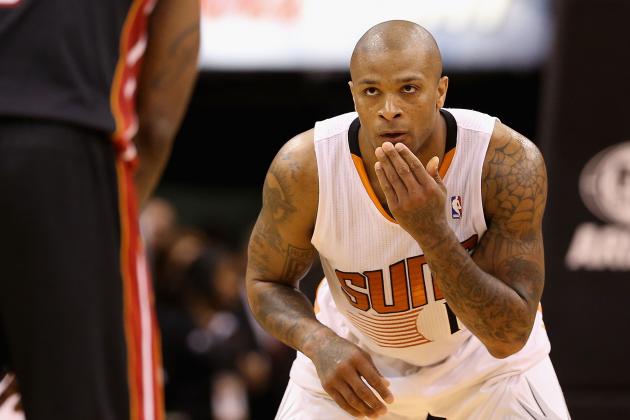 PJ Tucker
For a guy who was supposedly too short, too slow, out of shape and couldn't shoot, PJ Tucker has really carved out a niche for this season's best surprise story, the Phoenix Suns.
He is relentless, emotional and tenacious nearly to a fault, but some of that energy and hustle shows through in his fantasy stats, where he's been a solid source of rebounds, threes and steals all season long.
Tucker is not a classic NBA tweener – he's basically the height of an average shooting guard but he plays like an unathletic power forward, a 'power guard' if you will. Up until this season he also wasn't a viable fantasy basketball option, in any form of the game – but minutes will do a strange thing to a fringe NBA player, as Wesley Johnson and Kendall Marshall can attest to.
As the starting SF for the fast-paced Suns, he's produced a bevy of helpful stats across the board, albeit struggling to put together long stretches of consistent play, but he's done enough to stay relevant and stream when he goes on a hot stretch.
For a team lacking a true power forward as well as consistent rebounding – Tucker has proved he can really help you out like he helps the Suns in that category, as he qualifies at SG and SF in most leagues and he rebounds like a SF/PF. Channing Frye wouldn't know a rebound if it hit him in the nose, as he's had just one double figure rebounding game THIS ENTIRE SEASON*, so Tucker has had to increase his workload on the glass.
Over his last 15 games, Tucker's really gone to work. He's averaged 10.4 points, a whopping 8.1 rebounds, 2.3 assists, 1.5 steals, 0.8 threes per game and 47/75 shooting splits – it's that rebounding that is a huge boost especially if he qualifies in your league at SG.
Once Eric Bledsoe returns to his starting gig, the 'work in progress' coming into the season that was Tucker's three point shot might be the main attribute that keeps his playing time north of 30 minutes . I use the term 'shot' loosely, as his corner jumper resembles someone shot-putting a medicine ball, as it floats in the air til it splashes through the net at a clip of nearly 40%.
Gerald Green has been a revelation as a starter, but he did struggle off the bench early in the season, while the team needs Tucker's defence in the starting line-up, so it's highly likely that Tucker sticks as the starter at SF especially with that outside shot still falling.
It will take a significant adjustment from all members of the Suns rotation once Bledsoe is back – but the team hasn't forgotten that they went 16-8 with him and just 20-19 without him.
Marcus Thornton
A Thornton my side, that's all you ever were Marcus.
There are few players in the NBA who can shoot their way into fantasy relevance while simultaneously frustrating the living hell out of their owners.
Thornton is one of those guys.
Much like Nick Young or Marco Belinelli, Thornton is a classic catch and shoot guy without a conscience who gets hot extremely quickly – and cold even faster.
If you want an indication of how mind-numbingly frustrating it is to own Thornton, look at his points total over the last 6 games – they read like lotto numbers: 25, 3, 20, 4, 27, 5. That's a healthy average of 14.5 points a game, which when strapped to the end of your bench is not a bad number to have for the likely cheap price he cost you. Add in 2.3 threes per game, a seemingly defined role as a 20-25 minute gunner for a veteran team, and you could do a lot worse over the last month or so of the season.
Thornton has young legs and isn't reliant on athleticism, so he'll likely get some spot starts as the Nets keep an eye on the playoffs and start resting their entire team older citizens, which means he could see himself sticking in the 16-18 point scoring range if there's around 30 minutes per game doled out to him.
He's had long stretches of top 30 fantasy production, namely for the Hornets back in his rookie year and for the Kings over parts of two seasons (2010-11 and 2011-12), and as recently as last season he was being drafted in the top 60 of many fantasy drafts (yes, I drafted him in multiple leagues and I regret it like I regret watching any Simpsons episode after Season 10).
It's crazy to think Thornton actually has more 20 point games in his career than Paul George, Ty Lawson and Nicolas Batum and yet he's only started 125 games over his career, such is the sporadic appearance of his hot hand over the course of his career.
Mo Harkless
I'll admit it, I was one of many self-proclaimed fantasy basketball experts writers who bought into the stretch of games Harkless put up over the last couple of months for the Magic in 2012-13 (and yeah, stoked I called Kyle Lowry…although Kanter hype killed my buzz!).
Harkless was the second coming of young Gerald Wallace; a blur of athletic fury that used his sheer physical prowess to overcome a gimpy jump-shot and poor handles to produce top 50 stats over one 11 game stretch in March/April last year. He averaged 17 points, 6.8 rebounds, 2.2 steals, 1 block, 1.3 threes and shot 46% from the field – very handy stats to round out a roster and stats we hoped would be indicative of things to come this year.
To put it in perspective, there are just TWO players in the entire NBA this season who average at least one steal, one block and one three per game (answers at the end of the piece, but they're likely not who you'd think).**
This season, however, Harkless fell out of favor early on with Orlando Magic coach Jacque Vaughn and that saw his minutes – and fantasy value – significantly reduced. He started the team's first 13 games and despite an injury to Tobias Harris that seemingly opened a window for 30+ minutes a night, Harkless saw the minutes going to Glen Davis (seriously).
Over his last 7 games – all starts – he's produced 14.3 points, 4.9 rebounds, 1.9 steals, 1 block and 1.9 threes per game, along with manageable shooting splits of 47/65. Fortunately the free throws are limited to only a couple of attempts per game so the damage is minimal, while he's also turned the ball over just 8 times in that stretch (just ONCE in his last four games).
Another thing to remember, the guy is only 20. So when you get frustrated cos he can't buy a bucket, remember he can't buy beer to drown his sorrows either.
*Think about that – a 6'11" PF/C on a team needing rebounds, has had just one game of 10 rebounds or more, in over 60 games and that was back in December – imagine Kevin Love on that team. Anyway, a Suns fan can dream.
**These guys are averaging at least 1 steal, 1 block and 1 three per game. Very surprising list. Danny Green bowed out after last night's dud.
Follow Sam on Twitter @macetastic and feel free to ask any NBA related questions, whether fantasy or reality.