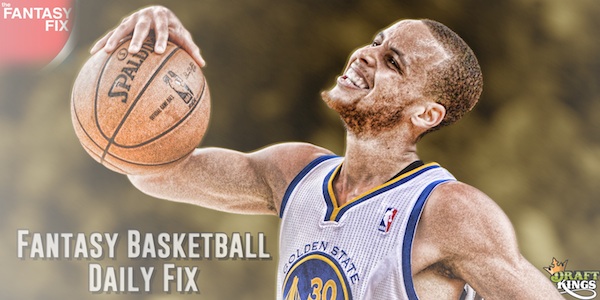 Thursday nights are brutal for me because I never play them. I avoid those two and three game nights and sometimes it's great because I'm in a rut, but sometimes it's the worst because I'm "hot". Well, last night I wasn't too happy that it was Thursday. I was feeling good, but had to avoid the three game night. Tonight though, we have eight games, which is one probably my favorite kind of night. There are just enough players to choose from and you don't get that feeling of missing someone. Let's get to the DraftKings picks.
Point Guard
Kyle Lowry starts us off again, but tonight he's a different kind of player. With DeMar DeRozan back, Lowry will go back to his role of facilitator more than the role of shooter that he has taken over in the last two games. Lowry can still be great, but his new $8,300 price is likely to limit his upside as another 50+ night probably isn't going to happen. His matchup against the Nuggets is great and I would suspect him not making the All Star Game will fire him up tonight to get us to value and 40+ points.
Shelvin Mack is a great cheap option on DraftKings as long as Jeff Teague sits. His matchup against the 76ers is the typical great matchup with no defense involved. Mack had his best game starting in his last game going for 15 points, 4 rebounds, and 7 assists. If he can play well again tonight then his numbers will be much better considering the matchup.
Shooting Guard
DeMar DeRozan is back tonight and not surprisingly, he's back on my radar. He's underpriced with a priced of just $7,100 and should go back on his great playing ways against the Nuggets. Although he did sit for his foot injury, he wasn't out long enough to really take away any conditioning. Earlier in the season, he only shot 5 for 14 against the Nuggets and still managed 35 fantasy points. He's took 20+ shots in four straight game before his 21 minute game in which he got injured.
Randy Foye is a big time option tonight if Ty Lawson remains out against the Raptors. In his last game with him out, Foye went for 33 points and 7 assists. You can bet that he'll take another 20+ shots tonight too if the situation remains the same. Even before the game that Lawson missed, Foye was a great option. He had gone for 26+ in four of the previous five games. Tonight, he has big upside, but make sure to keep an eye on the Lawson news as the day progresses.
Small Forward
DeMarre Carroll is underpriced yet again on DraftKings as he'll only cost you $4,300 tonight. In four straight games Caroll has posted 26+ fantasy points. His ability to add rebounds from the small forward position has allowed him not to have to shoot a ton to put up fantasy points. The 76ers are one of the worst teams against the small forward position and that'll show tonight against Carroll and the Hawks.
Kevin Durant will be easily affordable with all of the 4k option players to choose from tonight. Needless to say, Durant is playing unbelievable right now and his matchup against the Nets is great. It really doesn't matter who he is playing, but against the Nets and players like Paul Pierce and Joe Johnson, I think he goes for another 40+ nights and 70 fantasy points. He has scored 30 real points in 12 straight games and should be a lock for 13 straight tonight as long as he stays healthy.
Power Forward
If you're not a fan of spending 11k on a player then you should consider Al Jefferson tonight against the Lakers. He has the best matchup of the night as the scoring big man should be able to rack in a ton of rebounds against Pau Gasol and the rest of the big men from LA. Jefferson has taken 23+ shots in four of the last six games and seems to be a lock for 18+ shots at worst. Tonight, he looks to extend his streak of 30+ points and 10+ rebounds to three straight games.
Zach Randolph is a tad pricey for me tonight, but his matchup is great. He'll be up against the Timberwolves without Nikola Pekovic. Randolph is averaging a double double on the season and has recorded one in six of his last ten games. He has a nice track record on the season against the Timberwolves putting up 20 points, 12 rebounds, and 5 assists against them earlier in the season.
Center
Timofey Mozgov is an interesting punt option for me tonight. He's not quite low enough to be a true punt, but his recent production has been very nice. He has posted 14 real points in three straight games and has gone for 31+ fantasy points in two of those three games. Hit matchup tonight is one that he's already dominated as he scored 16 points and had 15 rebounds against the Raptors earlier this season. If you're in the need of another 4k option then Mozgov might be your guy. I'd probably consider him the best GPP option of the 4k options tonight.
Spencer Hawes is a guy I have been off of lately, but his matchup against the Hawks can't be ignored. He has already gone for a double double and 34 fantasy points against the Hawks this season and they still don't have Horford and Antic to patrol the paint. Hawes should be in for another double double and be a part of a high paced game. He'll be at home tonight where he averages almost three fantasy points more per game than on the road.