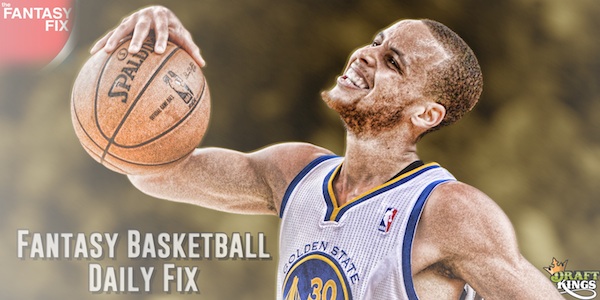 Wednesday is the big night in NBA and tonight there are plenty of stars and value plays to choose from. This isn't too surprising on an 11 game night, but it certainly is nice to see. There are eight players to choose from at over 9k, so there are going to be some very interesting lineups out there tonight. I currently don't have any of them in as I'm trying to figure out which big boy I want. Here's who I'm looking at amongst guys under 9k on DraftKings.
Point Guard
Kyle Lowry saved my butt the other night scoring 57 fantasy points without DeMar DeRozan. Well, tonight DeRozan isn't expected to play, which should mean more shots for Lowry. He went from about 10 shots a game to 18 in that game and boy did he do work. He didn't come close to a triple double like he can, but he put up 31 points with 5 rebounds, 7 assists, and 5 steals. The Magic have trouble stopping anyone and gave up over 40 fantasy points to Brandon Jennings last night. Look for Lowry to do more of the same tonight.
If Kirk Hinrich is out again, then fire up D.J. Augustin tonight against the Spurs. They'll be a little winded tonight playing in two straight games and they just gave up 11/5/3/2 to Patrick Beverley. That stat line isn't crazy impressive, but Augustin is a better shooter and could easily score 20 real points. In the last six games, Augustin has put up 39+ fantasy points, so his upside is very nice for $6,200 on DraftKings.
Shooting Guard
P.J. Tucker is a guy I can really dig for $4,500. He is coming off two very nice games and although I was worried about his hand injury the other night, I'm worried no more. He posted 72 total fantasy points in his last two games and is shooting more. In those two games he has taken 25 shots while in his previous four games he took 25 shots. Tucker should get 30+ minutes tonight against the Bucks and should be able to fill the stat sheet against them.
Eric Gordon is someone I rarely ever talk about, but tonight he should be at least discussed. He had a very nice 20/7/9 game against the Cavs and tonight has a nice matchup against the Timberwolves. The matchup of Kevin Martin is solid and if Gordon can keep shooting 50% from the field and taking 15+ shots then he should be able to add in enough of the other stats to be useful tonight.
Small Forward
Jeff Green is my GPP play of the article and I have a feeling pretty much everyone will be on him tonight. He goes up against the 76ers, which is every player's dream. Green can be deadly from three as we saw the other night from beyond the arc when he went 8 for 16 and the 76ers give up a crazy amount of threes. Gerald Green just had a huge game against them, which should be even more encouraging. Jeff Green has big potential tonight, but could also fall on his butt and give you 15-20 fantasy points. I would strongly consider him for my GPP lineups.
Gerald Wallace is another Celtics player I like tonight. He burned me hard last night, but is still going to get big minutes when the game is close. The Knicks blew up the Celtics last night, so Wallace barely played in the second half. Tonight, Wallace should be able to fill the stat sheet enough against an up tempo 76ers team. For his under 4k price on Draftkings, I'm willing to take another shot at him tonight and that should mean you can too.
Power Forward
Andre Drummond plays for the Pistons and it's official now that the Pistons/Hawks game has been postponed. He was going to be great. Now, let's all take our drink and pour one out for our lost fantasy points out there…
Zach Randolph has been playing very well lately putting up 40+ fantasy points in three of his last four games. He has done well against the Kings with DMC and now that he's likely out still, Z-Bo could eat tonight. He's averaging 17/9/2 and 35 fantasy points in two games against them this season, so I'm looking for a bit more w/o a weaker smaller line that just got eaten up by a few of the Jazz big men.
Center
Ronny Turiaf should be starting due to the Nikola Pekovic injury, so he'll be strongly considered as a value option. He is priced at $3,500 on DraftKings and did very well last night filling in for Pekovic against the Bulls. After he got hurt, Turiaf went for 14 points and 7 rebounds in 31 minutes. Tonight against the Pelicans, he should be the second straight value option (Tyler Zeller last night) to do well against the Pelicans. Anthony Davis should have a very nice day against them, but that's another story.
Al Jefferson faces off against the Nuggetes tonight and there will be no match for him. J.J. Hickson doesn't have the size or defense to play against him in the post. In his last eight games, he has gone for over 40 fantasy points seven times. Jefferson has been on a tear lately and in his last five games he's averaging 25/13/3 and 49 fantasy points. I don't see that stopping against the Nuggets tonight.