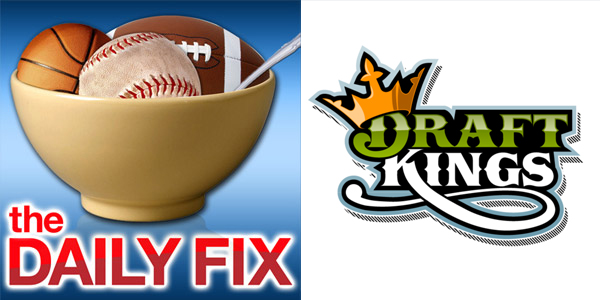 Today's fantasy football daily fix delivers news and notes about the Shonn Greene, the Buffalo Bills, and Jonathan Martin, as well as DraftKings Week 9 daily fantasy D/ST recommendations for the New Orleans Saints, Houston Texans, and Pittsburgh Steelers.
News & Notes
Titans Will Feed Shonn Greene
It seems that Mike Munchak and the Tennessee Titans are beginning to realize what fantasy owners have known for weeks, Chris Johnson isn't CJ2K anymore. With the pace he's on, he's not even CJ1K.
Munchak's response to this development is to give more carries to Shonn Greene. I don't imagine that we'll be talking about SG2K anytime soon, but hey, you've got to play the hand you're dealt. If you've been dealt a lineup flush with players on bye this week, Greene is worth a look as a hail mary flex play.
Buffalo Bills Are Hurting
If this insult from Marshawn Lynch wasn't enough, the Buffalo Bills might be without Stevie Johnson and Fred Jackson this week. Ok, Johnson said he'll be ready to play, but neither he nor Jackson participated in practice on Wednesday. C.J. Spiller did, but he's still doubtful to play this week.
Unless you absolutely must, bench your Bills this week. More on that later.
Jonathan Martin Leaves Miami Dolphins
We'll keep this one short. As a person, I hope that Jonathan Martin gets all the treatment he needs and gets better. As a player, his absence makes an already bad Miami offensive line even worse.
DraftKings Defense/Special Teams Recommendations
If you've never played DraftKings before, it's time to start. You're reading this column, so I know you like fantasy football, and new depositors will get a free ticket into a Millionaire Grand Final qualifier, a contest that as me so excited, I wrote a whole damn article about it!
So yeah, I think you've got some signing up to do. Once you're registered, check out the multitude of options DraftKings has to offer; your boy here took home a nice haul in Double Up and Triple Up contests last week.
CADILLAC
I don't think it's necessary to go into a whole ton of detail on the Kansas City Chiefs ($5,200). They are unquestionably a top-three defense in football, and they'll be facing a banged-up backup at quarterback. Thad Lewis is expected to start for the Buffalo Bills, but his flak jacket can only do so much. Since Week 4, no line has allowed more sacks than the Bills' swiss cheese front. Sooner or later, Lewis' bruised ribs will send him to the sideline and either Matt Flynn of Jeff Tuel into the game. Things could get ugly.
The New York Jets aren't quite the pushovers that Cincinnati's Week 8 shellacking made them out to be, but they're still a very juicy matchup for the New Orleans Saints ($4,100). Only the spiraling Houston Texans and Tennessee Titans have surrendered more points to opposing defenses in the last month. No team has given up more defensive touchdowns; only the Arizona Cardinals have thrown more interceptions. Oddly enough, the Jets are also the only team in the NFL not to lose a fumble in the last four weeks. There's a good chance that'll change with Cam Jordan and the rest of the Saints' fourth-ranked pass rush goes heads up with a Jets offensive line that's struggled to keep Geno Smith upright.
BUICK
How are the Houston Texans ($3,400) so cheap this week? I know the Indianapolis Colts have been very successful in recent weeks, but am I supposed to believe that the combination of Anthony Castonzo and Gosder Cherilus can neutralize J.J. Watt? Am I supposed to think that the Colts passing game won't experience a drop-off without Reggie Wayne? The Colts offense is good, but it's not elite. The Texans are undervalued this week in a game they absolutely must win to have any shot at a division title.
I'll just start by saying that this pick has absolutely nothing to do with the Dallas Cowboys ($3,400). Josh Freeman is a friggin' disaster. Christian Ponder has been slightly better, but not much. Regardless of who ends up at quarterback, the options on the outside aren't exactly scary; Greg Jennings missed practice on Wednesday. To be fair, DeMarcus Ware didn't practice either, but like I said, this pick has nothing to do with Minnesota's opponent. Adrian Peterson will will the Vikings to some points in this game, but their quarterback will make enough mistakes to generate just as many (fantasy) points for the Cowboys defense.
CHEVROLET
There's gotta be something left in the Pittsburgh Steelers ($2,600), right? I know Mean Joe Greene isn't walking through that door, but neither is 2007 Tom Brady. Whether it's a lack of connection with his receivers, a swollen hand, or just a declining skill set, Brady doesn't strike fear into the hearts of opposing defenses like he used to. According to Football Outsiders' DVOA, he's been 32nd-worst passer in the NFL, trailing such feared gunslingers as Chad Henne (30th), Ryan Fitzpatrick (25th), and Mike Glennon (24th).
The Seattle Seahawks will surely beat the Tampa Bay Buccaneers ($2,500), but even so, Tampa is a sneaky value play on defense. Backup tackles Paul McQuistan and Michael Bowie were routinely toasted by Robert Quinn and Chris Long on Monday night, and that pass rush disrupted everything the Seahawks were trying to do on offense. With Darrelle Revis (maybe) finally getting a chance to strand receivers in man coverage, a talented Tampa Bay defense will create some problems for Russell Wilson.