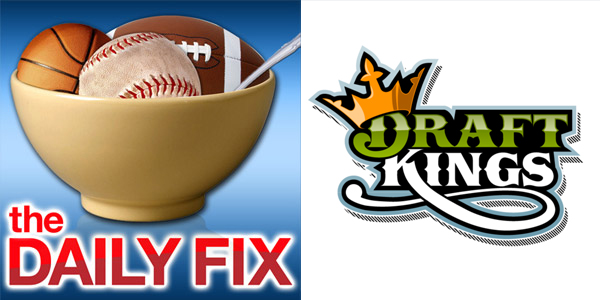 Today's fantasy football daily fix delivers news and notes about Steven Jackson, Christian Ponder, and Jason Campbell, as well as DraftKings Week 8 daily fantasy D/ST recommendations for the San Francisco 49ers, New Orleans Saints, and New York Jets.
News & Notes
Steven Jackson Could Return on Sunday
The Atlanta Journal Constitution is reporting that Steven Jackson plans to play against the Arizona Cardinals this week. In his first meeting with the media since going down with a hamstring injury in mid-September, Jackson called his progress "encouraging" and said that his "leg is feeling a lot better." It's great news for Jackson owners, but not as great as it looks on the surface. Jackson has admitted he's not 100 percent, and his opponent this week surrenders the eighth-fewest points to opposing running backs. The 2-4 Falcons are too desperate to sit Jackson any longer, but even beyond the Week 8 matchup with the Arizona Cardinals, his schedule is rough. Each of the next four defenses he'll face ranks in the top 11 at limiting opposing running backs.
It's encouraging to see Jackson getting healthy, but he won't be a viable starting option until December.
Clipboard Handoffs in Minnesota and Cleveland
Josh Freeman is concussed. Christian Ponder is in.
Brandon Weeden is terrible. Jason Campbell is in.
In both cases, the move can be nothing but positive for the respective supporting casts of the Minnesota Vikings and Cleveland Browns. Especially in Freeman's case, it's damn near impossible for these fill-in QBs to be worse. Josh Gordon and Jordan Cameron might get a slight shot in the arm from Campbell, and Ponder might finally wake Greg Jennings up from his season-long hibernation; Jennings had two of his three most productive games (by yardage) with Ponder at the helm.
The real victim here is, and continues to be, Adrian Peterson. He's been running against stacked defensive fronts all season, and there's absolutely no sign that's going to change. Now might be the time to think about dealing him; I don't see much light at the end of the tunnel, or between his offensive linemen.
James Jones Out Again
ESPN's Rob Demovsky called James Jones "a long shot to play" in Sunday's game against the Minnesota Vikings. He's getting closer, but still wasn't able to practice on Wednesday.
The big fantasy impact here is for Jarrett Boykin, who will remain a focal point of the potent Green Bay offense for at least one more week. Boykin did a convincing Randall Cobb impression last week, shredding the Cleveland Browns for eight catches (on ten targets), 103 yards and a score. He's a solid option this week against a weak Minnesota pass defense.
DraftKings Defense/Special Teams Recommendations
If you've never played DraftKings before, it's time to start. You're reading this column, so I know you like fantasy football, and new depositors will get a free ticket into a Millionaire Grand Final qualifier, a contest that as me so excited, I wrote a whole damn article about it!
So yeah, I think you've got some signing up to do. Once you're registered, check out the multitude of options DraftKings has to offer; I'm personally a big fan of the Double Up and Triple Up contests.
CADILLAC
I wouldn't typically recommend a defense this expensive, but the San Francisco 49ers ($5,100) matchup against the Jacksonville Jaguars is as sure a thing as you'll find for double-digit fantasy points. San Francisco ranks fifth in defensive fantasy points, despite beginning the season against a gauntlet (home against Green Bay, at Seattle, home for Indianapolis). The 49ers defense has scored at least 12 fantasy points in every game since; only the Kansas City Chiefs defense has scored more in the last month.
The Atlanta Falcons seem like a tough matchup, but an explosive reputation isn't enough to dissuade me from recommending the Arizona Cardinals ($4,000) this week. Over the last month, one four defenses have put up more points than Arizona. Steven Jackson might be back, but Julio Jones is out, Roddy White doesn't look likely to play, and Patrick Peterson will be more than capable of shutting down whoever Atlanta decides to start at wide receiver.
BUICK
Thad Lewis has been effective through his first two starts, but the Buffalo Bills are still a favorable matchup for the New Orleans Saints ($3,800). The Bills don't have a good offensive line, and New Orleans ranks second in Football Outsiders' adjusted sack rate. Buffalo is one of only ten teams allow an average of at least ten fantasy points to opposing defenses over the last four weeks.
At this point, I don't really even care if I'm wrong. I'm going down with the ship on the New York Jets ($2,800). New York hasn't been able to generate enough turnovers to post big fantasy point totals, but I think that's due more to bad luck than anything else and I like this matchup with the Cincinnati Bengals. Antonio Cromartie has the ability to slow A.J. Green, and the Jets pass rush should be able to put some heat on Andy Dalton; only the Ravens and Chiefs have racked up more sacks than Rex Ryan's boys.
CHEVROLET
The Pittsburgh Steelers ($2,500) defense isn't anything near a steel curtain, but a pair of sturdy canvas drapes could probably stop the Oakland Raiders. Terrelle Pryor is exciting, but his offensive line is a sieve and his ball security isn't much better.
The Philadelphia Eagles ($2,300) don't have what I'd call a "good" defense, but it can get after the quarterback; Philly ranks ahead of well-respected defenses like Cincinnati and San Francisco in adjusted sack rate. The Eagles pass rush is still far from elite, but against an already below-average New York Giants offensive line that's now missing two starters, just an average effort ought to be enough to disrupt Eli Manning.