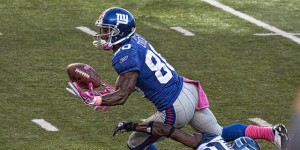 Welcome to the sixteen entry of The Fix's Fantasy Football Injury Report.  Each week I (@Rich_Migs) will cover several key fantasy football related injuries.  The idea is not to cover every football injury, but instead cover the notable ones that have direct fantasy implications.  As the season continues, the report will address the most recent injuries and their fantasy football related consequences.
I will try to avoid repeating names too often from week to week unless there is news to report.  We are entering Week 16 and if you would like to see the injury list for Week 15, please click here.   You can see all my injury reports (and my other work) by following my archive here. 
This week, many of you will be playing for titles.  And I too will be in the quest for championship victory.  So, let us take this leap together and cringe upon the injuries that may be the difference between celebrating and gloating, to simply loathing.

Week Sixteen
Player

Injury

Status/Update

Stock Risers/Fallers

Victor Cruz (WR)

Concussion, Knee Sprain

Doubtful for Week 16:

With the Giants being eliminated from the playoffs Cruz is all but out for Week 16 and probably even the season. 

Eli Manning (QB). Hakeem Nicks (WR). Rueben Randle (WR). I'm not sure what you can say about Manning, but he isn't even someone I would want to start in a 2-QB league right now.  Out of the two receivers, I am most confident in Randle coming out ahead for his fantasy owners.  Unfortunately as a Cruz owner, Randle was never even on the waiver wire.

Larry Fitzgerald (WR)

Concussion

Questionable for Week 16:

As we have seen many times before, Fitzgerald's status is up in the air until later in the week.  He faces a tough Seattle defense, and owners may be better off going with someone else.

Carson Palmer (QB).  Michael Floyd (WR).  Floyd has made a lot of progress this season, but this isn't the week to rely on the young receiver.  An ailing QB in Palmer and a tough defensive matchup is enough to look for elsewhere.  In saying that, Palmer will have to throw the ball to someone.

Donald Brown (RB)

Stinger (neck)

Questionable for Week 16:

Brown left the first quarter with the injury and could not return.  He is listed as day-to-day, but it seems as if the injury gives him a coinflip's chance at suiting up for week 16.

Trent Richardson (RB). Well, here we are again.  On our own.  Expecting a game saving performance from T-Rich at this point isn't wise.  He will be a flex option, at best.

Jermaine Gresham (WR)

Hip

Questionable for Week 16:

There isn't much information out there about Gresham's injury, but watch this one close, as it may open the door for…

Tyler Eifert (TE)  …Tyler Eifert. There.  I said it.  This isn't a surprise.  If Gresham is out, Eifert has a chance to do some nice things for owners in need of a tight end.

Aaron Rodgers (WR)

Collarbone

Probable for Week 16:

I don't need no stinkin' MRIs, I have a Lions loss on Monday night.  If the Packers win their next two, they are in the playoffs.  If the medical staff tries to hold him back, there is a chance that Rodgers ends up discount double checking somebody through a table.

Jordy Nelson (WR).  James Jones (WR).  Jarrett Boykin (WR).  Once again, I am not saying anything that isn't known.  As long as Rodgers is healthy, Nelson becomes a WR1 again, while Jones and Boykin can be used again in certain leagues and situations.

Other Injury Related News: