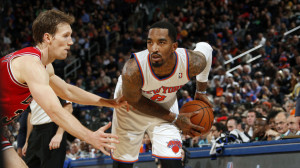 Three players with three largely different roles.
One is a volatile but gifted scorer struggling on the game's biggest stage.
Another, a former Dukie who thought he was cruising for a rotation role, but has suddenly been thrust back into a 30 minutes plus job.
The last player is a newly minted starting C who was apparently too small to be a back-up PF, my how a new coach breathes new life into a player and a franchise.
JR Smith
The Knicks are another team having an absolute train-wreck of a season.
Nothing seems to be going right, from injuries to arguments amongst the team to poor horrible reprehensible end of game play coaching by their 'coach' Mike Woodson.
Throughout his career Smith's typically been an enigma for NBA fans; his athleticism and creativity are in the upper echelon, while his ability to get hot quick is rivalled by few amongst the league's top scorers. The talent though, has never been in question, the bag of bricks he has in his noggin though, have always been the problem.
For a team scraping the barrel for healthy and capable play-makers, Smith might be the unconventional solution as Raymond Felton and Pablo Prigioni have both sustained injuries. He's good at penetrating and slashing to the basket, so he already does two things better than any point guard currently on the Knicks roster.
Iman Shumpert's not the ball handling, creative type that many thought he would be after a productive rookie season, nor is he a consistent outside shooter who keeps the defense honest.
It's been widely discussed how poorly Smith has been shooting this year – arguably among the worst of all time – but he can contribute, especially when his mind is in the game and he is motivated by criticism. Sure, he was childish after being called out by his coach Mike Woodson, but you HAVE to expect him to get his shot right and start delivering to his usual 15-4-4 stats.
It takes Smith a while to get going; last season he averaged the same amount of minutes per game both pre- and post-All Star (33 a night), but his splits show a distinct difference in production. In 50 games before the break, he averaged 16.2 points on 40% shooting from the floor, with 1.8 threes on 34% behind the arc. His post-All Star break numbers were very, very strong for those 30 games, as he essentially fended off Jamal Crawford for the Sixth Man of the Year award by putting up 21.3 points, 45.5% from the field, 2.2 threes per night and 38% from long distance.
He's not going to play the point, he might not even necessarily start, but bank on 30-32 up-and-down minutes and some fluctuation between games, but some good overall fantasy production that you can slot into your line-up while hoping for the best!
Mike Dunleavy
The Chicago Bulls were a title contender going into the season, but now Derrick Rose-less once again they are struggling to make their mark and stay in the playoff hunt in the top heavy, but overall weaker, Eastern Conference.
With the often injured Kirk Hinrich banged up once again and Marquis Teague being the only 'true' point guard on the roster, the team lacks any real play-maker at the point guard position, despite the bad addition acquisition of the recently waived DJ Augustin.
Dunleavy's always been a steady fantasy option for 12 team or larger leagues, as he consistently contributes valuable assists and threes from the SG and SF spot. Since he was thrust into a starting role just over a week ago, he has been a top 50 player across most forms of fantasy basketball.
He's not a defender – which doesn't bode well for any team coached by the seemingly always outraged Tom Thibodeau – but he does bring the skill-set needed to offset the loss of Rose because he can pass over smaller defenders and shoot over most swingmen.
In terms of the banged up Bulls, he's been a veritable iron-man, playing more than 35 minutes per night in all of the team's five games this week. His stats have reflected the added responsibility as he's produced 16.8 points, 5.6 rebounds, 2.2 assists, 1.8 threes, and even 1 block a night for good measure. His field goal percentage hasn't been too flash at just over 44% over the last week, but that was exacerbated by his horrible 7-24 (29%) output at New York.
Even off the bench as he has been for the last two games, he's going to be getting 26-30 minutes per night, so expect 14-4-3 a night with good percentages and threes.
Jared Sullinger
Sullinger was a dominant player in College for Ohio State, so it was no surprise that he went in the 2012 first round to a Celtics team needing youth in the front-court. Unfortunately, he never got things going and after 45 back spasm-plagued games, he finally succumbed and had surgery to correct the potentially long term problem.
In his past two games – both Celtics wins I might add – Sully has averaged 21.5 points, 8.5 rebounds and a whopping 4 assists, while also knocking down 16-17 (94%) shots from the line. He has undoubtedly reaped the benefits of both rookie big men Kelly Olynyk and Vitor Faverani struggling for rookie phenom coach Brad Stevens.
Stevens' confidence in Sullinger couldn't be higher, to the point where he's played four straight games of at least 31 minutes, which translates to top 50 level production and a nightly double-double threat.
The three point shot he's been working on isn't quite at the level you'd like it to be, but it is a developing facet of his play and Rome wasn't built in a day, and I'm sure they had some bricks to build it along the way.
In 14 games as a starter this season Sullinger has produced 15.5 points, 8.1 rebounds, 2 assists, 1 three a game and 47/75 splits – expect a slight uptick of those numbers the rest of the way, as long as he can stay above 30 minutes a night.
In the off chance Rajon Rondo comes back within the next month or so, he figures to feed his big man for easy buckets which would mean more efficient shots inside and a higher field goal percentage North of 50%.