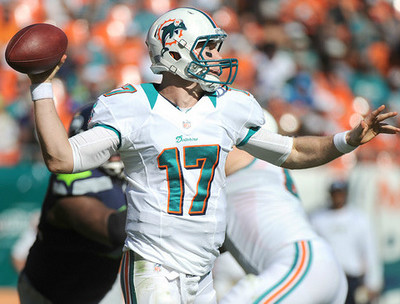 It's week 10! It's Monday Night Football! It's the Sunshine State Showdown with the Miami Dolphins heading north to battle the Tampa Bay Buccaneers.  The Dolphins have been the talk of the NFL this week, but not because of their play.  The Richie Incognito/Jonathan Martin saga has taken over sports talk across the country, and has to have been a major distraction for the Miami football team.  But I'm not here to talk about locker room hazing, I'm here to talk about Fantasy Football Trophy raising! I think this distraction for Miami mixed with the Bucs playing at home and due for a win sets them up nicely this week.  The odds have the Dolphins, but I'm going against the grain.  I have the Bucs grabbing their first win Monday night.  Here is your fantasy football breakdown by position.
QUARTERBACK – Neither quarterback should be in your lineup this week. Ryan Tannehill is a fantasy back-up quarterback, even in this matchup.  I know people point to Tampa Bay being winless but their defense is in the middle of the pack.  Tannehill's offensive line was already questionable and will only be moreso with the removal of Incognito and Martin.  I don't expect Tannehill to play well in Tampa, there are better bye week replacement quarterback options on your wire.
Mike Glennon is an interesting player.  In the last two weeks he has faced two of the tougher defenses in the league in Carolina and Seattle.  Compared to expectations, he played fairly well.  However, he is not going to put up numbers that jump off the page at you.  He reminds me of 1980's quarterbacks with the model of safe plays and consistent gains.  He will give you 200-240 yards, a touchdown, and minimal interceptions, but he's not going to launch your fantasy team to victory.  Ultimately, you have better proven options to go with if you're a Tom Brady owner and need a bye week filler.
RUNNING BACKS – With eighteen carries being his highest total in a game this season, Lamar Miller is a questionable start at running back.  His yards per carry are excellent at 4.8, but he isn't the focal point of what Miami is trying to do with the ball.  The fact that he has only found the end zone twice can't raise expectations that he'll find it this week.
With Doug Martin out for the season, the Bucs are handing the ball to rookie Mike James, a 6th round pick from Miami, fittingly enough.  He had a breakout game against Seattle last week, which is a major statement.  He is still looking for his first touchdown and I think he will this week. I recommend starting him Monday.
WIDE RECEIVERS/TIGHT END – With a combined 3 touchdowns between them, Brian Hartline and Mike Wallace aren't the most reliable wide receivers.  Hartline hasn't scored a touchdown in 6 games.  If a fantasy wide-out only has 2 touchdowns into week 10, he is not putting up the numbers you need. Wallace was eyed as a big boost free agent target for Tannehill, but he has only reeled in half of his targets, and is only good for one touchdown.  I assume Revis will be covering him this week too, so I wouldn't start him.  Both Miami receivers are duds. Tight end is a different story. Charles Clay is a solid option.  He has as many touchdowns as Hartline and Wallace combined.  You can play him this week, he's a top 10 fantasy tight end right now.
Tampa Bay has two viable targets for Mike Glennon.  With Mike Williams out for the season after having surgery to repair a torn hamstring, the Bucs options for useful targets are limited to Vincent Jackson and tight end Tim Wright.  Both should be started, especially Wright in your tight-end spot.  He had an impressive game as the lead target against Seattle.  He is surprisingly only owned in 33% of Yahoo! leagues so if you are in a pinch for a tight end, go scoop him up.
DEFENSE –These are both middle of the pack NFL defenses.  Yes it's fair to say the Dolphins have four wins thanks to their defense keeping their low scoring offense in the game, but I wouldn't use them.  You can start the Bucs as a bye week replacement defense at home against the anemic Miami offense.
THE BOTTOM LINE: I like Mike James (RB), Charles Clay (TE), Vincent Jackson (WR), and especially Tim Wright (TE) for fantasy points out of this week's Monday night game. You can pass on the rest.
The Dolphins are dealing with a lot of distractions from top to bottom.  The front office, coaches, staff, and players are all immersed in this Incognito/Martin controversy and I believe that will affect them Monday night.  This isn't a "rally around the flag" type of controversy that can bring a team together.  This is a disaster.  Mix that with Tampa Bay being due for a win, and I think the Bucs finally grab one here.  The Dolphins are the slim favorite, but Calico Jack's flag will be raised for Tampa for the first time this season.