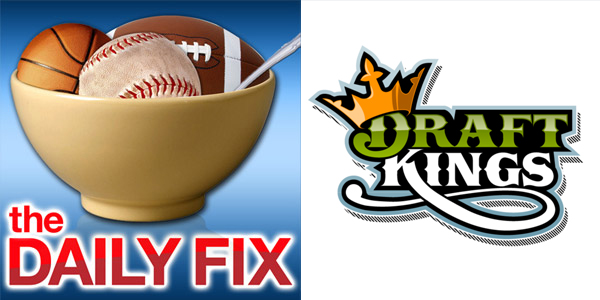 Welcome to Wide Receiver Wednesday at the Daily Fix! Each Wednesday of the NFL regular season I'll provide you with several receiving options that are strong plays that week at DraftKings. Monday through Friday the Fix writers will provide you with a Daily Fix that covers each position, with a weekly roundup on Friday.
Not into the 'Daily' thing yet? Let's talk. It's a ton of fun, you get to start new each week and pick your squad, and DraftKings has a great promo going right now where they'll match your initial deposit up to $600. Do it. Oh, and you get a free year's subscription to our premium content as well in the #FrontOffice.
The Wide Receiver position is loaded with options in this new, ever-prolific passing era of the NFL, so options abound. I'll break it up into tiers, essentially, WR1's, 2's, 3's and FLEX/deep options.
Your WR1 and WR2's are no-brainer starts in your normal fantasy leagues. I'll highlight them if they have an exceptional matchup or price. We're likely going to find some inexpensive plays here week in a week out as well, due to the depth at the position. We'll need to dig a little deeper as we're entering bye weeks, but I hope to continue picking winners for you.
Scoring and other settings can be found here.
For reference, you'll continue to see me use both aFPA (Schedule-Adjusted Fantasy Points Allowed) from 4for4.com and DVOA (Defensive-Adjusted Value Over Average) from FootballOutsiders.com. These stats become more reliable each week as have real data points to reference instead of only a hybrid of data mixed with pre-season expectations.
WR1
Antonio Brown – TB @ PIT ($7,900)
Yup. Again. If you've used Antonio Brown in your contests lately, then you can't even be mad to see him again. He's been so consistent and even better, consistently elite. He's facing Houston, who grades out in the middle of the pack according to DVOA. When digging deeper though, their DVOA against WR1's is 29th in the league. Bingo. Using cost per projected point as I did last week, with the goal to stay under $400 per point, Brown comes in at $326.
Brandon Marshall – MIA @ CHI ($6,300)
Surprisingly there's no cost correction on Brandon Marshall. OK, DraftKings I see you. I'll take the bait and so should you. Miami rates poorly against the pass this season particularly against top receivers, and Marshall's cost point is $336 this week. My 5th ranked wide receiver for week 7, Marshall has the 13th highest salary at the position. No reason to believe he won't be a $7,000 player next week.
WR2
Michael Floyd – WAS @ AZ ($5,000)
I was all over Michael Floyd last week, both on The Football Fix podcast and in this spot. With the return of Carson Palmer I expect WR2-type production moving forward from Floyd. These two connected a few times last week, including a score. So obviously Floyd's price went down. Uh, thank you very much. My 11th ranked wideout for week 7, Floyd comes in as WR27 according to positional salary on DraftKings.  He gets the Raiders, who rank 27th in the league in defending WR1's. Make no mistake, he's the top dog in Arizona, and his price point comes in at $356 per point.
Sammy Watkins – MIN @ BUF ($4,800)
After a difficult matchup with Darrell Revis chasing him around all day, Watkins will make a return to fantasy relevance this week. Minnesota is another team that's struggling against WR1's, and after Watkins had 12 targets against Detroit in Kyle Orton's debut, it's hard to argue that Watkins isn't the main guy in Buffalo. I have him ranked 18th this week, but he's 31st at DraftKings. Love this price, $356 per point.
WR3
Wes Welker – SF @ DEN ($3,700)
I don't know what to tell you. Last week was not a good week for Wes Welker, but my super duper deep analytical skills tell me that…..he's due. Sorry, that's all I've got. Welker will start to get his legs under him here, and clearly he created chemistry in his first season with Peyton Manning, catching 10 touchdowns. The Broncos face the 49ers who are allowing just 8.4 aFPA to running backs, which is the best in the league. This will be a pass-happy Sunday night contest, and Wes is just $303 per projected point this week.
Justin Hunter – TEN @ WAS ($3,700)
Taking over as the Titans WR2 and the subsequent uptick in snaps is encouraging and should only continue for Hunter moving forward. Hunter's matchup in nice as the Washington Redskins are allowing the third most aFPA to the WR position and are particularly susceptible to the deep ball, something Hunter does well. His $321 price per point makes for a great bargain.
FLEX/Lottery Ticket
Brian Hartline – MIA @ CHI ($3,000)
I don't love Brian Hartline but he's useful at minimum price in a PPR game. Putting Hartline in your FLEX spot allows you to splurge elsewhere building a top heavy lineup. It's not unimaginable to think Hartline could get 5-6 receptions in this contest, and that would have value at $3,000. While he's no Andre Holmes, Andrew Hawkins, Louis Murphy or Allen Hurns, all of whom have excelled in this spot, his $324 per point will play.