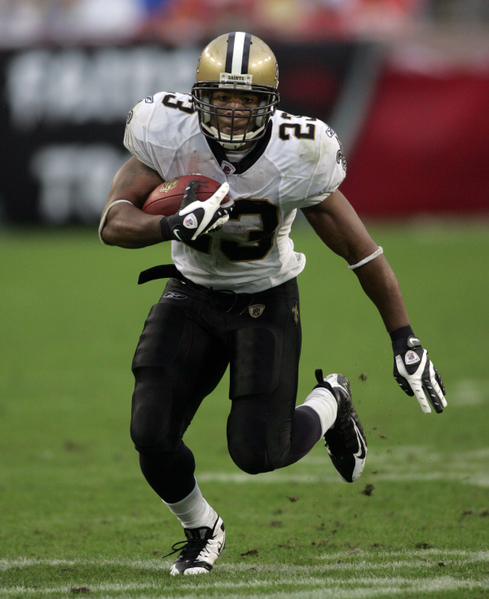 Week 1 is officially in the books and what a week it was. Fantasy owners saw Peyton Manning (DEN) light up the field with a NFL Record 7 TDs (tied) on opening night. The Cowboys defense scored twice including forcing 6 turnovers, LeSean McCoy (PHI) ran for more than 180 yards on Monday night and Colin Kaepernick (SF) and Anquan Boldin (SF) connected 12 times for 208 yards.
But the aforementioned names are the easy ones. Understanding the waiver wire, and the gems hidden deep down is the key to fantasy dominance. Each week, we will go digging for gold as I highlight two players from each position that could still be of great use to your fantasy team.
[am4show have='p3;p4;p7;p9;' guest_error='Front Office' user_error='Front Office' ]
Quarterback:
Alex Smith (KC):  Smith (19.3%)has had a very shaky career. First being draft as the #1 overall pick out of Utah in 2005 by the San Francisco 49ers, Smith has never been able to get his NFL feet under him. It wasn't until the 2011 playoffs for Alex to show what he can do when he lead the team to multiple 4th quarter drives against the Saints before losing to the Giants in the NFC Championship. He has finally been given a fair slice of things in Kansas City as the 9ers traded him to KC for draft picks prior to the 2013 draft. In week 1, Smith showed that he has a knack for the end zone and with an extremely offensive minded coach in Andy Reid its safe to say this will continue to happen. He isn't a gun slinger like Drew Brees (NO) or Aaron Rodgers (GB) and he won't gain you the yards in the air you come to expect but for deeper leagues 200 yards and 2 scores is very viable for your team. Arguably the greatest thing about Smith is that he doesn't turn the ball over much with only 10 interceptions over the last two seasons with 30 TDs to show for it. If he can keep it up in 2013 he is a great stash away or #2 QB in a 2 QB league.
EJ Manuel (BUF): EJ (12.7%) is a tricky guy to hold any stake in. Manuel was the first QB taken in the 2013 draft when the Bills drafted him in the first round. He showed signs of being a starting NFL QB in the pre season before being sidelined with a minor surgery. He has the skills to take off an run when he needs to but has the patience and consistency to sit in the pocket and deliver the ball on a strike when he must. Manuel kicked off his career with a very solid performance vs. the New England Patriots almost bringing them to victory. Manuel only gained 150 yards through the air, another 23 on the ground but scored twice. He has massive upside, specifically in the new read option era and a very up-tempo head coach in Doug Marrone. Manuel isn't going to light up the record books, but much like Alex Smith he will control the offense and can move the ball down the field both through the air and on the ground.
Runningback:
Da'Rel Scott (NYG): The New York Giants running back situation is a dismal one. Scott (2.3%) took over for the Giants after David Wilson (NYG, 100%) fumbled twice against the Dallas Cowboys in a divisional matchup on Sunday Night Football. Scott came in and ran the ball 5 times for only 23 yards but he was major part of the passing game bringing down 5 catches for 51 yards, good for 12 fantasy points. The Giants went out and signed former bruiser Brandon Jacobs (NYG) which will cut into Scotts opportunities. David Wilson will remain the starter in NY with Jacobs taking over for third downs and short yardage, but keep an eye on this situation. If Wilson continues failing to meet expectations Scott will take his place before you can even spell his name.
Pierre Thomas (NO): Thomas (21.2%) has always been a reliable option for New Orleans, however the running back situation has been a bit of a head scratcher with two other top-level options at Drew Brees' (NO) disposal. Mark Ingram (NO) and Darren Sproles (NO) (both 100% ownership) certainly take away opportunities from Thomas, but even when they do its not normally to the success that Pierre has. PT gained 43 yards on just 9 carries and caught 4 passes for 16 yards. Ingram only gained 11 yards on 9 carries and had zero catches while Sproles only had 22 yards on 8 carries. Sproles value is higher than Thomas because of his ability to make plays in the passing game, but don't sleep on Thomas who can easily do the same when the moment is right. In only one season has Thomas failed to gain at least 4.5 yards per carry, the Saints will eventually realize getting him the ball is the smart thing to do.
Wide Receiver:
Nate Burleson (DET): Burleson (5.1%) missed most of last season with a broken right leg and has only played in 16 games once since 2007. He is certainly an injury risk, but when he is on the field he is an extremely solid flex option. Prior to 2012 Nasty Nate gained at least 625 yards in 4 of the previous 5 seasons bringing in at least 50 catches in those same years while scoring 22 times combined. Burleson is arguably the #2 guy in Detroit behind Megatron (DET) despite Ryan Broyles (DET) and Reggie Bush (DET) being major parts of the offense, but his 7 catches for 79 yards led the team in receptions and was second in yards to Reggies 101. With double team coverages on Calvin, Nate will be facing a lot of 1 on 1s and Stafford will use that to their advantage.
Doug Baldwin (SEA): Baldwin had a break out year in his rookie season, bringing in 51 receptions for 788 yards and 4 touchdowns. 2012 was a slightly different situation dropping nearly in half both catches and yards and only 3 TDs. Baldwin (3.6%) kicked off the year with an even less chance of returning back to his rookie performance with the acquisition of Percy Harvin (SEA). Harvin went down early and Baldwin's value has returned but his ownership has not. Week 1 was a tough match up for Seattle as they failed to move the ball often however, the person who did get the ball was Baldwin pulling in 7 catches on 8 targets and 91 yards. He didn't score but he was a major part of the offense. As defenses start to plan to stop Mr. Skittles (Lynch, SEA) and Russell Wilson (SEA) from the running game, its going to force Wilson to move the ball through the air. Baldwin is going to be the choice he uses to do so. Baldwin isn't going to be a TD specialist but in a PPR he has great value and should be sitting on more benches than just 3.6% of them.
Tight End:
Dallas Clark (BAL): When Dennis Pitta (BAL) went down with an injury the Ravens went out in search of a new Tight End and they found one in Dallas Clark (13%). Ed Dickson (BAL) was already on the roster at the time, but its clear the Ravens brass just didn't see enough in Dickson for him to keep the starting job. Clark saw his career begin to take off in 2007 when he caught 58 passes for 616 yards and 11 touchdowns and only got better before plateauing at 100 catches with 1,106 yards and 10 TDs in 2009. Following his breakout season Clark hit the injury bug, which caused him to lose his spot his job in Indy, which ended with him taking a role in the Buccaneers offense. Dallas Clark kicked off the NFL season with 7 catches for 87 yards, and could've found the end zone if it wasn't for a drop pass that hit him square in the hands. Its clear he is going to be an option in the offense and with Jacoby Jones (BAL) going down look for Clark to take on a bigger role than what you saw in week 1.
Kellen Winslow Jr (NYJ): Winslow Jr. (12.3%) also a NFL Vet who saw his role diminish over the last year due to attitude issues, has 5 full seasons in the NFL and never failed to catch at least 65 passes or 730 yards in each of them, but his attitude got in the way of his career and both the Browns and the Bucs just couldn't handle it anymore. Much like Clark, Winslow seems to have found himself the perfect system to fit his needs, a Rookie QB, in a run first offense that will move the ball down the field in chunks with check downs and quick Tight End routes. Winslow grabbed 7 catches for 79 yards in week 1 and found the end zone. If his knees can hold up he will be a viable option at TE, not just as a back up but also as a starter. His 12.3% ownership is low considering his talent level and offense he is in.
Understanding whom to pick up is key in winning your fantasy league. But digging for gold when all of the major pieces have been grabbed up at the Wednesday Waiver Wire is the key between finding gold and finding coal.
Check me out on Twitter @JustinMandaro where I will answer your Fantasy questions right up until game time.
All Ownership percentages were from ESPN
[/am4show]