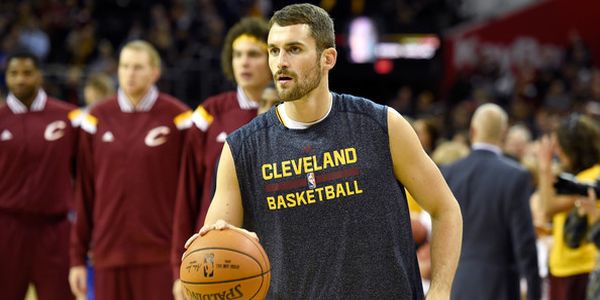 Today's NBA daily fix features a couple players at each position that I highly recommend for today's 11-game NBA slate. In addition to the two player breakdowns per position, I'll add a few cheap risk options and tell you which ballers I am fading (not using) tonight. At the end I will list the top-5 players I'll be using at each position in cash games tonight. Remember that this is written up in advance of any starting lineup or most inactive updates. Be sure to keep your eyes on Twitter and/or Rotoworld for updates that could change things in a big way. Good luck to you all and let's get money tonight!
Point Guards:
Damian Lillard ($8700) – Look, until they bump Dame into the top-tier of PG pricing, I am going to have plenty of shares of the guy in my lineups. He may not go for 50+ DK points as frequently as the $10k+ point guards, but he has that upside every night and is most times a safe bet for 40+ DK points. Yes, he'll be in the second game of a back-to-back, but he's a young fresh kid and coming off of a tough game against Patrick Beverley and the Rockets, so he'll be hungry to bounce back strongly. If LaMarcus Aldridge sits out again it does slightly drop Lillard in my ranks because he'll get double the defensive attention, but he'd still be a top-5 PG play for me.
Brandon Knight ($6800) – This is another point man that I look to a lot due to usage rate and price. Knight is definitely more of a risk as he'll mix in some 18-20 DK point nights amongst his average of 35, but I like the matchup here for him at home on two nights rest. Not only that, he'll be going against the Hornets who are 26th in the league against point guards and they played last night at home then flew all the way up north to Milwaukee. I think Knight will hit his average or more in this one, and I like him a good bit as a mid-level priced guard on the night.
Cheap risk plays: Marcus Smart ($4600) could find his breakout game here against Orlando who struggles to stop point guards. Mo Williams ($4700) gets a revenge type game against his former team where he once played together with LeBron. The worry there is that it could get ugly. If it does you may see less of Mo and more of Zach Lavine ($3300) who could also be a cheap lotto ticket if needed.
PGs I'm fading tonight: Dennis Schroder (against Chris Paul and his price got bumped up, no thanks) and Kemba Walker who has been hot but on a traveling back-to-back. I have a feeling Kemba has a dud and there are a lot of other options tonight.
Shooting Guards:
Tyreke Evans ($8000) – Evans should have his way with the Pacers wings while Anthony Davis is having a tough battle down low with Hibbert. If I am going to spend on a shooting guard tonight, it is likely Evans.
Giannis Antetokounmpo ($5500) – You have to like what the Greek Freak brings to your lineup at such a reasonable price. The past two games Giannis has played huge minutes (37.5). In one game he had a 'meh' game of 21 DK points and the next he went off for 40 against the Clippers. At this price with his steal/block and everything else potential, I will have lots of the young buck tonight.
Cheap risk plays: Gary Neal ($4200) is always a decent risk play at his price and scoring ability, especially with Lance Stephenson out. On the same team, Gerald Henderson ($4200) has started in place of Stephenson and while he had a down game last night, he put up 25 and 28 DK points the two previous games.
SGs I'm fading: Kobe Bryant, Eric Bledsoe and Jimmy Butler.
Small Forwards:
Tobias Harris ($7500) – I don't think I have to explain this one anymore. You want to not pay huge for a SF and want 30+ DK points, so use Tobias.
Draymond Green ($7400) – Much like Tobias, Dray has been a sure bet for production all season long and he's still at a very fair price. I like this matchup a lot for Green and expect a minimum of 32 DK points from him with an upside of 50.
Cheap risk plays: C.J. Miles ($4400) will continue to see big minutes and has been very solid recently (28, 28, 37 DK pts in his last three) and should have the same opportunity tonight at a good price. Jared Dudley ($3700) has played 30 minutes since the Jabari injury and had positive DK nights in three of those four games.
SFs I'm fading: Kevin Durant if he plays, Chandler Parsons and Shabazz Muhammad.
Power Forwards:
Kevin Love ($9600) – I'm liking the revenge game for Kevin Love tonight taking on his ex, the TWolves. LeBron will be sure the Love gets a ton of opportunity to pile on his old team and look for Love to be extra aggressive. The risk here is if the score gets out of hand early, but I think KLove will get 40 DK points even if he plays just three quarters.
Nerlens Noel ($5200) – Noel Nooooel… What? I'm the only one feeling the holiday spirit today? Anyways, Noel has been great his past three games and the key to it has been his defensive stats with six blocks and seven steals in those contests. I like for Noel to score 30+ again and at this price that's a nice value. He'll be in my F slot in most lineups.
Cheap risk plays: Not really seeing anyone I'm very fond of at less than $5000 tonight.
PFs I'm fading: Anthony Davis (just not paying up tonight), LaMarcus Aldridge (if he plays) and David Lee (no brainer at his cost but had to say it in case any of you thought it'd be cute).
Centers:
Mason Plumlee ($6900) – If Brook Lopez is out (presumably), Plumlee is a great play against a soft-in-the-paint Nuggets team. Plums will see a lot of minutes and should have another fantastic stat line even at a higher price tag than we've seen for him. DK points in the past six games: 35, 34, 36, 38, 34 and 48. This game should be another 35+ game for him.
Tyson Chandler ($6700) – I see no way around an absolute pummeling given by Tyson to the Suns big men. Look for a nice double-double with a ton of boards and a couple blocks from the veteran center.
Cheap risk plays: Tyler Zeller ($4500) faces a tough battle with Vucevic, but if he can remain out of foul trouble he can do 25+. Need to go really cheap? Alex Len ($3600) has scored over 20 DK points in four straight and should start again. Don't expect a ton out of these options, but if you load up elsewhere, you can get a cheap chip in here.
Cs I'm fading: Al Horford and Joakim Noah.
Cash game positional rankings: (These are in the order that I'll be using them based on situation + price, NOT who I think will score the most)
PG:
1) Damian Lillard (if Aldridge plays, 4th if not)
2) Brandon Knight
3) Chris Paul
4) Russell Westbrook
5) Marcus Smart
SG:
1) Tyreke Evans
2) Giannis Antetokounmpo
3) Monta Ellis
4) Gary Neal
5) Klay Thompson
SF:
1) Draymond Green
2) Tobias Harris
3) C.J. Miles
4) LeBron James
5) C.J. Miles
PF:
1) Kevin Love
2) Nerlens Noel
3) Blake Griffin
4) Markieff Morris
5) Dirk Nowitzki
C:
1) Mason Plumlee
2) Tyson Chandler
3) Nikola Vucevic
4) Al Jefferson
5) Tyler Zeller
For more fantasy hoops analysis and to have any questions you may have answered, follow Zack on Twitter @BigZack44