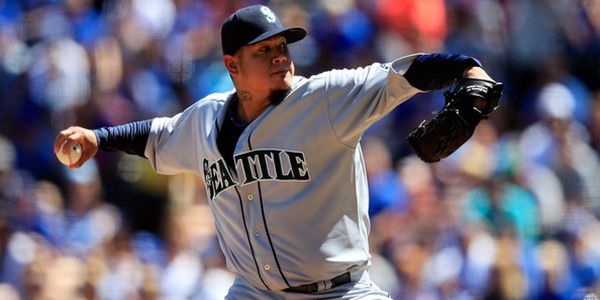 Below we've got a discussion of the starting pitching situation for the day as well as the best teams from which to pick hitters. We've also got projections derived from Dan Szymborski's ZiPS projections, and we have rankings of the top plays at each position.
Pitching Perspective
Here are our projections for today's starters. You'll see each starter's salary, how many runs per game his opponent is projected to score and the average fantasy points the starter is projected to score per game. The columns labeled 'z' will tell you far above or below average the pitcher's salary or projection is. There is also a column labeled value that is the difference between the pitcher's projection z-score and salary z-score. The higher the number the better.
After watching both Clayton Kershaw and Madison Bumgarner get hit around yesterday, it is important to bounce back and take advantage of the few solid matchups the Sunday slate offers us.
The top tier of pricing provides three legitimate studs. Felix Hernandez, Max Scherzer, and Chris Sale (making his season debut off coming off the DL) all get favorable matchups today.
Scherzer carries the highest price tag ($12,100) and carries a similar risk as Kershaw did yesterday. He's pitching in a good hitters park and faces a team with some solid left-handed hitters. In order to try and get some of the bats in Coors Field, I'd caution to stay away from Scherzer in cash games, and highlight him more as a GPP play with huge upside.
Hernandez and Sale both carry a little more manageable price tag and make for a solid number one option today to pair with someone from the middle tier. Both these guys have high upside for GPP use and are cash game viable as the favorites in games with totals of 6.5 and 7, respectively.
I love both Hernandez and Sale, but my favorite options for today's slate fall in the upper-middle tier. Tyson Ross, Jake Peavey and Alex Wood are my preferred cash game options and can either be used together (picking one of Ross and Peavey) or paired with one of the arms in the upper tier (preferably Hernandez).
Peavey and Ross will be squaring off in Petco Park, which is a nightmare for hitters, but a delight to pitchers and DFS players that are aware of the park factor. Vegas does not expect there to be as many runs scored there today as the game carries a total of 6.5. I prefer to use Ross, who sported an 8.97 K/9 last year, but Peavey is a nice alternative and provides some salary relief.
If you're looking for a sneaky GPP options, our system projects Dallas Keuchel and Nate Karns as options. You can view the projections in the table above, or here.
Karns has nice strikeout potential and gets to pitch in a really nice pitcher's park on Sunday at Miami. Like my reasoning for writing up Chris Archer yesterday, the Marlins are only left-handed at the top, and are predominately mashers of left-handed pitching. Karns salary provides a ton of relief to grab King Felix and some of the bats in Colorado.
Keuchel has flashed brilliance in the past and will deal with a much less potent Rangers' offense than we have seen in recent years. His strikeout rate is less than ideal, but he is cheap enough that he could be a viable GPP option as he does have the ability to go deep into the game and be very efficient. Again, he's just a GPP play.
Stack Options
Much like yesterday, the top stack option of the day comes from Coors Field. The Cubs and Rockies lived up to the hype yesterday, putting up a total of 14 runs and hitting their fair share of homeruns. Kyle Hendricks and Jordan Lyles are both solid pitchers but are not to be targeted due to the extreme park shift in favor of hitters.
Both of these teams are extremely usable in both the GPP and cash game format, but their salaries strongly reflect the fact that they are playing in Coors, so it is important to try and find value here or elsewhere to fit as many guys as you can.
For the Cubs, Dexter Fowler and Chris Coghlan are the cheapest and most viable of the games outfielders and they provide solid value as they'll both have the platoon advantage against Lyles today. If Coghlan stays in the fifth spot in the order, he becomes my favorite value play today. Miguel Montero has a really nice pricepoint and Anthony Rizzo's price dropped a little bit yesterday and he's just waiting to bust out a homer or two. Any players from this Cubs lineup is usable in both formats, but a stack of 1-6 is your best bet. Keep eyes on Mike Olt who was hit in the wrist yesterday. Tommy LaStella or Arismendy Alcantara could be shifting in the order to make up for it and could provide solid value due to it.
All of the Rockies left-handed bats get a solid boost today, including most notably Corey Dickerson and Carlos Gonzalez. I still don't understand why Dickerson is hitting so low against right-handers, as I'd prefer him in the leadoff spot, but the park and run scoring opportunities make him too good to pass up. I still like Charlie Blackmon in the leadoff spot at "only" $5,000 and of course Nolan Arenado and Troy Tulowitzki are exceptional options, should you be able to fit them.
There projects to be plenty of scoring in Texas today, as Colby Lewis should be Colby Lewis today. Lewis gets feasted on and will make for a nice semi-contrarian stacking against option today, as the Astros lineup is a big boom-or-bust type lineup. Jose Altuve and George Springer provide lots of upside at the top of the order and Springer grades really highly in our model today, despite not having the platoon advantage. Luis Valbuena and Jason Castro can provide decent salary relief and are fantastic options in both cash games and GPPs as they'll have the platoon advantage in this one. All the other great options that are graded out in our model can be found here.
Another contrarian stack option today that grades out really well in our model are the Toronto Blue Jays. Both Jose Bautista and Edwin Encarnacion are highly graded today and face Chris Tillman in a decent hitters park for right-handers and homeruns. Tillman gave up 1.14 HR/9 to right-handed hitters last season, as compared to just .72 HR/9 to left-handers. Despite the platoon advantage, both of these guys are solid GPP options, as well as their mates near the top of the order, Jose Reyes, Russell Martin and Josh Donaldson.
Player Rankings
Catcher
Miguel Montero – $4,300 – Chicago Cubs
Jason Castro – $3,800 – Houston Astros
Evan Gattis – $4,900 – Houston Astros (also OF eligible, but better to use at C)
First Base
Anthony Rizzo – $5,900 – Chicago Cubs
Edwin Encarnacion – $5,400 – Toronto Blue Jays
Miguel Cabrera – $5,300 – Detroit Tigers
Justin Morneau – $5,300 – Colorado Rockies
Carlos Santana – $4,600 – Cleveland Indians (also C eligible)
Second Base
Jose Altuve – $4,800 – Houston Astros
Neil Walker – $4,600 – Pittsburgh Pirates
Jason Kipnis – $4,000 – Cleveland Indians
Kolten Wong – $4,600 – St. Louis Cardinals
Third Base
Nolan Arenado – $5,100 – Colorado Rockies
Luis Valbuena – $3,800 – Houston Astros
Josh Donaldson – $4,700 – Toronto Blue Jays
Shortstop
Troy Tulowitzki – $6,000 – Colorado Rockies
Starlin Castro – $4,900 – Chicago Cubs
Dee Gordon – $4,800 – Miami Marlins
Jed Lowrie – $3,800 – Houston Astros
Outfield
Corey Dickerson – $6,000 – Colorado Rockies
Carlos Gonzalez – $5,700 – Colorado Rockies
George Springer – $5,000 – Houston Astros
Chris Coghlan – $4,400 – Chicago Cubs
Jose Bautista – $5,200 – Toronto Blue Jays
Chris Carter – $5,000 – Houston Astros
Charlie Blackmon – $5,000 – Colorado Rockies
Starting Pitcher
Felix Hernandez- $11,400 – Seattle Mariners
Max Scherzer – $12,100 – Washington Nationals
Tyson Ross -$9,500 – San Diego Padres
Alex Wood – $9,300 – Atlanta Braves
Jake Peavey – $8,300 – San Francisco Giants
Dallas Keuchel – $6,700- Houston Astros
Nate Karns – $5,700 – Tampa Bay Rays